ThirstyAffiliates Affiliate Link Management Plugin
The affiliate marketing tool for WordPress that the Pros recommend.
"I really like the simplicity and ease of ThirstyAffiliates"
Shawn Collins, professional affiliate marketer & co-founder of the Affiliate Summit conference. Check out his review.
"ThirstyAffiliates is the best affiliate management plugin for WordPress, I highly recommended it."
Hesham Zebida, problogger & founder of FamousBloggers.net - check out his review.
"So far I've been very impressed on how functional this plugin is and how big of a time-saver it's become for me."
Ana Hoffman, traffic specialist, Traffic Generation Cafe
"When people are discussing products in our forum I wanted them to turn into links. I've seen a huge boost in the number of clicks since deploying the plugin."
Matthew Woodward, professional affiliate marketer, MatthewWoodward.co.uk
ThirstyAffiliates affiliate link management plugin is a new breed of WordPress plugin that allows you to treat your affiliate links like the assets that they are.
Unlike other plugins that simply redirect URLs, ThirstyAffiliates gives you the control to create a link once, and reference it many times over. Even letting you import your links to other blogs so you only ever have to set it up once.
Here's a few of our standard core features…
The core plugin is free and can be downloaded right now from the WordPress.org Plugins Repository.
Inbuilt affiliate link shortening/link cloaking (yourwebsite.com/recommends/your-affiliate-link)
Commission protecting affiliate link 301 redirection
Customizable link URL prefixes – loads to choose from or use your own custom prefix
Hierarchical link categorization to easily segment links
Handy affiliate link picker tool (with full instant search capabilities) makes it easy to insert affiliate links in posts, pages and comments!
Handy quick add tool lets you easily create new affiliate links without even leaving the post edit screen
Show category slugs in link URLs
DoFollow/NoFollow options (global or per link)
Open in new window options (global or per link)
Multiple redirect types (301, 302 or 307 temporary)
Full importing and exporting support via standard WordPress tools
Full backup compatibility via standard WordPress backup solutions
Uses WordPress approved storage techniques – doesn't bloat your database with extra tables!
Using the link picker insert affiliate links as standard links, shortcodes (great for adding classes for link styling), or pre-linked images.
Add your graphics, banners and other images to affiliate links for easy insertion
… and loads more via our official add-ons!
Easy Straight Forward Configuration
From the moment you start configuring ThirstyAffiliates, you will feel how flexibility has been emphasised.
Choose from one of the many built-in link prefixes, or if you like you can define your own custom link prefix.
Also choose whether you want your links automatically nofollowed and if you would like to force opening up in a fresh window so your site doesn't get lost in the user's history.
Take the stress out of managing your affiliate links
ThirstyAffiliates WordPress plugin gives you unprecedented control over your affiliate links.
One of the most important features we wanted to build in to this plugin was the ability to categorize your affiliate links.
This means you can have a parent category for example "Amazon", and children categories for every type of product you promote.
Using the Stats add-on you can get a quick overview of your statistics (clicks column) for each link, plus much more data as well in the Statistics area.
Add Your Link Once And Consider It Managed
From the editing screen you can easily manage the link's destination URL (your affiliate link) and it's corresponding cloaked URL. You can also set a display name so you can easily find your link using the affiliate link picker.
Attaching images to your affiliate link is easy with the media uploader which allows you to quickly add images that are pre-linked with your affiliate link while writing your posts.
Add or edit the link's category for quick organisation and better reporting which is important for professional affiliates with hundreds of links to manage.
ThirstyAffiliates has been designed to be simple and clear in it's purpose and every part of the user interface reflects this methodology.
Adding Affiliate Links To Your Posts Has Never Been Easier
One of the major complaints about other affiliate link management tools is the clumsy interface for inserting links while authoring a blog post.
ThirstyAffiliates abstracts away all the complexities of this and presents you with the Link Picker – a simple tool so you can search for your affiliate links right there from your edit screen.
Here's how it works:
Select the text you wish to link
Simply tap on the green "aff" button while editing using the Visual Editor or the "affiliate link" button when using the Text Editor
The Link Picker will present itself and allow you to search or browse your affiliate links
Click the insert option that you want (straight up link, shortcode or image) and viola! It works like magic.
The Link Picker features a clever search function to quickly pull up the link you're trying to find, simply type away and the plugin searches for your link in the background. You don't even have to remember the whole name of the link, just a bit of it and it will find it for you.
You can now also use the Link Picker when typing replies to comments, go ahead and give it a go next time you're giving a recommendation to one of your commenters.
Insert Your Affiliate Links How You Want To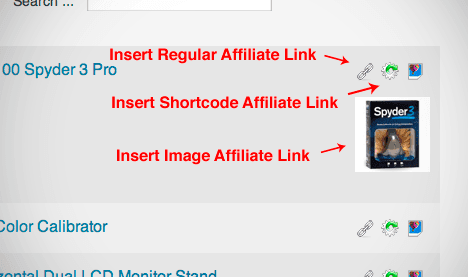 We don't want to get in the way of how you insert links in your posts, so we've made it as convenient as possible to insert your affiliate links.
Once you've found your affiliate link using the ThirstyAffiliates Link Picker, you have three options:
1. You can choose to insert a regular link which will wrap the text you have selected with a link to your affiliate link in much the same way the WordPress link tool works.
2. Insert a shortcode which allows you to quickly add any attribute to your link, such as ID tags, class tags, and more.
3. Insert an image that you've attached to your affiliate link and insert that into the post pre-linked with your affiliate link. The great thing is that once you've inserted the image you can edit the image using the image tool in the same way you edit any image inside a post.
Go ahead, harness the power of ThirstyAffiliates for your website
ThirstyAffiliates is unique, useful and best of all free on the WordPress.org Plugin Repository.
We think you'll be thrilled with what our plugin can do for your affiliate marketing campaigns and we encourage you to download it now and give it a try.
Click here to download ThirstyAffiliates from WordPress.org:
Download ThirstyAffiliates Now
Once you've had a play and seen what ThirstyAffiliates can do, come back and check out our add-ons which will really kick your affiliate marketing into overdrive.