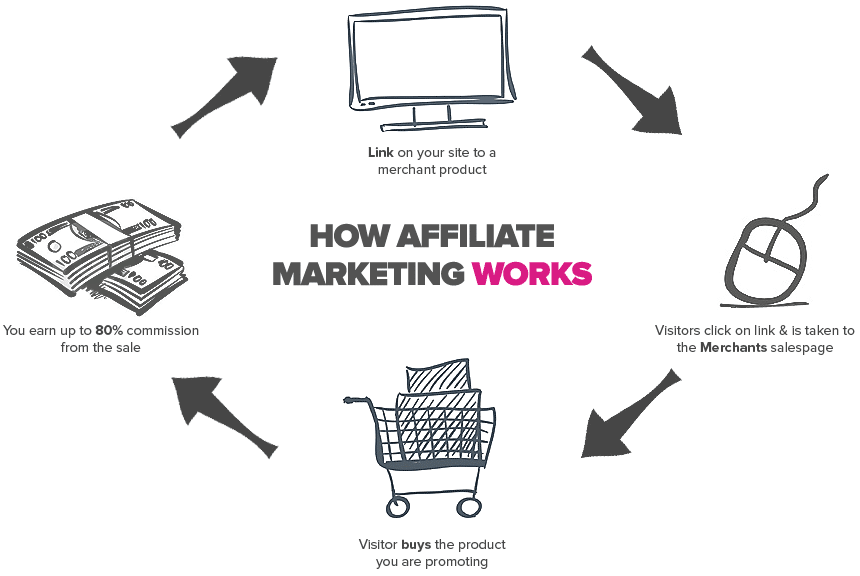 Interested in becoming an affiliate marketer? Perhaps you have plans of working with affiliate marketers and are curious about how it works? If you are that person right now then don't worry. The concept of affiliate marketing may be alien to some people but if you give it time and learn about it, it could be a really exciting venture. So if you are ready, here's what you need to know about this industry and how you can work it out.
What is Affiliate Marketing?
Some of you may have heard about what affiliate marketing is but for those who are not aware of how this work, affiliate marketing is basically an internet marketing channel where advertisers (this could be a number of companies that offer a service or product) pay publishers based on their performance online. They get paid for the results that could result to a lead or sales.
So basically, affiliate marketing is a form of marketing where you get to refer someone to any online product. When that person decides to buy the product based on your recommendation, you can then get a commission.
Who are the Affiliates?
An affiliate or publisher can be a site but generally these are bloggers or other content sites that may be similar to the industry of merchants. They are people who help introduce the merchant's brand by writing posts about a new item or services that the merchants offer. Once a visitor makes a purchase on the merchant's site, the affiliate gets paid. They also promote the advertiser by putting up ads via banner ads, search box and text links. Whenever a lead is generated, the publisher gets paid a commission which is often a percentage of the amount sold or it could also be an amount agreed upon by the advertiser and publisher.
Who are the Advertisers?
An advertiser is also known as the Merchant, Retailer or Brand that sells products and services. They are the ones who partner with publishers/affiliates so they can generate more leads and sales. These advertisers then pay their publishers through Pay Per Click, Leads or Pay Per Lead and Pay Per Sale.
How Do You Get Payments?
Not all leads are converted into sales. Most merchants will only pay for the actual leads and not just visits. This makes it more of an advantage compared to Pay Per Click where a ton of money is spent without producing any actual leads. So it is best to send leads that could generate sales so you get the right payment.
Now not all people are aware of what PPC, PPL and PPS. Here's what you need to know:
Pay Per Click or PPC – is a program where an affiliate gets paid for all the valid clicks generated regardless if it made sales or leads.
Pay Per Lead or PPL – is a program where advertisers pay a fixed commission for every qualified action that it generated. This action could be Installation, Online Form Submission, Free Trial, Short Survey and many others.
Pay Per Sale or PPS – is a program where advertisers pay the publisher a percentage of all sales that are qualified. These could be a percentage which was agreed by the advertiser and publisher. Among the most common PPS program is the Amazon Associates where a publisher can earn up to 15% depending on the products that were sold. Here's a list of places where you can find products to promote.
What are Affiliate Networks?
Affiliate Networks are the ones that connect the Publishers and Advertisers. These could be ClickBank, Comission Junction etc. They are the ones who track, report and manage payments made. Advertisers have the liberty to choose the affiliate network/s they want to use depending on their platform.
How It Really Works
Now how does affiliate marketing work? Here's a quick recap:
First you need to sign up for an advertiser's affiliate program. After signing up you will get an affiliate link or a special URL that contains the Username or ID of the affiliate. You can then use this link whenever you mention the advertiser in your website.
Whenever a customer visits your website and chooses to click on the affiliate link to the advertiser's website, a cookie is dropped in your customer's computer. Let's say that the customer orders something from the merchant's website and completes the entire checkout process, the advertiser then checks this cookie in their computer. The advertiser then finds this cookie that belongs to your site and will give you the credit for making the sale.
Updated reports will show how much clicks and sales were generated from your affiliate link. Once this is done, you will be given commissions by the merchant. This could be a weekly pay out or a monthly payment for all the leads or sales that you have made but this could also be according to the payment policy that you have agreed upon with the advertiser.
Does it Cost to Join an Affiliate Program?
Actually there are no charges for joining an affiliate program but the cost will depend on the promotion technique you will be using. For example, you blog is free, but the PPC marketing, email campaigns etc. has a price.
Do you need qualifications to be an affiliate marketer?
Truth is anyone join and there no qualifications needed however knowing how to write is a big plus and if you already have knowledge about marketing then this could also be an advantage on your part.
Earning Money as an Affiliate Marketer
If you are wondering how much affiliates earn well, there is not limit actually. However the amount you earn will depend on the program you are promoting and as to how many conversions you are generating. You can earn thousands of dollars too if you are really good at it.
Take it from the big names in this industry and the income they are generating now. You can be one of them but it will take time so if you ever choose to be in this field, make sure that you know the strategies to take. Patience can also help you in the long run so don't forget about that too.
Now that you know how affiliate marketing works, why not test the waters? This could be your golden goose but of course, will never know unless you try, right?