The Automatic 404 Checker
The Automatic 404 Checker is a feature available in ThirstyAffiliates Pro only. It lists the affiliate link issues that need to be addressed.
In order to activate this feature, make sure to enable the Statistics and Automatic 404 modules under TirstyAffiliates->Settings->Modules:
You will then find the Automatic 404 Checker report under the ThirstyAffiliates->Reports->404 Checker section: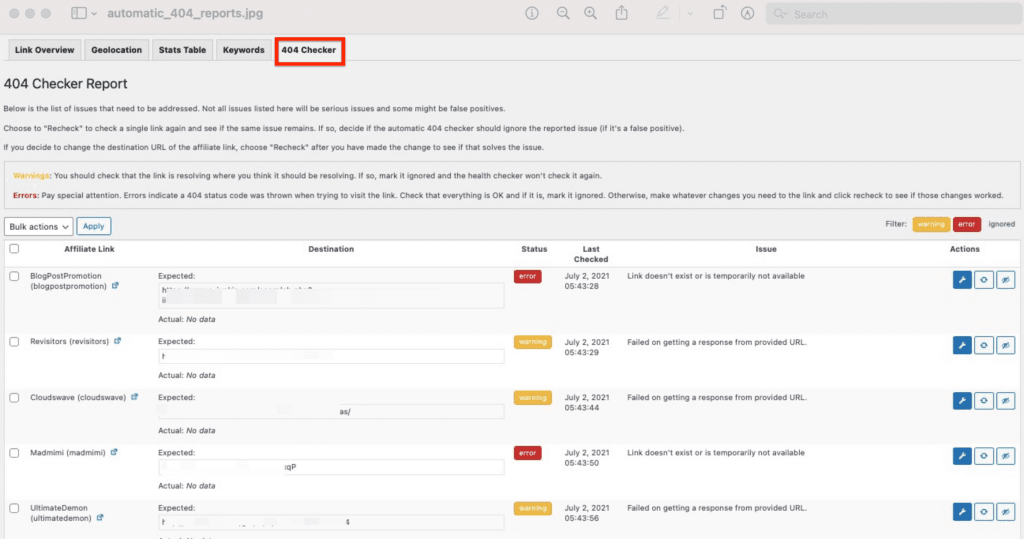 Not all issues listed in the report will be serious issues and some might be false positives.
If the link is resolving where you think it should be resolving, mark it ignored and it won't be checked again. 
Choose "Recheck" to check a single link again and see if the same issue remains. If so, decide if the Automatic 404 Checker should ignore the reported issue (if it's a false positive).
If you decide to change the destination URL of the affiliate link, choose "Recheck" after you have made the change to see if that solves the issue.
Warnings: You should check that the link is resolving where you think it should be resolving. If so, mark it ignored and the health checker won't check it again.
Errors: Pay special attention. Errors indicate a 404 status code was thrown when trying to visit the link. Check that everything is OK and if it is, mark it ignored. Otherwise, make whatever changes you need to the link and click recheck to see if those changes worked.
NOTE: Please make sure that WordPress Cron works on your site.

TROUBLESHOOTING:
If the Automatic 404 Checker is not working, please ask your host company if cron is enabled on your site. You can also install the WP Crontrol plugin and see if you find the tap_link_health_checker under the Cron Events tab: