Using ThirstyAffiliates Click Tracking With Google Tag Manager (GTM)
This is an advanced article on using Google Tag Manager with ThirstyAffiliates Pro's Google Click Tracking module. If you have any issues setting up, please contact support and we will assist.
In order for Google Tag Manager to work with ThirstyAffiliates Pro Google click tracking module, you will need to set up the tag specifically for it.
Requirements:
Google tag manager workspace for your website.
Settings variable for Google Analytics.
Step 1. Create the Link URI Variable
Login to Google Tag Manager and access your website's workspace
Go to the Variables page (left menu), scroll down to the user-defined variables section and click "NEW" button
Name the variable (e.g. Link URI Variable)
Click anywhere in the variable configuration box, and select Data Layer Variable option
Important: Set Data Layer Variable Name field to link_uri
Save the variable
Step 2. Create the Trigger
Go to the Triggers page (left menu) and click "New" button.
Name the trigger (e.g. ThirstyAffiliates Event Trigger)
Click anywhere on the trigger configuration box, and select Custom Event option.
Important: set the event name field the same value as the Custom Event category name click tracking setting on your website. (default value is "Affiliate Link")
Set this trigger fires on radio field to All custom events.
Save the trigger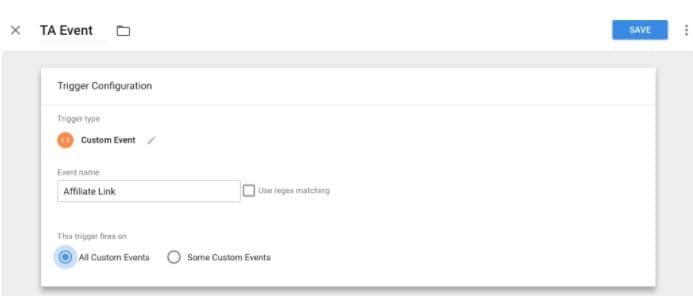 Step 3. Create the Tag
Go to the Tags page (left menu) and click "New" button.
Name the tag (e.g. ThirstyAffiliates click tracking tag)
Click anywhere in the tag configuration box and select Universal Analytics or Classic Google Analytics, depending on what you are using.
Set Track Type to "Event".
On the category field, click the add icon and select the custom event variable.
For the action field, select the Link URI variable that we created in step 1.
For the Label field, select the Page Path variable.
Leave the value field blank, or set it to another variable that you prefer.
For Google analytics settings field, select the google analytics settings variable for your website.
Next, click anywhere on the triggering box.
Select the custom trigger that we've created in step 2.
Save the Tag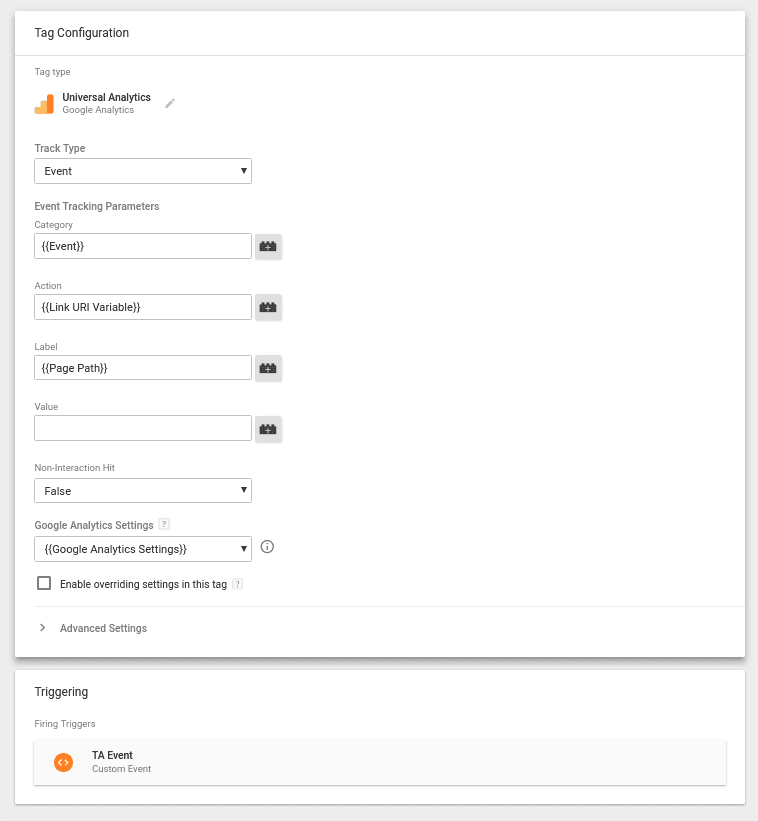 Final Step
For the new settings to work, you will need to click Submit in the top right corner of your workspace.