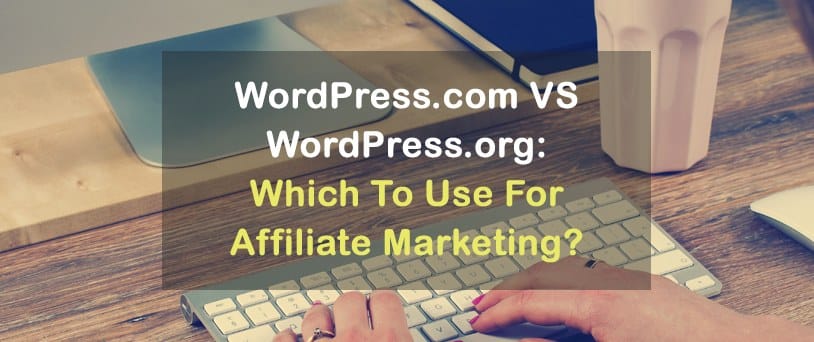 In a world of growth and digital marketing, WordPress has absolutely dominated the CMS (Content Management Software) niche. WordPress provides an easy way to help people create websites and blogs to market their products and services.
It really is one of the greatest levellers of the playing field of our time – small businesses and individuals can have a website just the same as the big guys can.
WordPress itself is free and open-source. It's the most popular website management and blogging system on the web, now claiming over 53% market share accoding data from BuiltWith.com.
But WordPress can be used in two forms: WordPress.com and WordPress.org.
What's the difference for affiliate marketers?
There's a subtle difference and it's important if you're looking at getting into affiliate marketing that you know the differences. These versions of WordPress are similar, yet are built and used differently.
What Is The Difference Between WordPress.com And WordPress.org?
WordPress.com is a hosting service, run on WordPress, that provides users with web hosting and a locked down WordPress environment.
It's a great tool if you're building a small business site or a personal blog on a very small budget (even $0) as there are a number of great themes, verified plugins, and the environment is very stable because it's managed by the team at Automattic.
WordPress.com has some WordPress plugins and themes. It also has automatic updates and backups and also offers built-in spam protection.
WordPress.org is open-sourced software that is free to the public for running your own website. There are thousands and thousands of themes and plugins in the ecosystem with more added every day.
This is often referred to as "self-hosted WordPress" because you have to buy your own hosting and set it up yourself.
Though, many hosts have quick-install options for WordPress sites which take away that particular pain.
This is actually a good thing, as you can set up your site in any way you want, with your own themes; you can install any plugins you want to install, and there is a ton of information and tutorials to help you set up your site by yourself.
If you get stuck, you will have to pay a developer, but there are thousands of WordPress developers out there on sites like Upwork and Freelancer.
Affiliate marketers use their websites or their blogs to promote products and services using links, banners, text ads, opt-in forms, and the like. A WordPress.com site is suitable for people who don't want to pay for a domain name and web hosting (you can actually buy a domain through them if you wish), and you can use it without paying for as long as you want.
So that brings us to our next question, being a free service, wouldn't that make WordPress.com a prime choice for affiliate marketers?
Is WordPress.com Good for Affiliate Marketing?
Well, to be very blunt and straightforward: no. WordPress.com is not a good idea for an affiliate marketing site or blog. WordPress.com is a free hosting site, and it has a lot of good points, but it is not entirely suitable for affiliate marketing.
According to WordPress.com itself, affiliate marketing blogs, which are blogs whose main purpose and objective are to drive traffic to affiliate products, are not allowed on WordPress.com. If you decide to try your luck and set up a blog on WordPress.com with an affiliate link or two, there might be a possibility that WordPress will shut down your site, without the chance nor the option of reclaiming any of your data.
Apart from that rather explicit reason for not using WordPress.com for affiliate marketing, a host of other reasons abound for why the item is simply no good for affiliate marketing.
You can't use certain plugins that could help you to optimise your site for SEO. Plugins like Yoast can't be used on WordPress.com. Yoast is a great plugin affiliate marketers can use to ensure their site is properly optimised for SEO, and that their content also has acceptable levels of SEO that would ensure that what your content appears on the first page of search results, and it is reaching the people you need to reach. A WordPress.com site doesn't allow such plugins to be installed, and neither does it allow you to install plugins that you can use them design your site to your tastes. The design you get with WordPress.com is the one you will use: it is non-negotiable.
WordPress.com themes are generally not optimized for SEO and are locked down so you can't modify them easily. Because the theme selection is also restricted you can also bet that hundreds of other blogs will be using that same theme. Paying for an exclusive theme on WordPress.com doesn't help either, as many others can still pay for that same theme and use it.
When you finally decide to switch from WordPress.com to WordPress.org (and eventually you will), you will lose a bunch of time moving data from one site to the other. It's is a lot of work.
You cannot use Google Search Console, a tool that is for improving the SEO of your site. Same goes for Facebook Pixels and pretty much any other third party tool where you have to install a snippet of code in the header.
This clearly shows that, as far as affiliate marketing is concerned, WordPress.com (the hosted version of WordPress provided by Automattic) is not the way to go for affiliate marketing. It hinders and limits your potential.
Which Version Of WordPress Should You Use Then?
To be very clear: this does NOT mean that WordPress sites aren't good for affiliate marketing.
It means that, if you are serious about your affiliate marketing business, you should use the open sourced version of WordPress on your own server. You can find that at WordPress.org.
To get started with WordPress.org and Affiliate Marketing:
Buy your own domain
Get some cheap but reputable web hosting
Get a good free theme and recommended plugins (such as ThirstyAffiliates)
If you get stuck, hire a web developer to set it up just the way you want (just make sure you have budget)