As a regular internet user, it's more than likely that you encounter web cookies on a daily basis. Accepting cookie agreements without thought may come as second nature to you. However, if you're an affiliate marketer, you might spend more time thinking about them. Plus, the imminent disappearance of third-party cookies might have you a bit worried.
Fortunately, you don't have to panic about the prospect of cookieless marketing. You can rest easier when you pair powerful tools like Google Analytics and the ThirstyAffiliates plugin for WordPress. This combination may help you handle the big shift.
In this post, we'll discuss cookieless affiliate marketing and why you may want to embrace it. Then, we'll introduce you to Google Analytics and show you how to pair it with ThirstyAffiliates to track your clicks. Let's get started!
An Introduction to Cookieless Marketing
When we're talking about non-edible cookies, we're usually referring to HTTP cookies. These are also known as internet cookies, web cookies, or browser cookies.
These are tiny blocks of data created by a web server as a user navigates a website. There are several types of cookies, most of which are unavoidable if you use the internet.
However, today we'll be talking about third-party cookies. These cookies allow third parties (like ecommerce companies) to track your browsing history for an extended period of time.
This means that when you visit a website with third-party cookies, you leave a trail of crumbs for that site to keep targeting you with advertisements until the cookies expire. Essentially, these cookies are behind many of the ads you see after making non-committal searches for products.
Why You May Want to Switch to Cookieless Marketing
Third-party cookies have some useful functions, like enabling you to save an order and return to it later. However, they also raise some serious privacy concerns.
While many users can accept that cookies may be necessary for a short period of time (say, for the duration of your visit on a website), it's hard to justify longer tracking times. Cookie trails can cause you to receive excessive amounts of unwanted targeted ads.
As a result, many countries have adopted the Cookie Law. This enables internet users to opt-out of data collection and tracking:
Moreover, third-party cookies are being phased out entirely on most browsers. While Google keeps pushing back the date for the full phase-out, Safari has already launched third-party cookie blocking. Thus, there's no doubt the ecommerce world is facing a cookieless future.
For years, cookies have allowed businesses to track conversions and create targeted ads. They even helped ensure that affiliates received the commissions they deserved when customers purchased a product through a referral link.
Therefore, this cookie ban does have some implications for affiliate marketing. Now, you may need to find another way to track your conversions.
Google Analytics and Click Tracking
Google Analytics is a powerful tool for tracking conversions and monitoring your performance. Here are a few key features that it offers:
A whole suite of reporting tools, including real-time options
Data collection and analysis
Integration with GoogleAds, GoogleAdSense, and more
Moreover, you'll be pleased to learn that, together with our ThirstyAffiliates plugin, Google Analytics offers click tracking for affiliate links. Fortunately, this feature may enable you to weather the transition to a cookieless world with relative ease.
How to Pair Google Analytics With ThirstyAffiliates (In 3 Easy Steps)
Thanks to ThirstyAffiliate's click tracking module, you can pair up Google Analytics in three simple steps. Let's see how!
Step 1: Set Up a Google Analytics Account
First, you'll need to create a Google Analytics account. Fortunately, it's free and easy. If you're a large enterprise, you may want to research the paid plan, Google Analytics 360. For most users, however, the standard version will have everything you need.
Simply navigate to the Google Analytics page and click on Start Measuring:
The signup process is fairly simple, though it does require a few steps:
You'll also need to set up a Google Analytics 4 property. There are three different options for this, so you may want to consult Google's Setup Assistant to help you decide which one is best for you.
Step 2: Install GA Google Analytics and ThirstyAffiliates
Once you've set up your account on Google Analytics, you can install the GA Google Analytics plugin: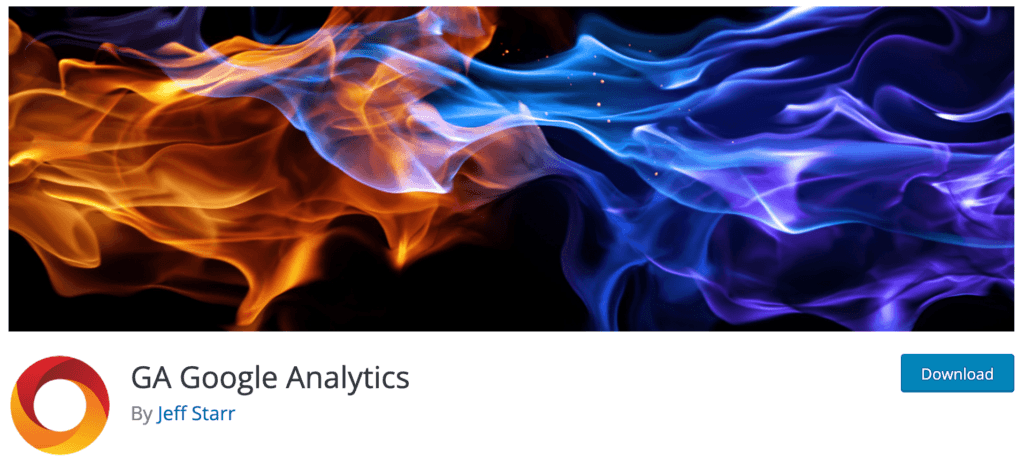 Go to the WordPress dashboard and navigate to Plugins > Add New. You can use the search function to find the plugin:
Install and activate the plugin. Then, go to Settings > Google Analytics to enter your GA tracking ID and configure some settings:
Next, you'll need to create a Thirsty Affiliates account. With ThirstyAffiliates Pro, you'll be able to use all of the plugin's powerful tools for your affiliate needs:
This investment is likely worth it for anyone who is serious about affiliate marketing. Once you've created your account, you can install and activate the ThirstyAffiliates plugin on your WordPress site.
Step 3: Enable Google Click Tracking
When you set up the GA Google Analytics plugin, you configured your tracking ID to your preferred Google Analytics 4 property. Therefore, all you need to do now is enable click tracking and set the tracking script.
First, go to ThirstyAffiliates > Settings > Modules and enable Google Click Tracking. Then, set Tracking Script to Universal Google Analytics: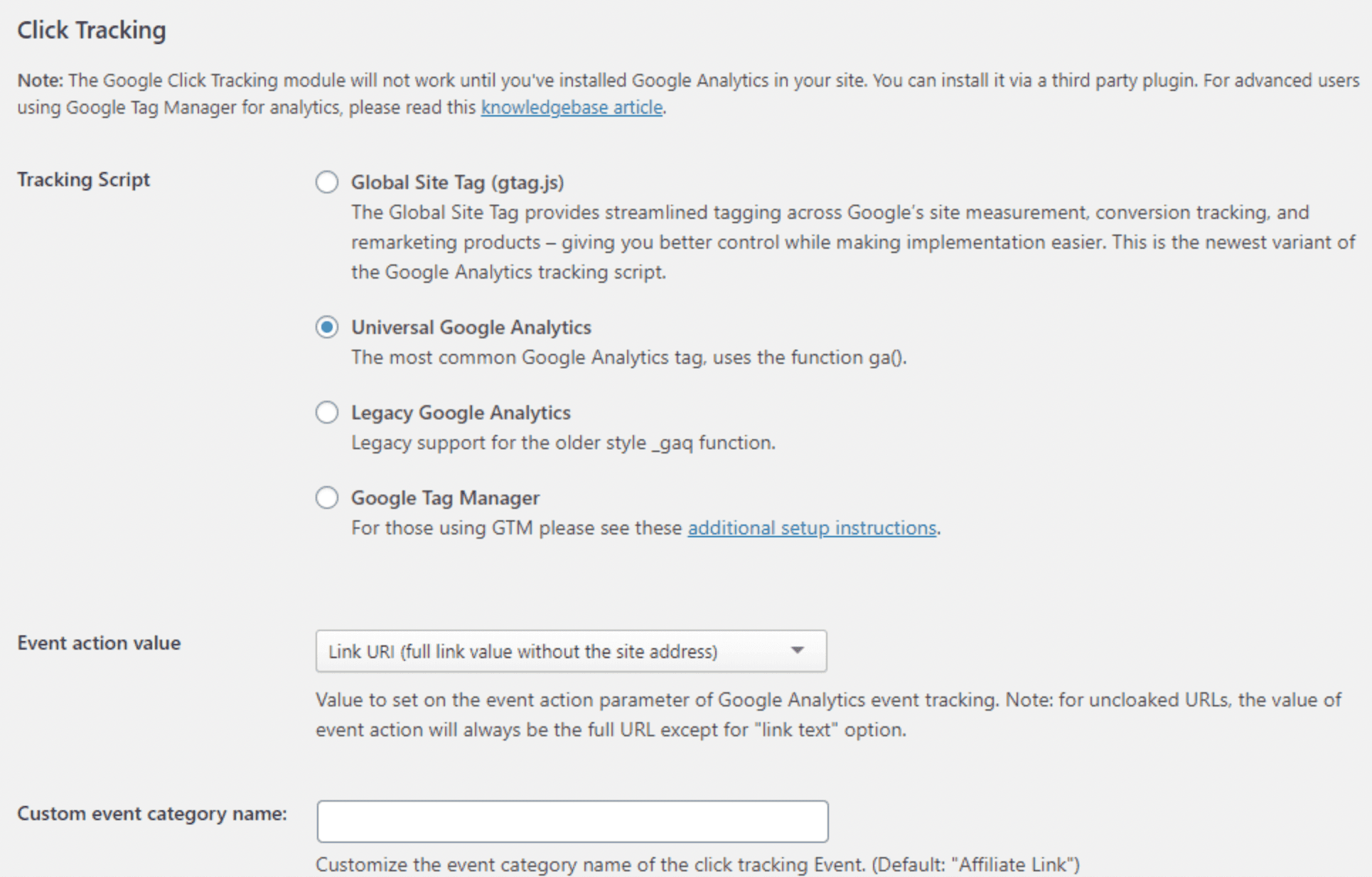 When you're ready, click on the Save Changes button. To confirm that you've completed this step successfully, you can navigate to the GA dashboard and click on Real-time > Events > Affiliate Link:
If you click on some affiliate links on your site, you should be able to see these actions recorded in your GA dashboard. And that's it! You now have access to advanced click tracking data for your affiliate links.
Conclusion
A cookieless future can seem daunting, especially if you're an affiliate marketer. Fortunately, this fast-approaching transition doesn't necessarily mean bad news for your business.
Now is a good time to start taking advantage of Google Analytics and ThirstyAffiliates. As we showed you in this post, you can get started in three simple steps:
Create a Google Analytics account.
Install the GA Google Analytics plugin and ThirstyAffiliates on your site.
Enable GA Tracking in ThirstyAffiliates.
Do you have questions about pairing Google Analytics with ThirstyAffiliates? Let us know in the comments section below!
If you liked this article, be sure to follow us on Twitter, Instagram, Facebook, and LinkedIn! And don't forget to subscribe to our newsletter.