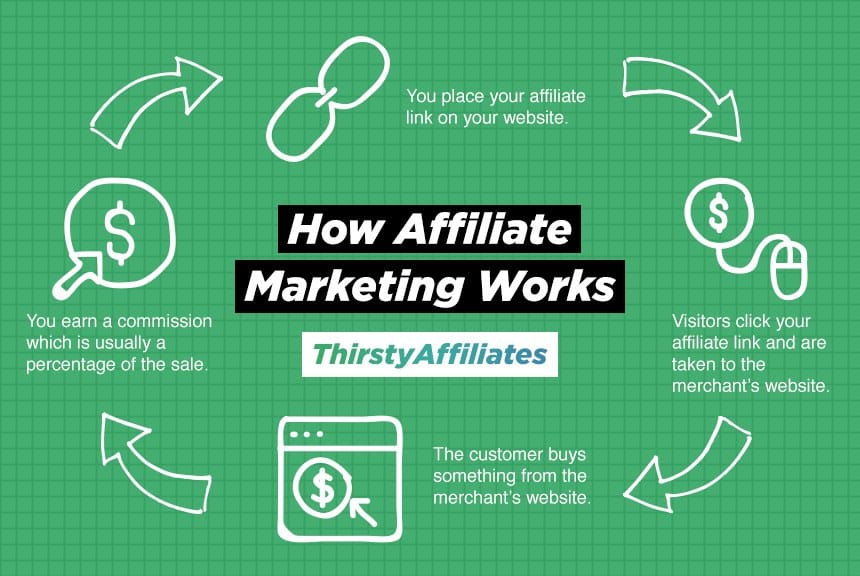 Are you interested in becoming an affiliate marketer? Have you been considering working with affiliates? Or are you simply curious about how affiliate marketing works?
If you answered yes to any of those questions, and you have limited knowledge about how affiliate marketing works, then you're in the right place. The concept isn't hard to grasp. By the end of this blog post, you should have a solid understanding. So let's get going!
What Is Affiliate Marketing?
Affiliate marketing is a form of internet marketing. Companies (sometimes referred to as advertisers or merchants) pay people (affiliates) based on their performance promoting an offer via an affiliate link.
In a nutshell, if you're an affiliate (also referred to as a publisher), you use your skills as a marketer to refer your audience to a product. When someone in your audience decides to buy a product or take an action based on your recommendation, you get a commission or kickback.
Who Are Affiliates?
An affiliate can be an individual or a company. Most of the time, affiliates are bloggers or other content makers. They're usually in industries that are the same or closely related to that of the company whose products they're promoting.
Affiliates are people who help promote a product or service by writing posts, making videos, and conducting other marketing efforts. When an affiliate's visitor makes a purchase or submits a lead form on the affiliate company's website, the affiliate gets paid.
How much and for what (lead or purchase) the affiliate gets paid for depends on the affiliate program terms.
Affiliates can also promote affiliate companies by publishing things like banner ads and text links. Whenever a lead is generated, the publisher is paid a commission. This is often a percentage of the amount sold. It can also be another amount agreed upon by the advertiser and publisher.
Who Are The Companies?
An affiliate company (also known as a merchant, advertiser, retailer, or brand) is any company willing to pay commissions to affiliates who promote their products. These companies partner with affiliates to generate more leads and sales.
Affiliate companies pay their affiliates for helping them gain whatever it is they're after. Payments are usually determined on a pay-per-click, pay-per-lead, or pay-per-sale basis. This structure is sometimes referred to as performance marketing.
Commission payouts usually occur on a monthly basis. But this varies depending on the terms of the affiliate program.
Affiliate marketing is considered much more advantageous to companies when compared to traditional pay-per-click advertising, where a ton of money can result in few or no leads or sales.
How Affiliate Marketing Works
As an affiliate, you're paid for performance. Following are the three types of performance-based models common to affiliate marketing:
Pay–Per–Click (PPC) – An affiliate gets paid for all the valid clicks generated regardless of whether these clicks resulted in sales or leads.
Pay–Per–Lead (PPL) – Companies pay a fixed commission for every qualified action a click generated. This action might include things like installation of an app, online form submission, free trial sign-up, or completion of a short survey.
Pay–Per–Sale (PPS) – Companies pay a percentage of all qualified sales. This percentage is agreed upon by the company and its affiliate. Among the most common PPS programs is Amazon Associates, where a publisher can earn up to 15% depending on the products sold.
Here's a list of places where you can find products to promote.
What Are Affiliate Networks?
Affiliate Networks act as a middleman between companies and their affiliates. They manage the relationship and providing third-party checks and balances.
These networks track, report, and manage payments to affiliates. When you sign up with an affiliate network, you usually gain access to all the affiliate companies managed within the network.
Some popular affiliate networks include ClickBank, Commission Junction, and ShareASale. These three networks work with all kinds of brands, or advertisers as they are sometimes called.
There are also more niche networks that are notable for their specialized affiliate tools, expertise, and bringing together brands from a single niche. For example, Travelpayouts provides access to 80 travel affiliate programs from the biggest brands on the market. They would be a good fit for travel bloggers or webmasters with traffic interested in travel.
Affiliate Links
After signing up with an affiliate program, you'll get an affiliate link, a special URL that contains your affiliate username or ID. You use this link whenever you mention the advertiser's product on your website or in other marketing efforts, such as on social media.
Whenever one of your audience members clicks on your affiliate link, a cookie is dropped into their browser to track them. If they become a customer, the company knows it received that customer from you and you get credit.
Does It Cost To Join An Affiliate Program?
There is no charge to join an affiliate program. However, some promotion strategies will cost if you choose to use them. For example, while your blog won't cost you anything but your time, pay-per-click marketing, email campaigns, and social media ads will require an investment.
Do You Need Qualifications To Be An Affiliate Marketer?
Anyone can become an affiliate marketer, and there are no standard qualifications.
However, knowing how to write a blog post, string a great review together, or do video are all a big plus because they mean you don't have to pay for content in the beginning. Also, any existing marketing knowledge you have will be a great advantage to you.
Start Earning Today!
There's no limit to what you can earn with affiliate marketing. It's up to you to learn how affiliate marketing works and see how far you can scale this incredible business model.
The amount you earn will depend on a number of factors:
The program you're promoting
The conversion rate
How many visitors you're sending through your links
The buyer's motivation
But when you hit that sweet spot and everything aligns, it's a great feeling.
Now that you know how affiliate marketing works, why not test the waters? After all, it could be your golden goose, but you'll never know unless you try!
If you liked this article, be sure to follow us on Twitter, Instagram, Facebook, and LinkedIn! And don't forget to subscribe in the box below.