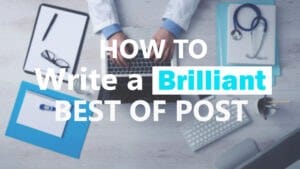 A "Best of" post is something that companies and bloggers publish at the end of the year that features all their most popular articles. It's a way of looking back at those golden moments and seeing what really resonated with readers. From a marketing perspective, it's also a chance to revive the sales potential of posts that have gradually lost their vitality.
"Best of" posts bring a lot to the table. They can re-direct your present traffic back to forgotten gems, and they create a lot of SEO value for your site.
The Buzz with Best of Posts
There are many reasons why these types of post work. One reason is that they are written in "list" form, which is one of the most effective types of content there is. They're easy to 'digest', includes a truckload of useful information, and they create authority for you as an online figure.
Jackie Kaufenberg of Vivid Image shares with us some valuable insight as to why bloggers should make a point of creating "best of" posts:
Looking closely at your Google Analytics will give you great insight into posts to write or expand on for the next year.
It is a great way to remind your readers and staff of all the great posts that were published.
In the tradition of a New Year, it can help you to look back, analyze, and set marketing goals for the next year.
It helps you to fill in a hard-to-write-for time of the year with great content.
"Best of" lists are generally very quick and easy to write, you just need to create the list, and add links (well a little blogging fairy dust always helps)!
When done right, a "Best of" list can be loaded with great SEO benefits (expand on your topics with short, keyword rich description of each blog)
It can help remind you of the enormous long-term value of evergreen content in your marketing.
If you did not write as much or as frequently as you would have liked, it can be the first step in setting a consistent blogging schedule.
If the info above isn't overwhelming proof that "best of" posts are worth writing, I don't know what is. In fact, you may be itching to start creating your own right now!
Before you do, however, you should know what the best practices are so it will rank. That means making the content of your post as 'Google-friendly' as possible. Yes, you may have to sweat it out a little, but rest assured that all your hard work will pay off – in the form of increased traffic, an upsurge in sales, and a stream of new leads.
So, what are you waiting for? Dive into our writing guide below and let the content do the work for you.
How to Write a Brilliant Best of Post that will Rank
Whenever you read the word 'rank', especially in affiliate marketing, you should remember that it always has something to do with SEO, or search engine optimization. So, it follows that a basic knowledge of SEO and keyword-research is necessary.
And even though netizens often argue about what the current SEO standards are (because they change ALL the time), there are still fundamental rules you can follow to guarantee that search engines can sniff out your "best of" post.
Select your top posts with Google Analytics.
A smart blogger always uses Google Analytics, or GA, to track their blog. It may not be the first go-to tool for casual bloggers (because of its complexity), but trust us when we say that the learning curve is worth it.
GA can give you great insight into what's happening in your blog, such as the total number of visitors, page views, and time spent on a post, in an easy-to-understand format. This post on using GA from WildApricot will walk you through how you can find the desired data and export them as a spreadsheet (.CSV) file.
Choose the right keywords.
Once you have a good list of articles to feature, your next job is to hunt for keywords. Google's Keyword Planner is great for this. You can use it to identify areas with low competition and high search volume with ranking opportunities. After you have a nice list of keywords to target, you can then integrate them into your "best of" post.
Strive for content excellence.
Before you use any kind of strategy to make your post rank, make sure you polish your writing skills first. Crummy writing just won't cut it. If your blog post is loaded with nonsense that readers won't appreciate, Google won't like you for it, either. Your readers still need to be your number one priority – or you'll discourage them from your blog and all your efforts will be for naught.
Make your headline balanced.
You already know the two most important rules: use keywords, but prioritize your audience. Keep the two in mind when coming up with a headline. Hubspot recommends including the main keyword(s) in the first 65 characters.
Write relevant sentences for your embedded links.
Phrases like "click here" or "read more" are bloggers' favorite anchor text, but the truth is that they don't give you the maximum SEO boost to rank your "best of" post. For best results, always focus on making your anchor text descriptive, interesting, and relevant. Do this when you want to link back to your other blog posts, pages, or services.
Example: "Using a plugin that automatically places affiliate links is a great way to save time and energy when writing product reviews." (See what I did there?)
There you have it.
If you want to write a brilliant "best of" post, make a checklist based on our guide above and you should be good to go. Don't worry if it takes time for your post to rank. Remember that this is SEO, and you need to let things go at a slow and steady pace to achieve lasting results.
What "best of" post are you working on right now? Share your ideas below and we'll be happy to offer up our own advice!