A recent study found that 84.27% of visitors leave a site without making a purchase. If you want to recover those interested shoppers, retargeting can be an effective tactic. However, knowing which platform will best help you capitalize on customer curiosity isn't always clear.
Fortunately, we've rounded up three top-notch services that may be the right fit for your site. They're suitable for a variety of different campaigns, marketing channels, and experience levels.
In this article, we'll introduce you to the concept of retargeting platforms. Then, we'll go over three of the top options available and discuss how each can help you succeed. Let's go!
An Introduction to Retargeting
From time to time, you might get visitors to your site who leave without making a purchase. Retargeting techniques help you reach out to these potential customers and bring them back to your brand.
This approach focuses solely on people who have already shown interest in your brand. By advertising directly to this group, you gain another chance to capitalize on their existing curiosity. It can also complement other methods of boosting affiliate marketing sales.
Furthermore, retargeting helps you use your resources efficiently. Since this technique focuses on users who have already visited your site, you won't be wasting any of the work you've done to improve your search rankings or develop ads. This makes the strategy highly valuable, especially if you optimize its effectiveness.
3 of the Best Retargeting Platforms of 2021
Fortunately, there are plenty of quality platforms that can help you launch ads with impressive precision. We've rounded up three of the strongest contenders to share with you.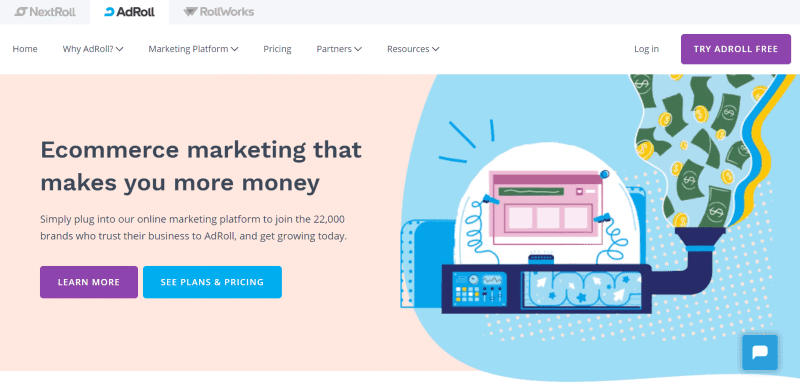 First on our list is AdRoll. This tool provides users with cross-device and cross-channel retargeting features. It boasts an easy-to-use program that's ideal for beginners.
However, marketers of all skill levels will likely appreciate the freedom to get started quickly and for free. Another key feature of AdRoll is its rollout of new marketing approaches. It offers a no-fuss chance to stay on top of emerging social media trends with its advertising features.
This platform might be right for you if you're new to retargeting. On the other hand, its user-friendly nature also makes it a smart choice if you're unfamiliar with the technical aspects involved.
The Starter plan is free to all users without any credit card information required. More features come with the Essentials plan at $9 per month, and additional insights are available with the Growth plan at $19 per month.
Next up is Mailchimp, a popular all-in-one marketing platform with an established reputation. It offers effective tools for reaching interested customers as well as several other avenues to improve your sales.
This platform includes some impressive full-coverage features. One of these is the ability to control your strategy on huge platforms such as Google or Facebook without leaving your Mailchimp dashboard.
If you're looking to retarget but are also curious about developing a large-scale campaign, we recommend checking Mailchimp out. The flexible options make it perfect for those who want to be ready for future growth without overspending.
Mailchimp offers a free plan with basic features and a 2,000 contact maximum. It offers additional functionality on a sliding scale. Paid users can choose from the Essential plan at $9.99 per month, the Standard plan at $14.99 per month, or the Premium plan at $299 per month.
The last of the retargeting platforms we'll discuss is Criteo. This is a service that relies on data to help you retarget with precision. Its approach focuses heavily on helping you understand and improve your return on investment (ROI) statistics.
One stand-out aspect of this platform is its retargeting approach. Instead of suggesting products customers have already viewed, Criteo displays related content to spark new interest in your site.
If you want to maximize your efficiency and have a clear view of your current marketing strategy, Criteo is a powerful option. By the same token, this platform can also be useful if you spot a new marketing trend you'd like to try.
Criteo has not published its pricing options. If you're interested in a quote, you can reach out and contact support for more information.
Conclusion
Retargeting can be an efficient way to increase your conversions. It's a strategy that helps you capitalize on audiences who are already interested. By choosing a powerful platform to help you, you can make the most of your marketing efforts.
In this article, we covered three of the best retargeting platforms of 2021:
AdRoll for those just getting started with the process.
Mailchimp, which is ideal if you're looking for an all-in-one marketing platform.
Criteo if you're interested in a hands-on retargeting approach.
What's your must-have feature when it comes to retargeting platforms? Let us know in the comments section below!
If you liked this article, be sure to follow us on Twitter, Instagram, Facebook, and LinkedIn! And don't forget to subscribe to our newsletter.