Back in early 2010 I was thinking about what project I could do next.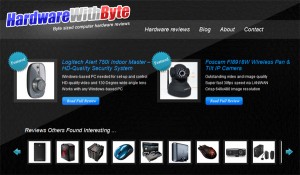 I was bored of all the same internet marketing stuff I was reading and to be honest I was feeling a little disillusioned about the whole make money online niche. It seemed everyone was just reciting what other people had said and nothing new was really coming out of the space.
Hardware With Byte was a website I started as an experiment. I'd decided to do something really broad that I could test various SEO and affiliate marketing strategies with and somehow settled on computer hardware reviews.
I started by creating short review pieces for my favourite bits of computer hardware at the time and linking them up products on Amazon where I could earn a small percentage for people who clicked through my links. I was actually looking to purchase a new computer so the material was pretty easy to write at first.
After a couple of months though it became pretty tiring. It was a very labour intensive process finding affiliate links, setting up posts and manually typing out the html so everything just sat properly on the page. It was killing all my spare time and for only a small return. I could only write about 1 or 2 posts a week which meant the site was growing really slowly.
I needed to automate.
There were two things I had to do:
Outsource the writing (easy enough – find a writer, pay them to write the reviews); and
Find a way to manage all the affiliate links so I track everything (not as easy)
All the solutions on the market for affiliate link management seemed pretty half-baked and hacky and seemed to really focus on the link cloaking aspect, trying to be ninja like and tricking people into clicking links by generating them all over your blog. Not really what I was after.
Initially, I just wanted a way to manage links in categories and throw them into posts easily and that's where ThirstyAffiliates was born.
These days, ThirstyAffiliates does a lot more than just categorize links; you can author posts quickly with the link picker, import and export links so you can share them among all your WordPress installs, protect your links via cloaking and loads more. But the important thing is those same core features that we started with and the values they represent remain in the product today.
The link picker, in particular, is especially handy for Hardware With Byte. It allows me to push out a review in just a couple of minutes.
I can schedule weeks ahead with just an hour of my time, allowing me to keep Hardware With Byte as a growing review website and put time into my other ventures.
In short, ThirstyAffiliates allows me to leverage my time so I can publish more reviews on my site and get on with the tasks that matter.
Not only can I now manage all my Amazon affiliate links but it gives me a vantage point to view my statistics and know what moves to make next according to the performance.