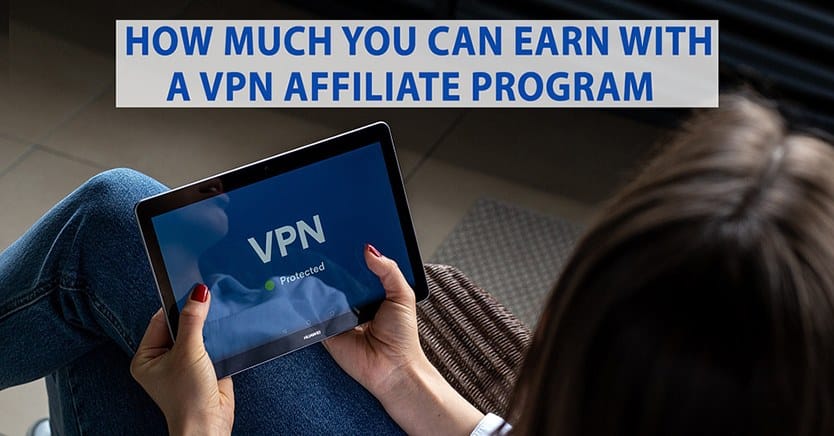 Many times you would hear the word "affiliate" and quickly associate that with the ability to make money. Affiliate programs do offer those opportunities, but there are a few things you should know. Being a VPN affiliate can be lucrative, but it's important to know what a VPN is.
What is a VPN?
A VPN, or virtual private network, helps secure internet usage safer, secure and private. Customers sign up for a monthly fee and it hides their IP address from websites and email. In essence, it makes an internet connection more secure and helps you stay anonymous.
Why would someone want to hide their IP address?
IP addresses give away locations, whether on the road or in one specific place. Additionally, businesses often track individuals who visit their sites. Hackers also love knowing IP addresses, as it helps them take over devices and compromise information.
Being a VPN affiliate affords the opportunity for helping others avoid these types of issues. There are a number of VPN affiliate programs that pay very well. Some affiliate commissions are very competitive, bringing in the opportunity for a lot of money.
The Surfshark VPN affiliate program is one of the most popular with a unique affiliate link and generous commission rates. Bloggers, YouTubers, business people and media professionals all utilize the power of Surfshark's affiliate program to make additional income.
Pros of becoming a VPN affiliate
There are a number of pros to becoming an affiliate, including its low-cost ability to help make money. Affiliate marketing is a billion-dollar business that can be entered with no prior experience or expertise.
There is a low investment cost, it offers convenience and flexibility, and can be a lucrative second income stream. Additionally, the individual is working as their own businessperson with a flexible working schedule. Depending on where they live, they could actually make money while they sleep.

What are the types of commissions offered?
VPN affiliate pay changes based on the provider. Here are some to consider:
• PureVPN
PureVPN offers a 50% commission with a 90-day cookie policy. They have a 7-day money-back guarantee and operation in 141+ countries, including Hong Kong.
TorGuard offers a 30% lifetime recurring commission with a 60-day cookie policy. They use their own in-house affiliate management software, and they can share their links with friends, customers and visitors on their website.
OVPN has a 30-50% commission with a 30-day cookie policy. Known to have one of the best security-focused VPN services globally, they own all their own hardware. Affiliates receive high commissions on first-time sales and generous commissions on all recurring sales.
Hide.me offers a 25% commission with a 45-day cookie policy. Considered to be one the fastest VPN services on the market, affiliates can sign up through Commission Junction as well. Affiliates are free to advertise with PPC and take advantage of Hide.me's 100% optimized conversation landing pages and banners, and they are offered customized marketing materials.
Panda Security is in over 195 countries, with products in more than 23 languages. They offer a 15-35% commission with a 30-day cookie policy. Their team works with affiliates to create their campaigns and adapt creatives for great user experiences.
VirtualShield offers between $13 and 72 dollars with a 60-day cookie policy. They use Refersion to manage their affiliate program, providing them with creatives and reporting tools. There are also affiliate account representatives to assist with concerns or questions.
ExpressVPN offers a commission between $13 and 36 with a 90-day cookie policy. They offer apps for all devices and platforms, as well as browser extensions and routers in addition to the VPN service. Their commission structure is very flexible, with increasing payouts based on the number of sales. They currently use Post Affiliate Pro to run their affiliate program.
• NordVPN
NordVPN offers a 40-100% commission on new signups and a 30% commission on renewals. They have a 30-day cookie policy. Known for providing military-grade online protection to access sites without restriction. Affiliates can use HasOffers or Commission Junction to sign up for the program, and they offer one of the highest VPN commissions and lifetime revenue share.
• SurfEasy
SurfEasy offers a 50% commission with a 90-day cookie policy. They have a no-log VPN for any device. The affiliate program is managed by Refersion, and they have a host of tools to help set up and run campaigns including banners, text link, sales tracking and special offer alerts.
This is just a general snapshot of affiliate VPN programs and how easy it is to make money by being a part of one. Utilizing all the offerings they have to help get the word out is beneficial to the affiliate, but also helps the company become noticed.
Are there downsides? In business, there are always pros and cons. Being an affiliate does not work for everyone, as affiliate marketing programs are controlled by the companies and not the individuals. There is also no guarantee of revenue. If nothing is sold, nothing is gained.
Additionally, someone may want to have control over the amount of money they make. With an affiliate program, commissions and pricing is up to the company and not the affiliate.
Is there competition? Absolutely, but there is no limit once someone gets the hang of affiliate marketing and uses it to their advantage. It may take some time to become established, but once the ball starts rolling, the sky is the limit.
The key is to be self-disciplined and align with a company that provides additional support if just starting out. Having those resources and the backing of the company makes a tremendous difference in mindset and performance.
If someone is considering becoming a VPN affiliate, this information should help steer them in the right direction. Deciding the types of commissions and how well a company's services can be marketed should be one of the deciding factors, now and in the future.