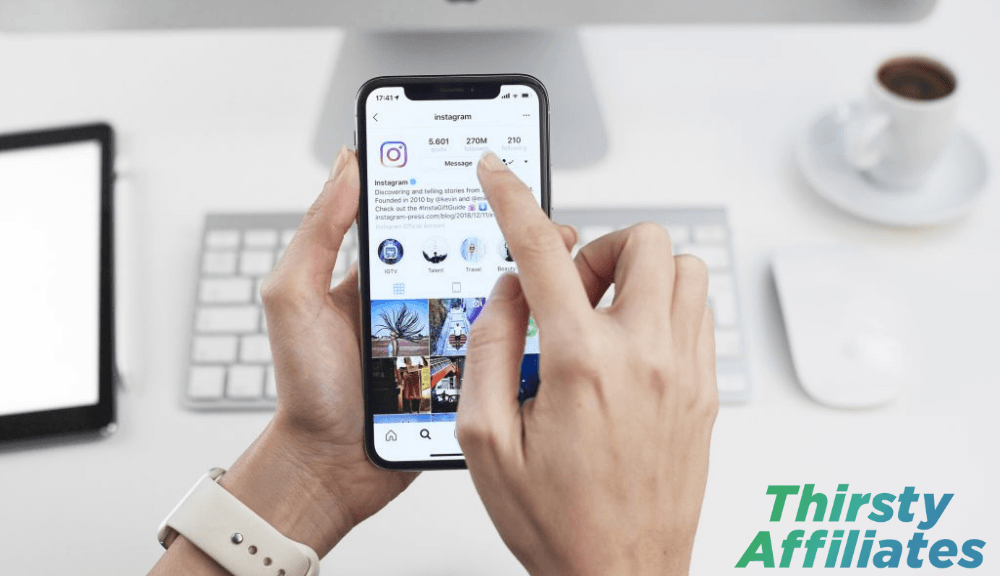 If you don't know how to optimize your brand on Instagram, then your marketing strategy might suffer. You run the risk of losing out on engagement and conversions over time.
Fortunately, you can quickly make dramatic changes to your Instagram brand account, such as by using multi-grid layouts and having a consistent schedule. These strategies can boost your engagement and help you build a strong social media identity.
In this post, we'll take a look at the benefits of using Instagram for your brand. Then we'll offer some practical tips you can follow to optimize your account. Let's get started!
The Benefits of Using Instagram for Your Brand
If your brand doesn't have an Instagram account, you could be losing out on an excellent chance to market your business. The platform provides plenty of opportunities to reach potential customers.
With over one billion users per month in 2019, Instagram is a wildly popular social media platform. It's free to sign up, and you can share image and video posts as well as temporary "stories".
For companies specifically, the numbers are favorable. In fact, about 200 million individuals access business Instagram accounts each day. That means nearly half of the platform's users are actively seeking out branded content.
If your brand is already media-orientated, or wants to start making use of videos and images, then this is a smart channel to pursue. Plus, with 75.3 percent of American businesses using Instagram in 2020, your competition is likely already doing so.
In the context of statistics alone, Instagram is an appealing choice. However, if your brand is selling a product or service, there are many other reasons to use it for marketing.
One is the opportunity for engagement with your audience. Potential and existing customers can leave comments, tag your brand in their own posts, or even respond to polls. You can reply to them, see their feedback, and make them feel valued and acknowledged.
Furthermore, Instagram can act as a visual portfolio for your brand. It gives users a means to browse what you're offering and get a feel for your company's identity. Moreover, by utilizing hashtags, you can also broaden your reach and make your business more widely accessible.
3 Ways You Can Optimize Your Brand on Instagram
Creating an account on the platform is a start, but the most successful business profiles are optimized to refine their identities. Following are three ways you can strategically build your brand's presence on Instagram.
1. Use Multi-Grid Image Layouts
One key aspect of optimizing your Instagram profile is using multi-grid layouts. This is a great way to create an overall visual tone for your brand.
By methodically posting one image at a time, you can create a curated collection of photos and graphics that projects your brand's identity when viewed from your profile: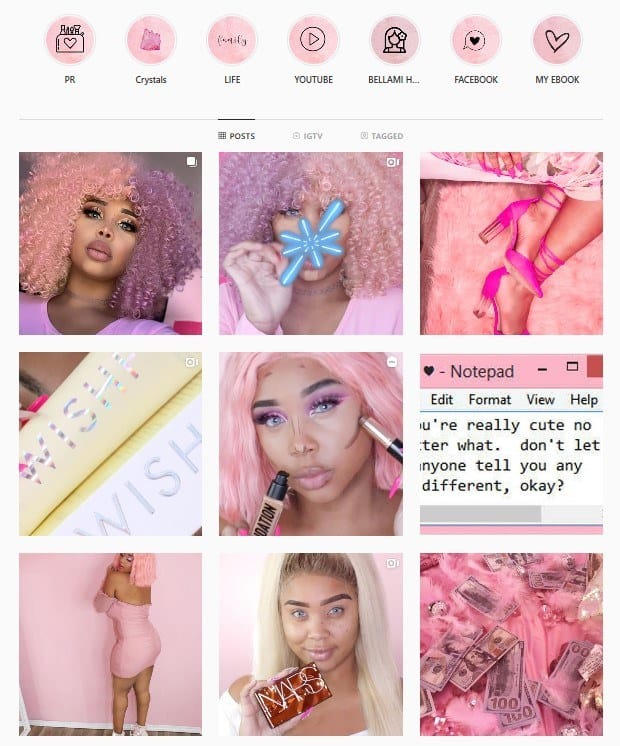 You can use Instagram's existing format to create consistent patterns and themes, such as a color palette focused on a particular hue.
Another technique is to use a checkerboard layout. This involves alternating two different styles of posts, such as quotes and images. The options are endless, and can showcase the power of Instagram's grid view:
Another striking means of using multi-grid posting is to upload several photos to create one image when viewed together: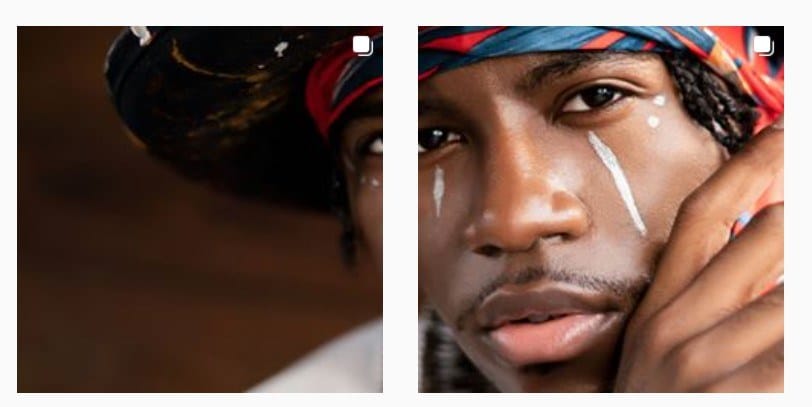 Or, you could use a vertical line sequence to have one style of post running down the middle of the grid. It could be flanked on each side by other suitable posts for a stunning visual effect: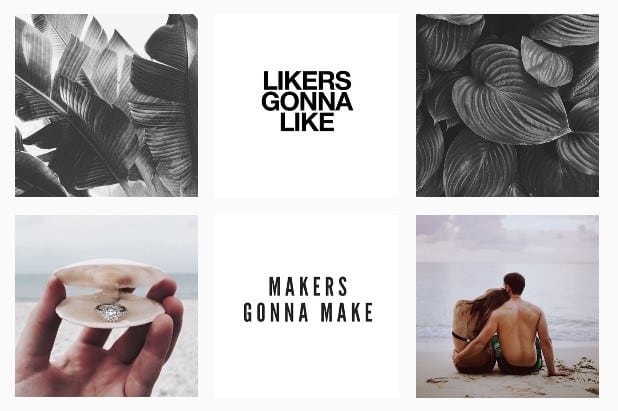 With a grid view approach, you can build up your brand identity in a way that helps you stand out from the crowd. You can use this to tell a visually appealing story across posts and draw your audience in. Though it will require some planning, you can use tutorials to guide you.
2. Create a Consistent Posting Schedule
It's best to have a regular posting schedule to optimize your account. The sheer size of Instagram makes it important to be active and consistent with publishing.
Unfortunately, an account that shares infrequently or erratically may struggle to find engagement or to build a brand identity on social media.
It's also smart to consider optimal posting times for maximum exposure.
Instagram can help you stay on top of all this, as you can utilize Instagram Insights to assess when your audience is most active. Generally speaking, it's prudent to post around lunchtime and after workday hours Monday to Friday. Weekends, especially Saturdays, are also optimal.
Another benefit that comes with an Instagram schedule is that it can aid you with multi-grid layouts. If you're consistent, you don't have to worry about taking time out of a busy day to update your profile since it will already be part of your plan.
Fortunately, Facebook, which owns Instagram, has its own tool called Creator Studio. It enables you to manage your account and schedule posts up to six months in advance.
However, it should be noted that this feature is limited to business accounts that link their Facebook and Instagram profiles. While there are third-party options such as HootSuite and CoSchedule, they can be quite expensive.
3. Utilize a Link Shortener
You can also optimize your account by using a link shortener. This tool enables you to crop long links and customize them to fit your brand image across multiple platforms.
With shorter, tidier links, you don't have to worry about long URLs cluttering up captions or detracting from your posts. After all, a lengthy web address can take up space that could otherwise be focused on your brand.
While Instagram discourages users from adding links in posts, you are allowed to place a URL in your bio section. Considering you have a paltry 150 characters to use here, you don't want to waste them on a long address.
Our Pretty Links plugin makes the process easy. Start by installing and activating it on your WordPress site:
Next, click on Pretty Links > Add New and input the target URL you'd like to modify. Once you do, you can customize the Pretty Link, which is the part of the address that comes after your domain:
When you're finished customizing, click on the Update button.
If you purchase the premium version of Pretty Links, you can also create branded links. This could further help you stamp your identity on the shortened URLs you create.
Conclusion
Optimizing your Instagram account is not a trivial task. It can help you build your brand voice and boost your marketing efforts. In the process, you could increase your audience engagement and broaden your reach.
In this article, we shared three tips to optimize your Instagram account:
Utilize a multi-grid layout strategy to give your account a visually appealing appearance.
Create a posting schedule to ensure your account is consistent.
Use a link shortener and branded links to clean up URLs and keep your bio tidy.
Do you have any questions about how you can optimize your brand's Instagram account? Leave them in the comments section below!