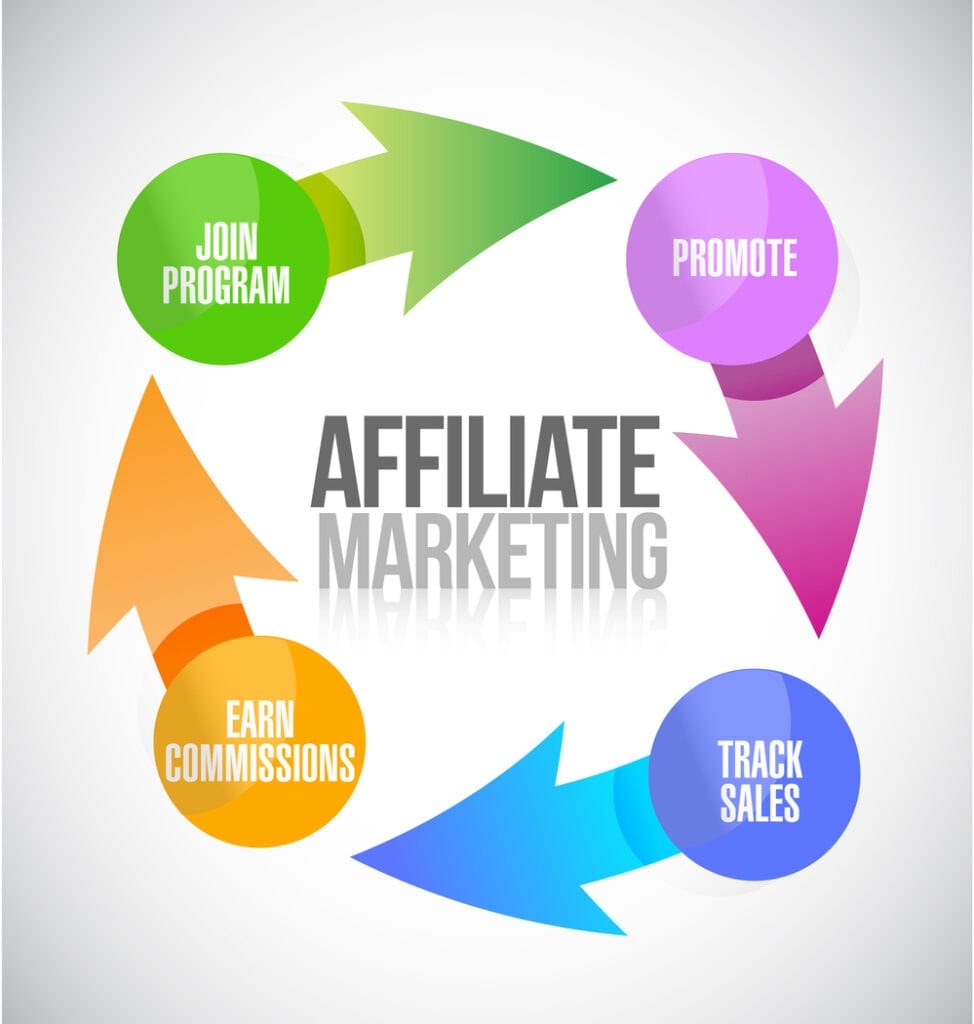 An affiliate marketing business can be an effective way to earn money online. However, it can be difficult to know where to start – especially when there are hundreds of programs to choose from.
Fortunately, starting your affiliate marketing career doesn't have to be complicated. By following a few simple steps, you can launch your online business quickly and start earning revenue.
In this article, we'll show you how to launch an affiliate marketing business in four easy steps. Along the way, we'll suggest tools, techniques, and best practices to help get your new venture off to the strongest possible start. Let's dive in!
An Introduction to Affiliate Marketing Businesses
Affiliate marketing is a performance-based technique. As an affiliate, you'll promote a merchant's products or services using a unique link. This enables the brand to track sales that originated from your affiliate website. You'll typically earn a commission for every confirmed sale that results from your efforts.
This technique's flexibility and scalability mean that affiliate marketing can be a lucrative business. In fact, the Wirecutter affiliate marketing site made an estimated $10 million in revenue and was eventually sold to the New York Times for $30 million.
When starting any new business, you'll need to work hard to attract an audience and drive conversions. However, unlike other business models, you can launch a successful affiliate marketing website with minimal startup costs. This makes it an attractive prospect for startups, small businesses, and solopreneurs who typically work on tight budgets. 
Once you've launched your business, you'll have the freedom to partner with multiple brands. You can promote a range of products from many different companies and earn commissions from all of them. 
With so many affiliate marketing programs to choose from, there are lots of opportunities to scale and adapt your business. If your audience reacts positively to a particular product or brand, you can update your site to feature more of this popular content. This enables you to maximize your appeal and drive conversions.
How to Start an Affiliate Marketing Business (In 4 Steps)
Whether you're launching a new business or exploring additional revenue streams, affiliate marketing is a popular way to make money online. To help get your new venture up and running, here's our four-step guide to launching your affiliate marketing business.
Step 1: Find Your Niche
Many successful affiliate marketers sell to niche audiences. By promoting products that have huge appeal to a very specific customer base, you can drive more conversions and achieve a higher return on investment (ROI).
If you do decide to target a narrow audience, it's important to find a niche that's large enough to generate a healthy revenue. Before making your decision, it may help to research the market using a tool such as Google Trends.
You can use Trends to evaluate the number of people searching for keywords related to your potential affiliate products and target audience:
It may also help to consider the topics and products you're passionate about. The most successful affiliate marketers become reliable and enthusiastic advocates for the products they promote.
By specializing in a niche you're genuinely interested in, you'll be more likely to succeed in creating authentic content that resonates with consumers.
Step 2: Create Your Affiliate Marketing Website
Once you have a niche in mind, you can start building your site. First, you'll want to register a domain and purchase a hosting plan. You'll also need a content management system (CMS). Powering over 32% of the internet, WordPress is one of the most popular options: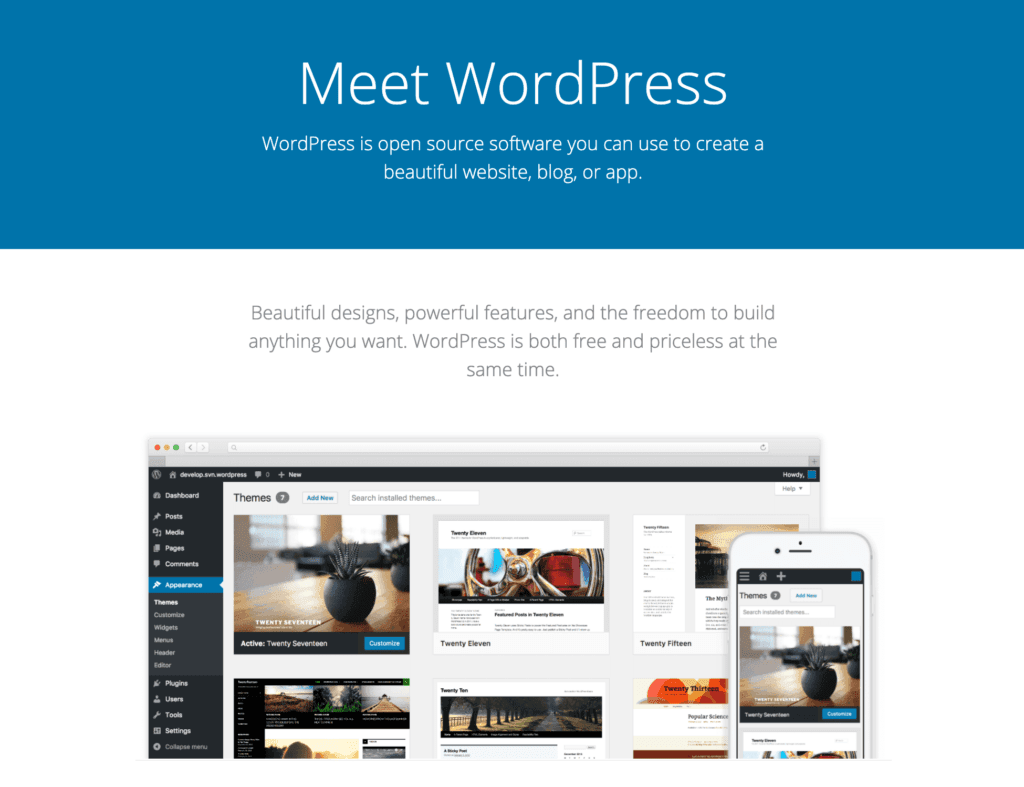 There is a huge community of WordPress themes and plugins to choose from, including many developed specifically for affiliate marketers.
WordPress is designed to be easy-to-use. Due to its popularity, you can find many tutorials, blogs, video guides, and experts readily available if you need help building your affiliate marketing website.
Step 3: Join an Affiliate Marketing Program
A quick internet search will reveal hundreds of affiliate programs that you can join. However, you can generally group them into three categories.
First, there are affiliate programs for niche products with high payouts, such as ConvertKit's program: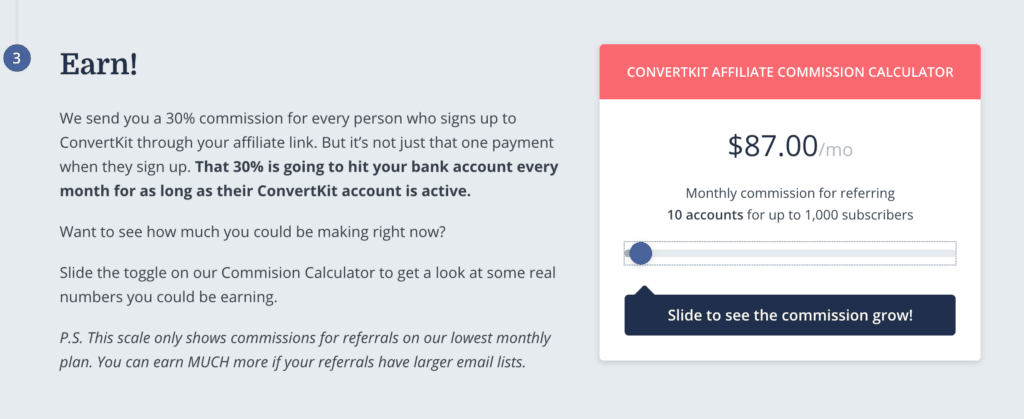 Since these programs deliver high commissions, there's often fierce competition amongst affiliate marketers. When launching a new affiliate marketing business, you may struggle to compete with the established publishers who flock to these high-paying programs.
Second, there are affiliate programs for products with low payouts but mass appeal. The most classic example is Amazon Associates:
Mass appeal means you should have no problems finding relevant products for your chosen niche. However, the low commission rates mean the key to success lies in driving lots of traffic and conversions.
Third, there are affiliate programs for products that have mass appeal and pay high commissions, such as credit card affiliate programs. These programs tend to attract experienced affiliate marketers with the budget to promote these lucrative offers to a large audience. 
When you're getting started, it's smart to focus on programs that deliver low payouts but have mass appeal. However, if you're targeting businesses, it may be possible to generate a healthy profit from a high-paying and low-volume affiliate program early in your journey.
Step 4: Consider Using a Link Cloaking Plugin
Your typical affiliate link contains tracking or UTM codes. Merchants use these to identify which customers you send their way so they can pay out accurate commissions. However, this can result in long, complex URLs.
To help drive conversions, you can cloak your affiliate links. This replaces long affiliate links with shorter, more user-friendly alternatives. Cloaked links are typically easier to share and appear more trustworthy to consumers, which can help you increase your click-through rate (CTR).
Security-conscious visitors may avoid interacting with unfamiliar-looking links. By cloaking affiliate links with your own domain name, you can encourage visitors to interact with them.
Our ThirstyAffiliates plugin has everything you need to replace long, complex affiliate links with cleaner alternatives:
As your affiliate business grows, you may acquire a large number of tracking links. By registering each of them with our ThirstyAffiliates plugin, you'll have a centralized location where you can manage all of them, no matter how large your business grows:
This can be invaluable if a brand you're working with switches affiliate networks or otherwise changes its URLs. You can simply navigate to the ThirstyAffiliates dashboard and update all the relevant links at once. This change will then be replicated across your entire website. 
Conclusion
If you're like most people, you probably wouldn't mind making a little extra money online. Affiliate marketing can be an effective way to monetize an existing website, or even launch an entirely new business venture. However, it can be difficult to know where to start.
In this post, we provided a straightforward, four-step plan to becoming a successful affiliate marketer:
Find your niche.
Create your affiliate marketing website.
Join an affiliate marketing program.
Consider using a link cloaking plugin.
Do you have any questions about launching your affiliate marketing business? Let's go over them in the comments section below!
If you liked this article, be sure to follow us on Twitter, Instagram, Facebook, and LinkedIn! And don't forget to subscribe in the box below.