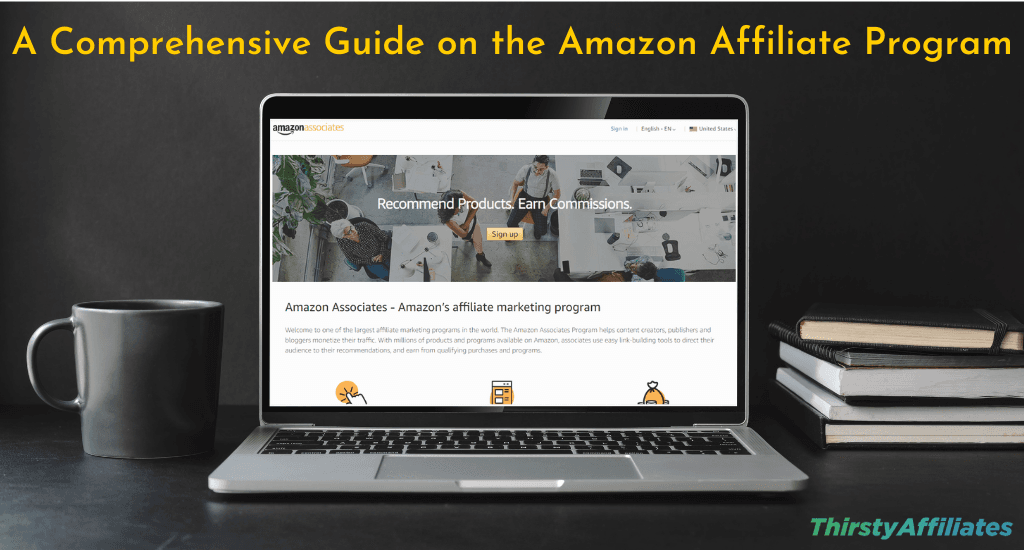 Amazon has an inventory of nearly 12 million items across various categories and services – from automotive, home, electronics, you name it! Every hour that passes, Amazon makes an average of $17 million in sales, leading to their 2020 net revenue of approximately $386.06 billion. 
Although, Amazon isn't the only one making a gigantic profit. Nearly 45% of Amazon's market share is owned by affiliate marketers. With over 900,000 members, the Amazon Affiliate Program is one of the largest affiliate networks in the world!
In this comprehensive guide, we'll cover the ins and outs of Amazon's affiliate marketing program. We'll answer the most commonly asked questions on how the Amazon affiliate program works – including how much money you can make as an affiliate, what the top product categories are, how to choose the best products for your niche, and so much more. Let's get started!
What is the Amazon Affiliate Program? How Does it Work?
The Amazon Affiliate Program, also known as "Amazon Associates", is a worldwide referral program that rewards marketers who successfully convert sales of Amazon products by posting links to their online platforms.
When a consumer clicks on your affiliate link, you'll be paid a commission based on the item(s) they purchase within a 24-hour period.
The Amazon Affiliate program is completely FREE to join. Click here to learn more on how to become an Amazon Affiliate.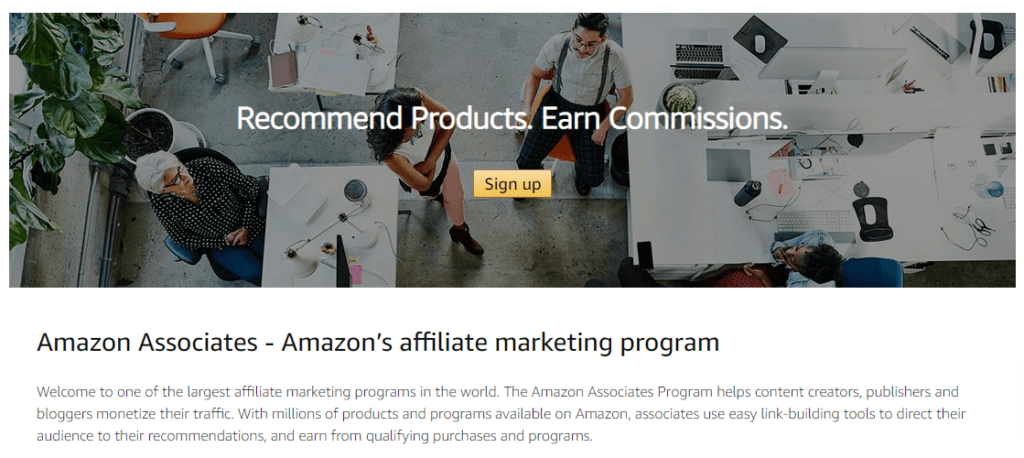 Do You Qualify to be an Amazon Affiliate?
All it takes to become an Amazon Affiliate is having an active online platform. This can include a website, a blog, social media accounts, or even a YouTube channel.
Anywhere you can post clickable links can help you become Amazon's next big affiliate marketer.
What Are Amazon's Top Commission Categories?
To start chalking up your high sales count, you'll need to make sure that you're working in a profitable niche. Amazon has over 40 departments – from Arts and Crafts, Electronics, Toys and Games, Clothing, and more.
It's crucial that you do your research to find what products are most popular. Keep in mind, this list is constantly changing. For example, gardening tools most likely have a higher market value during the spring months as opposed to the middle of winter.
You'll also want to look at the not so fluctuating, Fixed Commission Income Rates for Amazon product categories:
Using the chart above, you can see how commission rates vary across different Amazon product categories. So, while Video Games may rank higher on popular Amazon Product lists, you'll need to consider video games sales also have one of the lowest commission payouts.
How Do You Choose Amazon Products for Your Niche?
After you've decided on which product categories you want to promote based on popularity and commission earnings, now you'll need to do some more narrowing down to focus only on the products that best fit the needs of your targeted audience.
Here's a breakdown of the criteria you should keep in mind when compiling a list of product ideas you'll promote on your site:
High-Quality Products. Choose products that are highly rated. People aren't likely to buy something at three stars or lower.
Products for Daily Use. Choose products people use on a regular basis. People are more likely to purchase products they can see themselves using frequently.
Products appropriate for your audience. Choose products that your niche will appreciate. It doesn't make sense for an electronics blog to affiliate with wooden spoons.
Pick things you can see yourself using. If you can't see yourself using the products, you won't be able to produce engaging content about them. Choose products that are easy for you to talk about.
Look for "Upscale" Potential. Choose products that will work well together. Think: coffee maker + thermos ; camping tent + sleeping bag ; laptop + headphones. The possibilities are endless!
Consider "Quantity" and "Quality". Buyers Guides are excellent content creation methods used by affiliates marketers. Choose products that are available in high quantities, then write up a buyers guide to compare and recommend different brands.
How to Create an Amazon Affiliate Link?
Amazon does have a strict policy when it comes to affiliate links. Fortunately, there are several easy ways you can create your links using their Products Links Tool, Banner Creation Tool, and Site Stripe.
Product Link Tool
Amazon's Product Link Tool lets you build customized text links, image links, or both that link to Amazon products:
To create a Product Link, you'll need to scroll over the Product Linking tab within your Associates Central dashboard. Click on Product Links in the drown-down menu. Type in the Amazon Standard Identification Number (ASID) for your product. Then click "Go". You will then see your new affiliate link. For more options, such as creating an image-only link, click on "Get link".
Banner Creation Tool
With the Banner Creation Tool, you can link to individual Amazon products, categories, or promotions using attractive banners:
To create a banner using the Banner Creation Tool, open the drop-down menu under Product Linking. Here, you can choose from a large collection of banners sorted by size and category.
Site Stripe
Many Amazon Affiliates consider Site Stripe the easiest way to create affiliate links. This tool allows you to build links right from the Amazon page you are currently browsing:
To enable Site Stripe, click Tools on your Associates Central dashboard. Read through the brief description on Site Stripe before clicking on the "Learn More" link. This will open a Display Settings box below. There, you will simply slide the toggle switch to Enable.
For more on how to create Amazon Links using the Product Links tools, the Banner Creation Tool, and Site Stipe, visit the Amazon Tools and Features page here.
After you've created your Amazon affiliate links and images, you can start adding them to your marketing platform.
How Do You Get Paid as an Amazon Affiliate?
The average Amazon Affiliate makes anywhere from $100 to $20,000, simply by sharing affiliate links via their blog, website, or through social media posts.
Affiliates are paid approximately 60 days after the end of the month of which they are being paid. For example, the affiliate sales you bring in during the month of January will be rewarded two months later in March.
You can choose one of three ways to receive your commission earnings:
Direct Deposit
Amazon gift card
Mailed-In check
Your monthly earnings must reach a minimum threshold before Amazon will pay you for that month. The minimum threshold for direct deposits and Amazon gift cards is $10. If you chose to be paid via hard check, you must earn a minimum threshold of $100.
In the event you do not reach the minimum threshold at the end of the month, your earnings will be rolled over to the next month.
Conclusion
There you have it – answers to some of the most asked questions on the Amazon Affiliate Program. Now, you can confidently join the hundreds of thousands of affiliate marketers who monetize their online content as an Amazon Associate.
In this guide, we covered some of your biggest concerns on how to get started with the Amazon Affiliate program, including:
What the Amazon Affiliate Program is and how it works
Seeing if you qualify to be an Amazon Affiliate
Discovering Amazon's top commission categories
Choosing Amazon products for your niche
Learning how to create an Amazon affiliate link
Figuring out how to get paid as an Amazon Affiliate
Did we miss anything? Is there something you'd like to add to our article? Let us know in the comments section below!
If you liked this article, be sure to follow us on Twitter, Instagram, Facebook, and LinkedIn! And don't forget to subscribe to our newsletter!