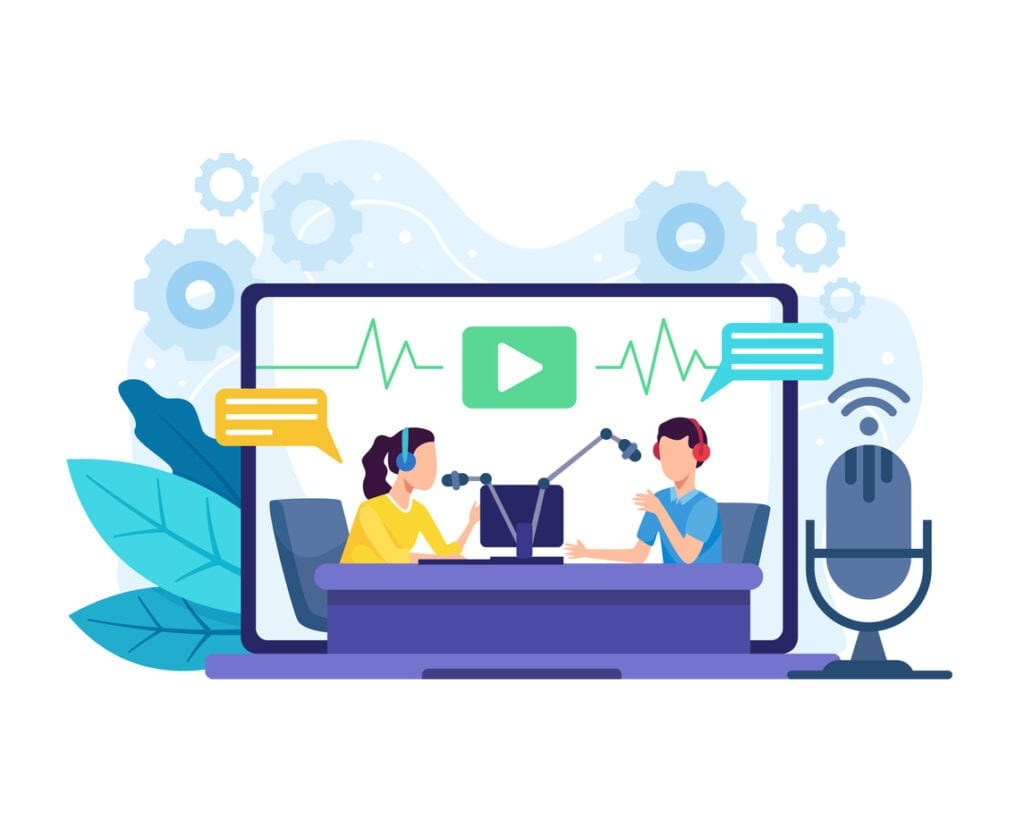 There are a lot of options out there when it comes to monetizing your podcast. As a recent study shows, most listeners prefer giving monetary support directly to podcast creators themselves. Therefore, working from a personal angle might be to your advantage.
Fortunately, podcast affiliate programs can be the perfect tool for doing so. By familiarizing yourself with how they operate, you can learn how to connect with your audience in an effective and profitable way.
In this article, we'll give you an introduction to affiliate marketing for podcasts and using podcast affiliate programs. Then, we'll take you through three defining features of this system to show you how it works. Let's get started!
How to Do Affiliate Marketing for Podcasts through Affiliate Programs
Affiliate programs enable content creators to partner with companies to promote their brands. The creator includes affiliate links in their content, which visitors can click on to make purchases. Affiliates then earn commissions on successful sales.
Thanks to this flexible system, there are multiple content formats you can use to promote affiliate links. If you're a podcaster, you have access to multiple programs interested in setting you up with links.
One example is the popular audiobook merchant Audible: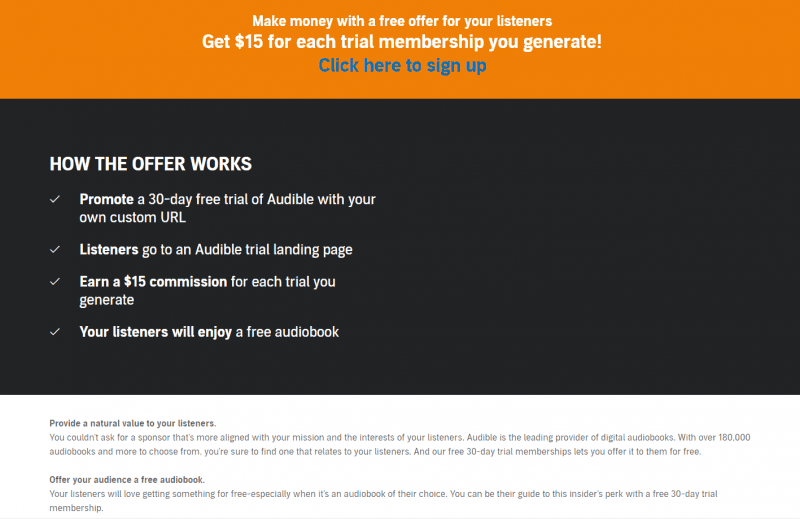 If you're interested in joining, the good news is, it's a pretty simple process. You can start by finding a program that fits your audience and niche. Once you're accepted, you'll receive your unique link and can market it to your listeners.
Why You May Want to Join Podcast Affiliate Programs (3 Key Reasons)
Joining a podcast affiliate program can offer some serious benefits. We've summarized three of the most influential below.
1. Plenty of Opportunities to Get Started
Monetizing your podcast can be tricky. Getting your foot in the door to run ads, for example, might come with a minimum download threshold for brands to even consider working with you. Affiliate programs often have lower barriers to entry since you're not paid unless you drive sales.
This lower risk means that companies are more willing to take a chance on smaller podcasts. As long as you're making sales, sponsors are unlikely to care whether you have hundreds or hundreds of thousands of listeners.
This can also cut down on time you'll have to spend filling out affiliate program applications, like this one from Buzzsprout: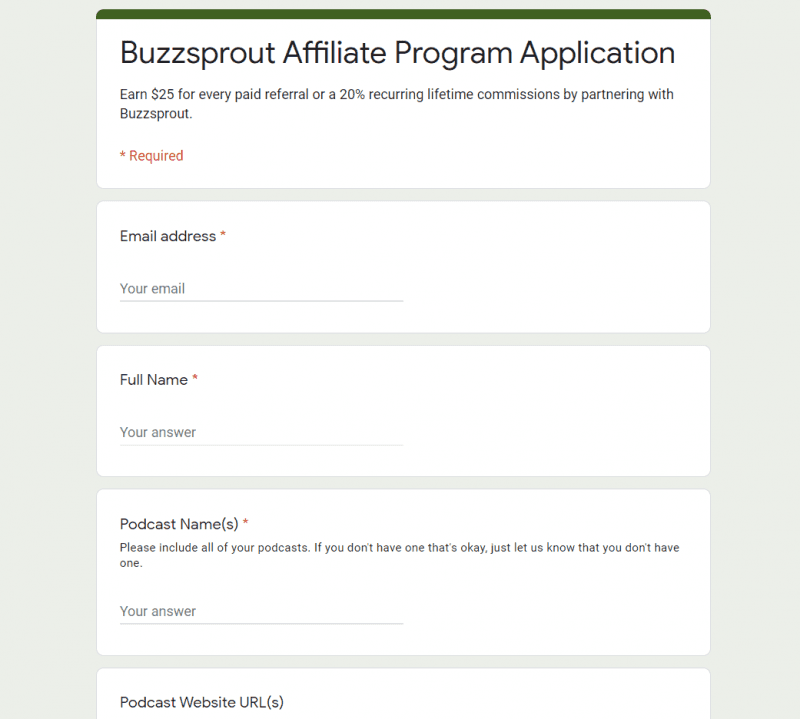 You'll then be free to focus more energy on marketing products and driving sales. This can also help you create a portfolio to help you land other business opportunities. As your podcast grows, you can apply your refined sales skills to attract higher-tier sponsors.
2. Flexibility in Ad Placement
Sponsored ads that you read on-air are a bit limited in terms of where you can place them. Your options are basically to read them before or in the middle of your episodes. Affiliate links, by contrast, don't have those same constraints.
You're free to promote your affiliate links in whatever way you think will best encourage sales. You can share them during your podcast, on your show's Twitter account, or include them in your show notes as the Kitchen Counter podcast did in a recent episode: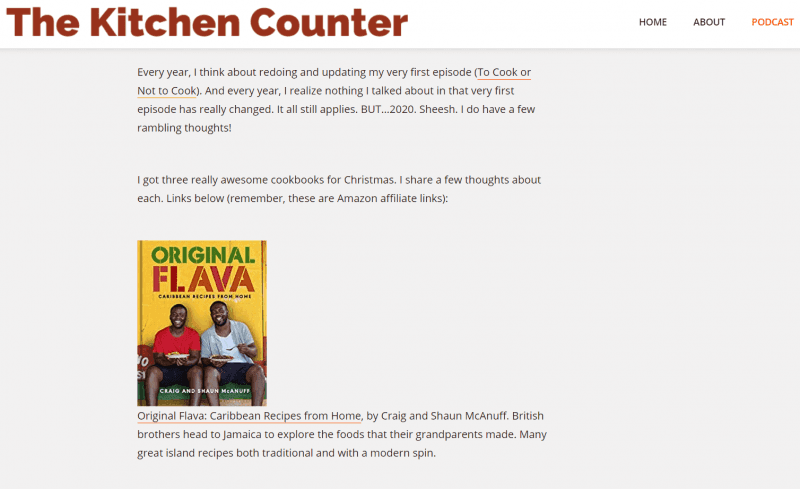 You can change up your approach on the spot or stick to one that works. However, it does bear mentioning that regardless of how it's done, you'll have to transparently disclose your affiliate links and status. Keeping your approach organized is also important to avoid link rot.
3. A Sales-Centric Approach
One of the reasons podcast affiliate programs are fairly easy to join is that companies don't have to invest in your partnership upfront. They only pay when you make a sale. While this can be a challenge for you at first, it can also be a valuable opportunity to build some crucial sales skills.
Devoting more energy to driving purchases might also have better results, depending on your sponsor. A strong pitch for a product that is highly relevant to your audience can be very effective. For example, take a look at the WDW Radio podcast's recent show notes: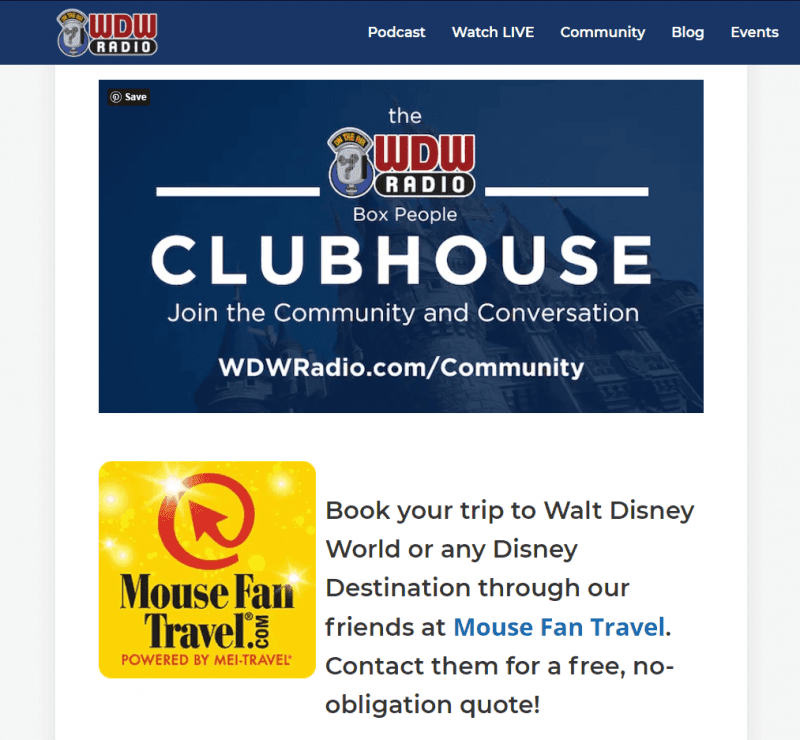 WDW Radio covers content related to Walt Disney World theme parks. It's partnered with a travel agency (Mouse Fan Travel) that specializes in booking trips to that exact location. The closely related brands mean that this sale takes a relatively direct route.
This is even more of a reason to choose products and services within your niche that you can personally vouch for and authentically tie into your podcast. The right sponsor can make your job easier and drive more conversions.
Conclusion
If you're a podcaster, you have a lot of options for monetizing your content. One of these is through podcast affiliate programs. Once you understand how the process works, you'll be ready to start driving sales and raking in commissions.
In this article, we covered the three main advantages to working with podcast affiliate programs:
Entry requirements tend to be accessible for less-established podcasts.
They grant you freedom with regards to how you advertise.
Affiliate marketing is a sales-centric approach focused on conversions.
Do you have any questions about how to do affiliate marketing for podcasts? Let us know in the comments section below!
If you liked this article, be sure to follow us on Twitter, Instagram, Facebook, and LinkedIn! And don't forget to subscribe in the box below.