WordPress is an excellent platform to build your affiliate website on. There are countless plugins to help you showcase your content. However, if you're looking to create and promote online courses, the sheer number of learning management system (LMS) plugins available might be a bit overwhelming.
Fortunately, we've done the research to find four stand-out options. These plugins go above and beyond as the best tools for organizing and managing your online classes.
In this article, we'll give you an overview of what features are important to look for in an LMS plugin. Then we'll take you through four of our favorite options on the market right now. Let's dive in!
An Introduction to WordPress LMS Plugins
An LMS plugin provides the necessary infrastructure to transform your WordPress site into a hub for education. By organizing the distribution of information and courses to your users, it can make teaching easier for you (or your guest instructors) and learning easier for your students.
An important part of this is your plugin's course-building capabilities. You want a system that will enable you to create courses that clearly organize your resources and objectives. Not only can this save you some frustration, but it can also help your learners follow along with ease.
Another important feature to look for in an LMS is progress tracking. It's an easy way to help students stay motivated and feel in control of their learning process. The same goes for assessment options. A variety of quizzes, tests, and assignments can make for well-rounded reviews.
On top of the benefits for your students, you might also want to consider how an LMS supports your success as well. Systems with an efficient and transparent payment system can make it easier for everyone when money changes hands.
You might also want to think about how an LMS can help you market your courses and grow your classes. Especially if you're running more than one course, looking for a system that can help you sell your classes to both current and new students can be a smart investment.
Introducing 4 of the Best LMS Plugins
There are a lot of quality LMS plugins out there, so we've rounded up four of the strongest contenders to help you find your perfect match.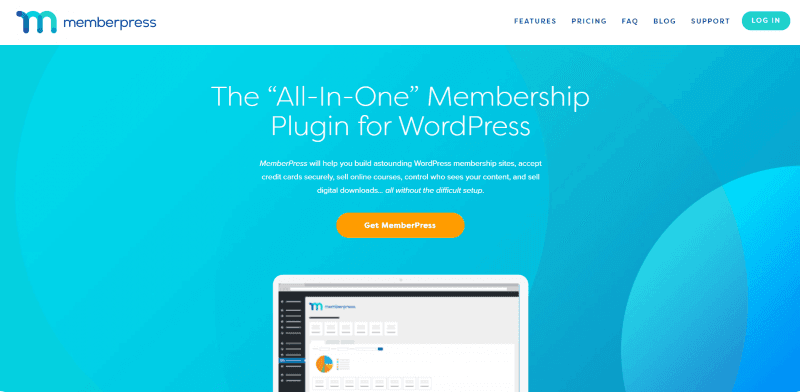 MemberPress is a membership plugin that can help you create exclusive paid content on your WordPress site. It also has a cutting-edge add-on, MemberPress Courses, that rolls in all the features you'll need to create a fully-fledged educational website without any hassle.
Our favorite stand-out feature with this plugin is the highly customizable student experience. Combined with the simple course building interface, MemberPress makes it easy to create the exact lessons you're looking to provide.
The business functionalities are also particularly robust. Dynamic pricing pages, stellar coupon options, and subscription management work together to make payments a breeze. It also integrates seamlessly with Easy Affiliate, giving you an organic way to promote your classes and maximize your revenue.
MemberPress is a well-rounded LMS plugin that excels in both power and accessibility. If you're looking for a tool that goes the extra mile for beginners and experts alike, this one should definitely be on your shortlist.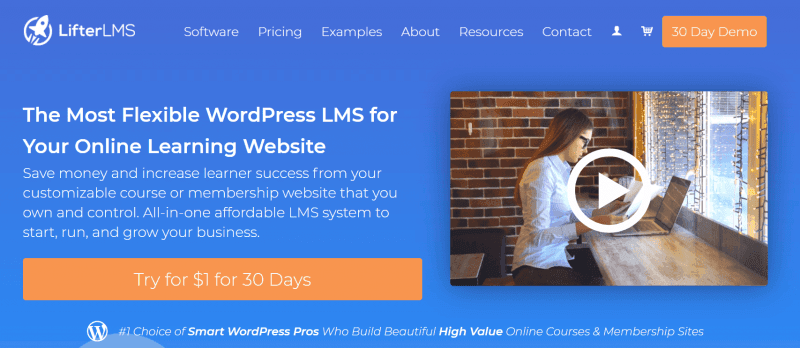 With the goal of democratizing education, LifterLMS is a WordPress plugin that provides accessibility for all. No matter what type of courses you're selling, you're likely to find this plugin to be flexible and accommodating. It's built to be engaging for students and profitable for creators.
One of the best features that LifterLMS brings to the table is its adaptability. It's designed to integrate well with other WordPress tools. This aspect gives you the opportunity to maximize your potential by using functionalities from your theme and other plugins you're already a fan of.
This can be a great opportunity to build upon your WordPress skills or even learn some new tricks. If you're not interested in integrating your LMS with other plugins, don't worry. There's still a wealth of powerful native features available for you to work with.
LifterLMS is a competitive solution for creating courses at any level of complexity. If you consider yourself WordPress savvy and are looking for an opportunity to integrate that knowledge into your course creation, we recommend giving this one some thought.
LearnDash is an LMS plugin with a keen focus on the quality of your students' experiences. Co-founded by e-learning experts, it can help you create an effective and thorough online course.
In addition to its basic e-learning features, LearnDash also offers custom-branded learning portals, quizzes, and pre-requisites. It delivers an impressive amount of control over the student experience, both in terms of content and aesthetics.
It's an extremely popular choice among WordPress users, which is a promising testimonial to its quality. Better yet, this also means that plenty of developers have caught on and provided add-ons and extensions. You can mix and match any number of them to customize your courses.
Although it tends to be more expensive than some of the other best LMS plugins, it has the feature-set to justify the price tag. If you're thinking about transforming your online classes into a full-time business, LearnDash is a stand-out premium option that you might want to invest in.
ProProfs LMS is the world's easiest LMS plugin that you can use to turn your WordPress site into an online learning portal. The LMS comes equipped with powerful features, including a premium library of ready-to-use training courses, an eLearning authoring tool, a virtual classroom, quizzes and surveys, a collaboration tool, and AI-powered reporting.
The add-on easily lets you add courses and assign them to learners from your WordPress dashboard. You can also access insightful training reports from the same dashboard. Selling online courses from a WordPress site becomes easy with ProProfs secure payment gateways.
ProProfs API enables you to import new WP users into the LMS and assign them courses and tests. The single sign-on (SSO) feature lets users access courses and reports from WordPress. Similarly, learners can take courses and view certificates without ever leaving the site.
Conclusion
There are a lot of great LMS plugins for you to choose from – and if you're short on time, you might not have the chance to size up each one individually. Fortunately, we've rounded up four of the best to narrow your options down.
In this article, we reviewed four of the best LMS plugins on the market right now:
What's your must-have feature in an LMS plugin? Let us know in the comments section below!
If you liked this article, be sure to follow us on Twitter, Instagram, Facebook, and LinkedIn! And don't forget to subscribe in the box below.