When it comes to earning passive income, the web hosting industry is a popular choice for affiliate marketers.
Why is that? Because as the number of businesses and bloggers looking for top hosting solutions rises every year, there are PLENTY of opportunities to earn commissions on affiliate links from web hosting providers.
Among them is Cloudways – a managed cloud hosting platform for all businesses. Cloudways has recently revamped its affiliate program.
But unlike before, it now features higher commissions and tons of support and resources to make affiliate marketing a breeze.
Here is a detailed look into the Cloudways Affiliate Program, how it works, and the many benefits you can hope to gain from it.
What Is Cloudways?
For those of you who don't know, Cloudways is a Malta-based hosting provider and among the leading cloud hosting companies in the industry.
It provides a convenient, one-stop web hosting experience for digital agencies, bloggers, freelancers, startups, designers, and developers.
Unlike other web hosting providers that offer shared and dedicated hosting plans, Cloudways stands out in providing managed services with advanced features such as CDN, local data centers, and optimized stack to achieve lightning fast speed and performance.
Cloudways provides managed hosting solutions from six leading cloud infrastructures: Amazon Web Services, Google Cloud Engine, DigitalOcean, Vultr, Kyup, and Linode.
But, instead of being limited to WordPress hosting, it also integrates other CMS and web apps including Magento, Drupal, PHP, Laravel, and more.
How Much Can You Earn With Cloudways Affiliate Program?
Cloudways first introduced its affiliate program two years ago. But recently, it took it to a whole new level with its revamped version.
Rather than stick with one specific way of earning commissions, Cloudways now gives affiliates greater earning choice and flexibility by letting them choose from any of its three commission structures: Slab, Hybrid, and Custom.
Slab
In the Slab commission model, you earn based on the number of referrals that convert into Cloudways customers. Simply put, it's based on conversions.

The way it works is simple: the more sales you land every month, the higher your Slab number, your commission per referral, and your total earnings. Your total commissions under the Slab model are calculated by the number of sales you make before month's end.
So, if you land five referrals during the month, but get another two before the existing month ends, your total commissions are calculated on seven referrals, not five.
The Slab model is great if you can consistently secure multiple referrals every month. For this reason, it works out best for performance marketers and entrepreneurs.
Hybrid
If you prefer earning through recurring commissions instead of CPA, then Cloudways' Hybrid model is the one for you. It lets you earn a $30 up-front signup bonus along with a 7% recurring commission for every active Cloudways customer. In other words, you get the chance to earn passively for several years.

For this reason, Cloudways' Hybrid model works out better for those who are not aggressively looking to earn commissions but want to earn in a more laid-back way. Bloggers, freelancers, and digital agencies can gain the most from this structure.
Custom
There are three types of affiliates as far as I know. There are beginner affiliates, who are still learning the ropes of affiliate marketing, and experienced affiliates, who are have several years worth of affiliate marketing expertise.
But, then there are pro affiliates. These are on a completely different level of affiliate marketing and can effortlessly refer dozens of customers on a monthly basis.
If you're one of these affiliate gurus, then Cloudways' Custom tier fits like a glove. Under this structure, you have the chance to earn from a mix of Slab and Hybrid models through a custom commission structure designed around your strengths.
To start off with the Custom commission model, get in touch with Cloudways Affiliate Manager.
So, which commission model is right for you? Whichever you choose, you enjoy several benefits.
Benefits of Becoming A Cloudways Affiliate
By becoming a Cloudways web hosting affiliate, you can earn thousands of dollars every month. Here are a few benefits you get in addition to that.
The Versatility of Web Hosting Solutions
Since Cloudways provides hosting solutions from WordPress and Magento to PHP and Laravel (each from six different cloud vendors), you have the ability to amplify your commissions multifold. As the saying goes, "the more the merrier."
You can promote and earn commissions on managed WordPress hosting affiliate links as well as from PrestaShop and Drupal e-commerce hosting in parallel, for example.
These multi-platform and CMS hosting affiliate links give you a much better advantage, allowing you to earn higher commissions from multiple sources.
Top-Notch Affiliate Marketing Support
There's no limit to the number of commissions you can earn as a Cloudways Affiliate.
But, you may ask "What if I'm new?"
For starters, you don't have to worry about becoming a walking dictionary on managed cloud hosting and other complex tech talk.
Cloudways gives you all the learning resources and support you need to plan and execute your marketing tactics to refer more customers.
You get dedicated affiliate account managers, comprehensive affiliate marketing articles and guides, seasonal and promotional campaign banners and artworks, and a lot more.
Affiliate Panel for Referral and Performance Tracking
Consider this scenario: you have just run a New Year campaign selling web hosting links, but you haven't tracked your referrals and don't know how much commission you've earned.
If you have a number of campaigns and promo activities, you'll need a fair number of assessments to know what worked and what didn't. It's common for affiliate marketers to lose track of their referrals and the outcome of their activities.
With the Cloudways Affiliate Panel, this is never a risk.
You get a snapshot of your current performance in terms of how many signups, conversions, and commissions you've made so far. The Affiliate Panel also contains a campaign section wherein you can check how well you performed in a given campaign, so you can make improvements for the next.
And if you need to do some serious number crunching, the report section gives a fantastic overview. It gives full details on metrics such as raw clicks, payouts, and channel stats.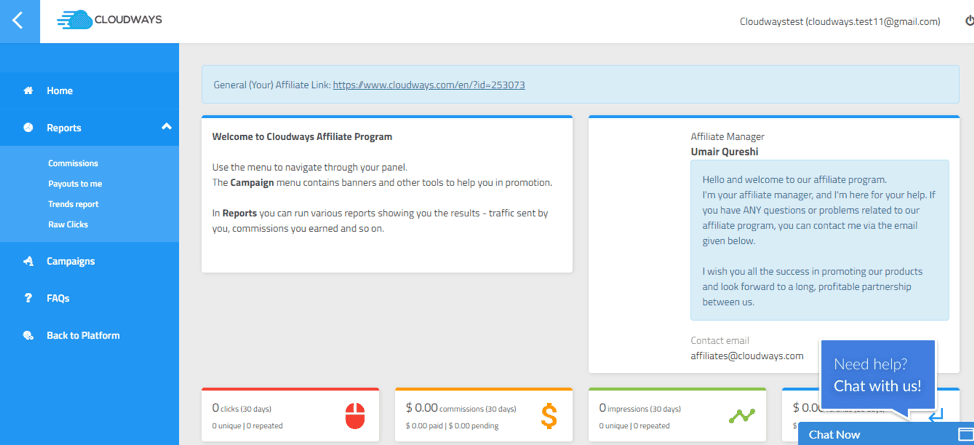 Become a Cloudways Affiliate
So, are you thrilled to start earning with Cloudways Affiliate Program? If so, click here to become an affiliate. For more information about the program, check out the Cloudways affiliate program FAQ page.
This post was a sponsored post by Cloudways.