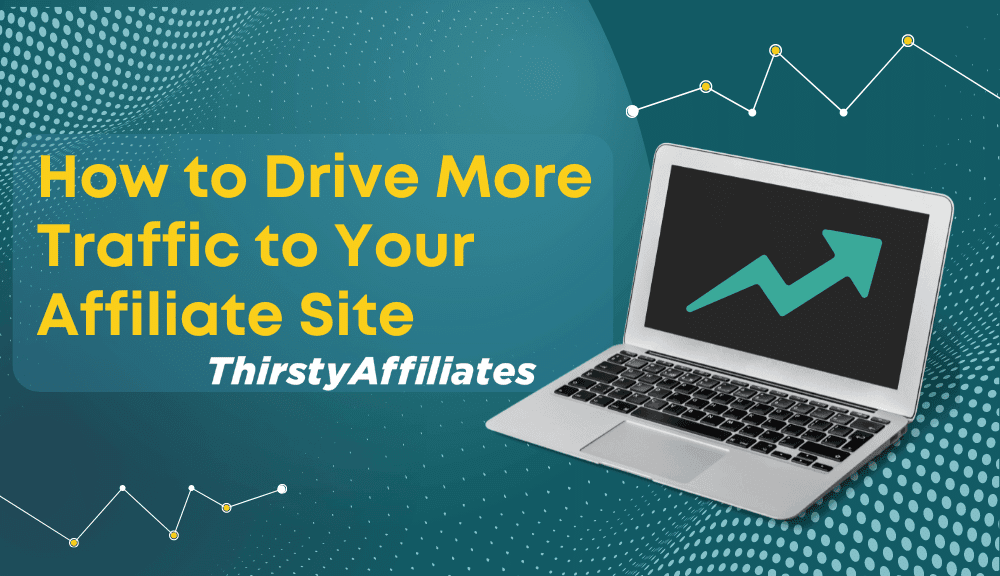 Traffic is the heartbeat of any successful website. Without visitors, your affiliate business will struggle to make the conversions it needs to thrive. Over time, a lack of page views could even impact your search rankings.
That's why it's important to commit to generating new traffic. Fortunately, there are several techniques (even beyond search engine optimization) that can help you do just that.
In this article, we'll take a look at the importance of maintaining high-level traffic on your website. Then we'll offer practical tips on how to bring in new visitors. Let's get started!
The Importance of Generating Website Traffic
There is no escaping the reality that traffic is vital. You could have a well-designed website with high-quality content on some of the top-rated products in your niche – but it's still going to grow cobwebs without regular visitors.
Even worse, you may find that a lack of traffic negatively impacts your search rankings. In fact, one of the metrics that can help influence where a website places in search engine results pages (SERPs) is total visits.
As a consequence, you might have a hard time generating ad revenue, sales, and affiliate link commissions. While traffic growth isn't going to happen instantly, you may see positive effects over time if you focus on attracting more visitors.
3 Ways You Can Drive More Traffic to Your Affiliate Website
Search rankings aren't the only way to get people on your website. With the right steps, you can increase click-throughs and overall traffic. Here are 3 methods you might want to try:
1. Engage in Blogger Outreach
One of the core elements of driving traffic is link building. After all, without inbound links, you may be solely relying on search engines to deliver visitors to your site. Although search engines are a key part of traffic generation, they certainly aren't the only means.
With that in mind, you could consider reaching out to other bloggers as a way to pique interest in your site. Whatever the scope of your website and affiliate business, there's likely to be a blogging community that caters to it.
Utilizing content creators who are influential within your niche can be valuable in the sense of gaining access to their audiences. This can then be leveraged to draw attention to your site and assist in link building.
Don't hesitate to contribute to blogs in your niche by leaving valuable comments on their posts. Just be careful about including links to your own site, as you don't want your engagement to come off as spammy behavior.
Another option is to contact bloggers to ask for the chance to guest post on their sites. Doing so can help you nurture long-lasting relationships and give you control over how backlinks to your site are delivered.
2. Utilize Targeted Keywords through Content Marketing
Targeted keywords can be another way to set yourself apart from the competition while simultaneously improving your search rankings. When used in tandem with content marketing, you have the key combination to increase traffic.
The idea is to answer questions searchers are asking and to produce content that is relevant to popular queries related to your niche. If you create half-hearted content without researching target keywords, you could experience a rise in bounce rates.
In particular, long-tail keywords can be especially useful for your site. They're more specific than short search terms and less likely to have already been used by your competitors.
With low-competition keywords, you can improve the chances of your content earning a higher search ranking. To get started, consider what your website offers by way of products or services. Then ask yourself what questions your audience might have about them.
For instance, if your site sells pet products, you might write targeted posts about:
How to choose the best leash for your dog
Which brands offer the best cat food
How to set up a new aquarium
Such articles can be an effective means to not only populate your website, but to incorporate relevant keywords. Don't forget to add your keywords to your posts' permalinks as well!
Still, identifying the best keywords for your site will take research. Fortunately, you can use tools such as Google Keyword Planner to analyze terms and view suggested alternatives.
3. Invest in Ad Placement
A more direct approach to driving traffic is through advertising. It's a versatile strategy, as you can place ads on a variety of platforms, including search engines and social media.
Moreover, using ads doesn't have to set you back budget-wise. For instance, Facebook advertising can be scaled to your needs. You could spend as little as $5 to share an ad on the most popular social media platform.
When it comes to social media and search engines, you have a lot of control over how your promotions target potential visitors. For instance, Google Ads can help your content appear above results for relevant search queries. This makes it more likely that your efforts will reach high-quality leads than if you buy a banner ad on another website.
In terms of social media, you can also utilize ad creation features to target specific groups of people. If you have a particular demographic focus, then this can further your chances of driving traffic.
Before you commit to advertising, bear in mind some considerations, such as making sure your ads are visually appealing and use clear calls to action (CTAs) to entice click-throughs.
Conclusion
Your website needs regular traffic to earn decent search rankings and boost conversions. While attracting new visitors is a process, the results can be rewarding for you.
Let's review 3 techniques you can use to draw in fresh visitors:
Reach out to bloggers to build links to your site.
Use content marketing for targeted keywords.
Invest in advertising to deliver more click-throughs.
Do you have any questions about driving traffic to your website? Ask us in the comments section below!
If you liked this post, be sure to follow us on Twitter, Instagram, Facebook, Pinterest, and LinkedIn! And don't forget to subscribe to our newsletter!