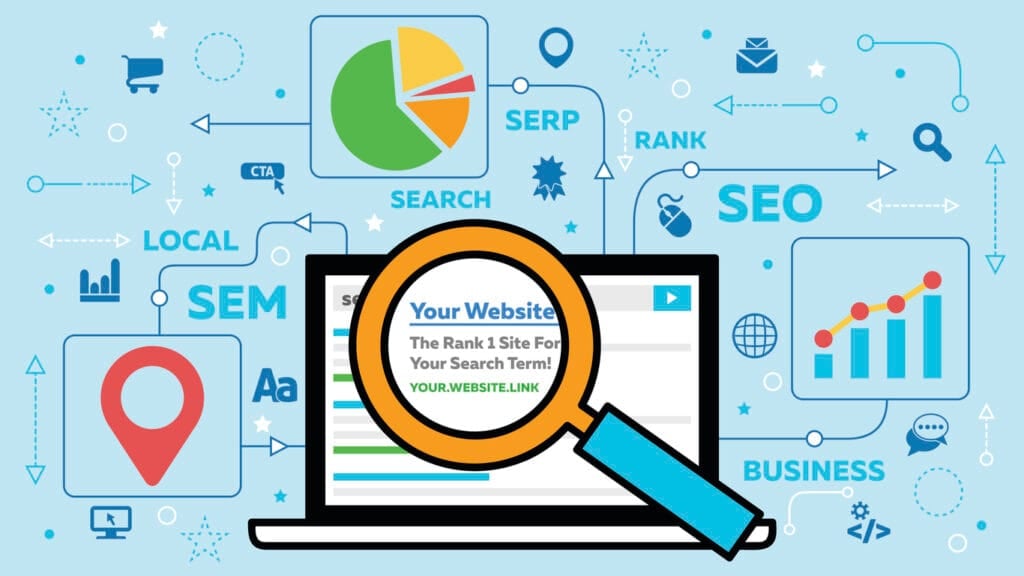 Google is, by far, the most popular search engine platform, performing more than 3.5 billion searches per day. When people want answers fast, all they have to do is make a quick Google search for instant access to pages and pages of information.
As an affiliate marketer – or an online business owner of any kind – you know how important it is to have your website ranked among the top search engine result pages (SERP). Premium SERP tools such as SEMrush and Ahrefs are great options that can help you monitor your site's performance. However, high-end maintenance abilities often come with a heavy price tag.
Fortunately, there are a lot of other SERP tools out there designed specifically for affiliate marketers. And the best part is, many of them offer FREE keyword performance searches.
In this article, we'll go over what a SERP checker is and why it's important to have one for your online business. Then, we'll highlight 4 SERP tools that you can put to work for your site – for FREE. Let's get started!
What is a SERP Checker Tool?
Search engine optimization (SEO) is a crucial part of making your business visible online. But even if your keywords are generating high traffic to your site today, there's no guarantee the same phrases will be a popular search tomorrow.
That's why SERP tools are extremely useful. A SERP checker will allow you to track and monitor your keyword strategy in real-time and keep up with Google's constantly changing search algorithm. You can see how well your keywords are ranking in organic traffic, position history, level of difficulty, and more. Additionally, you can analyze the data to determine how to improve your SEO strategy and maintain your high ratings.
4 Free SERP Checker Tools for Your Affiliate Marketing Business
Whether you are coming up with a totally new SEO strategy, or you're just looking for some help with your keyword placement, here are some excellent SERP checker tools with free search features to help give you the basics of your keyword performance. 
1. What's My SERP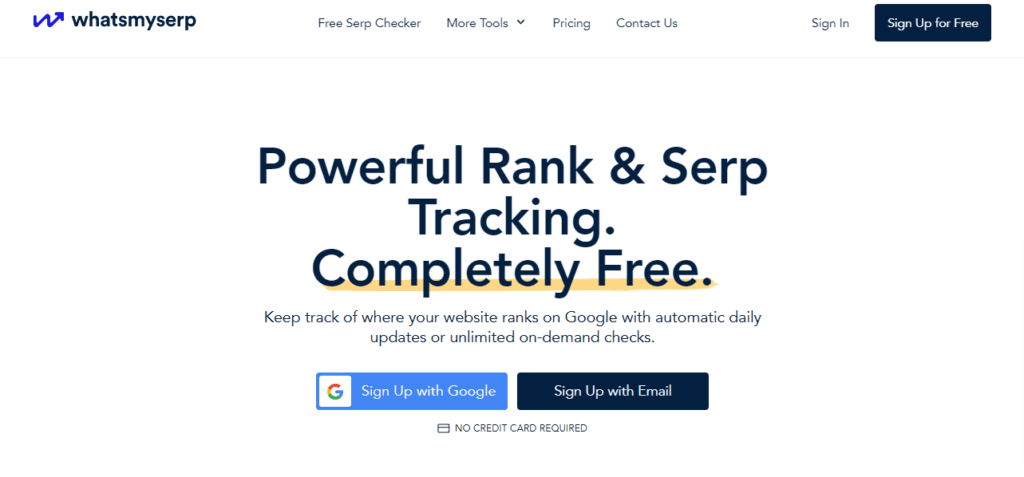 WhatsMySERP is a great SERP checker tool that can help you stay up-to-date on your Google rankings. 
Simply type in your keyword, choose between desktop or mobile searches, set your geolocation, and press Search. In a few seconds, you'll see where your site ranks among the top 100 Google search results:
WhatsMySERP is available online at all times – no download needed. You can check up to 10 keywords per day on their site. Or, you can create a free account for unlimited checks. Either way, there's no credit card required. With a free WhatsMySERP account, you'll also be able to download PDF reports, search an unlimited number of domains, view the search volume, integrate with Google Analytics, and so much more. 
2. SERPChecker by SERPWatch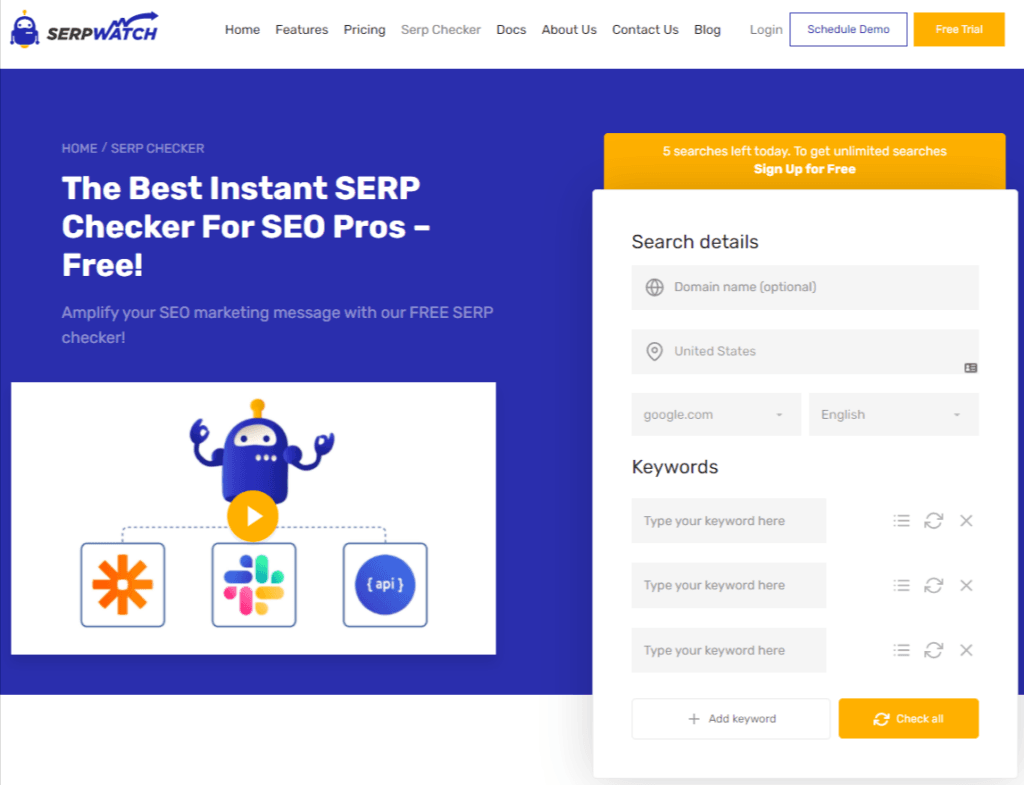 SERPChecker by SERPWatch was built for busy affiliate marketers – like you – who don't have time to sort through keyword data. This SERP checker tool is simple to use and displays everything you need to see on a single screen report:
All you'll need to do is specify the domain (your own or a competitor's), set your location, choose your preferred search engine, then type in your keywords. In just a few minutes, SERPChecker will list the top 100 search results, making it easy to see where your site ranks among your competitors.
Similar to WhatsMySERP, you can search up to 5 keywords per day or create a free account and get unlimited searches. Then, when you're ready for something a bit more advanced, you can upgrade to the official SERPWatch version.
SERPWatch is SERPChecker's much bigger brother. This tool is always watching over your site(s), paying close attention to keyword performance, and alerting you on any unexpected rise or fall in rank. In addition to tracking keywords across multiple markets and geolocations, the Page Rank Checker will also provide you with featured snippets of data and insightful answer boxes.
3. SERPChecker by Mangools

Mangools is an absolute go-to when you're on a tight budget, but in need of some helpful SEO work. They offer five incredibly useful SEO tools including their KWFinder, SERPChecker, SERPWatcher, LinkMiner, and Site Profiler.
Their KWFinder does exactly how it sounds, it finds the best keywords for your site that are low in SEO difficulty and have a high search volume. Get 5 lookups per day, including 25 related and 10 competitors keywords per lookup in their 10-day FREE trial.
With Mangools' SERPChecker, you can see how your keyword strategy compares to your competitors. This SEO tool will outline the strengths and weaknesses of your site's content based on your keyword choice.  Get 5 lookups per 24 hours with the SERPChecker 10-day FREE trial.  
Mangools' SERPWatcher is one of the most popular tools for monitoring large numbers of keywords on sites. The Performance Index feature showcases the organic traffic potential of your site, which will allow you to place your keywords in the best positions for higher search volumes.
Also, SERPWatcher makes it easy to stay up-to-date and in-the-loop on your keyword rankings with daily email alerts and shareable, interactive link reports. Track up to 10 keywords with a FREE 10-day trial.
4. SERPChecker by AccuRanker
AccuRanker is the world's fastest keyword rank tracker that can help you take the guesswork out of your keyword strategy.
AccuRanker allows up to five free keyword searches per day for instant, accurate, and location-specific SERP results and rankings. Simply type in your keyword, select your targeted location, then choose whether you want to see rankings from desktop or mobile platforms.
For a more in-depth keyword analysis, you may want to check out their Full Access plan. With it, you'll receive daily rank updates, see how your competitors' keywords are performing, check unlimited domains, and more. You can test their Full Access plan FREE for 14 days — no credit card required.
Conclusion
For your website to be found on the internet, your content needs to have what people are searching for. This includes having an SEO strategy that focuses a great deal of importance on keyword placement. While there are a lot of SERP tools out there that can help you monitor your rankings, many of them can be a bit pricy.
In this article, we've provided a list of 4 FREE SERP checker tools that can help you plan your keyword strategy and imporve your SERP rank, including:
Do you have a favorite, budget-friendly SERP Checker Tool you'd like to add to our list? Tell us about it in the comments section!
If you liked this article, be sure to follow us on Twitter, Instagram, Facebook, and LinkedIn! And don't forget to subscribe in the box below.