I was really bummed out recently when one of my favorite SERP checking tools (SERPLab.co.uk now SERPRobot.com) closed its free program saying it could no longer support the tool. It's still a great tool but, unfortunately, they won't be offering a free plan anymore.
So, I started hunting for an alternative. Given that I only have a modest amount of keywords for each of my sites, the main thing I wanted was to be able to do run SERP checks on a regular basis with minimal fuss. And doing it for free is always preferred!
Surprisingly, there are still tons of options out there for free SERP checker tools, especially for affiliate marketers. Affiliate marketers typically don't need to track tons of keywords (though some do if they're working on a large site), so our needs can be covered by most free options.
This isn't to say some of the big tools like SEMRush or Ahrefs aren't worthy of our attention. But if, like me, you're back in the market for a free SERP checker tool because you either can't afford the higher end tools or your needs just aren't great enough to warrant the expense, you should check out this round up tools.
1. RankTank's Free Keyword Checker Spreadsheet
The first and best option for a free SERP checker for your affiliate marketing is from a company called RankTank.
The tool works via a special Google Spreadsheet, which you can download and make a copy of to your Google Drive.
From there, you plug in your website address and a list of keywords, and it goes checks them according to the parameters.
One thing I noticed off the bat was that it's fast, really quite fast.
I pasted around 40 keywords into the spreadsheet for one site, and it whipped through them in no time, bringing back the ranking information in less than 10 seconds.
You not only get the ranking position, but you also get some other useful stuff like who's immediately above you and below you in the rankings, who ranks number number one, and what your indexed title and meta description looks like (hint: it might not be exactly what you've set, depending on what Google decided for the SERP).
The only restrictions are:
If you want monthly search volume estimates for your keywords, you'll need an active SEMRush account.
If you want to check more than 100 keywords in one spreadsheet, you'll need their pro version.
Because I'm usually not checking more than 100 keywords per site, I just make a copy of the spreadsheet for each site I'm tracking. It's really quite a simple tool to use, and there are no signups necessary, which is nice.
Get RankTank's Free Keywords Spreadsheet
2. SERPWatcher
If you only have a low number of keywords, and you don't need the rankings to be updated daily, you can probably get away with a free account on SERPWatcher.
SERPWatcher is one of the more popular tools around for monitoring large numbers of keywords on sites. So you can grow into this as you start getting some funds in your pocket to invest.
With their free plan you can track up to 50 keywords, and they check five at a time every 24 hours. So again, you'll not be able to track very much with this tool, but its fine for small sites for which you're only monitoring a handful of keywords every week.
This company also makes a lot of other interesting software, such as keyword analysis tools, SERP analysis tools (so you can tell what you need to do to beat your competitors), and a tool for backlink analysis. I haven't tried these other tools, but they appear to be somewhat competitive with the larger tool sets found on SEMRush, AHrefs, and Moz.
For search engine rank monitoring for small affiliate sites, it's a great tool that's easy to use and has a very simple interface.
Get your free SERPWatcher account
3. GeoRanker's Local Rank Checker
GeoRanker's Local Rank Checker is another tool I came across, but it takes a slightly different angle. It's more focused on giving you information at a local targeting level. You can really do some interesting things with this tool to see how you rank not only in the U.S./general Google rankings but also rankings on Google results around the world.
GeoRanker has a free tool designed for one-off use, but it's very simple to use and provides some great information.
You can see how it lets you search different countries all at the same time and see your ranking in each engine. There's also an option to search at the city level.
You basically select the country and tell the tool how many of the top cities in your country to check. Or, if you prefer, you can enter a custom city or zip code if you're in the U.S.
The main downside is this free tool is only good for one-off searches. If you want to run multiple searches, you'll have to come back and run the same search. That's no big deal if you only have a few keywords to check every now and then, but for a long list it can be painful. If you want proper report with multiple keywords, you'll need to look at using their paid tool.
Visit GeoRanker's Local Rank Checker tool
4. SERPs.com Free Keyword Rank Checker
One of the big boys in the SEO tools industry also has a free keyword rank checker that you can use without even signing up for an account.
Just like the GeoRanker tool above, its only good for single keyword searches, but its fast and accurate and you can search multiple locations. Also with this tool, you can choose between Google and Yahoo engines.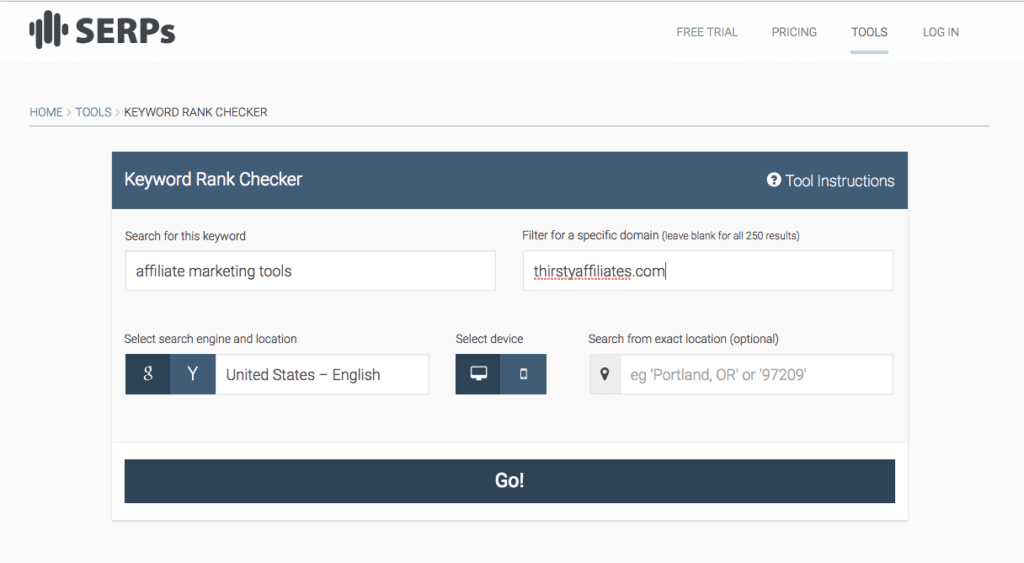 One thing I like about this tool is that it checks up to position 250, which many tools do not for various backend processing reasons. There's also the option to check mobile rankings versus desktop rankings, which is pretty unique for a free tool.
Visit SERPs.com's Free Keyword Rank Checker tool
5. Search Engine Genie's Google Position Checker
The last tool on my list is an oldie but a goodie. Search Engine Genie's free tool has been around for a long time (and the interface shows its age). But it's still perfectly functional and actually quite fast.
If you're just after a no-nonsense response to your keyword ranking inquiry, this tool has you covered with very little hassle. The load time is quick, and it gives you exactly the information you're after.
Surprisingly, Search Engine Genie even lets you check your rank in various Google engines around the world.
Sure, it looks like a dog's breakfast compared to some of the more modern tools, but you wanted something for free right? Beggars can't be choosers. This is a no-frills option that gets the job done.
Visit SEG's Google Rank Checker tool