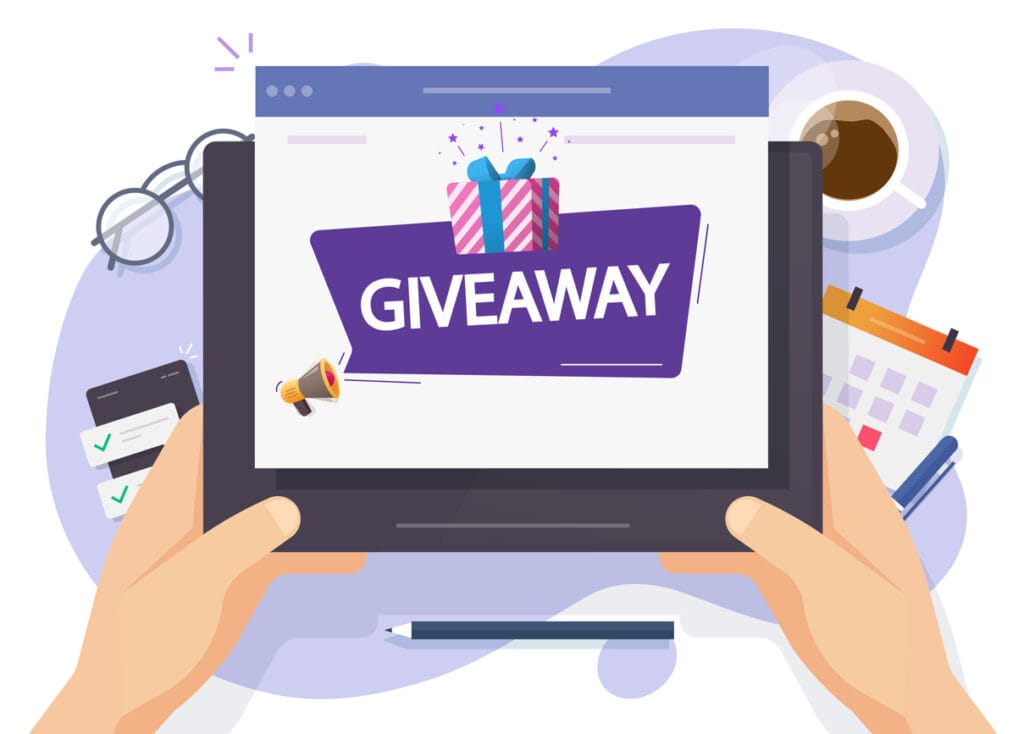 Your success as an affiliate marketer relies on forming a positive relationship with your audience. Running an affiliate giveaway can be a powerful strategy to support that goal, while also giving your traffic and sales a boost. However, the process of managing one isn't always simple.
Fortunately, there are steps you can take to host a successful giveaway for your affiliate website. By utilizing strategic planning and some handy technology, you can create a promotion that your audience will go wild for.
In this article, we'll give you an overview of giveaways and the benefits they offer. Then, we'll share three effective tips to help you host a killer giveaway for your affiliate website. Let's get started!
An Introduction to Giveaways
Most giveaways follow a fairly straightforward formula. You set a goal, pick a product to promote, and then market the event. You'll also need to decide what kind of form entrants will need to fill out and how long the giveaway will run. You can customize each element to fit your brand's needs.
Giveaways offer several benefits. For one, entries can help grow your email list and social media following. They can also drive traffic to your site, boost sales, and foster positive interactions with your audience.
Setting up a giveaway to reap these benefits doesn't have to be complicated. There are plenty of services that can help you run a simple yet effective event, like RafflePress:
RafflePress is a freemium WordPress plugin that helps you create and run successful giveaways. If you have a few giveaways in mind for the future, it may be a tool worth considering.
The platform was created to make creating and managing your website's giveaways much easier. It offers pre-built templates and a drag-and-drop builder to help you build your contest's landing page.
Because RafflePress includes fraud protection, you don't have to worry about cheating. The free version also allows you to create contest rules.
With its paid plans, you get features like email marketing and CRM integrations, viral sharing features, the ability to create polls and surveys, image submission entries, and more.
How to Host a Killer Giveaway for Your Affiliate Website (3 Key Tips)
When you're running a giveaway for your site, there are a few things worth keeping in mind. The three tips below can help you pull off an effective campaign without a hitch.
1. Have a Clear Goal
Giveaways can generate positive user experiences by themselves, but a little strategy can achieve even better results. Set a clear goal when you begin the promotion. This will help you efficiently direct your efforts.
Some possible goals might include refreshing interest in an underperforming link, boosting traffic to a certain page, or extending your social media marketing strategy on a certain platform. You might also try to generate some pre-launch buzz, similar to this Goodreads new release tactic: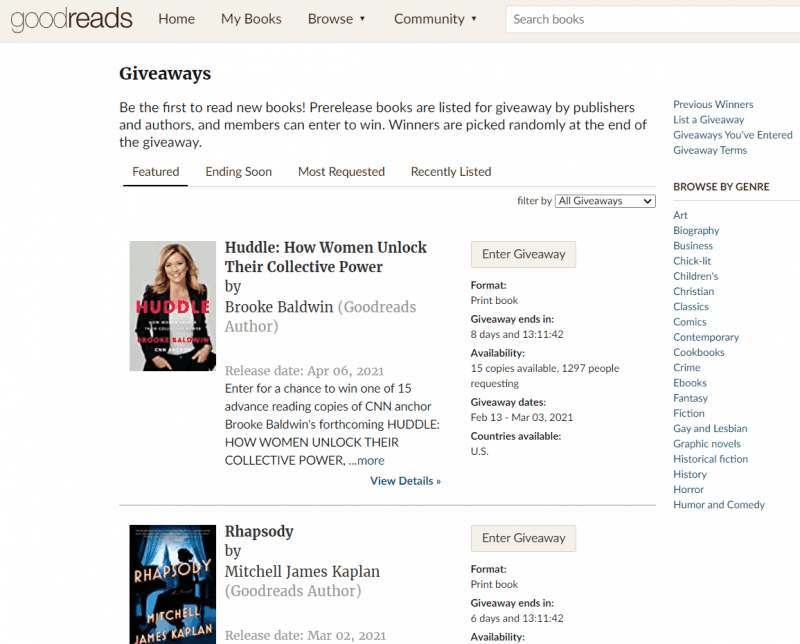 The opportunity to experience a new or rare product can create a lot of excitement. If this is your goal, remember to provide your affiliate link once it becomes available for everyone.
When setting a target, try not to be too ambitious with your results. You risk overextending yourself and running an underperforming campaign. It's best to stick to realistic goals that you can monitor when possible.
However, that doesn't mean your giveaway can't multitask. You can engineer a promotion that serves more than one purpose. For example, you could require users to write a review of your site in order to enter. This approach can help gain valuable information alongside the other benefits a giveaway offers.
2. Choose Your Prize Carefully
Giveaways are a popular technique. Selecting a prize that's tempting enough to stand out from the crowd is critical. This is especially important if you're using a giveaway site.
In addition to considering your giveaway goals, try to choose a product that intrigues users beyond the possibility of a free gift. A unique prize can improve your conversion rate by piquing interest. Those who don't win might still want the product and use your affiliate link to purchase it.
Another way to attract entries is to advertise the prize's retail value. This makes the worth of the product more tangible. Even large companies such as CNN use this trick, as seen here in a recent promotion: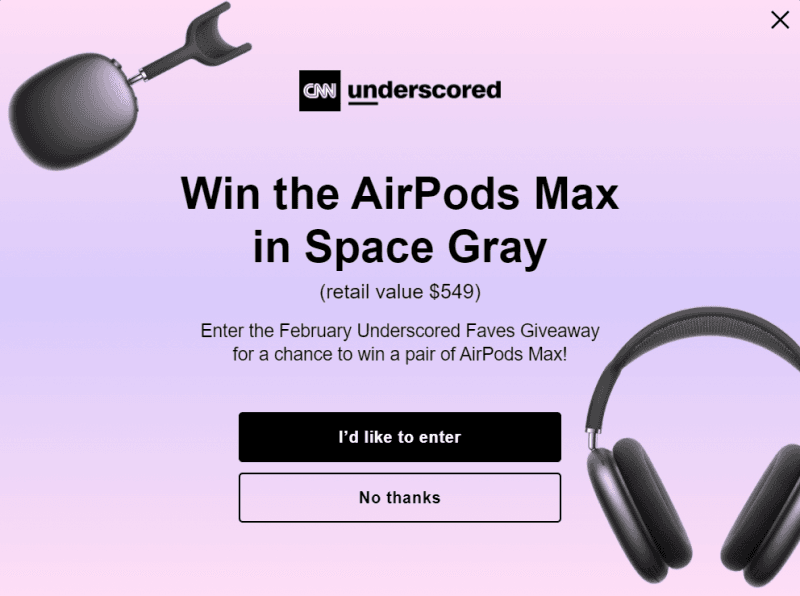 Once you've settled on a prize you're happy with, make sure to spend some time on how you'll be presenting it. High-quality promotional material will help entice visitors and communicate your brand's identity.
3. Take Advantage of Social Media
Your WordPress site and email list are important. However, social media shouldn't be neglected. Popular networks can be a powerful tool for reaching people who aren't regular visitors.
Using sites like Facebook, Instagram, and Twitter can also increase your reach. You can use any platform with a robust sharing feature to mobilize your audience and spread the word. A recent Twitter giveaway from Morphe does just that: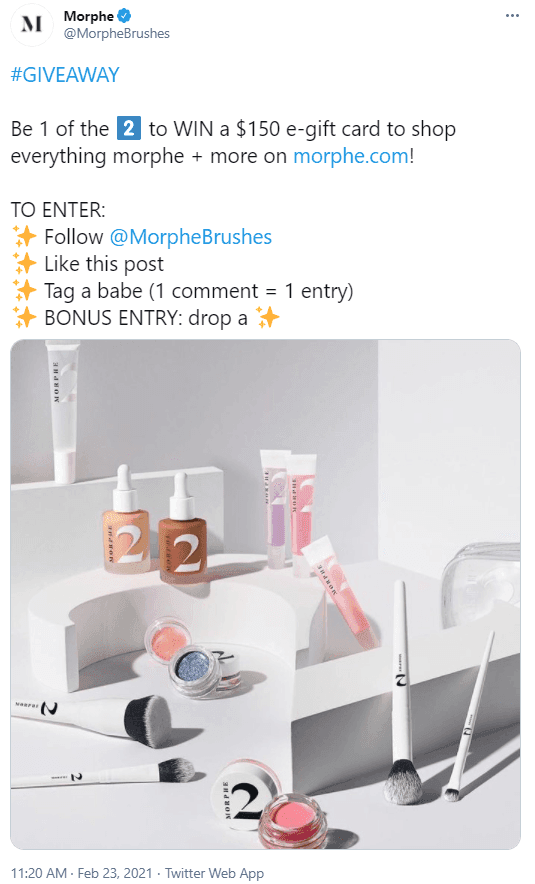 Morphe is encouraging social sharing of its giveaway by making follows, likes, and tagging a part of the entry requirements. This helps spread the word about the giveaway as well as the brand.
There are other ways to leverage social media to your advantage as well. For example, if a goal of yours is to connect with your audience more, you may consider using Twitter Chats. It's an easy way to market your promotion, while also building your credibility.
When you're creating posts to advertise your giveaway, avoid going overboard. A flood of posts inviting entries can feel spammy to regular followers. Try to space your plugs out between your regular content for a more organic feel.
Conclusion
Giveaways can offer some impressive advantages for your affiliate site if you know how to run them. Fortunately, a little bit of strategy can help you host a stellar giveaway and reap its benefits.
In this article, we covered three key tips for creating a killer giveaway:
Set a clear goal and keep it in the front of your mind.
Choose and market a prize that will generate some buzz.
Extend your efforts into the realm of social media.
What product will be the star of your next giveaway? Do you have questions about running a giveaway for your affiliate website? Let us know in the comments section below!
If you liked this post, be sure to follow us on Twitter, Instagram, Facebook, and LinkedIn!