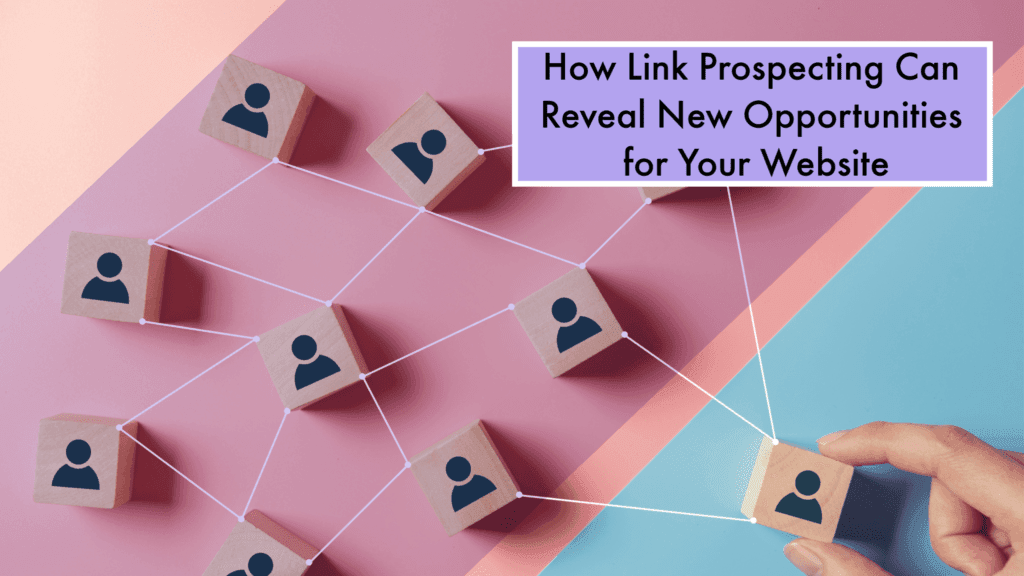 It can seem difficult to find link building opportunities for your website. However, quality backlinks are important since your website can suffer from poor search rankings and low traffic without them.
That's why link prospecting can be valuable. It's a proactive means of finding link building opportunities by using online research tools and search engines such as Google. While it may sound time-consuming, it can provide you excellent options for improving your site's visibility.
In this article, we'll first explain what it means to link prospect. Then, we'll walk you through some tips for getting started. Let's go!
An Introduction to Link Prospecting
The goal of link prospecting is to discover reputable new avenues that may lead to backlinks for your content. This can create new paths to your site, improve your search rankings, and boost your traffic.
While you could take a more passive approach, you'll likely only yield a few backlinks to your site this way. Thus, it can be advantageous to take the initiative through link prospecting and put the ball squarely in your own court.
Link building is an important step for broadening your reach, growing organic inbound traffic, and developing strong relationships with others in your industry. By looking beyond surface-level searches, you can find opportunities for natural references to your site that will indicate credibility to Google, thereby improving your rankings.
The goal of link prospecting boils down to helping you find options for backlinks. These might include guest posts, reviews of your products or services on other sites, directories, or even forums.
However, you'll need to be sure you're producing quality backlinks. This means any forum or directory you use must be reputable. Otherwise, Google might consider your efforts spam, intentionally deceptive, or an attempt to buy your way into the top results, which could undermine your Search Engine Optimization (SEO).
How to Use Link Prospecting to Reveal New Opportunities for Your Website (3 Key Tips)
While interacting with others in your industry is a vital part of increasing your site's visibility, you first have to know where to look for quality connections. Let's take a closer look at three key tips to get you going with link prospecting.
1. Conduct Nuanced Search Queries to Find Link Building Opportunities
Search engines, especially Google, are a prime starting point for link prospecting. If you know how to conduct intentional, strategic queries, they can return tons of opportunities for high-quality backlinks.
For instance, if you're looking for sites that encourage guest posting, you could use queries such as 'write for us' and 'contribute to' combined with industry keywords.
Similarly, you may find appropriate directories or resource pages by conducting nuanced searches. Keep in mind that relevance matters to Google's algorithm, so working terms related to your niche into your queries is key. You may want to conduct keyword research before diving into link prospecting.
Once you have identified backlink candidates, you might need to engage in outreach. If you're successful, then it's just a matter of either including your website in a directory or resource page, or developing a guest post around your target links.
Remember, there are likely to be many options to choose from, so you may need to be selective when deciding which sites will work best for you. Indeed, it's prudent to focus on the most reliable and reputable, as they are more likely to boost your credibility and search rankings.
2. Research Your Competitors to Discover Where Their Backlinks Come From
Your brand almost certainly isn't the only one of its kind. There are probably other businesses in your industry that have managed to work their way up the Search Engine Results Pages (SERPs) and are currently outranking yours.
One smart way to capitalize on their success is to use online tools to research your competitors' backlinks. This may give you an idea of where their success comes from and can provide ideas for your own link building efforts.
There are various websites and apps that can check up on your competitors and show you where their backlinks are coming from. You can then use this information to create a list of sites that are already interested in your industry and may be more likely to link back to you.
Using these tools is often straightforward. SEMrush is one that offers free keyword and domain analysis:
Its Domain Overview feature provides detailed analytics, including backlink profiles. To use it, enter a web address for one of your competitors. In the resulting report, scroll down to the Backlinks section: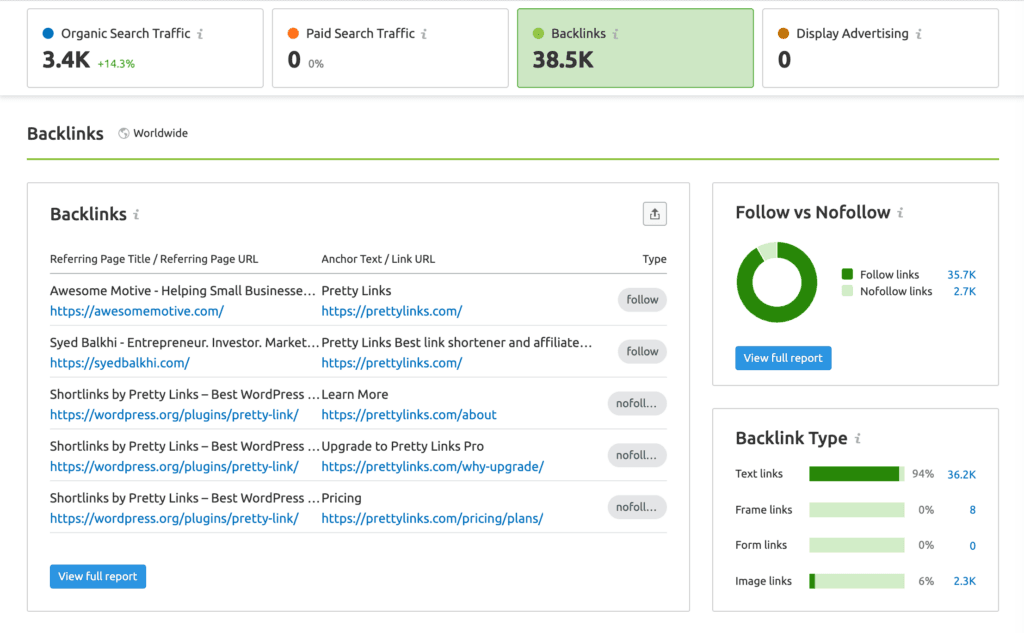 You can see more details by clicking on the View full report button, including a list of referring domains:
This list is what you'll want to use for link prospecting. Scan it for sites that could provide guest posting or other opportunities.
3. Stay Active in Online Communities to Create Relationships with Others in Your Field
Another means of successful link prospecting is to stay active on social media and other online communities. This doesn't just mean obvious platforms such as Facebook or Twitter, but forums and blog post comments sections, too.
Doing so can be a way to stay up to date on the latest developments in your industry. This way, you may find blogs you weren't previously aware of where you can pitch guest posts. Similarly, you might find review sites that may be willing to feature your brand's products in exchange for a free sample or mutual promotion.
It may be tempting to post links to your own content in forums or comments. However, this is often perceived as spammy behavior. "Natural" links – those you incorporate organically into posts after shortening and branding them – are usually much more valuable.
However, this means you'll likely have to build solid working relationships with other sites in your niche. Contributing valuable, relevant thoughts in comments sections and helpful information in forum discussions can help you make industry connections while also establishing your authority in your field.
Conclusion
Link prospecting is a process, but it can also be a solution for delivering the backlinks you need for your site. Ultimately, where your content ranks on SERPs and how much traffic it receives are key indicators of its success. This isn't an area you can afford to ignore.
In this post, we shared three link prospecting avenues you may want to pursue:
Conducting nuanced search queries to find guest posting opportunities.
Researching your competitors' backlinks to discover quality sites in your industry.
Staying active in online communities and building relationships with potential backlink sources.
Do you have any questions about link prospecting? Ask away in the comments section below!