Affiliate marketing can be a worthwhile way to monetize your content. You get to promote products you support and earn money while doing it. However, striking a balance between a powerful sales pitch and a personable tone can be tricky.
Fortunately, there are ways to combine the two for even more effective results. By injecting your personality directly into your affiliate marketing content, you can increase your profits without sacrificing your authenticity.
In this article, we'll cover the importance of adding personality to your affiliate marketing efforts. Then, we'll go over three key tips to help you keep your promotions and character in harmony. Let's dive in!
The Value of Injecting Personality Into Your Affiliate Marketing
Your personality gives people you meet an easy way to gauge how they feel about you right off the bat. It's valuable in affiliate marketing for the same reason. By extending a clear brand identity to your audience, you're creating a familiar persona that they can trust.
These relationships are the foundation of affiliate marketing. Studies have found that consumers are more trusting of endorsements from "regular" people than celebrities, which is why brands are willing to partner with content creators. Personality and authenticity are central to the concept and key to landing commissions.
As a bonus, your brand's personality is probably one of the most unique things about it. Making sure it comes through strong in your marketing content can be an effective way to stand out from the crowd. Targeting audiences who share these character traits can also lead to increased engagement.
All things considered, a clear and consistent brand personality is vital to your success in affiliate marketing. It can help increase your traffic and your sales. However, it can still be tough to make sure it's both present and genuine in every campaign.
How to Inject Personality Into Your Affiliate Marketing (3 Key Tips)
Developing your voice as an affiliate marketer can be tricky. Follow these three tips to enhance your content and campaigns with an authentic, engaging personality.
1. Stay True to Your Established Personality
Branding is pretty important to the online presence you've built so far. The good news is, there's no need to reinvent the wheel here. Try to keep the personality you add to your affiliate marketing consistent with the voice and tone you've already established.
If you've gained a following for your serious and professional product reviews, for example, suddenly assuming a playful personality could be confusing to your audience even if you believe the campaign calls for it.
Delivering on the character you've built is more effective, as seen with BuzzFeed's approach:
BuzzFeed applies a relatable and knowledgeable personality to its affiliate marketing content. Entire articles are built around affiliate products in the form of buying guides that help readers make purchasing decisions. They're comprehensive without being stiff – a perfect fit for a brand that strives to feel like your highly informed friend.
Rather than striking out from what works for your brand, lean into it. Review your most successful content and reference the personality traits that worked when creating it. A link cloaking plugin such as ThirstyAffiliates can also be a subtle way to keep your site's identity at the forefront.
2. Find a Perspective That's Unique to Your Brand
Affiliate marketing works because audiences feel connected to the publisher promoting the product. If you've already attracted a loyal audience, they're sticking around because they enjoy your content and personality. Finding a natural way to work your affiliate links in is crucial to sustaining that connection.
Offering your visitors a distinct pitch drawn from your personality has a two-sided advantage – you're creating successful affiliate marketing content that also helps to define your brand identity. Readers will be encouraged to engage, keeping your traffic and sales high.
Take Andrew Rea of the cooking show Binging With Babish, for example: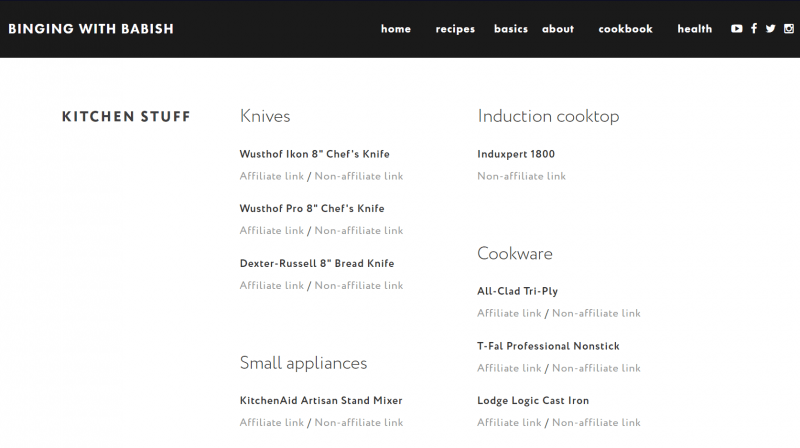 Rea delivers professional advice in a comedically frank way. His affiliate marketing reflects this, with all links presented as their own page rather than integrated into content. He also includes non-affiliate links to avoid seeming pushy. His straightforward approach to promotions weaves well into his branding as an accessible expert.
Your particular outlook is probably one of the reasons your users are visiting in the first place. Applying it to promotions will keep both your partners and your audience happy. Committing to your niche like this can also help boost your search engine optimization (SEO).
3. Let Your Personality Evolve Organically
The core parts of your brand personality should remain fairly consistent. However, it might pay off to let some aspects evolve and change over time. This can make your content feel more organic.
Applying your personality the same way every time may result in a canned, fake version of your brand. Unfortunately, this applies even if you're being honest. Too much repetition and similarity between campaigns can feel disingenuous.
It might seem counterintuitive, but it may pay off to challenge your own ideas around your brand personality to create an authentic marketing strategy. Try telling a different story with each promotion.
Kiersten Rich of The Blonde Abroad does so in a recent post: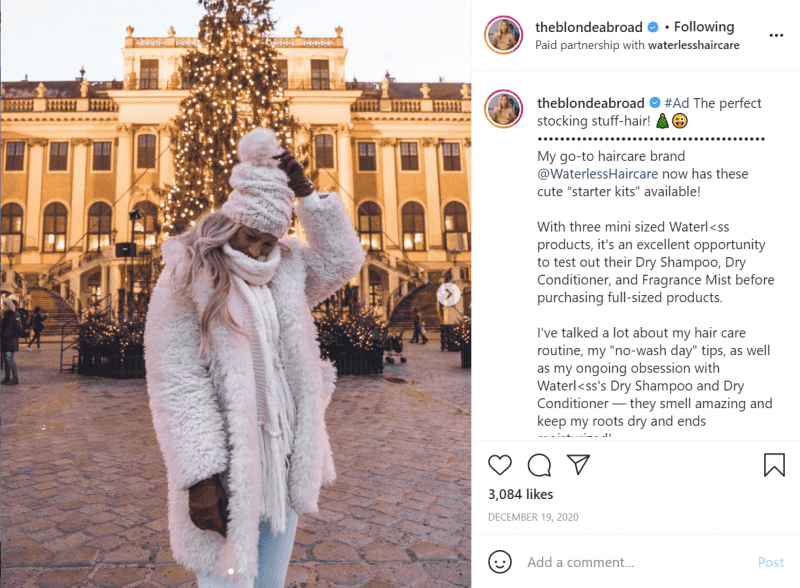 As a travel blogger, Rich might not immediately have a clear connection to cosmetics. However, by advertising them in a travel size, it's naturally integrated into her content and relevant to her audience. She successfully extends her reach without abandoning her established personality.
The prospect of evolving your brand's character without overstepping can be daunting. Don't be afraid to spend time experimenting and working on rough drafts to find the approach that works. When it comes to adding a genuine personality to your affiliate marketing, it'll be time well spent.
Conclusion
Your affiliate marketing personality and your approach to promoting your partners' products go hand in hand. While finding a way to help both come through can be tough, you'll probably find that the payoffs for genuine, consistent content are well worth it.
In this article, we covered three ways to inject personality into your affiliate marketing:
Keep your established brand consistent.
Find your unique take on the product.
Let your personality evolve organically.
What's your favorite way to add some personality to your marketing strategy? Let us know in the comments section below!
If you liked this article, be sure to follow us on Twitter, Instagram, Facebook, and LinkedIn! And don't forget to subscribe in the box below.