Keyword research is the process of looking for common search terms that people in your target audience are typing into search engines.
This is a very important aspect of search engine optimization (SEO) because it helps your website reach ideal customers who are already interested in the products or services you're promoting. 
It's important that you choose your keywords very carefully. This is key to having your web pages show up on the most relevant search engine results pages (SERPs). The right keywords can also help lower your bounce rate and increase sales for your business.
There's a lot to learn about keyword research, but you've come to the right place. In this guide, we are going to take you through five of the best tips you should have in mind if you want to perform effective keyword research.
1. Always Use a Reputable Tool
One of the first steps you should take when conducting keyword research is selecting a high-quality tool with a good reputation. There are so many tools out there – free and paid – that sometimes, it can be tricky to find the best one to use.
Before you make your decision, make sure you've taken the time to go through the pros and cons of each tool you're considering.
One of the most recommended keyword research tools is Semrush's Keyword Magic Tool:
This is a really powerful tool you can use to conduct keyword research. Semrush allows users to access a database of more than 17 billion keywords. It also shows relevant details like search volumes and ranking difficulty.
Search Volume is a metric that shows how many people are searching for a particular keyword each month.
Keyword Difficulty lets you know how difficult it will be for your site to rank for a particular phrase.
Using keyword research tools like Semrush is a great way to pick out the most suitable keywords that will drive more traffic to your affiliate site.
Another high-quality keyword research tool used by top marketers is Neil Patel's Ubersuggest. And one of the best things about it is, it's free!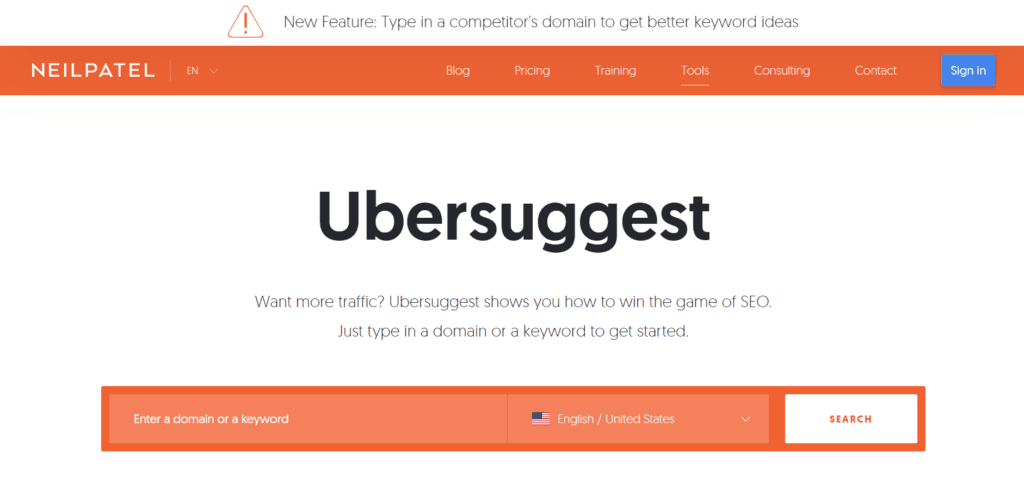 Ubersuggest is another keyword research tool that allows you to view more keyword ideas you can incorporate into your content.
Another great option is Buzzsumo, which is great for generating content ideas as well as doing content research. Their keyword search tool is a fantastic way to generate all sorts of topic ideas for content creation that'll be sure to be a hit.
Again, you'll also be able to see the search volumes of different keywords, as well as their ranking difficulty levels to know how competitive they are.
Another thing the tool does is give you keywords in the form of questions. This feature is incredibly helpful so you can see the exact queries people are trying to answer using search engines. 
2. Find the Right Balance Between Popularity and Competitiveness
Many affiliate marketers make the mistake of targeting the most popular keywords that are relevant to the products they're promoting. However, they fail to realize that the more popular a keyword is, the more competitive it is to rank for.
So, it's necessary that you find a balance between popularity and competitiveness when choosing keywords for your site. We recommend that you start by using relevant, low, or medium competitive keywords in your content.
These are keywords that get anywhere from 100-1000 monthly searches, so fewer companies are likely to be targeting them. Then, as you start seeing results, you can begin targeting the highly competitive queries.
3. Consider the Intention Behind Each Search
Search intent refers to the "why" behind a user's search query. People use search engines for different reasons. When conducting keyword research, you need to take this into consideration when deciding which keywords to target on which web pages.
For example, someone might type a particular query into a search engine because they want to make a purchase. On the other hand, you may find other keywords that are typically used when people are doing informational research.
This means you'll have to decipher the intent behind different keywords. To do this, you need to understand the main types of search intent. Most of the search queries that people make usually have commercial or informational search intent behind them.
Searches with informational intent are conducted when someone is simply researching a particular topic, product, or service. These are the kinds of queries you could target in blog posts so people can find your affiliate site when using search engines to get more knowledge.
There are different ways to spot keywords with informational intent. One way is to look for search phrases that include "how to", "guide", "tutorial", or other question-related phrases. Now, this doesn't mean that all keywords with questions in them are informational searches, but it's something you can pay attention to.
As for keywords with commercial intent, these are queries you should include in your content if you want to target people who are ready to buy a particular product or service. Most commercial keywords usually include sales terms like "buy", "discount", or "where to buy".
4. Put Both Commercial and Informational Keywords to Good Use
As we've mentioned, you'll come across both commercial and informational keywords when performing keyword research. To get the most out of your efforts, it would be best to target both these types of keywords in the content on your affiliate site so you can get more traffic.
Commercial vs. Informational Keywords
Informational keywords tend to work best in guides or tutorial posts that focus on providing more information about how your prospects can use the products you're promoting.
For commercial keywords, you could use these when you create product or service pages and include them in the descriptions where you highlight the specific features and perks of your affiliate products.
To give you some practical examples, let's look at a couple of businesses that have successfully targeted commercial and informational keywords effectively.
FreshBooks is a company that provides accounting software for small and medium-sized businesses. On their site, they offer an invoicing tool that allows customers to create and send professional invoices to clients.
They've created a page to share more information about their blank invoice template, how it works, and how to use it.
There are a lot of informational searches concerning free invoice templates, so creating this page is a great response to those queries.
It also helps improve their SEO as the web page currently ranks on the first page of Google for relevant informational keywords like "invoicing" and "invoice templates" that have a collective monthly search volume of 10,000. 
You can also see where they've made good use of informational keywords in their content. This is something you can do for your site.
On the other hand, our next example is from What Hi-Fi, a website that provides useful information about consumer electronics such as TVs, headphones, tablets, and speakers. Looking at their site, you'll see various product reviews and comparison pieces that are ideal for incorporating commercial keywords.
One of the comparison pieces they have is their post on the best noise-cancelling earbuds for 2021:
This post provides a lot of helpful information about 11 different sets of earbuds that have the best noise-cancelling features. They've made sure to use relevant commercial keywords like "best noise-cancelling earbuds" and "noise-cancelling earbuds," which have a collective monthly search volume of 47,900.
You'll find that their efforts were not in vain. This post currently ranks on the first page of Google for these keywords as well.  
This shows just how important it is to use both commercial and informational keywords in your content. And, if you haven't already, make sure you start including them in the content on your affiliate site.
5. Make Sure Your Keywords are Incorporated into Your Copy Subtly
To get more people to click on your affiliate links, you'll need to use a combination of copywriting power words, as well as relevant keywords. Power words will assist you in persuading and convincing prospects, while keywords will help you get the right traffic to your site.
But, if you want to get the most out of your chosen keywords, you'll also need to make sure they don't stand out too much to people who will read your copy.
This means you have to find a way to weave the keywords into your copy naturally. This depends on the type of keyword you're working with, as some may already read well in a lot of contexts.
But, if you have a more awkward key phrase like "what is best speaker entertainment system," for instance, then you would need to modify it to work with your content. 
For example, you could use the phrase "the best speaker entertainment system is" so it reads more naturally. And still increase your chance to rank for the related query.
Alexa, Amazon's digital marketing software company, recommends a good rule of thumb is to make sure your keyword density is between 1-2%. This means you should include one or two keywords for every 100 words you write. Try writing with this in mind and see if it helps reduce how often you use your keywords.
Essentially, you want to avoid keyword stuffing. This is when people try to overload a web page with keywords in order to manipulate their search engine rankings. Most of the time, readers can tell if you do this. More importantly, Google can pick up on keyword stuffing and might penalize your site for doing so.
6. Keep an Eye on Your Competition
The fact of the matter is that Google rankings are a battle. You're going to be consistently struggling against them to rank your own pages higher than theirs. So, a vital part of keyword research strategy is checking up on your competition.
It's important to keep an eye on their page rankings for a few reasons. They might be ranking better than you on keywords you're using, and taking a look at what they're doing could be the key to success. Or maybe they're ranking for keywords you haven't thought about using yet.
Google Keyword Planner is a great tool for watching competitors' sites. Select "Start with a Website" and enter your competitor's site to see what they're already ranking for. You can do this for the domain or even an individual page. The second is especially useful for getting blog posts ranked competitively.
There's lots of other tools that have similar functions. Semrush and Buzzsumo both have great keyword research capabilities that will take your content to the next level.
In Conclusion
Getting more of the right people to your affiliate site isn't always the easiest thing to do. But taking advantage of keyword research could be a game-changer.
In this article, we've given you some great tips to help you conduct effective keyword research, such as:
Use a reputable tool.
Find the right balance between popularity and competitiveness.
Consider the intention behind each search.
Put both commercial and informational keywords to good use.
Make sure your keywords are incorporated into your copy subtly.
Do you have more questions on how to perform keyword research for your content? Ask away in the comment section below!
If you liked this article, be sure to follow us on Twitter, Instagram, Facebook, and LinkedIn! And don't forget to subscribe to our newsletter.