Your relationship with your customers might be more important than you think. A recent survey shows that 81% of consumers must be able to trust a brand before they'll purchase from it. Finding a way to build that credibility can be a challenge.
Fortunately, brand marketing offers an opportunity to establish and enrich personal customer connections. By creating a reliable online persona, checking out your competition, and keeping your site's appearance consistent with a tool such as ThirstyAffiliates, you can use this strategy to your greatest advantage.
In this article, we'll give you an overview of brand marketing and provide some reasons you might want to use it. Then, we'll take you through three key tips to use this strategy to its full potential. Let's get started!
What Is Brand Marketing?
Brand marketing is when you leverage the identity of your business (or affiliate site) to promote a product under your umbrella. You might choose to rely on your impressive reputation, a killer logo, or popular past content. This type of advertising takes advantage of the work you've already done to establish your credibility and builds on it.
For a famous example of this subtle strategy, take a look at Apple's classic Get a Mac campaign. It presented a hip, flexible, creative actor to personify the computer company's products. This campaign laid the groundwork for the advanced brand marketing the business still uses today.
You can implement the same approach on your affiliate site. When you promote new campaigns by building on your previous success, you'll probably have to put less work into selling products. Brand marketing also gives you the chance to form more personal connections with consumers so they feel familiar with you.
How Can You Use Brand Marketing to Boost Affiliate Sales? (3 Key Tips)
The time and effort required to create your affiliate site's identity and connect with customers can pay off in the long run. Here are some helpful tips you can use to maximize your brand marketing potential.
1. Make Sure Your Content is Consistent
Overall consistency is a highly sought-after trait in affiliates. It's similarly helpful if you're trying to establish an identity for your brand. Consider devoting time to creating a long record of content that displays the same voice, goals, and offerings.
You might decide that you need to shift your site's identity. While this process is occasionally necessary, try to avoid any dramatic changes whenever possible. The strength of your brand marketing strategy comes from your brand's story. Starting over from scratch might present a challenge.
For a role model demonstrating consistency, consider the classic campaigns ran by Tiffany & Co.:
Tiffany & Co. is well-known for its trademark blue box. The writing in the ad above compliments the color with an elegant yet witty tone. Both of these factors contribute to the prestige that the company has held for years.
Consider choosing a few words or phrases that best represent the brand identity you're striving for. You might try to be a trendy leader in your field, or focus on the reliability of the practical products you promote. Whatever your decision, consulting your key phrases can help your content stay on track.
2. Investigate Your Competitors
Since brand marketing relies on your specific content, it should be as unique as possible. Consider researching how your competitors advertise their products. A better understanding of similar campaigns may give you an advantage when coming up with a distinctive hook.
For example, let's say you have a competitor that promotes itself as a brand with a long tradition of simple solutions to your target audience's pain points. Distinguishing your products might be tough, especially if the other site is more established. You could instead try selling an innovative personality to attract a different type of customer.
It's hard to overstate the importance of a clear brand personality that doesn't blend into the crowd. The following ad for a popular company with all the logos and names removed demonstrates that fact:
Odds are you probably recognized this as advertising material from Apple. The blank background, sleek design, and enthusiastic writing are all hallmarks of the tech giant.
If you're looking to create the same effect, you might want to try a similar strategy. Just take one of the campaigns you've done, remove identifying features, and assess whether it's still clearly yours.
If your campaign looks like it could've been done by any creator, you might not be using brand marketing to its fullest potential. The more one-of-a-kind content you create, the more likely you are to make a name for yourself and attract brand advocates.
3. Personalize Your Site and Affiliate Links
A lot of brand marketing comes down to the strength of your site's identity. Consider customizing your website as fully as possible to harmonize your online presence with your ideal image. This strategy can also help boost your conversions.
One avenue for personalization is cloaking your links. This technique helps create a sense of consistency and trust among the URLs you promote. It can also guard your affiliate links from theft. If you want to try this strategy, our ThirstyAffiliates plugin can help you out: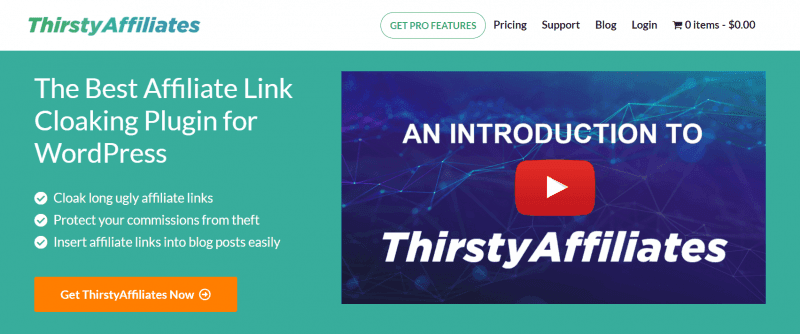 The ThirstyAffiliates plugin can put your domain name in any of your links. A lot of people feel more comfortable clicking on a URL that includes a recognizable name. This makes link cloaking an easy way to build more trust and build brand awareness.
ThirstyAffiliates can also help you maintain the confidence that your users already have in your site. With features such as link fixing and automatic checks for 404 errors, you can cut down on any frustrations that visitors might encounter. Small preventative actions can have a big impact on your reputation.
Conclusion
A positive reputation can be a powerful thing. Once you've built a recognizable persona that customers trust, you'll be able to take advantage of that familiarity and produce content that optimizes your affiliate sales strategy.
In this article, we covered three key tips for making the most of your brand marketing strategy:
Maintain a consistent voice and approach to your content.
Investigate your competitors so you can make sure your campaigns are distinctive.
Personalize your site and affiliate links with a tool such as ThirstyAffiliates.
Do you have any questions about brand marketing? Let us know in the comments section!
If you liked this post, be sure to follow us on Twitter, Instagram, Facebook, and LinkedIn! And don't forget to subscribe in the box below.