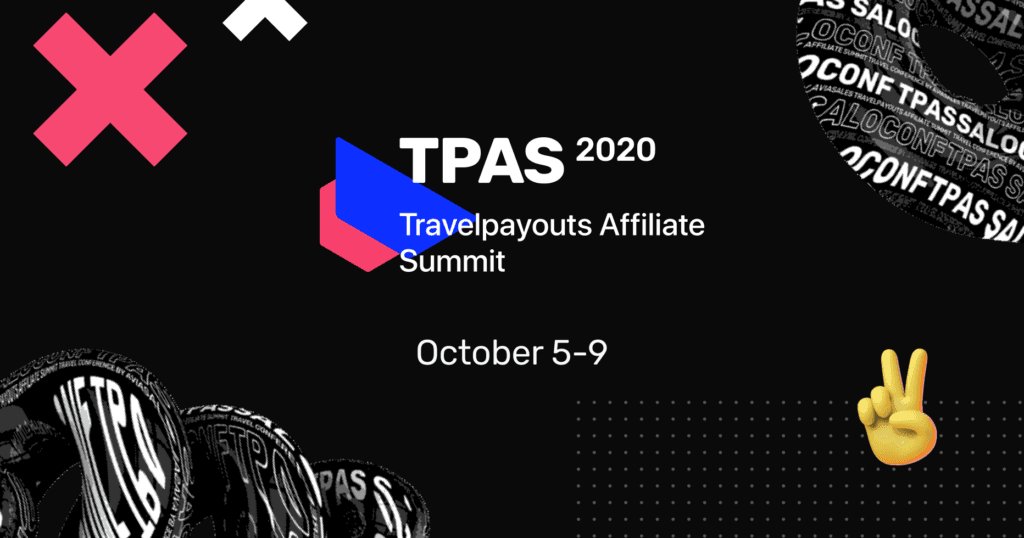 Since 2017, Travelpayouts Affiliate Network has hosted TPAS, the one and only annual travel affiliate summit. This year, it will be held in English for the first time. You can join TPAS2020 online for free October 5-9.
Travelpayouts Affiliate Summit brings together key players in the travel affiliate niche, including SEO experts, famous advertisers, and some of the best-performing affiliates out there. The summit brings you five days and nearly two hours each day of information that will help you take your travel industry affiliate marketing to the next level.
Following is a small sample of the speakers you can expect to hear from at the summit:
Jason Hunt, Digital Marketers
Jason works closely with travel professionals to help them navigate the world of social media paid advertising. He has an extensive background in Facebook advertising and has spoken to marketing professionals across the globe.
At TPAS2020, Jason will share the steps to setting up a campaign that will require minimal optimization. He'll teach you how to set up bids in the Facebook auction so you're not overpaying for your customers, as well as how to create automated rules and effective audiences.
Darley Newman, darleycnewman.com
As an American producer, television host, writer, and entrepreneur, Darley will clue you in on the latest trends, tips, and tricks to produce top video content that gets results, including monetization and brand building. He'll also offer up insights on how to better sell your creative ideas.
Fabiana D'Addario and Alisha Kapur, Similarweb
Fabiana is a Solution Implementation Manager at SimilarWeb who is responsible for client onboarding and education. Alisha Kapur is an Industry Consultant at SimilarWeb focused on travel and select categories in retail and CPG.
At Fabiana and Alisha's webinar, you'll get expert tips and tricks to make the most of Similarweb for your use cases. Also, you'll discover the newest Travel Intelligence platform from Similarweb, which has cutting-edge data on worldwide bookings that you won't see anywhere else.
Patrick Stox, Product Advisor, Technical SEO and Brand Ambassador at Ahrefs
Patrick runs a Technical SEO Slack group and moderates /r/TechSEO on Reddit.
At TPAS2020, Patrick will discuss using affiliate links to find other affiliates. He'll also go over how to find those sites with the most traffic and links, how to find these sites' top pages to see what kind of content is working for them, looking at examples of keyword data to reveal why their content is successful, and investigating link profiles to determine where and how these sites are getting links.
Fernando Santos and Roberto Di Giacomo, Musement, a TUI company and the leading curated tours and activities platform worldwide
Fernando is the director of strategic partnerships and Roberto is a junior strategic partnership manager at Musement.
In their live-webinar you'll get key insights into the tours and activities segment. These insights will include the reason why people travel, the size of the segment, when people book, and why tours and activities links work well with inspiration.
Fernando and Roberto will also share statistics around the imact of COVID-19, expectations about recovery, and best practices on when to offer tours and activities online.
Join Travelpayouts Affiliate Summit to network, exchange insights, and discuss trends October 5-9. TPAS2020 is absolutely free – you just need to register in advance. This year, the summit will be held online, so don't miss out!