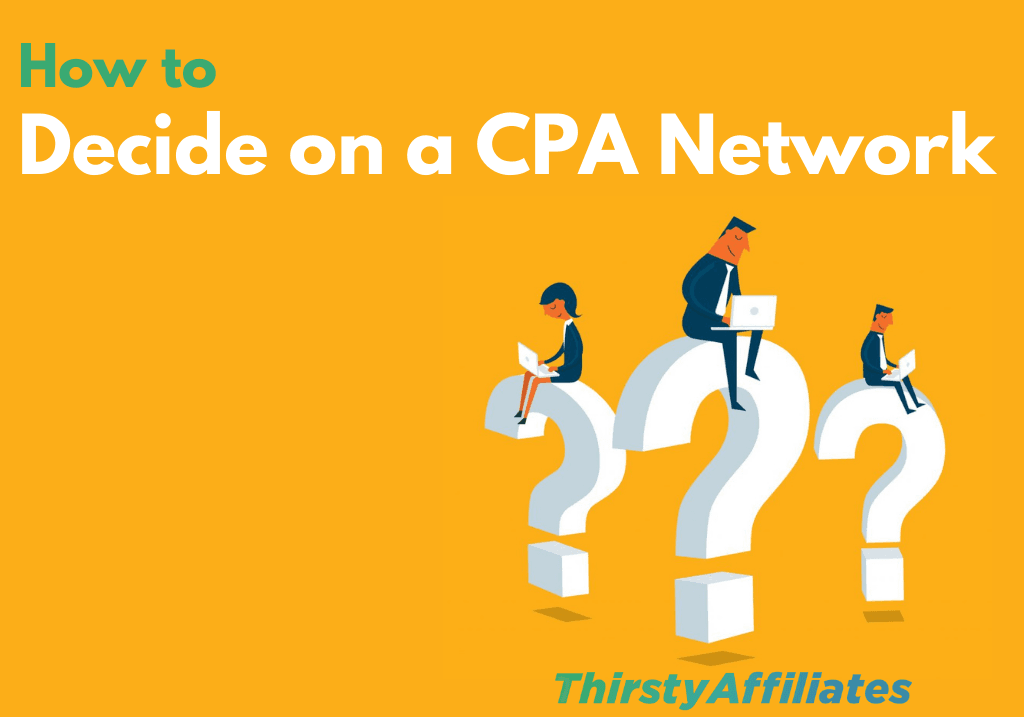 A quality cost-per-action (CPA) network can help bring affiliates and merchants together in lucrative relationships. However, not all networks offer the same benefits. Deciding on which one(s) will be your personal best fit can be a challenge.
Fortunately, there are ways to strategically narrow down your options. By following a few simple guidelines, you can confidently choose a CPA network that will help you partner with the right brands.
In this article, we'll give you a crash course on CPA networks and what they can do for you. Then, we'll cover three key tips for finding one that will set you up for success. Let's get started!
An Introduction to CPA Networks
A CPA network is an organization that connects advertisers with publishers – bloggers, influencers, and most anybody with a substantial online following. Once they've established a partnership, the publishers are paid for certain actions. These may include but are not limited to direct sales.
If you join a CPA network, you might be paid for the number of link clicks, completed quizzes, or newsletter signups you generate. Sales may also be a part of this. However, the main focus is typically on driving conversions with promotional work and not on the transactions themselves.
Lucrative as it is, it's not without its challenges. Joining a CPA network can come with a steep learning curve, including a complex industry vocabulary. You also might find yourself coming up against some stiff competition as other publishers jockey for the best spots.
Your choice of CPA network can make a big difference in your success. We highly recommend taking some time to find the right network for you. It can save you some headaches bad matches tend to cause and help you get the greatest returns on your efforts.
How to Decide Which CPA Network You Should Use (3 Key Tips)
Each CPA network has its pros and cons. Use these tips to help you decide which is right for you.
1. Look for Networks that Include Brands that Serve Your Niche
Your brand probably fits squarely within a niche. Writing, fitness, technology, you name it – there's a niche for it. Most established blogs clearly communicate theirs with their home pages, like the popular cooking site Gimme Some Oven: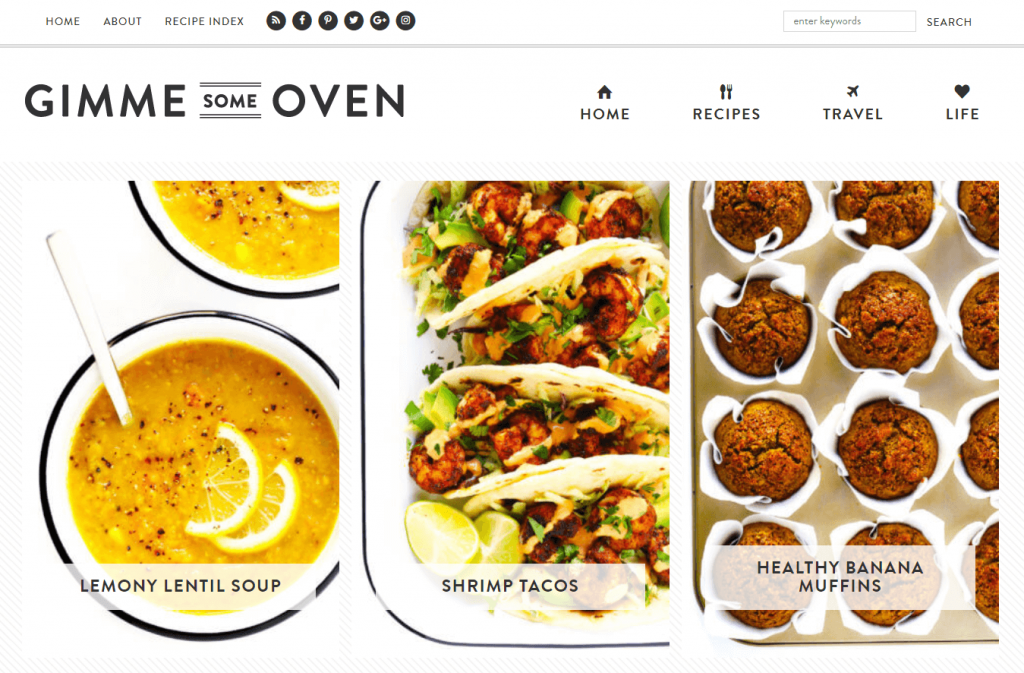 Niches might start simply as a blogger's area of interest, but they play an important role when it comes to content creation. Staying within this theme helps keep your work focused. It can also help you consistently appeal to your target audience.
Your niche is also critical when it comes to CPA networks. You should consider CPA networks that serve your specialty particularly well. If you run a fashion site, for example, you should look at networks that offer a lot of opportunities to work with clothing advertisers.
If you're not sure where to start, this is a great jumping-off point. You can research CPA networks that specialize in your niche. Once you find a few options that provide you with opportunities specific to your area of expertise, you can start digging into their details to assess their quality.
2. Investigate What Kinds of Offers the Network Has
Different CPA networks provide different opportunities. You might be able to earn your commissions by successfully encouraging users to download something or to fill out a form. If you know you want to focus on driving a specific type of conversion, you should look at the CPA networks that offer those opportunities.
Some networks offer various kinds of actions. These may be a good choice if you're open to a diverse marketing approach. For example, here's a list of mixed affiliate offers from RevenueAds: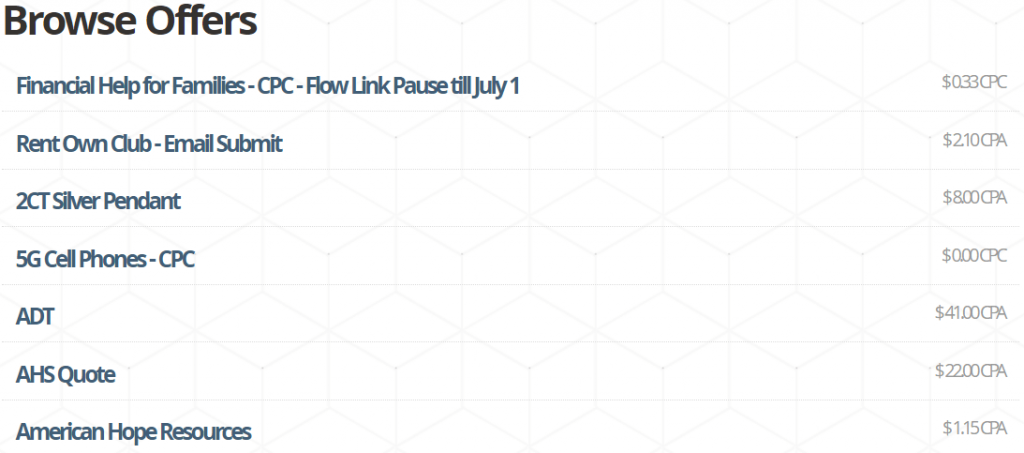 You'll also want to consider your ability to sell these offers to your audience. Even though you may not be required to make sales directly, your work should ultimately lead to conversions and engagement for your advertisers.
Lean into the method you think will have the most success among your site's community. Try to keep an eye on your results. You can then ramp up the actions that are driving your profits, or navigate away from the less popular formats.
3. Consider Both Current and Future Opportunities
CPA networks are fairly low-risk, which makes them a smart choice for investing your efforts. Continued commitment to a network that helps you boost profits as your fanbase grows can have some big payoffs.
For example, some CPA networks operate on a flat-rate basis or cap their commission percentages. That could mean you'll make the same amount of revenue on an affiliate link whether it receives 1,000 or 10,000 clicks. You can avoid this by looking ahead for growth potential.
Here's an example of some different opportunities from Admitad:
You can see there's some variety in the offers. AliExpress, for example, offers up to 69% commissions for some of its products. If you're open to drilling down into a specific but lucrative advertising vein with a large audience, this could be a great future opportunity.
Even if you're just starting out with affiliate marketing, try to plan for the future early on. As you perfect your content and increase your traffic, you'll thank yourself for choosing a CPA network that can support you through that development.
Conclusion
The sheer number of available CPA networks can make finding your perfect match a challenge. Fortunately, you can take steps to narrow your options and sign up for a network that works for you.
In this article, we covered three key tips to help you figure out which CPA network you should use:
Focus on networks with brands that serve your niche.
Consider what types of offers the network can provide you with.
Think ahead to what each network can offer you as your brand grows.
What's your top priority when deciding on a CPA network? Let us know in the comments section below!
If you liked this article, be sure to follow us on Twitter, Instagram, Facebook, and LinkedIn! And don't forget to subscribe to our newsletter.