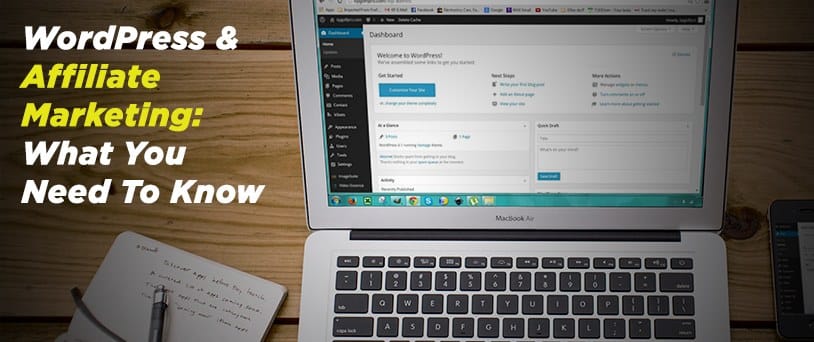 If you're just starting out in affiliate marketing, you might be looking at starting up your first website. For many, the obvious choice is WordPress.
This article will cover everything you need to know about WordPress affiliate marketing.
Why So Many Affiliate Marketers Choose WordPress
So why, exactly, do so many of us choose WordPress for our content management system? Surely there are other solutions?
Well, there are other solutions around and, while they work perfectly well, they aren't as popular as WordPress.
WordPress absolutely dominates the statistics for Content Management Software technologies in use. According to BuiltWith.com, 53% of all sites are now run on WordPress.
With this kind of popularity comes an influx of developer interest.
This developer interest and the fact that WordPress can be easily extended via plugins and themes mean that the ecosystem can handle just about any kind of website you can imagine.
The top reasons why affiliates love WordPress are:
It's easy to insert and maintain content
Simple sites are easy and quick to setup
It's SEO friendly pretty much out of the box (or easily augmented with the popular Yoast SEO plugin)
It's affiliate marketing friendly (thanks to plugins like ThirstyAffiliates)
You can run it without technical knowledge
In summary, affiliates love WordPress because it is easy to use and extensible, and you don't have to be a tech whiz to figure it out.
Do You Need WordPress?
Technically, you can even do affiliate marketing without a website, so no, you don't actually need to use WordPress.
But we highly recommend you set up your own website, and in light of the reasons above, WordPress is a great choice.
The platform that so many more tools than anything like it, which means you can let your imagination run wild with what you want to achieve.
WordPress Affiliate Marketing Tools
When it comes to choosing the tools inside WordPress for affiliate marketing, I have a pretty specific list of things to recommend.
First, I'll go through what plugins you should install, at minimum, on your new WordPress website for your affiliate marketing efforts.
3 Essential Affiliate Marketing WordPress Plugins:
ThirstyAffiliates – Forgive the self-promotion, but ThirstyAffiliates really is the Swiss army tool for affiliate marketers in WordPress. You can cloak your long affiliate links, measure click stats, categorize your links, and much more with just the free version. There's also a Pro add-on for when you want to level up.
Yoast SEO – This is an essential tool for making WordPress as SEO friendly as possible. Additionally, it helps you craft content that conforms to best SEO practices.
Google Analytics for WordPress by MonsterInsights – With this tool, you can easily add Google Analytics to your site. But not only that, it allows you to see vital stats straight in your dashboard.
Additional Recommended Plugins:
While there are many (many!) other plugins that could be helpful for your affiliate marketing, I don't want to overwhelm you. The plugins mentioned above are great for getting started, have no real overlap, and are the best of their breed in each area.
Is WordPress Scalable?
When you're first starting out, it's okay to use a low-end market web host and a quickly thrown together WordPress blog. This kind of setup can cost you as little as $3 – $5 per month (well under $100 a year).
But what happens when you start seeing some serious traffic numbers?
Can WordPress really handle it? Is it scalable?
The answer depends largely on a few things:
1. Your web hosting setup
Once you get beyond a few thousand visitors a month, you might want to move away from shared hosting services like Bluehost (a great low-cost introductory host that many people start with).
The next step up is a VPS, which stands for virtual private server. VPS providers like Digital Ocean provide infrastructure that can scale a WordPress website into the millions of monthly visitors and beyond.
Combining your VPS with technology stacks like Nginx and server-side caching can also help even a small VPS scale up to handle larger amounts of visitors.
2. CDN
CDN stands for content delivery network. CDNs help you deliver static resources on your site, such as images and JavaScript, that don't change very frequently.
Their super-fast networks of servers can deliver those files to your visitors' computers much more quickly than your web host can.
It might sound like we're talking about fractions of a second here, but every second counts.
3. Caching
One way to get a bit more juice out of your WordPress site is to serve pages on your site from a cache.
Caching means making a copy of the generated page on your site and storing it for quick retrieval later. In the process, WordPress and PHP are often not even triggered.
The best kind of cache is a server-side solution like Varnish, which doesn't have to boot up WordPress at all.
If each request for a page fires up WordPress (as it still does with some of the caching plugins out there), the benefits of the cache will be limited.
4. Lean and clean code
Finally, one of the biggest factors that can affect the speed of your site is how well the site is constructed.
At a professional level, you might want to get a qualified web developer involved to do a speed audit on your site.
Have them optimize your site so you get a better result on Google PageSpeed and GTMetrix. These are two excellent sites that can tell you what exactly what you need to do in regard to page speed.
Start Off Your Affiliate Marketing Journey With WordPress
I hope this introductory article has helped convince you that WordPress is a great choice when it comes to setting up a website for doing affiliate marketing.
If you have any questions please leave a comment below.