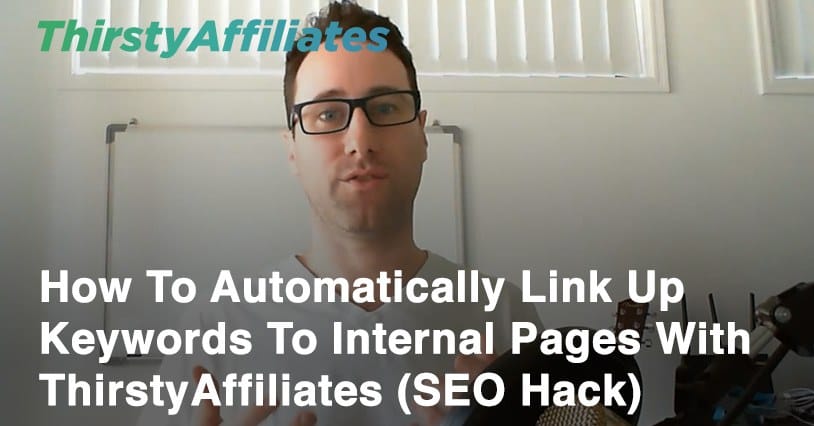 ThirstyAffiliates has traditionally been an affiliate marketing tool and no we are not about to change that.
But SEO is important too.
Many affiliate marketers, myself included, straddle that line of being an affiliate marketer and an SEO as well.
We kinda have to be interested in SEO as affiliates in order to make that whole "traffic" part of the puzzle happen.
So what I have to share with you today is going to blow your little SEO mind.
It's all about using ThirstyAffiliates to handle and automate your internal linking to money pages.
What Are Money Pages?
A money page is a page that is responsible for generating income for you.
It can be a landing page.
It can be a blog post.
It can be just a regular old page on your site.
What makes it a money page is that you can attribute that page to giving you commissions.
Why Do You Need To Internally Link To Your Money Pages?
Money pages only do their thing when they have traffic.
So the more traffic you send their way, the better they should perform, assuming the traffic is relevant.
The best place to get relevant traffic is your own website.
There's a reason you spend hours upon hours writing blog content to attract your audience.
When you get those relevant people onto your website, you need to send them somewhere.
Most people do this with popups, interstitials, sidebar ads and other means.
You can also do this by leveraging smart internal linking practices.
How To Leverage ThirstyAffiliates For Internal Linking
I don't want to toot our own horn too hard here but ThirstyAffiliates is a great tool for creative affiliate marketers.
It has lots of interesting features to help people automate their affiliate marketing, access to killer stats reports and loads of other useful tools.
But as a whole, it wasn't built for doing things like internal linking. It was built for linking to affiliate links which are by definition an external link.
Many of our users have tried to do this internal linking in the past and have run into the following problem:
They use they set up a new affiliate link to point to an internal link
They insert the link into a blog post
They view the post on the front end and realise it's hiding the link behind a link redirect (what ThirstyAffiliates does by default)
They give up because hiding internal links behind a link redirect is a big no-no when it comes to SEO
I'm going to show you how to get around this problem PLUS automate the hell out of it too.
Specifically today I want to concentrate on two of those features which will help you achieve 100% automation of internal linking in an SEO friendly way.
You're going to be using two of our greatest ThirstyAffiliates features called:
Autolinker – lets you automatically link up affiliate links
Uncloaker – lets you uncloak certain links
If you're a visual person, watch this full explanation and video tutorial on how to use ThirstyAffiliates for internal linking:
Step 1: Create a new Link Category in ThirstyAffiliates called "Internal"
In order for the Uncloaker feature to do its job, you need to tell it what to uncloak.
Much like in our tutorial about uncloaking Amazon affiliate links we'll use a link category for this job.
Goto Affiliate Links->Link Categories.
Add a new Link Category called "Internal".
Step 2: Tell Uncloaker which categories to uncloak
The Uncloaker can uncloak however many categories you want without you needing to specify in each link that you want it uncloaked.
Go to ThirstyAffiliates->Settings.
Click on the Link Appearance tab.
Then scroll all the way to the bottom to find the "Select Category To Uncloak".
Add your new "Internal" category and hit save.
Step 3: Set up your affiliate link to point to your internal page
Create your link in the usual way by going to Affiliate Links->Add New.
Give it a sensible title that you can find later.
Step 4: Add auto-linking keywords
The final step (aside from checking its all working right on the front end) is to add the keywords that you want automatically linked up.
You do this back inside the affiliate link edit screen.
Go to Affiliate Links->Affiliate Links.
Find your affiliate link and click Edit.
Scroll to the Autolinker Keywords section.
You can define a bunch of settings here, but most importantly you need to define which keywords you want this link to be added to.
The keywords you add in this list should be in the order that you want them linked up. For example, if you have two keywords like "Beach Towel" and "Towel" you should put the more specific one first, in this case, "Beach Towel".
Check Your Work
And that's about it. All you need to do now is check it's all working how you want it on the front end of your site.
What you should be seeing is:
Your links are automatically linked up to the keywords you defined
Your links are being uncloaked meaning they point directly to the destination URL you defined
I encourage you to go back up and watch the tutorial video for more details and a step by step walk-through.
I hope this has given you a few ideas and you find it useful!
Mandatory Disclaimer
I feel like given the nature of this post and the tactic explained to remind you that this is highly experimental.
I can't be responsible for the outcome on your site so my recommendation is to give it a test on a small scale.
So like any good SEO, put your experimenter's hat on, give it a go and see how the results stack up for yourself!