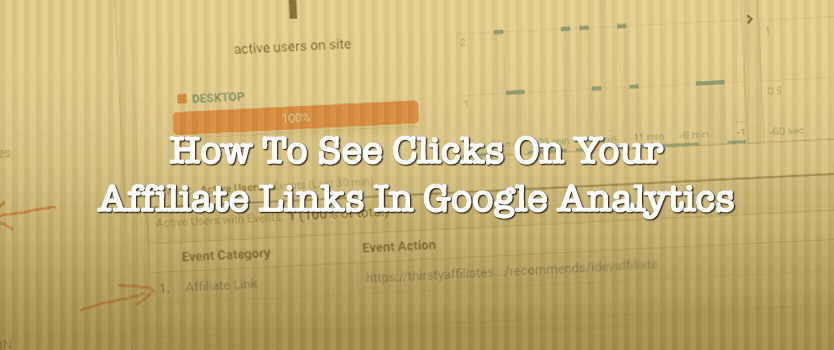 Tracking your performance in affiliate marketing is a favourite past-time of the affiliate marketer.
We are creatures who pay a lot of attention to numbers, conversion rates, click through rates and more.
So what if you could see clicks on your affiliate links in Google Analytics for your site as they happen? Wouldn't that be nice?
Today I want to introduce you to a feature, one we've had for a while, but has recently had a makeover when we launched ThirstyAffiliates Pro back in October 2017.
It's called Google Click Tracking and that is the module that is responsible for pushing clicks through to your Google Analytics account.
How Google Click Tracking Works
Google Analytics is a great platform because you can use it for tracking just about any kind of analytical data for later examination. I especially love it because you can push events to it and those events can track all sorts of neat things.
We harness this power of events in Google Analytics with our Google Click Tracking module to track clicks on affiliate links on your site.
It sends information about that click through to your site's Google Analytics profile so that you can query information about it over a period of time.
And once setup you can see them in your Google Analytics account under Behaviour->Events.
This gives you visibility into which links were clicked, when they were clicked, how many times they were clicked and on what page.
Beyond that, you can start getting tricky with Google Analytics by cross-matching it against what types of people clicked those links, what devices and operating systems were they using, more data mashing.
Setting Up Google Click Tracking
In ThirstyAffiliates Pro, Google Click Tracking is a module you can activate under ThirstyAffiliates->Settings, Modules tab. By default, it's already turned on, so it may already be working for you if you have the default Google Analytics setup.
Google Analytics can be inserted into your website by using a number of different methods:
Global Site Tag (gtag.js) – the latest version of their script code
Universal Google Analytics (uses the ga() function) – this is what most people use currently and what most of the Google Analytics helper plugins (such as Google Analytics for WordPress by MonsterInsights) use.
Legacy Google Analytics (uses the older _gaq() function) – the older script that is no longer in use, but still supported. If you have a really old site it might be using this.
Google Tag Manager (uses the tag manager code) – this is the tag manager product that Google provides to larger sites and agencies for easier management of their script tags. This type requires some extra steps to setup.
To get Google Click Tracking working in ThirstyAffiliates Pro you just need to tell it which tracking script you are using on your site: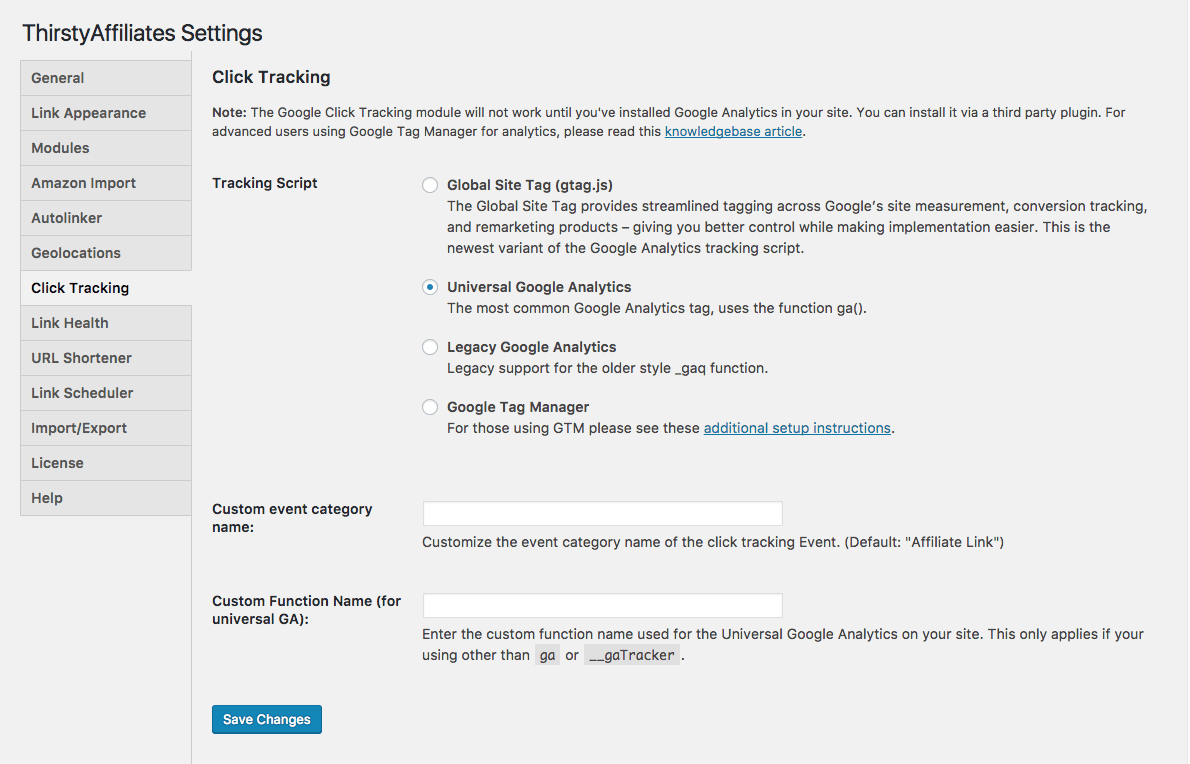 As you can see in this screenshot, it is very easy to switch between them, and as far as basic steps to get it working goes, this will be all you need to do for 98% of all sites.
There are also two other options there on the screen which you may have noticed:
Custom event category name – by default events are recorded under the Event Category in Google Analytics as "Affiliate Link", this lets you change that.
Custom Function Name (for universal GA) – when you are using the Universal Google Analytics tracking script some plugins or developers may optionally change the javascript function name from ga() to something else. This is perfectly OK to do, but Google Click Tracking will need to know about it if you want it to work. Hopefully, you won't need to touch this setting, but at least now you know what it's for!
What It Looks Like In Google Analytics
Click events on your affiliate links get pushed to your Google Analytics profile in real-time.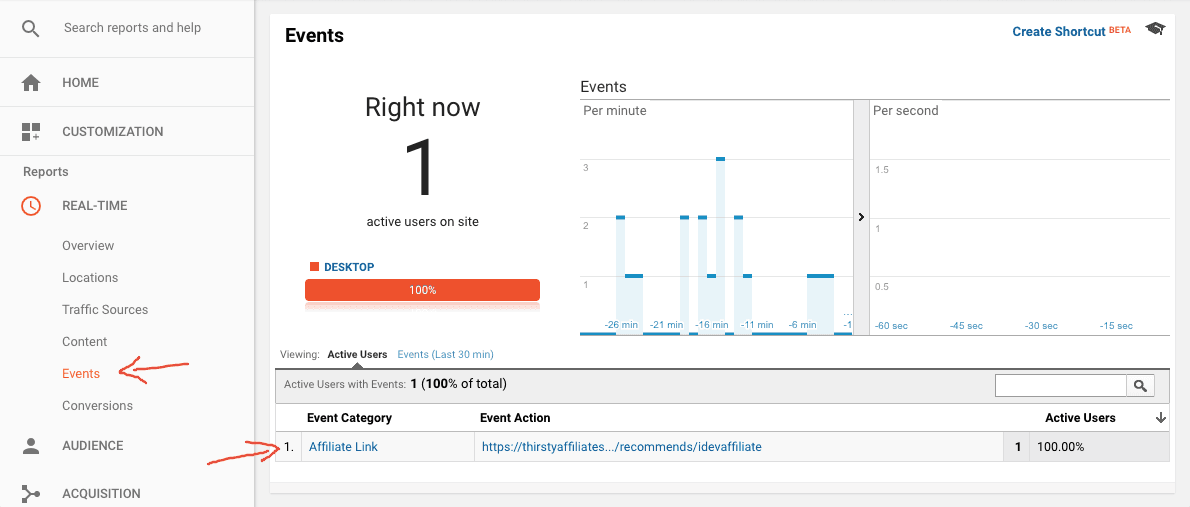 You can also see the affiliate link clicks in report style under Behaviour->Events.
The Events->Overview section will show you raw numbers of how many clicks on all affiliate links.
Then if you drill down into the Event Category (default name is "Affiliate Link" as mentioned above) you can see the Event Actions which contains the cloaked affiliate link URLs that were clicked (great for seeing how many clicked a particular link).
Drill down another step and you can see the Event Label which will, by default, show the page the affiliate link was clicked on. This is quite handy if you have a link and you want to find out what pages that link was clicked on most.
Great! How Do I Get It For My Site?
Google Click Tracking is a module in ThirstyAffiliates Pro which is the paid extension to our free ThirstyAffiliates plugin.
I encourage you to download the free version first, play with it and get used to the functionality of ThirstyAffiliates and then explore the pricing page to see if upgrading to the Pro extension will benefit you.
There's also a lot more to the Pro version than just Google Click Tracking, it's just one of our amazing features. Click through here to see all the features compared side-by-side.