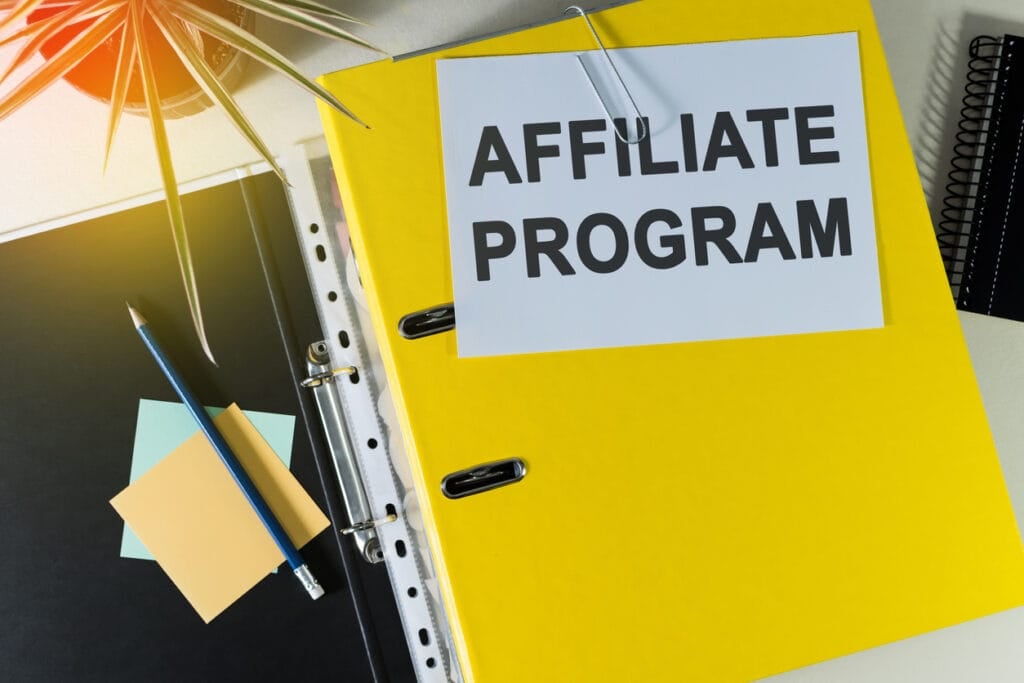 Affiliate marketing can be a lucrative pursuit. With spending in this industry projected to reach 8.2 billion by 2022, there's no better time to get in on the action. However, if you're just starting out, finding accessible affiliate programs for beginners can be a challenge.
Fortunately, there are some top affiliate programs you can familiarize yourself with to get a feel for how this monetization strategy works. Learning about them can help you navigate the process and weigh all your options.
In this article, we'll cover what you should be looking for in a partnership if you're new to affiliate marketing. Then, we'll discuss three of the best affiliate programs for beginners. Let's get started!
What Beginners Should Look for in an Affiliate Program
Beginners have different needs than established affiliates. If you're just starting out with affiliate marketing, you might not be totally familiar with the process. You also may want to get some low-risk experience under your belt before you aim your sights higher.
Either way, one of the most important factors to look for in an affiliate program is how easy it is to join. Programs with low or no follower and traffic minimums are ideal. The lowered barrier to entry can help you start developing your marketing strategy with less pressure.
However, you might also want to investigate how established the programs are. Long tenures are a promising sign of legitimate and lucrative opportunities. Programs that have been around longer have also had time to collect user reviews you can consult before you commit.
You should also make sure that programs you're interested in joining have options for your marketing niche. If you run a cooking blog, for example, it probably doesn't make sense to limit yourself by working with an affiliate program that doesn't offer a lot of options for kitchen-related products.
Finally, you should also consider the limitations of each program. For example, even though cloaking your affiliate links can be an easy way to boost your sales, not every program allows it. Consider reading the fine print and thinking about how it could affect your success before you sign up.
3 of the Best Affiliate Programs to Know for Beginners
There are a lot of affiliate marketing opportunities out there for beginners. We've rounded up three of the best affiliate programs on the web right now to kickstart your search.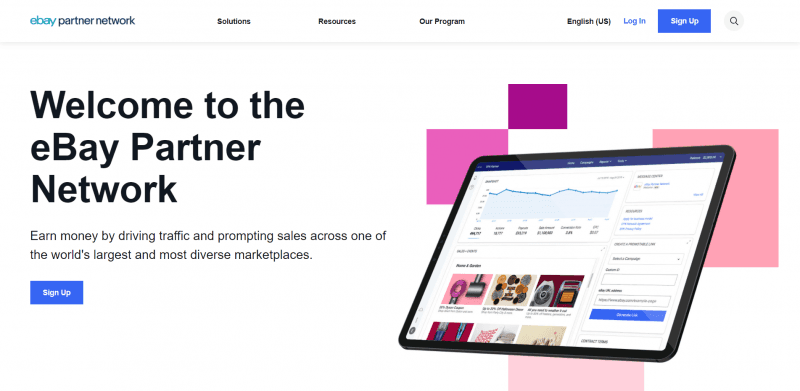 If you're totally new to the affiliate marketing game, the eBay Partner Network can be an excellent launchpad for your new online career. Started in 1995 and adding its partner program in 2008, eBay is an internet staple designed with entry-level users in mind.
It's hard to beat the accessibility of eBay's Partner Network. It's famously straightforward in its application, interface, and sales tools. These features make eBay's network a perfect choice if you're just starting out and looking to learn the ropes.
It's also great in terms of flexibility. Affiliates have the opportunity to choose almost any product on eBay to promote. The commission rates for these are fairly high for beginners, giving you the chance to learn the process while still earning some respectable pay.
Altogether, the eBay Partner Network is a super beginner-friendly option for you if you're looking to ease into affiliate programs. Once you've gotten the hang of the process, you can also make the most of the opportunity by boosting your site's traffic with some targeted SEO tactics.
The Rakuten affiliate program can be a smart choice if you're new to affiliate marketing, but not content creation. Established bloggers with top-notch websites will find this program has a simple interface that helps them profit from their existing blog posts or videos.
Rakuten's affiliate program also helps you curate your ads with individual product applications. This means you can take your time to select products you'll be able to successfully sell to your audience. Additionally, it gives you the freedom to focus on one product at a time or mix and match a few.
Competition in this program can be a little stiff. However, if you've already established yourself in your niche, you'll have better luck securing partnerships even if you're not the most experienced affiliate marketer.
Rakuten can be selective about who it allows into its network, too. However, if you're confident in your work and willing to be persistent with your applications, you'll find plenty of lucrative opportunities. It's a solid choice if you're looking for a way to jump feet-first into the world of affiliate marketing.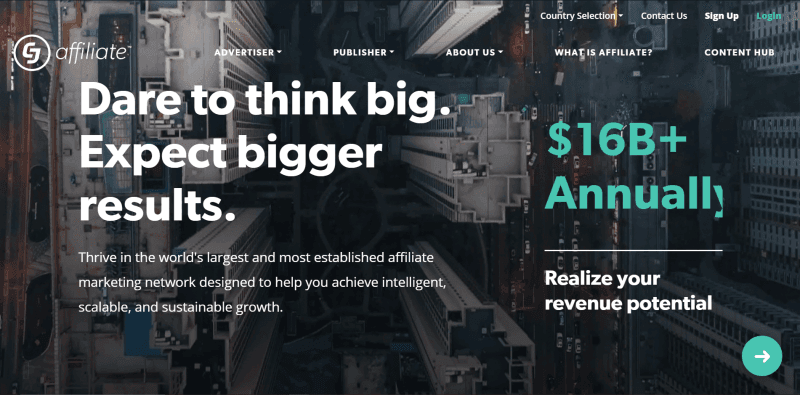 Formerly known as Commission Junction, CJ Affiliate offers a program that's accessible to beginners who are ready for a challenge. If you have a solid understanding of the process and are looking for a program to help you take your marketing to the next level, this network is an excellent bridge.
Affiliates can sign up as publishers. Once you're in, you'll be given opportunities to apply to the merchants in the CJ Affiliate network. One of the greatest benefits of this program is its impressively large selection of established, respected merchants available to choose from.
However, this also gives applications a competitive edge. You'll probably want to have solid, consistent content as well as a basic understanding of how to leverage affiliate marketing on your site before you start. Armed with these, you can find some unique opportunities to break into the bigger-name affiliate partnerships.
CJ Affiliate can certainly present some challenges. Yet its simple process and room for advancement make it an excellent match for beginners looking to expand their skills. Paired with a concentrated effort to improve your conversion rate, it's an effective way to start seeing some serious returns on your work.
Conclusion
Affiliate programs are lucrative, but it can take some work to get your foot in the door. Fortunately, there are some great options out there for beginners to learn the ropes and gain valuable experience.
In this article, we covered three of the best affiliate programs for beginners:
Try the eBay Partner Network if you're just starting out.
Join Rakuten's program if you have some quality content but not much affiliate experience.
Apply to CJ Affiliate if you're familiar with affiliate marketing and looking for a rewarding challenge.
What affiliate program will you try your hand at first? Let us know in the comments section below!
If you liked this article, be sure to follow us on Twitter, Instagram, Facebook, and LinkedIn! And don't forget to subscribe to our newsletter.