When it comes to communicating with your customers, it's crucial that you connect with them on a consistent basis. That means meeting up with them where they spend most of their time online – in their email account.
With more than 3.9 billion email accounts active all across the world, email marketing is the most effective marketing channel – more so than social media, search engine optimization (SEO), and affiliate marketing itself. 
In this article, we'll cover what email marketing is, then go over the necessary steps on how to add affiliate links to your campaign. We'll also highlight some of the top email marketing services that can help increase your conversion rates. Lastly, we'll share some valuable tips to incorporate into your email marketing strategy.
What is Email Marketing?
Email marketing is a highly effective digital marketing practice of sending emails to interested customers. The main goal of email marketing is to turn readers into buyers and buyers into loyal, repeat customers. 
Businesses use email marketing to sell products by showcasing new products or services. Although, you can also use email messaging for situations such as welcoming new subscribers, sending weekly newsletters, and informing subscribers on upcoming sales.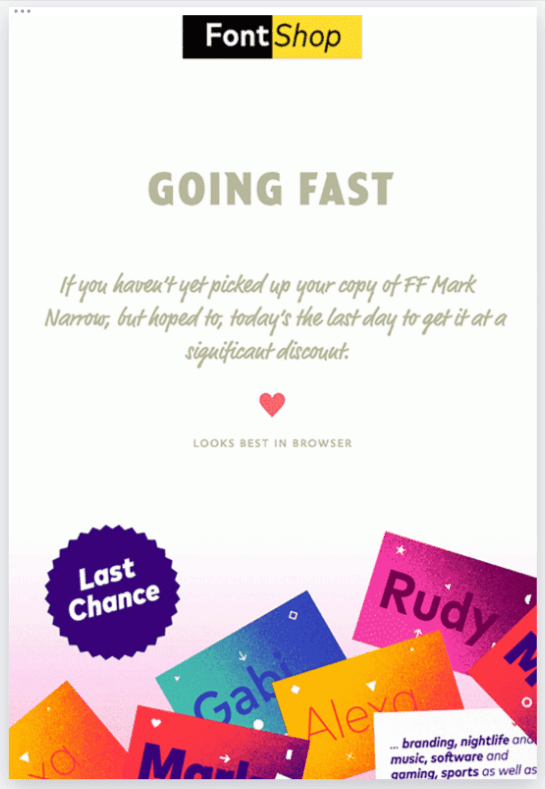 While email marketing can exist on its own, it works best when combined with other areas like websites and social media. Combining different fields can help you generate more leads and broaden your company's message.
4 Things You Should Know When Adding Affiliate Links in Your Email Marketing Campaign
Using email for your affiliate marketing business is much more than simply adding a link to the body of a message and pressing send. There are certain rules you'll need to abide by, content you'll need to create, schedules you'll need to plan out, and tests you'll need to run.
Fortunately, we have listed the need-to-know steps on how to add affiliate links to your email marketing campaign.
1. Check With Your Email Provider
Some of the most popular email service providers include Gmail, Outlook, iCloud, Yahoo, and so many others. Before you start your campaign, it's important that you get to know the requirements of each provider.
For example, Gmail will ban your account if you send affiliate messages to users who haven't subscribed to receive them. The same would go for other providers as well. It's essential that you read the terms of service to avoid being banned.
2. Choose Profitable and Relevant Links
Keep in mind the three requirements for your affiliate links: Profitability, Relevancy, and Recency.
Profitability. Even though adding a link to your mailing is free, don't forget that this could increase unsubscriber rates and cost you in time. Calculate the return of investment (ROI) to see whether the promotion is worth it.
Relevancy. Sending emails requires some base in the beginning. Let's suppose that you run a video game review site and you're crafting an email to send to your subscribers. Would they be interested in jewelry, fashion, or nutrition? Probably not. Remember to always keep the content relevant.
Recency. Promoting products and services that are up-to-date will minimize your search efforts. You will be able to include them in several emails, and their relevance won't be outdated. Note: this isn't related to hype products that bring huge profits during a short period of time. Their relevance is short-living, so it is crucial that you grab the moment.
3. Manage Links in Your Email Sequence
An email sequence is a series of emails that is sent to different subscribers. This could include bulk mailing, trigger-based and time-based messages.
Imagine that a user leaves a website while having a cart full of products. Later that day, they receive an email about their "forgotten cart" with an invitation to complete the purchase. This message reminds them to hop back online and complete their purchase. This is a great example of how an automated time-based email messaging system could eliminate your cart abandonment issues and increase sales.
As for bulk mailing, there are several different sequences for situations such as welcoming users, explaining how to use a product, inviting customers to shop at your store again, and more.
4. Monitor Your Results and Add Upgrades
With your affiliate email marketing campaign off the ground and running, you'll want to monitor the results as they come in, including:
Delivery and Open Rates
Link Clicks
Purchases
Conduct testing with different types of content, and don't forget to send different links with each new email. Remember: you don't want to be repetitive. Sharing the same product with the same audience could quickly land you in one's spam folder.
Services to Boost Your Affiliate Email Marketing Strategy
It's easy to feel overwhelmed by the numerous tips and tricks to keep in mind while managing an email marketing campaign.
To help you simplify the process, we've prepared a few email marketing services that can help get you moving in the right direction. 
1. Sender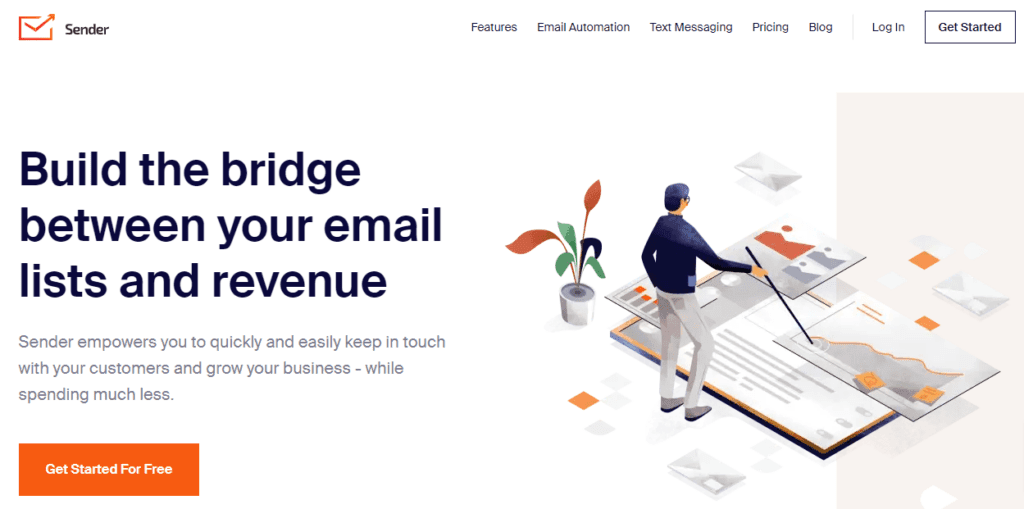 Sender is the go-to email marketing platform for small businesses that want to do enterprise-level marketing without worrying about a high price tag.
Sender offers excellent features, including email and SMS marketing automation, segmentation, and integration to popular platforms like WordPress, Shopify, and much more!
Its drag-and-drop email design builder is so intuitive and easy to use that anyone can create newsletters, popups, and forms like a pro. Combine that with the massive library of stunning templates, and you have a complete tool that helps you send engaging emails to your customers quickly.
2. ConvertKit
ConvertKit is an email marketing tool built for creators who wish to connect, share, and inspire their audience by using beautiful design templates.
With ConvertKit, you can create eye-catching landing pages that are sure to get your audience to engage with your content. Speaking of content, this tool will help you craft messages that will resonate with your subscribers and encourage them to interact with your site.
ConvertKit also offers other amazing features including, email capture forms, broadcasts, autoresponders, tagging, and advanced email automation workflows.
3. Moosend
Moosend is an innovative email marketing and marketing automation tool that offers an all-in-one solution for businesses looking for an intuitive yet robust platform. Its Drag-and-Drop email editor and its fully customizable email templates allow marketers to create the perfect newsletter either from scratch or by choosing a ready-made solution.
What is more, Moosend's automation recipes allow you to streamline processes and save time and resources, while its data and analytics will ensure that you make educated decisions every step of the way.
4. GetResponse

GetResponse is a powerful marketing service that will have you creating professional-looking emails in no time. Its drag-and-drop email creator feature makes it easy to use so that you can start sending out emails in just a matter of clicks.
What's also great is, GetResponse isn't just for emails. It's an all-in-one marketing platform that also includes advanced analytics that makes it easy to track leads, conversions, and your ROI.
5. Fastreel
Fastreel is an online video editor with multiple templates and features. You can use it to create short videos for your email campaigns without downloading software or having extensive editing skills.
Adding video content to your emails is a great way to stand out in one's email inbox, and will also help boost the engagement of your messages.
6. Canva
Canva is an excellent solution for creating visual content. You can choose from a variety of infographics, pictures, collages, presentations, and more. Anything is possible with this service.
Canva offers a free version with 250,000+ design templates, thousands of photos and elements, and you even have the ability to create a team.
7. MailChimp
MailChimp is an integrated marketing platform with multiple features for your emails. The service will help you to automate messaging, get better campaign insights, create a simple website, and more. Their world-class technology can help you launch your business until it grows to meet your vision and expectations.
Final Tips to Boost Your Email Campaign Profits
You can't send an email without the proper preparation and marketing techniques. So we've prepared a list of tips that will provide a better customer experience and ultimately lead to increasing your sales.
Craft Appealing Content With Storytelling
People can easily dismiss the average "product review" or completely overlook an inserted link. The act of storytelling will help draw more attention and allow customers to better relate to a product or service. It's much easier to sell a product when it's backed with an interesting and engaging story.
Insert Call-To-Action Buttons
Suppose you've made the perfect story, now how do you finish it? The most logical way is to add a call-to-action button like "Buy now!", "Limited sale", or "Shop now!".
The location of the CTA also determines the attention it gets. It is best if you place the button in a prominent area above the fold.
Optimize Content and Design for Mobile Viewing
You've created a perfect email that looks absolutely flawless on your desktop. However, when your readers open it on their phones, they see a complete disaster. What are the chances they will interact with your email? Next to nothing.
According to Campaign Monitor, 81% of all emails are regularly monitored on mobile devices. So it's crucial that you optimize your content to fit multiple viewing platforms, including desktop, tablet, laptop, and smartphone screens.
Write an Exciting Email Subject Line
Imagine that you open your email account and start scrolling through your new messages. Which subject line would you most likely click on first:
"A Recent Study Reveals that the Effects of Athletic Sportswear Can Lead to…"
or
"HUGE Discounts on the Best Sportswear of 2021!"
It's safe to assume that the second option would draw your attention. Why? It gives a clear statement of what's in the message, saves the user's time, and mentions something profitable. The subject line should explain the benefits a user could get by reading the mail, bring on some intrigue, and remain clear enough.
Understand Your Analytic Results
For those just starting out with affiliate marketing emails, it's easy to create dozens of email campaigns, only to rush off and send them to as many accounts as possible over and over again. However, ignoring the results of your email campaigns can be a critical mistake.
Analytics will help you understand which content interests your audience, which titles are more clickable, and why certain campaigns are more profitable than others. Always take the time to analyze and improve your email marketing strategy.
Conclusion
If you're an affiliate marketer who wants the best chance at reaching your audience and increasing click-through rates and sales, then you need to utilize email marketing. To help get you started, we've detailed four factors you'll need to know when adding affiliate links in your email marketing campaign:
Check With Your Email Provider
Choose Profitable and Relevant Links
Manage Links in Your Email Sequence
Monitor Your Results and Add Upgrades
We've also listed a few popular email marketing tools and providers, including:
Lastly, we've included a few tricks of the trade to ensure that your email marketing efforts are successful:
Craft Appealing Content With Storytelling
Insert Call-To-Action Buttons
Optimize Content and Design for Mobile Viewing
Write an Exciting Email Subject Line
Understand Your Analytic Results
Do you have any questions about how to start a profitable affiliate marketing email campaign? Leave them for us in the comments section below!
If you liked this article, be sure to follow us on Twitter, Instagram, Facebook, and LinkedIn! And don't forget to subscribe in the box below.