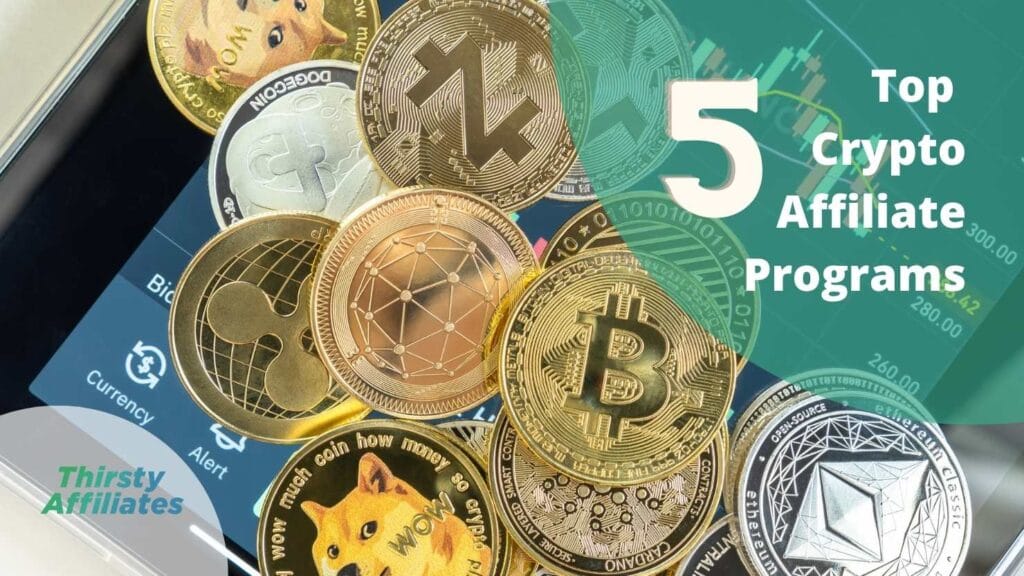 If you're looking for an effective way to build a recurring revenue stream, you might consider joining a crypto affiliate program. However, if you're new to the industry, you might not know where to start.
The good news is that there are plenty of reliable programs to choose from. Narrowing down your list to the best options can save you time and help you select the right brands for your audience.
In this post, we'll take a closer look at crypto affiliate programs and their benefits. Then, we'll look at some of the best options for your site. Let's jump in!
An Overview of Crypto Affiliate Programs
Cryptocurrency, also known as crypto, is a digital or virtual asset designed to work as a medium of exchange. Cryptocurrencies are decentralized, meaning they are not subject to government or financial institution control.
An affiliate program is a marketing arrangement between two parties: a merchant and a publisher. The merchant (or company) agrees to pay the publisher (or affiliate) a commission for referring customers to their website.
The commission is typically a percentage of the customer's transaction value. It is paid when the customer makes a purchase or when they sign up for an account with the merchant.
There are many benefits to joining a crypto affiliate program. You can earn a commission on every customer that you refer. Additionally, you can often choose from a variety of payout methods, including PayPal, bank transfer, or even cryptocurrency.
Finally, many programs offer lifetime commissions. This means you'll continue to earn commission on every purchase that your referrals make, even years down the line.
5 Top Crypto Affiliate Programs in 2022
Now, let's take a look at some of the best crypto affiliate programs that you can join in 2022.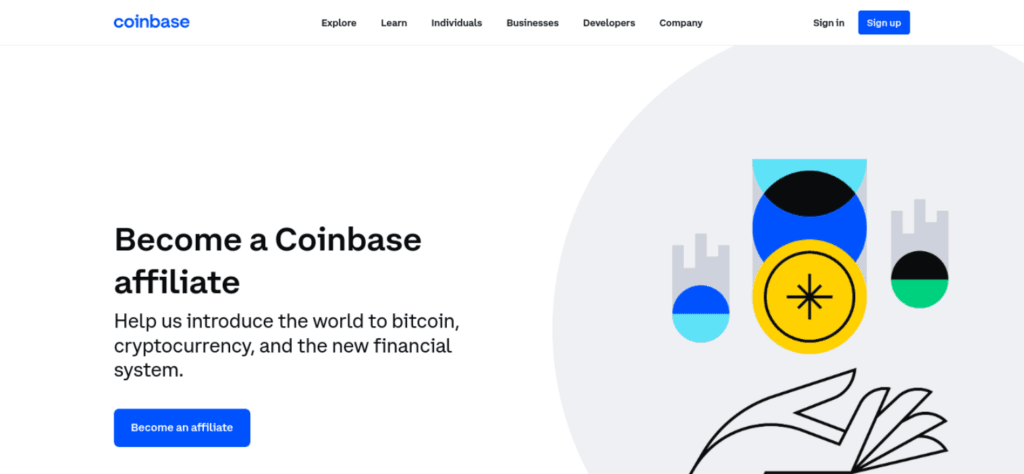 Established in 2012, Coinbase is one of the most popular cryptocurrency brokerage and exchange platforms. It allows users to purchase bitcoin in a variety of ways, including via bank accounts and credit and debit cards.
Coinbase has a user-friendly interface that lets you trade a variety of cryptocurrencies. This includes Litecoin, XRP, and Ethereum. The platform has nearly 100 million users spanning more than 100 countries.
Key features of the Coinbase affiliate program:
50 percent commission rate for the first three months
Up to $250,000 in insurance
Unlimited referrals
Local flat currency
If you want to get started with Coinbase, you'll have to apply for the affiliate program by filling out the form on the website. If you're approved, you'll be given a custom affiliate link that you can use to promote the company.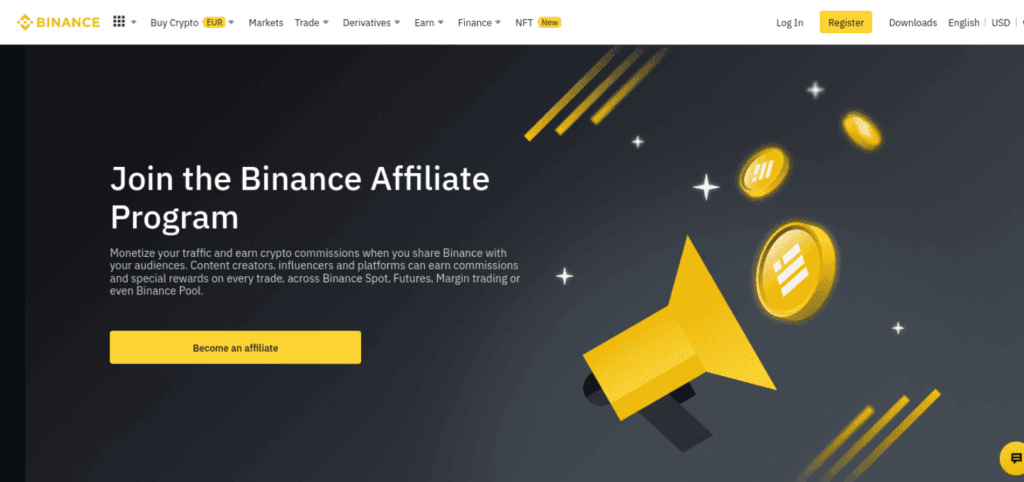 Another top program to join is Binance. As one of the largest cryptocurrency exchanges in the world, Binance lets you trade over 45 virtual coins.
With the Binance affiliate program, you can offer your referrals a kickback of anywhere between 5 and 20 percent. This can be an excellent incentive for users to sign up through your links.
Key features of the Binance affiliate program:
Up to 50 percent lifetime commission rate
Spot trading and futures trading
90-day cookie window
Commission raised by 50 percent when inviting over 500 traders
Unlimited referrals
You can apply for the affiliate program by completing the form on the Binance website. If accepted, you'll receive a confirmation email with the next steps. It's important to note that there is a handful of criteria you must meet. This includes having a minimum of 5,000 followers/subscribers on at least one major social media platform.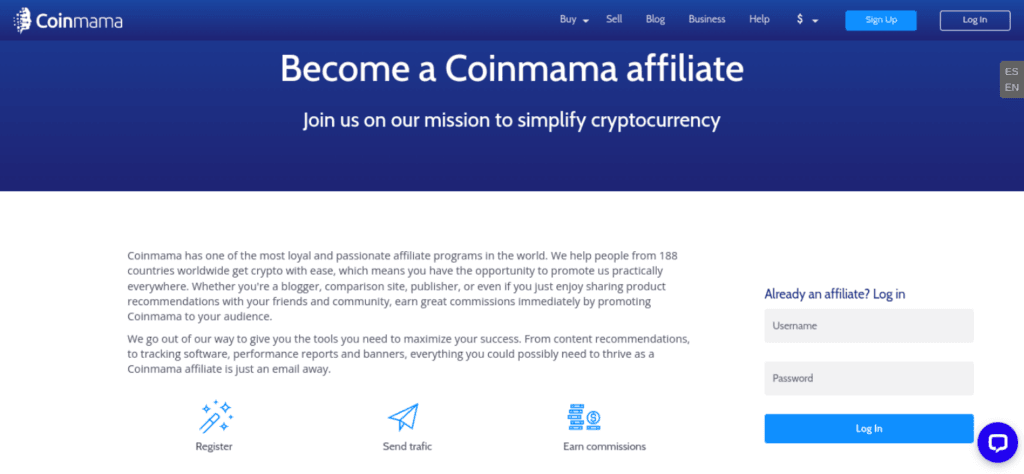 The Coinmama affiliate program is a solid option if you want to sell Bitcoin and other types of cryptocurrencies. Created in 2013, Coinmama was originally a brokerage for those looking to acquire Bitcoin and Ethereum. However, it can now be used for trending Litecoin, Ripple, Cardano, XRP, DOGE, and other types of digital currencies.
The downside is that brokers charge a fee. Typically, this ends up being nearly 6 percent higher than if you were to trade privately.
Key features of the Coinmama affiliate program:
15 percent on all referral purchases
No earning limitations
Fiat currency
Monthly payouts
To get started with Coinmama, you'll need to fill out the form on the website. The program is free to join.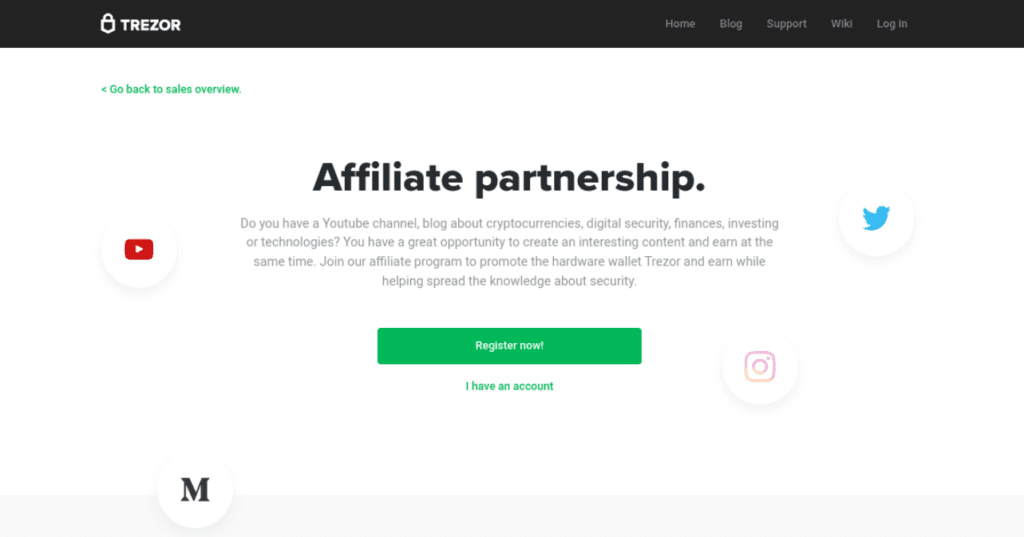 If you're at all familiar with the crypto world, chances are you've heard of Trezor. This hardware wallet lets you safely keep your crypto offline. Its affiliate program includes the ability to pay out in Bitcoin and store currency in the blockchain instead of a bank account.
Key features of the Trezor affiliate program:
12 to 15 percent affiliate commission for referrals
Bitcoin or bank transfer payouts
Promotional resources (banners, videos, texts)
Trezor also lets you earn free Bitcoins. However, since the hardware wallets are one-off purchases, you should expect to receive one-time commissions.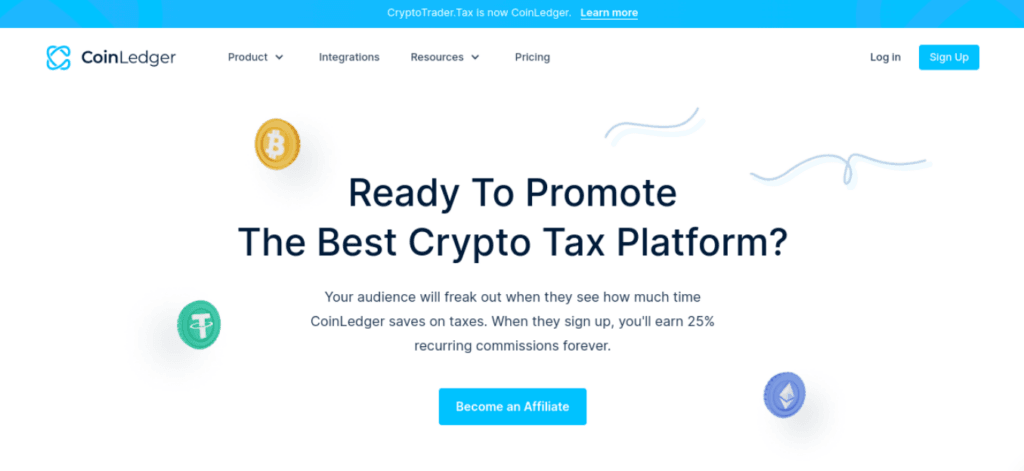 CoinLedger is a cryptocurrency tax software that lets you easily integrate exchanges and wallets and calculate your taxes with ease. Its affiliate program has generated a loyal audience, offering a product that is incredibly useful and valuable among crypto investors.
Key features of the CoinLedger affiliate program:
Up to 25 percent recurring commissions
Fiat currency
PayPal payments
Marketing materials for promotions
Monthly payment processing
If you want to join the CoinLedger affiliate program, you'll first need to sign up for an account on the website. Then, you can complete the form to begin the registration process.
Conclusion
Joining a crypto affiliate program is an effective way to increase your revenue. This is because many cryptocurrency businesses offer generous commissions for referrals.
To recap, these are the top crypto affiliate programs in 2022:
Do you have any questions about the top crypto affiliate programs in 2022? Let us know in the comments section below!
If you liked this post, be sure to follow us on Twitter, Instagram, Facebook, Pinterest, and LinkedIn! And don't forget to subscribe in the box below.