If you're looking for a way to increase your income without starting a traditional business, affiliate marketing can be a great option. In fact, affiliate advertising contributes to 15% of ecommerce revenue. Yet, you might be wondering: how exactly does an affiliate marketer get paid?
With affiliate marketing, you can make a profit by connecting consumers to sellers. By using either a pay-per-click, pay-per-sale, or pay-per-lead method, any affiliate can receive a consistent, passive income.
In this article, we'll explain why payment structures are so important. Then we'll explore the three main types and dive into the pros and cons of each, so you can choose the best option for you. Let's get started!
Why Affiliate Payment Structures Are Important
Affiliates can earn a profit by promoting products or services from another person or company. For this reason, affiliate marketing is a great option to boost your passive income. When you drive consumers to a seller, you can receive a commission.

Once you decide to become an affiliate, it's important to develop a successful strategy. This way, you can choose the affiliate marketing best practices that will lead to the biggest payout.
What's more, if you're new to affiliate programs, you'll need to know the different types of payment structures so you can determine which one is right for you. Most importantly, since they are all performance-based methods, each one may be better suited to certain types of content.
3 Best Methods to Get Paid as an Affiliate Marketer
Before you get started with affiliate marketing, it's important to know how you might get paid. This can help you choose affiliate platforms that are suited to your unique content and needs. Let's review the three most common methods.
1. Pay-Per-Click
One common performance-based model is pay-per-click. With this model, you get paid based on how many valid clicks your affiliate links generate.
This means that your income is based on your ability to drive web traffic. When you convince your audience to visit a company's website, you make a profit.
The advantage of pay-per-click programs is that you do not have to drive consumers to make purchases. By simply moving organic traffic to the seller's website, you receive a commission.
Pay-per-click payment systems are best for blogs or websites that already have high traffic. This is because the more visitors you can redirect toward the seller, the more you earn.
One popular pay-per-click affiliate program is Skimlinks. This platform boasts more than 60,000 publishers. What's more, it partners with over 48,000 merchants that you can choose from: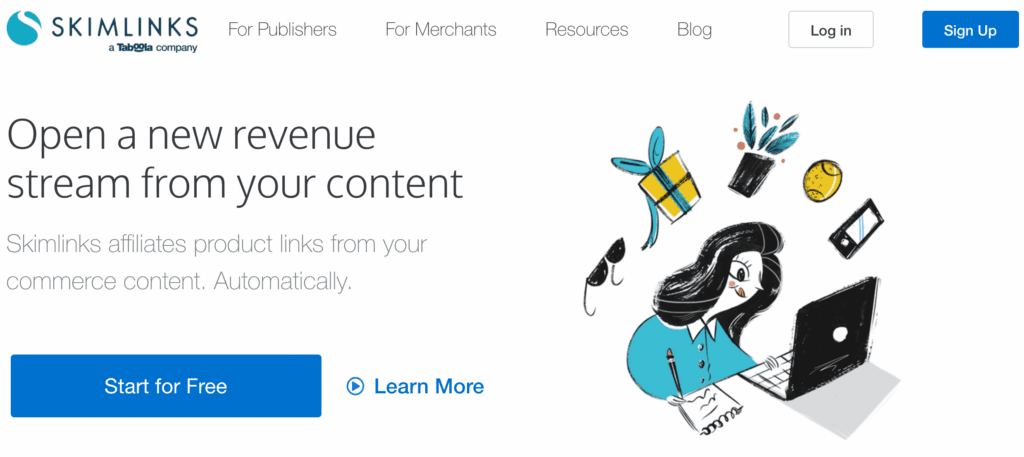 Skimlinks even helps you negotiate your pay-per-click rates. Typically, this results in a rate that is double the average.
As you can see, finding the right program is essential. However, if you don't already have a proven track record for generating web traffic or your audience is small, the pay-per-click payment model may not be the best choice for you.
2. Pay-Per-Sale
Another way to earn money as an affiliate is through pay-per-sale ads. Unlike pay-per-click, which is based on web traffic, pay-per-sale requires a qualified sale. When you can successfully encourage a customer to purchase an item on a seller's website, you'll receive a commission.
Pay-per-sale usually leads to a higher payout because affiliates gain a percentage of a product's sale price. When signing up for this type of affiliate program, the company and the affiliate agree on a fixed percentage.
This is the most common form of affiliate marketing, but it can have disadvantages. It's not enough to simply encourage visitors to click on links; you have to encourage them to actually purchase the items you're promoting (which can be more difficult).
Amazon Associates is a popular pay-per-sale program. When partnering with Amazon, you post links to its products and gain rewards for successfully converting sales: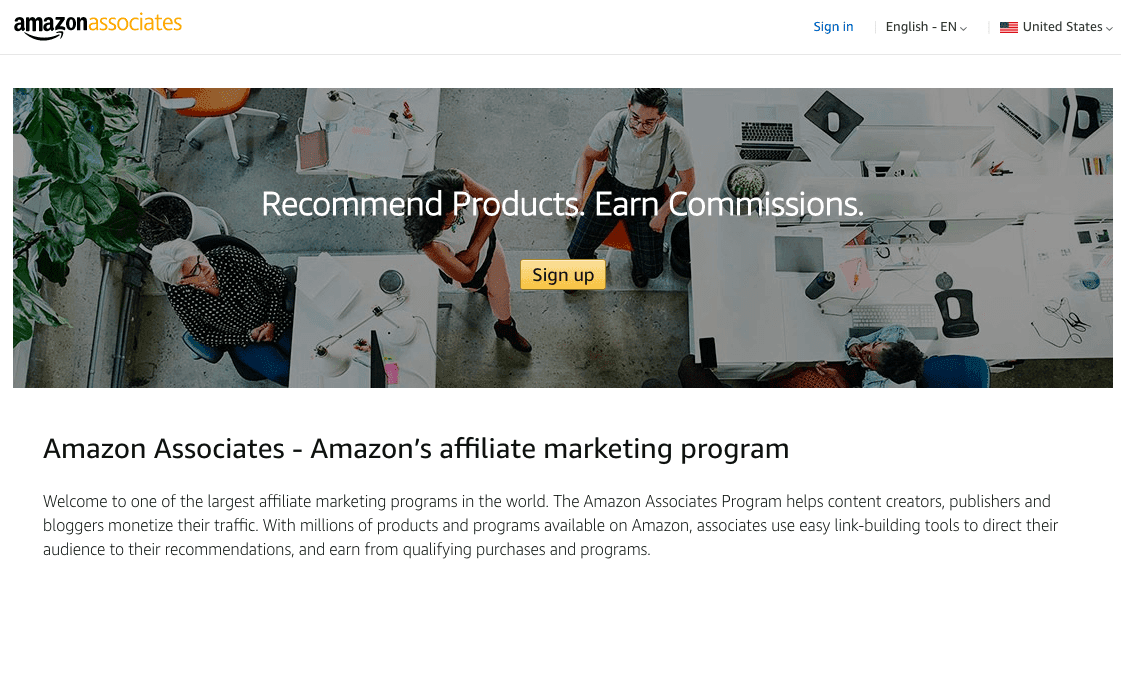 Anyone with an active, online platform can join the Amazon Affiliate Program. With every product a consumer buys after following one of your affiliate links, you are paid a commission. The more sales you earn for Amazon, the more income you make.
Choosing popular Amazon products is a good way to benefit from this pay-per-sale affiliate program. More popular items will have a higher Fixed Commission Income Rate than other product categories. For example, Amazon games have a commission rate of 20%, while physical books have a rate of 4.5%.
However, it's also important to keep your audience in mind. Even if you choose a product with a high commission rate, it might not be relevant to your visitors or readers. It's best to consider your content niche and choose a product that will appeal to your audience.
3. Pay-Per-Lead
In pay-per-lead affiliate programs, you earn a commission from every qualified action taken after a lead clicks on one of your affiliate links. They might need to sign up for a free trial, complete a survey, or opt in to a mailing list.
To clarify, a 'lead' is usually the contact information for a prospective customer. This is desirable for companies and business owners because they can start marketing to a specific audience.
Since providing personal contact details requires more investment than a simple click, pay-per-lead marketing can prove challenging. In this payment structure, you have to influence a person to go through two steps: click on your advertisement, and then fill out a form. Therefore, it may lead to a lower number of payouts than the pay-per-click structure.
However, this setup can be much less demanding than pay-per-sale affiliate marketing. It's typically more difficult to encourage someone to buy a product than to simply sign up for an online newsletter.
A pay-per-lead affiliate program may take time to perfect, but will usually have high commission rates. One of the most popular pay-per-lead affiliate programs is ShareASale. On this platform, you can choose from over 260 merchant programs to promote on your website: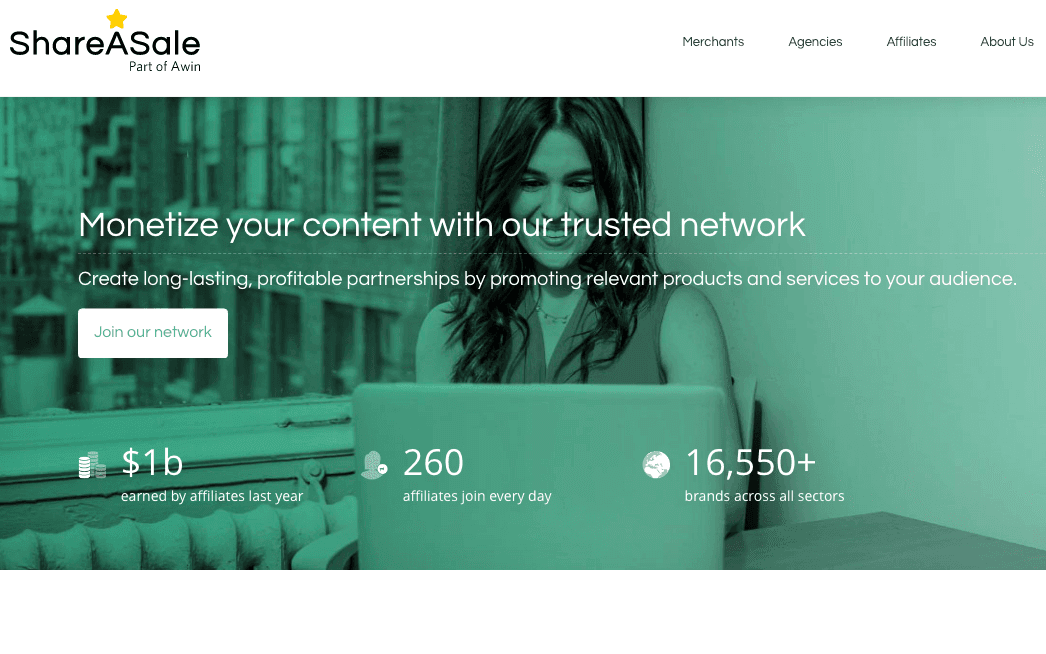 With ShareASale, lead commissions range from $.01 to $150. Most affiliates receive an average of $30 per lead.
Even though pay-per-lead affiliate marketing may require additional preparation, it can be a great option for affiliates of many types. Pay-per-lead structures have a higher commission than pay-per-click and are less demanding than pay-per-sale. As such, it is the preferred method for many affiliate marketers.
Conclusion
Getting started as an affiliate marketer can be challenging. What's more, your payment structure can mean the difference between success and failure. However, if you choose wisely, you'll be able to maximize your affiliate revenue.
Let's quickly recap the performance-based payment methods we've covered:
Pay-Per-Click. Payment based on valid clicks is a great choice if you have a proven track record for generating web traffic. It may not be ideal if you have a small audience.
Pay-Per-Sale. This payment method is based on a percentage of your sales, which is great if you're promoting popular products. This is perhaps the most challenging structure, however, since it requires the biggest investment from your audience.
Pay-Per-Lead. When you successfully encourage users to complete a qualified action, such as signing up for an email list, you get paid. This is a popular choice, as it is middle-of-the-road in terms of difficulty and can offer a sizeable payout.
Do you have any questions about how to make money as an affiliate marketer? Ask us in the comments section!
If you liked this post, be sure to follow us on Twitter, Instagram, Facebook, Pinterest, and LinkedIn! And don't forget to subscribe in the box below.