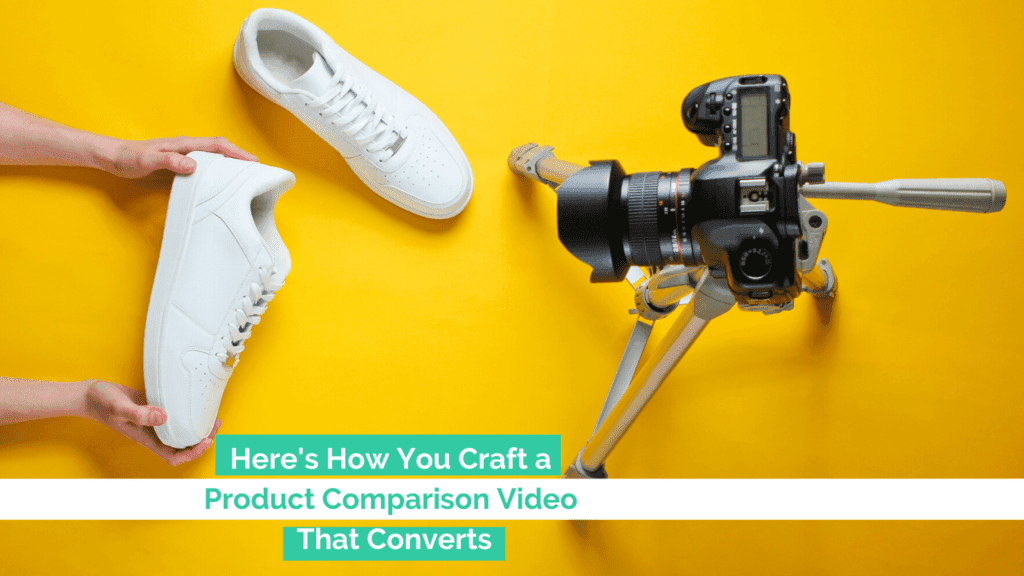 In any facet of marketing, the goal is the conversion, and product comparison videos are no different. 
As with product comparison tables, product comparison videos are an excellent way to showcase one or more of your affiliate products. When done respectfully and correctly, they can deliver multitude of perks, including brand loyalty and new buyers.
It can be tricky to figure out the best ways to showcase a product, and even trickier to do it with tact.
Thankfully, it's not as complicated as you think! Buyers are all different, but there's always one thing on any shopper's mind: Which product solves their problem the most efficiently at the best cost?
In this blog post, we'll discuss the best ways to make a product comparison video that gives your customers this information, and converts!
What is a Product Comparison Video?
A product comparison video is a video that pits one product against another, showing features and perks of both. They mostly help viewers decide which product makes the most sense for their budget and needs. The viewer's goal is to get the highest value for their money. 
This type of digestible content is an excellent asset for affiliate marketing! You can often pitch two of your affiliate products at once without taking the value out of either.
Here's how you craft a product comparison video that converts:
Understand What Your Viewers Want
Understanding buyer desires is a no brainer when it comes to marketing your affiliate products. But here's the tricky part of product comparison videos: everyone wants something different, and there's no one way to do it right. If you're going to get the most ROI out of your work, you need to know your audience.
Your success depends heavily on your knowledge of what your audience wants the most out of a product. What aspects of your product will attract someone to your video, keep them there the entire time, and inspire them to purchase?
You should also know why a buyer is stopping by your video so that you can name and market it correctly. What stage is your viewer in when they get online? Are they looking for a new way to open a can of tuna, so they're searching for can opener recommendations? Or do they already have a can opener in mind and have entered the brand directly in their search bar? 
Knowing these details, and choosing your titles and keywords with intention, will help you attract actual buyers to watch your video.
Understand What Your Viewers Need
When you know what your viewers want, you need to take some time to think about what they need. Emphasize those points in your video in as much detail as possible.
For instance, you might compare spec details and lens quality and breakdown storage space for a video camera. Viewers will also want to compare ease of use when it comes to uploading, or they might want to know what software is included and how it holds up.  
If you're comparing two online SAAS, you could show things like price, functionality, and the inner workings of the software. How does it match your viewer's specific needs, and does it make sense for their price point? Which product gives the viewer the best experience? Show the pros and cons of each product as thoroughly as possible.
Whatever the case, give information that is as tailored and detailed as possible to your buyer's needs. A great way to stick to what your viewers want is to use a search engine autofill to determine what buyers love and hate and what they question about the product or service. What types of issues do these buyers usually face with these types of products, and how can you alleviate their concerns?
Never Mock the Competition (Take the High Road)
Most modern marketing is a display of personality and a building of trust. The more honest and open you are, the more viewers will want to hear your opinion. The more you put non-affiliated products down, the less they'll trust you.
If the products you're comparing are both affiliate products, great! It's easy to be as transparent and fair as possible in that case. But if not, you want to make sure your analysis is unbiased, or you'll risk alienating your audience and losing their trust.
If you're making a video featuring one of your affiliate products versus a competing project, never mock the competing product! You want to be a neutral voice in the situation and highlight all the best features of your product that you can. Remain a voice of reason at all times.
Highlight the real-world best features
What is the best part of your product, and how can you show that? Visual examples are amazing because you can show the audience what you're talking about in real-time. As you explore each product's pros and cons, do your best to provide visuals or walk-throughs that emphasize your point.
Show Results
Unlike with a product comparison table, video allows you to show your product in action, and that means showing the results of the best features. Don't just mention a perk! Show how it works, take footage of you using both products to achieve the result, and be as thorough as possible. The more you show, the more likely a viewer will click-through and move along the buyer journey.
Make it Interesting, But Keep it Short
Here's a quote to keep in mind while you make your videos:
"Marketing is no longer about the stuff that you make but about the stories you tell." –Seth Godin
People are interested in seeing their specific needs addressed, but there are a lot of videos out there! Your video needs to be engaging, and the best way to accomplish that is through story-telling. Find ways to include entertainment in your video, whether through humor or your own personality. 
Do you know little tidbits about the original design of a camera you're comparing? Did the first camera you tried burst into flames? People want to know about these things.
Stay on topic, though. It can be infuriating to have to skip through a video to find the actual content. Be clear, concise, and engaging!
Have Clear Calls-to-Action
Last but definitely not least: tell your viewers what to do. Leave links that show where they can buy the products, and give your personal recommendation. Always post affiliate links, especially if your product comparison video is on YouTube or another social platform. Creating a template for yourself can make this process easier.
Want to create more attractive affiliate links? Thirsty Affiliate helps you cloak long ugly affiliate links, protect your commissions from theft, and insert affiliate links into blog posts easily. Click here to learn more!
In Conclusion
Product comparison videos are an easy way to build viewer loyalty, boost SEO, and convince skeptical viewers to make a purchase. To make a product comparison video that converts, you need to:
Craft content around what your viewers want
Craft content around what your viewers need
Stay away from mocking the competition
Highlight the real-world best features
Show results
Make it interesting, but keep it short
Tell the viewer what to do with the information
If you follow these simple steps, you can craft product comparison videos that convert every time!
Do you have a unique method that works wonders for your product comparison videos? Let us know in the comments!