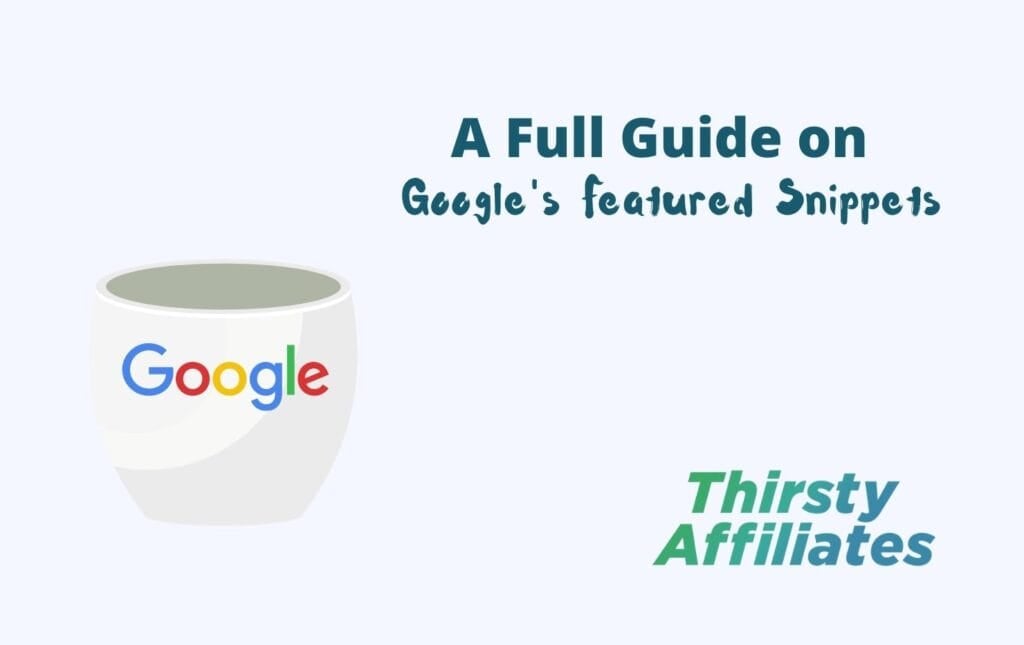 Google began depicting featured snippets in early 2014, and their use has continued to grow since then. Although their exact impact on search engine results is still being studied, it's clear that they are becoming an increasingly important part of the search engine landscape.
Featured snippets are great for users; sometimes, they answer without making the person click through to another page! And Google loves them because they get user satisfaction, which Google has always prioritized.
Moreover, this is a good thing, as it tells users that, even though the snippet is answering their question, there might be more detailed information on your affiliate website. As a result, being placed as a featured snippet will help generate more traffic to your affiliate website, thus leading to an increased conversion rate.
What is a Featured Snippet?
Google is always changing and evolving. In their never-ending quest to serve up the most relevant information to searchers, they have introduced a new feature called Featured Snippets.
Featured Snippets are boxes that appear at the top of search engine results pages (SERPs) above the organic search results. They are considered a zero position and contain summaries of answers to specific questions from across the web. The purpose of Featured Snippets is to provide searchers with direct answers to their questions without clicking through to any individual websites.
The Featured Snippet algorithm displays the most relevant answer to the user's question. One of three things can happen when users search for specific questions:
A Featured Snippet may not be displayed because there are no good answers at the moment.
The Featured Snippet may display the answer from a single source.
The Featured Snippet may display an "Answer Box," a collection of information and rich results pulled directly from your affiliate website and other sources on the web.
The Featured Snippet algorithm uses three key elements to determine which site should rank first:
Relevancy – Does this article answer the searcher's question?
Authoritativeness – Is this website a trustworthy source?
Objectivity – Is the site objective and free from promotional materials?
How Can Affiliate Marketers Benefit from Featured Snippets?
Featured snippets can be beneficial not only from a traffic standpoint but also in making money as an affiliate. Here are some reasons why claiming a featured snippet could be advantageous for your affiliate website:
Boost organic traffic. Traffic is mainly needed to make money as an affiliate – especially if you can bring relevant traffic to review pages of brands that carry you the highest commissions.
More conversions. The logic here is simple: the more traffic you get, the higher the conversion rate you should be able to reach. If you get into a zero position, your task is to ensure your page is optimized enough for visitors to proceed to your affiliated brand website and buy there.
Increased trust. Featured snippets are seen as the best match to the website visitors' query chosen by Google. This should increase visitors' trust in what you recommend on your page (be it a single brand review or a list of best tools for some purpose). As a result, this might help you to get more conversions, as such visitors are more likely to buy affiliated brands' products that you link to.
Get more insight into your target market. You automatically get more traffic, meaning more data for analysis by getting into zero position. This way, you get insights about your target audience; this information you can use to understand better who your visitors are, running a/b tests and checking which buttons, links, or banners work better—aiming to increase your conversion rate.
However, keep in mind that some queries triggering featured snippets might not benefit your affiliate website. For instance, if your webpage gets into a zero position for queries related to the price or contact information of the brand you review, the user might not want to go further and click on your webpage after he gets this information directly on the SERP. However, if your page answers questions like "Is this brand good enough?" or "Does this device really work?" within a featured snippet, this user would probably be interested in reading some more details and argumentation on your review page.
Types of Featured Snippets
There are several types of Featured Snippets. Here, they are shown in order of total snippets to least:
Paragraph Featured Snippets
The first type of featured snippet is the paragraph style. These are very similar to what they sound like; they simply provide an answer in paragraph form at the top of your SERP. This is usually taken from how-to articles or brand reviews for queries related to an overview of the product's features, its price, etc: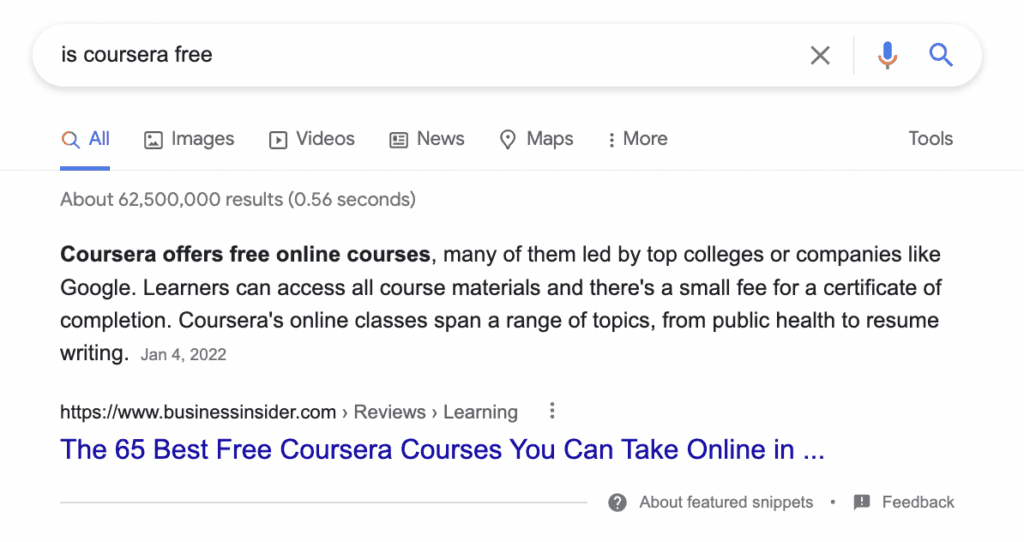 Numbered List Featured Snippets
The second type of featured snippet is the numbered list style or bullet list snippet. These snippets work the same way as paragraph featured snippets but use a numbered list instead. Frequently, it is used for listing items, numerating features, ranking things, etc. When your blog contains listicle posts, you get a chance to get into this search result (e.g., for a query like "best affiliate marketing platforms for beginners" or "best email marketing software"):
Video Featured Snippets
The fourth type is the Video Featured Snippet, or YouTube Featured Snippet, as it is also called since Google always pulls videos from there. These snippets provide you with videos that appear at the top of the SERP and give a short answer to a question pulled from the video description itself. This is a great way to get more information on a topic without reading an entire article. Just add a video review on your website page, and you get a chance to be chosen for this result:
Table Featured Snippets
The last type of featured snippet is the table style. They work on the same principle as bullet list snippets, but instead of list items, they have table cells. This allows you to put more information in the snippet than in the case of lists. This type of snippet also works for lists or comparison articles where you make a detailed comparison of a few brands:
How to Find Featured Snippet Opportunities
One of the best ways to optimize your affiliate website for featured snippets is to define the right keywords. There are two routes available to do this: finding and using new keywords that trigger featured snippets or optimizing for the keywords you already rank in the top 10 SERP results.
To solve this task effectively, you can use an SEO tool to help you find the right keywords, run competitor research, and analyze your rankings. The SEO platform by SE Ranking is a possible solution with all the needed functionality for monitoring keywords, finding new focus phrases, analyzing your rivals, and more.
SE Ranking's Keyword Research Tool will help you in keyword research. Let's take a closer look at how to proceed:
First of all, you should log in to your profile and navigate to the Keyword Research section.
Then, type one of the known keywords in the gap and move to the Keyword Suggestions tab to the left.
By clicking on the Filter tab, the SERP features drop-down list will provide you with various features, including featured snippets that you need to opt for.
Finally, having applied filters, you will get the willing keywords and phrases into featured snippets.
Moreover, SE Ranking platform has a Competitive Research tool that allows analyzing which SERP features your competitors use to be even better at this:
Firstly, enter the competitor's URL into the gap and click the Analyze button.
Choose the Keywords tab and scroll down to find the SERP Features section.
Finally, opt for featured snippets and absorb the given information.
Having found all suitable key phrases to optimize your affiliate website for featured snippets and analyzing the competitor's choice of keywords, you can select the best ones to surpass them all.
One more tip is to define the search queries where your affiliate website is already in the top 10. That is because it becomes much easier to get featured in this case. You can also do this with SE Ranking's Rank Tracker:
Add your project to the platform
Add the keywords you want to track to the project
After some time, when the keyword ranking data is collected, go to Rank Tracker and click on the Detailed report
Use the filter to identify keywords in the top 10 that can trigger featured snippets
How to Optimize for Featured Snippets
While there is no guarantee you will get into a zero position, here are some ways how you can optimize your affiliate website for featured snippets:
Utilize Target Keywords
Once you know which queries trigger featured snippets and which keywords you want to rank for, you need to include them in your content. But don't go overboard; overstuffing your content with keywords will only get you penalized by Google.
Your title and meta description are also important factors to consider when trying to rank for featured snippets. The title is the first thing that searchers will see, so make sure it catches their attention and accurately reflects the content of your article. As for the meta description, this is what searchers will see below the title in the search results, so you want to make sure it entices.
Let's look at the example of how you can use target keywords in the title and meta description to optimize your affiliate website for featured snippets:
Write Long-Form Content
To create a featured snippet for your affiliate website, you'll need to first come up with a topic that you will write about. The most common types of content you will focus on as an affiliate website owner are brand reviews, lists of best products within your categories of interest, and also blogs on related issues where you can still add your affiliate links.
It's important to remember that the longer your article is, the more opportunities you'll have to include relevant keywords and phrases. And, as we all know, Google loves high-quality content. Regarding affiliate websites, they tend to contain long pieces of content, with at least 1500 to 2000 words on average. This gives you enough space to answer all the related questions.
Answer Similar Questions Simultaneously
One of the best ways to increase your chances of getting a featured snippet is to make sure your content answers as many questions as possible. Google loves providing answers directly on the search engine results page, and by writing content that does just that, you can improve your odds of being featured. You can do this in a few different ways:
1. Make Use of FAQ Pages
Having an affiliate website is a great way to use the FAQ section. This allows you to cover all the commonly asked questions about the brand or its products and collect additional traffic. For example, when you write a mattress review, there would be a lot to answer. It includes questions about the durability, price, shipping, etc.
Moreover, there is an easy way to add an FAQ section to your pages. You can do this with the Yoast plugin to have the correct markup. This will give you a bonus—you can get into a featured snippet or into the 'People Also Ask' section.
2. Use Google's "People Also Ask" Feature
Google's 'People Also Ask' feature is a great way to get more traffic to your content and answer even more questions. This feature allows you to see a list of related questions that people are asking Google, and by addressing them on your affiliate website, you can improve your chances of being featured.
Here's a rule of thumb: if the question is brief, answer it within the FAQ section. If there's a lot to say, make a separate subheading for your answer.
3. Answer Questions on Forums and Q&A Websites
If you're not comfortable creating the content, you can also answer questions about your product or service on forums and Q&A websites. This is a great way to provide valuable information for your customers and improve your chances of being featured. Plus, it's a great way to build up your brand authority and credibility. Moreover, you can use your affiliate links within your answer on forums and Q&A websites to increase your earnings.
Format and Structure
If you're looking to earn a Featured Snippet, you first need to understand how Google determines which pages are shown in this coveted spot. In short, your content must be correctly formatted and structured so that Google can easily extract the information it needs.
Luckily, there are a few simple things you can do to help ensure your page is snippet-worthy:
Short Paragraphs
When writing for the web, it's important to write clearly and concisely. This means breaking down your points into easy-to-digest chunks, using short sentences and paragraphs, and avoiding dense blocks of text. Google prefers content that is easy to read and scannable.
Helpful Headings and Subheadings
Help Google understand your content by using helpful headings and subheadings. Header tags are a great way to help break up your content and make it easier for Google to extract the information it needs and determine which bits of information are most important.
Format Your Content Using Bullets and Lists
When formatting your content, use bulleted lists and numbered lists to split your content. This makes it easier to understand and index your content. Google will often extract the information from these elements and display it as a Featured Snippet when you use tables or lists.
Use Eye-Catching Images and Video
Images and videos attach more value, especially to the paragraph featured snippet. It might seem ridiculous, but Google often picks the picture randomly, and it is not necessarily pulled from your content. There is one tip on preventing it – try to adhere to the most common ratio of tall and wide pixels that is normally used in featured snippets.
Here we can see the prime example of how the affiliate website follows all the optimization rules for featured snippets based on format and structure, for instance, short paragraphs, helpful headings and subheadings, a list of helpful tips, and eye-catching images.
Add Dates to Your Content and Update Regularly
One way to ensure that your content is always up-to-date and relevant is to add dates to your content and update it regularly. This will help Google recognize that your content is fresh and worth featuring. Not every post will be Featured Snippet-worthy, but adding dates will definitely increase your chances. Google is now favoring websites that take advantage of its latest algorithm changes.
Conclusion
We all know that it is always a great idea to follow the latest Google algorithms and optimize your website. Featured snippets are worth being highlighted here. Although their direct influence on SEO is still being discovered, they can help you increase your traffic and conversion rate. If you follow some mentioned tips on optimizing your website for featured snippets, you will definitely reap the benefits in the early future.
If you liked this post, be sure to follow us on Twitter, Instagram, Facebook, Pinterest, and LinkedIn! And don't forget to subscribe in the box below.