Keeping the momentum going as an affiliate marketer can be challenging. When you're working in a highly dynamic industry, you'd be wise to regularly search for ways to broaden your reach and optimize your workflows. However, you may be running out of ideas to expand and enhance your affiliate business.
Fortunately, a Learning Management System (LMS) can help you out. While this technology is primarily used for training and educational purposes, it also has applications in affiliate marketing. You can use an LMS to sell digital products and improve your internal operations.
In this article, we'll introduce you to LMSs and what they can do. Then we'll discuss three ways implementing an LMS can benefit your affiliate site. Let's take a look!
What is an LMS?
LMS software offers a centralized platform to distribute educational and training material. An LMS can store files, calendars, and entire digital courses. Typically, it's also characterized by straightforward navigation and a user-friendly dashboard:
You can find LMSs in many different industries. They are particularly common in higher education institutions and corporations. That's because they provide an efficient way to catalog and deliver content to members of an organization.
For example, in a classroom setting, access to a syllabus is crucial. When you make this type of document available via an LMS such as Moodle, anyone in the network can find it at any time. That way, a student can easily download or view a copy.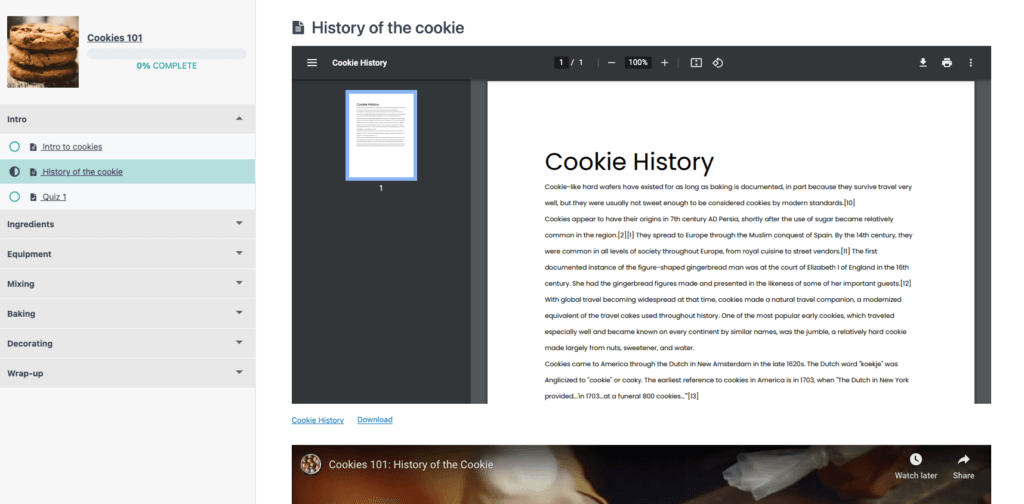 With an LMS, professors can also update documents from a shared source:
In a workplace environment, LMSs such as LearnDash are commonly used to collect and distribute training material. An LMS works well here because it can provide consistent information for many locations and branches. It also allows programs to evolve more efficiently.
Outside of traditional education and larger corporations, LMSs can be extremely useful for smaller-scale ecommerce sites. There is a fast growing market for informal digital courses in education, entertainment, and even hobbies:
For this purpose, MemberPress Courses is a popular choice for WordPress users. Using this powerful tool, you can easily build and manage courses for any audience.
3 Ways Your Affiliate Site Can Benefit from Using an LMS
The traditional function of an LMS is to streamline learning. However, this technology can be leveraged for other purposes. A more advanced LMS can allow you to sell courses and other digital products. This means you can monetize the distribution framework. Let's take a closer look at some other ways affiliate sites can benefit from an LMS.
1. For Employee Training
Affiliate marketing trends and best practices evolve quickly. Therefore, if you're running a larger affiliate business, constantly updating your procedures and training material is crucial to ensure that all elements of your operation are running smoothly.
An LMS can offer the perfect solution for managing your affiliate procedures and training materials. It can provide a dynamic source of information of all your employees. A quality LMS also typically includes calendars, directories, and other helpful tools that can benefit the day-to-day operations of any business:
You can also use an LMS to track and manage projects by providing shared access to spreadsheets and documents across different departments. What's more, affiliate sites tend to have a lot to keep track of in terms of products, partners, and platforms. As such, they can benefit from a centralized source of information.
An LMS is an efficient solution for distributing content externally as well. Affiliate sites are constantly engaged in Business-to-Business (B2B) interactions regarding new products and programs. Therefore, using an LMS to distribute this information may be more efficient than sharing important documents via email.
2. For Selling Digital Courses
Traditionally, affiliate sites promote the sale of physical products. However, digital products offer a ripe market for tech savvy affiliates.
What's more, an LMS can make it easier than ever to get a digital product into the virtual hands of a consumer. Adding digital products to a category where you already offer physical products is an easy way to create synergy and support sales.
For example, if you run an affiliate site dedicated to promoting fishing gear, offering a digital course about fishing can provide multiple benefits. It can establish you as an authority in the field, and drum up interest in your affiliate products. This may boost your credibility and increase your conversions as a result.
MemberPress Courses makes it incredibly easy for WordPress users to add fully-functional courses to their sites without any technical knowledge:
With this tool, you can build and sell your digital courses in no time. Alternatively, if you have a backlog of online classes or workshops, you can use MemberPress to offer them as premium, members-only content on a standard membership site.
3. For Sharing Affiliate Links
In addition to the added profit you gain from selling your digital content, distributing digital media has another benefit. When you share content via an LMS, you naturally create another ideal location for your affiliate links.
For instance, you may create a digital course about acrylic painting for beginners. Within that course you'll likely recommend essential supplies. This offers a subtle opportunity to expand your affiliate reach. These users will also likely be high-converting, since they are already invested in the course content.
You may even want to include a separate catalog in the course package, full of relevant affiliate products. Using a link-shortening tool such as Pretty Links will allow you to do this discreetly, without taking away from the flow of your course content:

If you really want to optimize your linking efforts, our ThirstyAffiliates plugin is a multi-functional tool that makes it easy to automatically add shortened affiliate links to blogs and digital courses. You can even check to see how your promotional efforts are going via click-tracking. This can also help prepare you for a cookieless future.
Conclusion
Running a successful affiliate site isn't always a walk in the park. Finding new markets and optimizing your affiliate strategies may feel like a never-ending crusade. Fortunately, an LMS can help refresh your efforts and boost your profits.
Let's quickly recap how an LMS can benefit any affiliate site:
Providing an efficient and consistent way to distribute affiliate procedures.
Creating a new product, via digital courses.
Serving as an organic place to share affiliate links.
Do you have any questions about how to leverage an LMS on your affiliate website? Let us know in the comments section below!
If you liked this post, be sure to follow us on Twitter, Instagram, Facebook, Pinterest, and LinkedIn! And don't forget to subscribe in the box below.