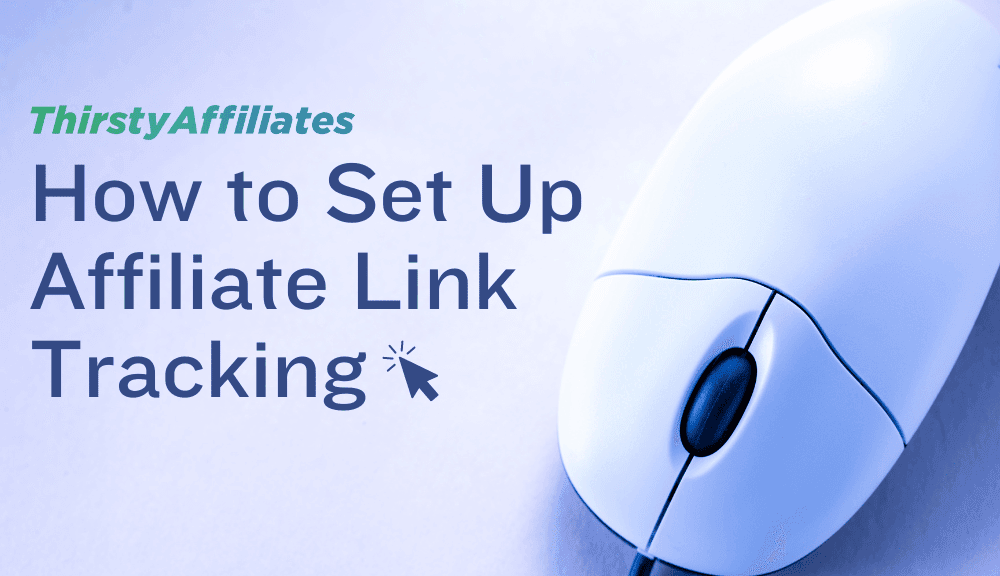 Sharing affiliate links without any way to track their performance is like playing darts in the dark: You give it your best shot and hope for a bullseye, but never really know if you hit the mark.
Sounds frustrating, right?
That's where click tracking comes to the rescue like a pair of night vision goggles – enhancing your visibility on the effectiveness of your links.
By monitoring and analyzing your click-through rates, you get the insights you need to adjust your aim, fine-tune your content, and significantly increase your chances of hitting the conversions you crave.
In this article, we'll cover the importance of click tracking and how it's more relevant than ever as the world says goodbye to third-party cookies. Then we'll show you how to set it up in just 2 easy steps using the ThirstyAffiliates plugin.
An Introduction to Click Tracking
Click tracking is an incredibly valuable asset to have on any affiliate marketing website. It provides you with an essential understanding of the performance of your links by tracking the number of clicks they receive and identifying their sources.
With this information, you gain a deeper understanding of your audience's behavior and preferences.
But click tracking goes beyond just counting clicks. It also empowers you to measure successful conversions and analyze the effectiveness of your marketing efforts across multiple platforms, including email campaigns and social media profiles.
Traditionally, marketers have relied on a combination of Google Ads and Google Analytics to track website conversions. However, this process often involves complex configurations and requires a certain level of coding expertise. This complexity can be overwhelming for some, particularly those who prefer a simpler and more straightforward way to access their affiliate link data.
Fortunately, we have the perfect solution for you.
ThirstyAffiliates is designed to simplify the click-tracking process. It provides you with a user-friendly interface that seamlessly integrates with your WordPress site, making it a breeze to monitor and analyze your affiliate link performance: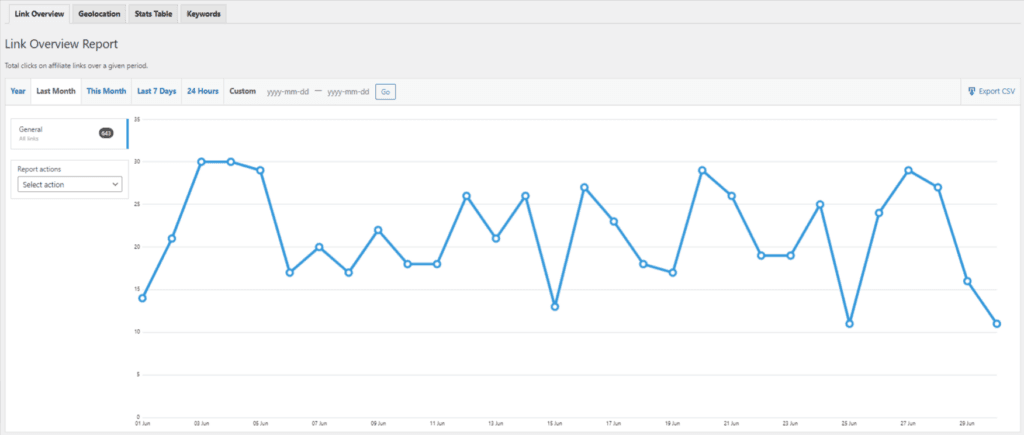 Track clicks and conversions effortlessly without the need to touch a single line of code or hire a developer.
Why Click Tracking Is Crucial in a Cookieless Future
While not all cookies are disappearing, third-party cookies, which are external code pieces that track visitor actions on websites, are being phased out. These cookies have been widely used by affiliate marketers to gather information about potential customers and adjust their advertising strategies.
One of the primary challenges in a cookieless environment is the loss of personalized tracking and targeting capabilities. Without third-party cookies, advertisers face limitations in tracking user actions across websites and platforms. This makes it difficult to understand user preferences, measure engagement, and optimize campaigns effectively.
But click tracking…
… allows marketers to gather data directly from their own websites and channels. By monitoring the number of clicks on affiliate links and identifying their sources, marketers can gain valuable insights into user behavior and preferences.
This data becomes even more critical as it provides a direct connection to engaged audiences and eliminates reliance on third-party cookies or data providers altogether.
In a cookieless future, it's also going to be harder to accurately attribute conversions to specific marketing efforts.
But click tracking…
… provides a clear trail of user interactions and which actions led to sales. This helps marketers know the exact ads that were successful, so they can make data-driven decisions about where to spend their money.
Moreover, click tracking can play a significant role in building first-party data. As marketers encourage users to opt into data collection and tracking, click tracking becomes a primary source of valuable first-party data. This data, collected with user consent, can fuel personalized marketing efforts, strengthen customer relationships, and deliver relevant content and offers.
By the end of 2023, third-party cookies will no longer be in use due to increased demands for privacy and data protection from users. This adjustment will have a significant impact on affiliate links, making it crucial to enhance your data literacy and embrace cookieless tracking ASAP.
How to Set Up ThirstyAffiliates Click Tracking (In 2 Easy Steps)
The elimination of third-party cookies may sound terrifying for affiliate marketers who have heavily relied on them to track visitor clicks over a specific duration.
However, there is no need to panic. Adapting to this change actually ensures that your conversions continue to thrive. In fact, click tracking is the most natural solution to navigate the cookieless world.
Now, let's take a look at how you can easily set up click tracking with ThirstyAffiliates in just 2 simple steps.
Step 1: Install and Activate the ThirstyAffiliates Plugin
ThirstyAffiliates is super simple to set up. First, you'll need to navigate to Plugins > Add New in your WordPress dashboard and search for "ThirstyAffiliates":
When you see the plugin, click the Install Now button, then select Activate: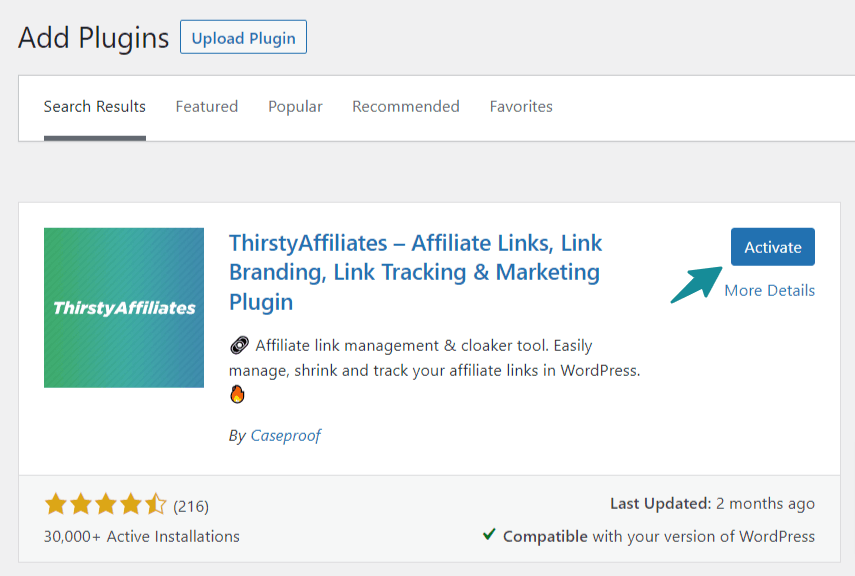 Alternatively, if you have a ThirstyAffiliates Pro account, you can download the plugin as a .zip file from your ThirstyAffiliates dashboard.
Then, navigate to your WordPress dashboard and head to Plugins > Add New > Upload Plugin:
Click on Choose File and upload the ThirstyAffiliates .zip file from your downloads folder.
Select Install Now > Activate to finish the process.
Step 2: Enable Click Statistics in Settings
Once you're all set up with ThirstyAffiliates, navigate to the plugin's Settings. You should see a collection of general configurations: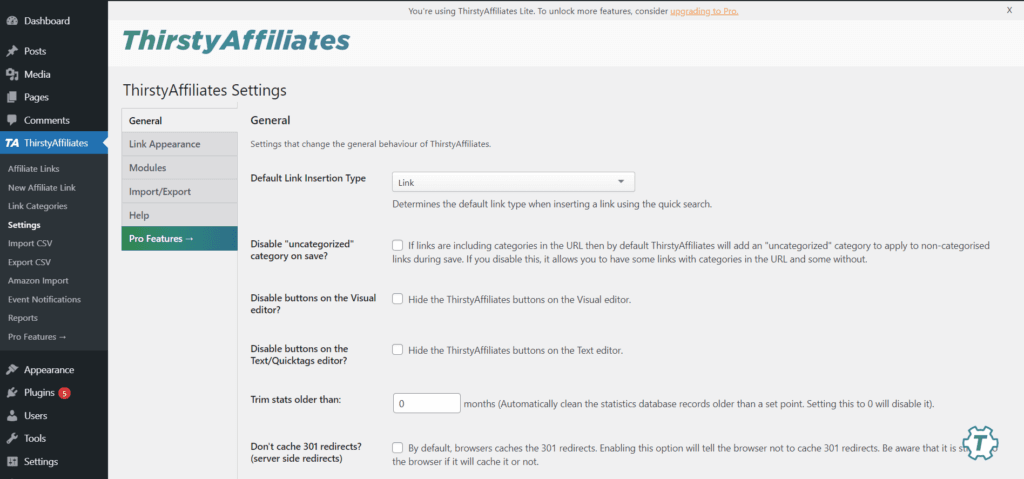 Click on the "Modules" tab. There you'll find various options to enhance your link tracking capabilities, such as statistics, using a link fixer, and uncloaking your URLs:
By enabling the "Statistics" option, you can track any affiliate link used on your website. Just go to ThirstyAffiliates > Reports for detailed data, including those all-mighty clicks and conversions.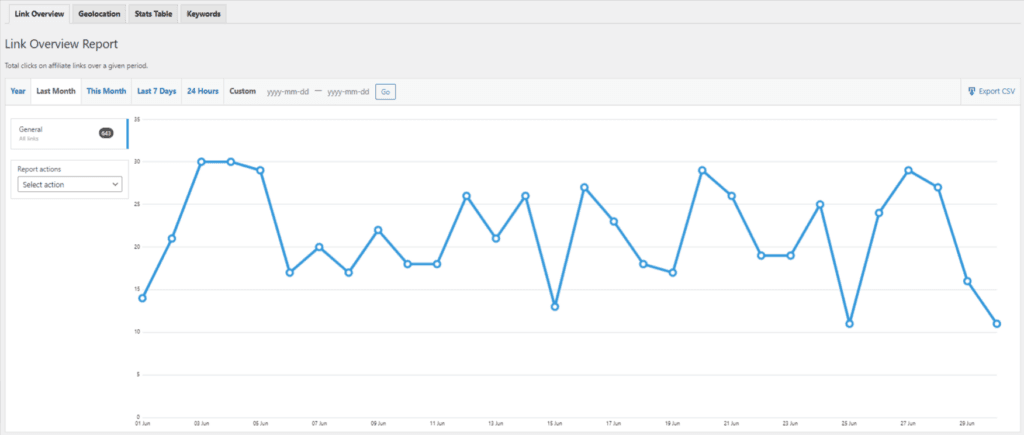 Conclusion
Ready to take aim and hit that elusive bullseye of success in the world of ecommerce? Wind up the perfect throw by enabling click tracking with the ThirstyAffiliates plugin in just 2 simple steps:
Install and activate the ThirstyAffiliates plugin.
Enable Statistics in the plugin's settings.
Still have questions about click tracking with ThirstyAffiliates? We'll be more than happy to provide you with the answers you need. Just reach out and our Customer Success Team will be with you shortly!
If you liked this article, be sure to follow us on Twitter, Instagram, Facebook, and LinkedIn! And don't forget to subscribe to our newsletter.