Affiliate marketing can boost the success of your ecommerce business. However, it may feel like a total gamble – at first. If you're just getting started, you may be asking how are you supposed to know what's working and what isn't? Sharing your affiliate links might feel like a futile effort if you can't accurately track your strategy's success. Click tracking is vital to be able see what strategies are working best.
Fortunately, you can leverage click tracking to increase your referral sales. By viewing the source of your traffic and conversions, you can better optimize your content for your target audience. Furthermore, setting up click tracking is pretty simple too, without the need for external software like ClickMagick!
In this article, we'll dive into the importance of click tracking and how it's more relevant as the world says goodbye to third-party cookies. Then we'll teach you how to set up click tracking with ThirstyAffiliates in two easy steps. Let's get started!
An Introduction to Click Tracking
Click tracking can be an invaluable tool for your affiliate website. It shows you the number of clicks you receive on your affiliate links and where they come from. Furthermore, you can view successful conversions and monitor your data across multiple platforms, including email and social media sites.
You can translate these numbers into valuable data. Then, you can use the information to adjust your marketing strategies and make more sales.
Typically, marketers use a combination of Google Ads and Google Analytics to track website conversions. However, this process can be complicated and requires a bit of coding. As such, you might be looking for a more straightforward way to access your affiliate link data.
Fortunately, you can simplify this process. With our ThirstyAffiliates plugin, you can track your clicks and conversions in WordPress without having to touch a line of code (or hire a developer to do it for you).
Get ThirstyAffiliates NOW and start tracking your affiliate link clicks!
Why Click Tracking Is Crucial in a Cookieless Future
There are multiple upsides to using click tracking. Primarily, it can be a valuable tool to understand leads and increase conversions.
Furthermore, click tracking can help you prepare for a cookieless future. This may seem like a pretty drastic change, so let's clear a few things up.
Don't worry; not all cookies are disappearing, just third-party cookies. These are the external pieces of code that track visitor actions on websites. Many affiliate marketers use them to gain more information about their potential customers and adjust their advertising strategies.
However, by the end of 2023, third-party cookies will no longer be in use. Ultimately, this change is because users are demanding increased privacy and data protection. This adjustment will significantly affect affiliate links, so it's the perfect time to level up your data literacy and use cookieless tracking.
How to Set Up ThirstyAffiliates Click Tracking (In 2 Easy Steps)
Third-party cookies track visitor clicks for a certain amount of time, so their disappearance might seem disastrous for affiliate marketers. However, this doesn't have to be the case.
If you adapt to this change, your conversions shouldn't be negatively affected. Click tracking is the natural solution. With the help of ThirstyAffiliates, your ecommerce business can survive and even thrive in a cookieless world.
Step 1: Install and Activate the Thirsty Affiliates Plugin
Our ThirstyAffiliates plugin is simple to set up. First, you'll need to navigate to Plugins > Add New in your WordPress dashboard and search for "ThirstyAffiliates":
When you see the plugin, click on Install Now. Then select Activate:
Alternatively, if you have a ThirstyAffiliates Pro account, you can download the plugin as a .zip file from your ThirstyAffiliates dashboard. Then, navigate to WordPress and head to Plugins > Add New > Upload Plugin:
Click on Choose File and upload the ThirstyAffiliates .zip file from your downloads folder. Select Install Now > Activate to finish the process. Now you're ready to set up click tracking!
Step 2: Enable Click Statistics in Settings
Once you've set up ThirstyAffiliates on your WordPress website, navigate to ThirstyAffiliates > Settings. You should see a collection of general plugin configurations: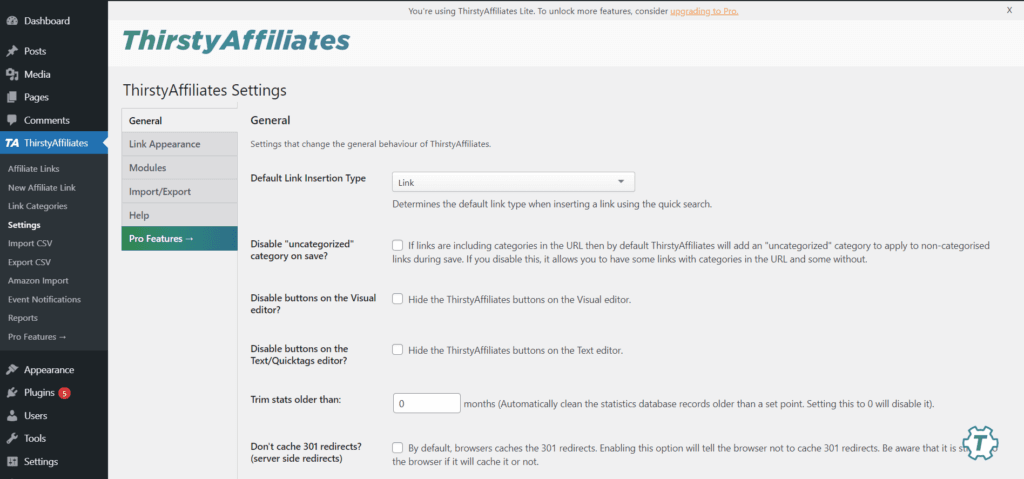 Next, click on Modules. This action will bring you to a new tab where you can enable statistics, use a link fixer, and uncloak your URLs:
In the Modules tab, you should enable Statistics (the first option). It may be selected as the default already.
Now you can track any affiliate links you're using by navigating to ThirstyAffiliates > Reports. Here you'll see detailed data, such as clicks and conversions.
With this information at your fingertips, you should be ready for a cookieless future. Just make sure to check out your reports regularly, especially if you implement new marketing strategies.
Conclusion
There's no denying that affiliate marketing can be a challenge. Turning leads into conversions can feel overwhelming if you don't know where to start. Fortunately, by using click tracking and its data, you can adjust your strategy and help your ecommerce business succeed.
Let's recap how you can easily enable click tracking with the ThirstyAffiliates plugin:
Install and activate the ThirstyAffiliates plugin.
Enable Statistics in the plugin's settings.
Do you have any lingering doubts about click tracking with ThirstyAffiliates? Don't hesitate to let us know in the comments section below!
If you liked this article, be sure to follow us on Twitter, Instagram, Facebook, and LinkedIn! And don't forget to subscribe to our newsletter.