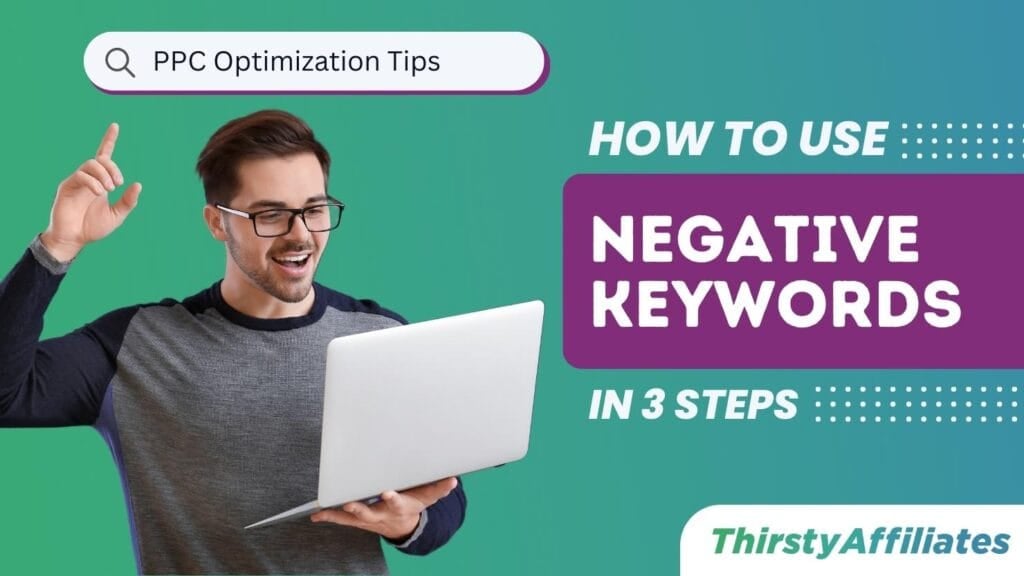 In the competitive landscape of pay-per-click advertising, every click counts. You've got to make sure your ads hit the bullseye and avoid irrelevant clicks that suck your wallet dry.
That's where negative keywords come into play. By using these bad boys strategically, you can supercharge your campaigns, save some serious dough, and squeeze out maximum bang for your buck.
In this comprehensive guide, we'll walk you through the process of identifying and implementing negative keywords effectively. You'll discover how to refine your targeting, reduce ad spend wastage, and attract only the most qualified leads to your website.
Let's get rolling!
An Introduction to Negative Keywords
PPC advertising is a fantastic way to promote your online business, especially if you're an affiliate marketer. It allows you to target your desired audience and only pay when someone actually engages with your ad.
However, the goal isn't just to increase clicks. You also want those clicks to turn into conversions. Using negative keywords can help with this.
Negative keywords are essentially search terms that have no relevance to your brand. By incorporating them into your PPC campaigns, you can enhance the quality of searches and clicks by filtering out queries that have nothing to do with your business.
Just like you can bid on specific keywords in platforms like Google Ads (formerly known as Google AdWords), you can also add negative keywords to your list. This lets search engines know which terms you don't want your ad to show up for.
For instance, let's say you're an affiliate marketer specializing in tech products. By including "repair" as a negative keyword, you can prevent your ad from popping up in searches related to tech repair services.
The bottom line is, negative keywords improve the efficiency and effectiveness of your marketing strategy. No more wasting your budget on click-throughs that don't convert because the lead was misled by their search results.
How to Use Negative Keywords to Optimize Your PPC Campaigns (In 3 Steps)
Now that you understand what negative keywords are, you can start working them into your PPC campaigns. Here are 3 simple steps to doing just that.
Step 1: Brainstorm a Negative Keyword List
Get your thinking cap on and start making a list of keywords that don't relate to your product or service.
Use Google
To kickstart your negative keyword journey, begin by conducting a Google search for products and services similar to your own. Take a close look at the search results, paying attention to both the ads and listings that include terms relevant to your campaign, as well as those that don't.
Let's elaborate on our tech-gadget example. Say you promote top-notch tech, including high-end digital cameras. During your search, you might come across keywords related to camera repair services, camera tutorials, or camera reviews.
Now, here's the catch: people who are searching for these terms probably aren't in the market for a new camera. So, it's wise to add these keywords to your negative keyword list. By doing so, you'll ensure that your ads steer clear of search results that are unlikely to lead to camera sales.
Find Universal Negative Keywords Lists
The goal of PPC advertising is to target individuals who are ready to purchase your product, preferably those who are near the end of the sales funnel.
To filter out those who are simply not in the market for your products, it's beneficial to include universal negative keywords in your list – aka, keywords that should pretty much always be avoided by PPC advertisers
WebMechanix is a great resource that offers valuable insights and guidance on negative keyword selection and implementation.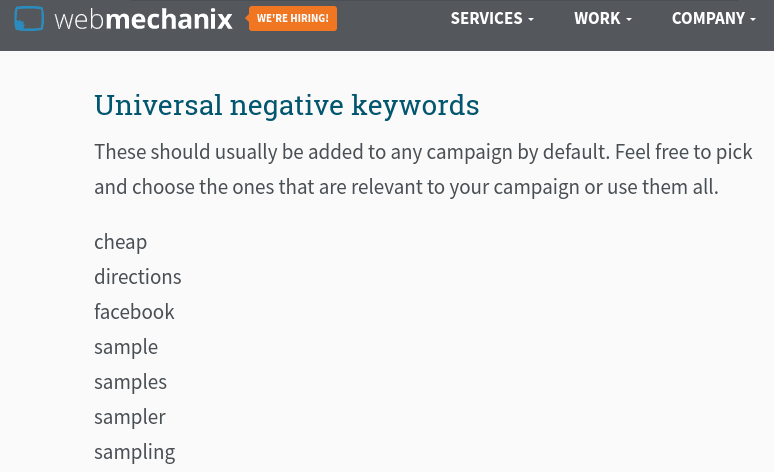 Check Your Search Query Report
Another way to tackle your negative keyword search is by diving into your Google Ads account and checking out the Search Query Report. This handy report shows you the actual search terms that are triggering your ads.
To access this report, go to your Ads account and click on Campaigns in the top left corner. Then, navigate to Keywords > Search Terms:

From there, you can slice and dice data to see which ads are getting the most impressions, conversions, and click-through rates (CTRs).
If you notice certain terms that aren't converting well, it might be wise to add them to your negative keyword list. This way, you can allocate your budget towards more profitable options and make the most out of your advertising efforts. It's all about optimizing and maximizing your ROI!
Step 2: Add Negative Keywords to Google Ads
Once you have your list of negative keywords, you need to format it for Google Ads.
To do that, place each word or phrase in square brackets with a hyphen in front of it. Sticking with our tech affiliate marketer example, the list would look something like this:
-[Sumsung troubleshooting]
-[Wholesale Apple Watches]
-[Secondhand Black Shark 4]
-[ASUS repair]
Now it's time to add them!
On the dashboard of your Google Ads account, click on the Tools and Settings wrench icon in the top menu bar.
Then click on Negative keyword lists under Shared Library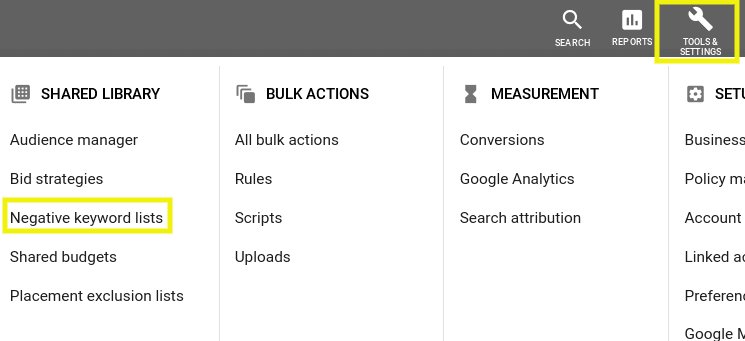 Select the blue plus sign (+), which will bring you to a page where you can add your list of negative keywords: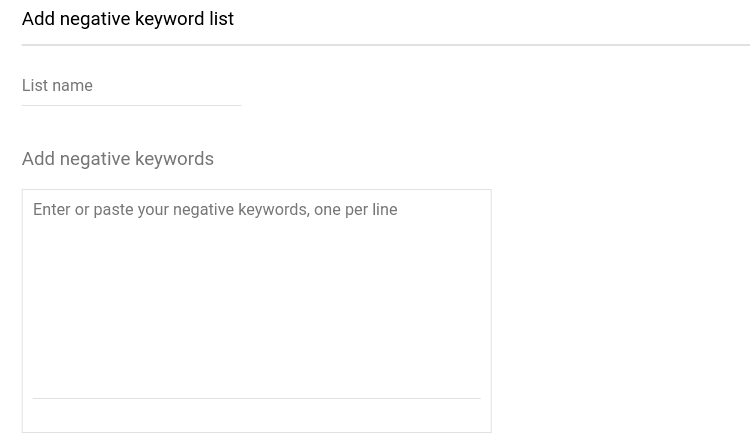 Create a name for your list 
Paste your keywords in the "Add negative keywords" field. 
When you're done, click "Save". 
You can apply negative keywords to a single campaign or a group:
Once you assign the negative keywords to a campaign or group, no ads in those categories will appear for search queries that contain those terms.
Step 3: Review and Continue Building Your Negative Keywords List
As with any marketing campaign, it's important to review your PPC ads regularly. It's generally recommended you check them on at least a weekly basis. Using Google Ads reporting, Google Analytics, and affiliate marketing reporting tools can help you stay on top of the latest developments in your campaigns.
For example, with ThirstyAffiliates, you can track the performance of your affiliate links to see which ones are performing well and which ones are underperforming.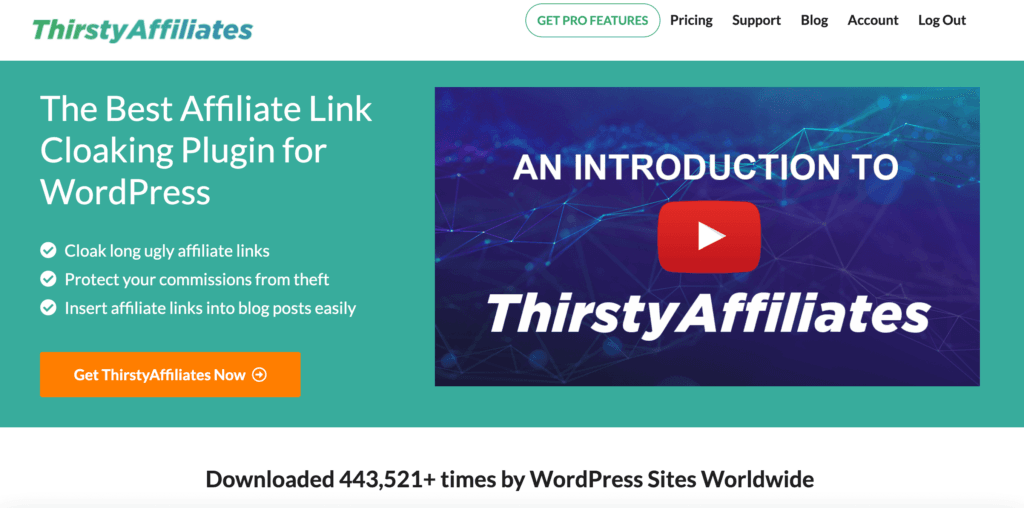 This will allow you to identify which keywords are driving traffic to the underperforming links. You can then add these as negative keywords if you believe they're attracting unqualified or irrelevant traffic.
Also, you should stay aware of new products, services, and trends in your niche. As you identify new terms that are not relevant to your campaign, add them to your negative keywords list.
This is especially important if you're in a rapidly evolving field where new products and buzzwords are constantly emerging.
Beyond your own findings, consider using tools that suggest negative keywords based on your industry and the keywords you're already using.
Some PPC management tools offer features to help identify potential negative keywords. Tools like SEMrush and Google's Keyword Planner can provide insights into what keywords are popular in your niche and might drive irrelevant traffic.
Remember, a well-optimized campaign is an ongoing process, not a one-time setup. Managing your negative keyword list should be an ongoing process.
To update your negative keywords in Google Ads, simply go to Tools & Settings > Negative keyword lists. Then click on the blue plus sign (+) to add a new negative keyword as we described in Step 2: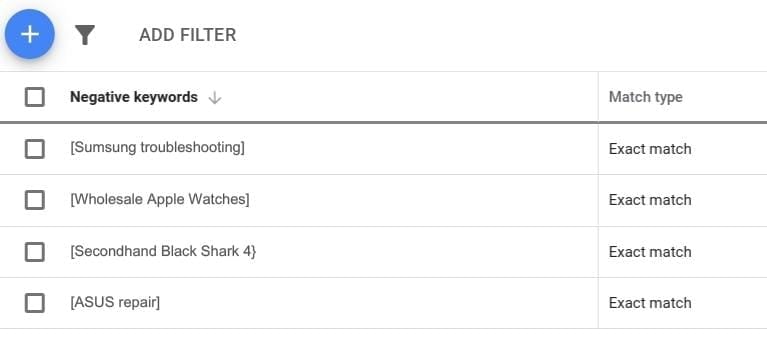 Continue building out your negative keyword list to increase the quality of the traffic your ads attract. In turn, this will increase your conversion rates and the effectiveness of your PPC budget.
Conclusion
Showing up in irrelevant searches can waste your PPC budget on users who aren't interested in converting. To make the most of your ads, consider the search terms you don't want them to rank for.
Here's a recap of the simple steps you can take to optimize your PPC campaigns by finding and using negative keywords:
Brainstorm a negative keyword list through research.
Add your negative keywords to Google Ads, and apply them at either the ad group or campaign level.
Continuously review and build out your negative keyword list.
Do you have any questions about using negative keywords? Let us know in the comments section below!
If you liked this post, be sure to follow us on Twitter, Instagram, Facebook, Pinterest, and LinkedIn! And don't forget to subscribe to our newsletter!