Affiliate marketing can be a lucrative business. If you do it right, you can build a passive revenue stream. However, if you're struggling to keep your affiliate website organized, it may feel like your Return On Investment (ROI) isn't worth the time and effort.
Fortunately, the ThirstyAffiliates plugin can help you sort out your affiliate ventures. With this tool, you can convert unsightly URLs into digestible text. You'll also be able to automatically insert and update affiliate links throughout your blog.
In this post, we'll take a closer look at the ThirstyAffiliates plugin and what it does. Then, we'll go over three ways that it can help you organize your affiliate marketing business. Let's get started!
ThirstyAffiliates is the ideal tool for anyone looking to improve their affiliate marketing strategy:
The plugin's primary function is link cloaking, which enables you to protect your affiliate ID by putting your affiliate link behind a URL redirect. Fortunately, this entire process is seamless. It's also invisible to the user.
Link cloaking is standard practice among affiliate marketers. It helps prevent affiliate theft (also known as commission hijacking), which is a common problem for many content creators. Therefore, in addition to providing you with neater links, ThirstyAffiliates can protect you from fraud.
Note that link cloaking can be against the Terms of Service (TOS) of some merchants. Therefore, before you share your cloaked affiliate links, you'll want to make sure that they're not violating any rules.
Besides link cloaking, ThirstyAffiliates comes with other features that can help you organize your affiliate business. We'll take a close look at them in the next section.
3 Ways ThirstyAffiliates Can Organize Your Affiliate Marketing Business
Now that you understand how ThirstyAffiliates works, let's explore three ways our plugin can help you optimize your affiliate strategy. Note that you will need to install the ThirstyAffiliates Pro version to access all of the features mentioned in this section.
1. It Streamlines Your Workflow
When you're being bogged down by tedious tasks, it's difficult to make progress with your affiliate business. Fortunately, ThirstyAffiliates comes with features that can simplify your workflow.
First, let's look at auto-linking. To start, navigate to your WordPress dashboard, then go to ThirstyAffiliates > New Affiliate Link: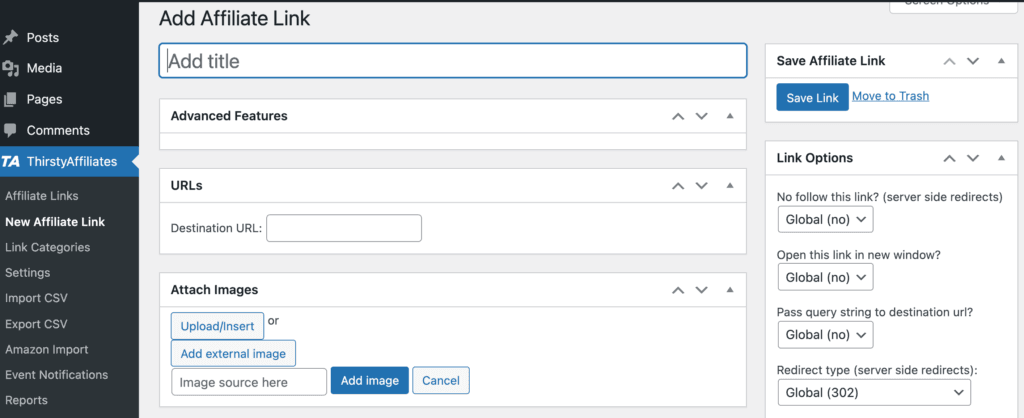 On this screen, you can paste or type your affiliate link into the Destination URL bar and give it a descriptive title. Then, scroll down to the Autolink Keywords section:

Here, you can type a list of keywords that you want to automatically link with the URL you entered above. This setting alone can save you tons of time, as it will help you spread your affiliate link across your site more easily.
If you keep scrolling down the page, you'll find another useful function. This is the Link Scheduler:
This feature can be very handy when you're running limited-time offer deals. You can simply select a start date and expiry date for your link, and define a redirect URL for when the promotion expires.
When you're done, make sure to click on Save Link. Then, you'll be able to view and edit your optimized affiliate link.
You might also want to make use of the Link Fixer tool. To do so, go ThirstyAffiliates > Settings > Modules, and make sure the box next to Link Fixer is checked. This will automatically detect and fix any outdated or broken affiliate links on your site. Therefore, using this feature can help you streamline your workflow and maximize your affiliate potential.
2. It Provides Click Tracking and Reports
Once you've set up your affiliate links, you'll start to accumulate valuable data from your Google Analytics account. For instance, you'll be able to see which links are getting the most clicks. This information can help you optimize your affiliate sales funnel and content strategy.
We recommend that you use Google Analytics in conjunction with our tracking tools and reports. This way, you can further improve your affiliate business.
To do this, you'll need to set up click tracking. First, go to your WordPress dashboard. Then, navigate to ThirstyAffiliates > Settings > Click Tracking:
As you can see, there are a few options to choose from. However, you'll need to make sure that you have Google Analytics installed on your site before you can enable any of them. When you've made your selections, click on Save Changes.
To access your reports, simply go to ThirstyAffiliates > Reports. Here, you can view a customized link overview report:

You can also choose from a variety of report actions. Then, you can export this report as a CSV file.
By analyzing these results, you can fine-tune your affiliate link strategies to increase your revenue. You may also want to try out A/B testing to get more in-depth reports.
3. It Integrates With Popular Ecommerce Tools
ThirstyAffiliates also integrates with a host of essential tools. In addition to Google Analytics, you can combine our plugin with Amazon Associates and WooCommerce:
When you're setting up your external products with WooCommerce, you can simply select ThirstyAffiliates URLs as your third-party link type. You can also directly connect your Amazon Associate Tag by navigating to ThirstyAffiliates > Settings > Amazon Import:
However, if you're a member of the Amazon affiliate program, you'll need to make sure you uncloak your affiliate links. This is because link cloaking is not allowed under the program's TOS. However, you can still use ThirstyAffiliates for autolinking and generating reports.
Additionally, ThirstyAffiliates is REST API compatible. It also integrates with popular translation plugins, such as Polylang and the WPML plugin.
Also, if you're using WooCommerce, we suggest checking out Wholesale Suite. This plugin is fantastic for all your B2B e-commerce needs.
Conclusion
Earning a passive income through affiliate marketing isn't always so straightforward. In order to make a real profit, you'll need to run a tight ship. From tidy links to optimized workflows, prioritizing efficacy is key in affiliate marketing.
Let's recap the three major ways that ThirstyAffiliates can help you organize your affiliate marketing business:
You can streamline your workflow with features such as autolinking and link repairing.
It provides click tracking and in-depth reports to help you improve your affiliate strategy.
It integrates with a variety of ecommerce tools, including Amazon Associates and Google Analytics.
Do you have any questions about how ThirstyAffiliates can help you organize your affiliate marketing business? Let us know in the comments section below!
If you liked this post, be sure to follow us on Twitter, Instagram, Facebook, Pinterest, and LinkedIn! And don't forget to subscribe in the box below.