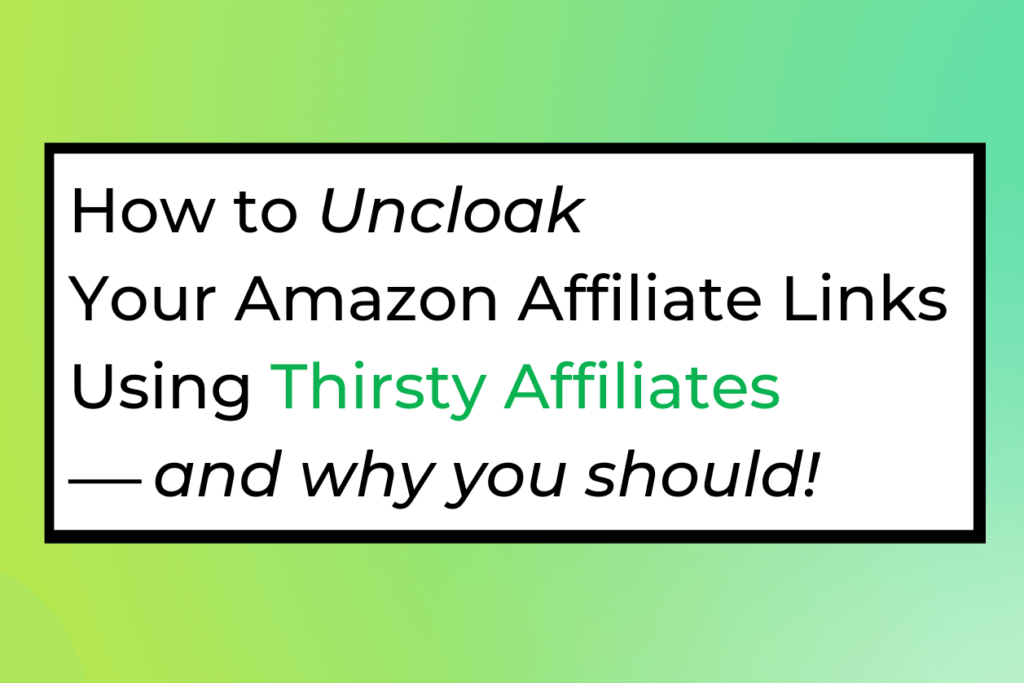 A message from our CEO, Blair Williams:
I wrote an article for FeedFront magazine talking about some cases where you might want to uncloak your affiliate links – primarily Amazon affiliate links. I wrote the article because I had personally experienced the pain of dealing with Amazon's moderation team.
Amazon's Associates program has a pretty clear ruling in their terms where they forbid you to use redirection of any sort. If you ignore that ruling and still use cloaked URLs, they can and will ban you from their affiliate program.
I received a warning from them myself that scared me into action.
And because I run one of the biggest affiliate plugins for WordPress, I felt it was my duty to make sure other affiliates had the ability to uncloak their Amazon links when they received the dreaded warning letter from the Amazon review team.
To solve this dilemma, we built a feature in ThirstyAffiliates 3.0 called Uncloaking.
How To Use A Link Cloaker With Amazon Associates Program
Uncloaking is actually a really cool feature, whether or not you use it specifically for compatibility with Amazon Associates.
We built it in ThirstyAffiliates 3.0, and it has proved to be a very popular addition to the plugin. How it works is, it removes cloaking on one single link and shows the destination URL on the page. This appears on page load and is seamless for the user.
Traditionally, after your page loads for the user, they'd see the cloaked link you inserted (which would normally look like example.com/recommends/some-affiliate-product). With uncloaking, the user sees the actual raw destination URL you specified in the edit screen for that link.
That means your links are naked for all to see, but that's what Amazon wants. They require that the URL appear directly on the page, completely raw, not hidden behind any redirects or cloaked URLs.
That makes ThirstyAffiliates the only link cloaker that is compatible with Amazon Associates' terms of service!
The ThirstyAffiliates Uncloaking Feature
So, why use our plugin at all? Couldn't you just place the Amazon affiliate link directly on the page and be compliant?
Technically speaking, yes. But there are benefits to using the Uncloaking feature in ThirstyAffiliates instead of just placing the affiliate link directly on the page. You still get all of the benefits of the ThirstyAffiliates tool, such as stats, auto-linking, geolocation links, and more.
It also makes maintaining compatibility really easy without sacrificing capabilities.
What's great is, you can specify that you want a particular link uncloaked, and the tool will just handle it. No fuss and no risk of being banned from promoting Amazon products.
To turn on the uncloaking feature, make sure it's enabled under ThirstyAffiliates > Settings > Modules tab:
We even built the feature so you can make a special category (I make one called "Amazon" on my sites). Then, in the ThirstyAffiliates > Settings, under Link Appearance down at the bottom, you'll see the uncloaking category.
Select your new category there, and any time a link with that category is shown, it will be uncloaked:

And bang! Now you don't have to think about it anymore.
Do You Still Get Stats?
That's the great thing about ThirstyAffiliates' uncloaking versus manually uncloaking your Amazon links.
By using the uncloaking feature in ThirstyAffiliates, your Amazon links stay cloaked in your blog post but are uncloaked on the front end. This means you can still track clicks on those links with statistics.
If you just paste the link in raw, you won't get stats. With the uncloaker, you get to display the raw link to users, but still get stats.
How Seriously Should You Take Uncloaking Your Amazon Affiliate Links?
Very seriously.
As I mentioned above, I received a warning message from Amazon myself.
I actually received the warning because I submitted a support request asking a question about the policy. They automatically sent my site (that I had to specify for the request) for review.
They didn't respond to my support request straight away, but they sure as heck put my site up for review right quick!
Within a day of sending that support request, I received a letter something along the lines of this:
Dear Blair,

Your site has been reviewed and has been found to be in breach of our terms and conditions.

You have 5 days to comply.

Resistance is futile.

Sincerely,

Karen "The Unfeeling Borg" Bot
Amazon Associates Program Review Team
Since I didn't want to lose my account, I complied. They re-reviewed, found that I'd complied, and restored my account.
But that was the wake-up call I needed to make sure this feature was deployed and built properly in ThirstyAffiliates 3.0. I wanted to give other affiliates the flexibility needed to combat requests like this.
So, dear affiliate, how seriously should you take this uncloaking business? Well, that depends on how much you like your monthly check from Amazon.
I suggest you take Amazon affiliate links very seriously because they can and will hit you with their mighty ban hammer if you don't.
If you liked this article, be sure to follow us on Twitter, Instagram, Facebook, and LinkedIn! And don't forget to subscribe in the box below.