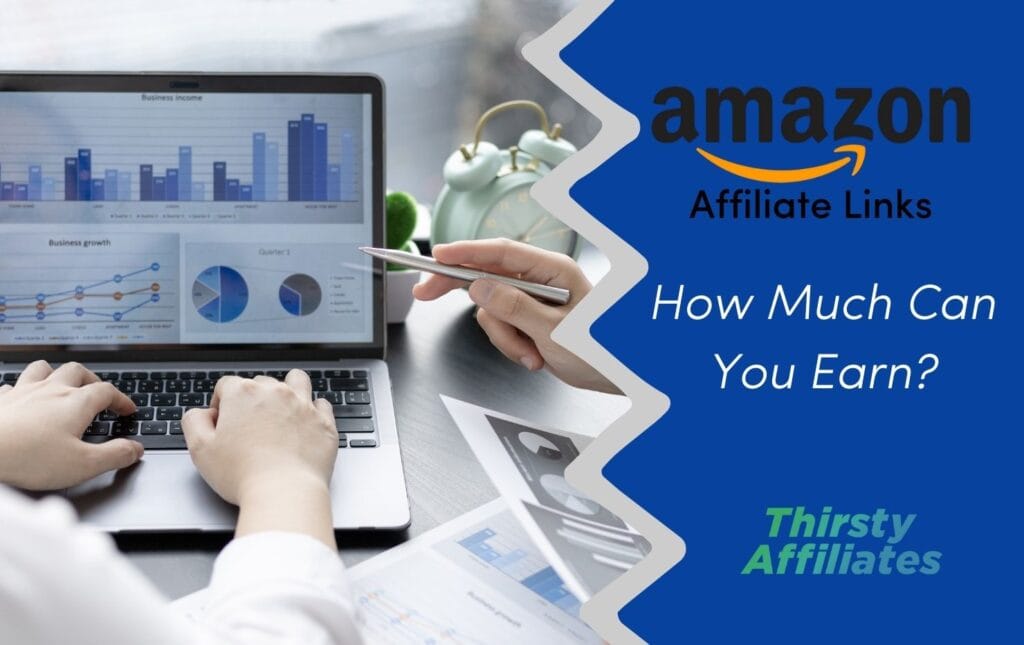 Affiliate marketing is a profitable strategy for many successful online advertisers and retailers. In fact, affiliate spending in the United States is expected to reach $8.2 billion this year. However, you might be wondering how much you can realistically earn from Amazon affiliate links.
Becoming an Amazon affiliate is a great way to monetize your website and earn extra income. Using Amazon affiliate links, you can make a steady supplemental income from an established, reputable company.
This post will explain what the Amazon Associates program is and how to become an affiliate. We will then discuss how much money you can earn from Amazon affiliate links. Let's get started!
An Overview of Amazon Associates
Amazon Associates is a worldwide affiliate program that pays referral commissions. As an Amazon associate, you share Amazon's products and services through custom URLs and earn money on qualifying purchases.
Overall, Amazon Associates is an excellent program for bloggers, influencers, and marketers to make money from readers who trust their recommendations:

As an Amazon affiliate, you can use your referral links and banner-style advertisements throughout your website, blog, and social media accounts. You will then receive a commission payout when customers make purchases through your URLs. Amazon will pay that amount approximately 60 days after the last day of the month.
Furthermore, customers must add a product to their cart within 24 hours of clicking on your affiliate link. Otherwise, you won't receive credit for the conversion. Consumers also must complete their purchases before their cart expires (typically within 90 days). Additionally, you won't get the commission if a buyer re-enters Amazon through an alternative URL.
Becoming an Amazon associate is a simple process. Simply sign up and complete the questionnaire on Amazon's website. If you don't make qualified referrals within the first 180 days, your account will be closed. However, you can still reapply for the program with an inactive account.
How Much Money Can You Earn From Amazon Affiliate Links?
Amazon Associates is primarily a commission-based platform with standard commission rates for each product category. You can make anywhere between $100-25,000 per month from Amazon affiliate links.
Depending on the category, you can expect to earn up to 10 percent commission on most products. Amazon also offers special promotional rates with higher commissions throughout the year: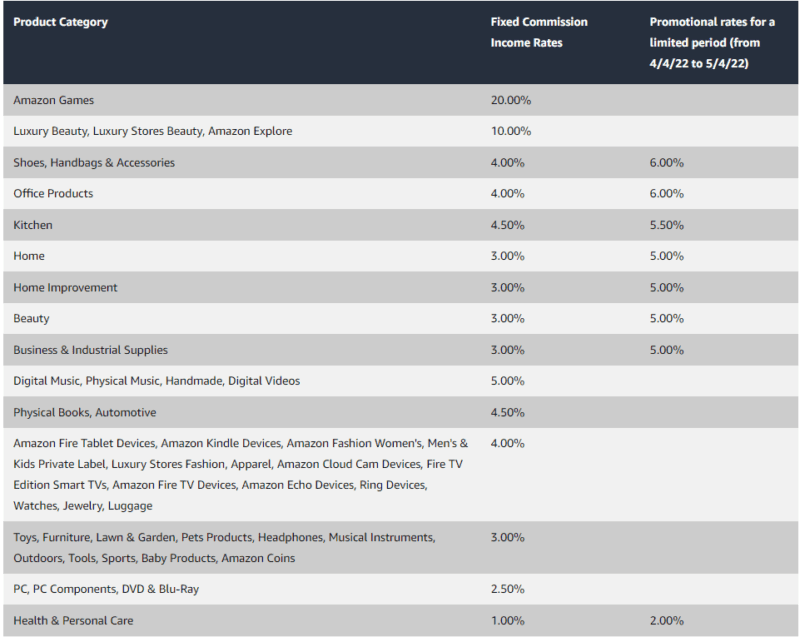 For example, as a food blogger, you could promote a link for a kitchen mixer with $5,000 in sales. At the standard 4.5 percent commission rate for kitchen products, you would earn $225.
In addition to commission payouts, you can also earn income on bounty and bonus events. These are special sales and promotions offered periodically by Amazon. You can make fixed dollar amounts on these events.
For instance, affiliates can earn $3 for every successful Amazon Prime free trial registration. Therefore, we recommend checking out these events to supplement your regular affiliate income.
Tips for Making More Money With Amazon Affiliate Links
If you're an established blogger with a dedicated readership and steady traffic flows, you can expect a higher conversion rate for your links. Using Search Engine Optimization (SEO) strategies is an excellent way to increase your website traffic. There are also other methods to increase your conversion rate.
Consider advertising highly-rated products relevant to your target audience. Best-selling products with good reviews are easier to market and sell. If your promoted items are also applicable to your readers, they're more likely to trust your recommendations.
You can also create a social selling strategy and share your links on social media. Instagram, TikTok, and other social media platforms can help you gain new followers and turn your readers into customers: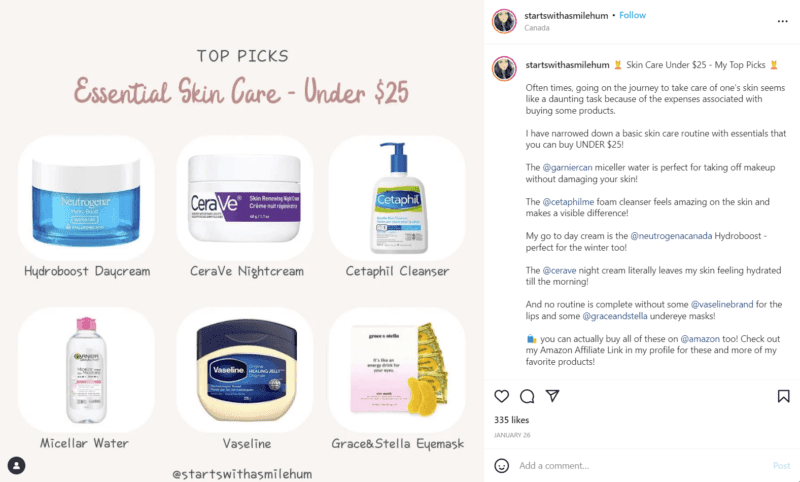 Furthermore, you may want to consider creating YouTube videos to share and review your favorite products and must-haves. You can also join the Amazon Influencer Program and live stream via the Amazon Live Creator app to discuss your favorite products: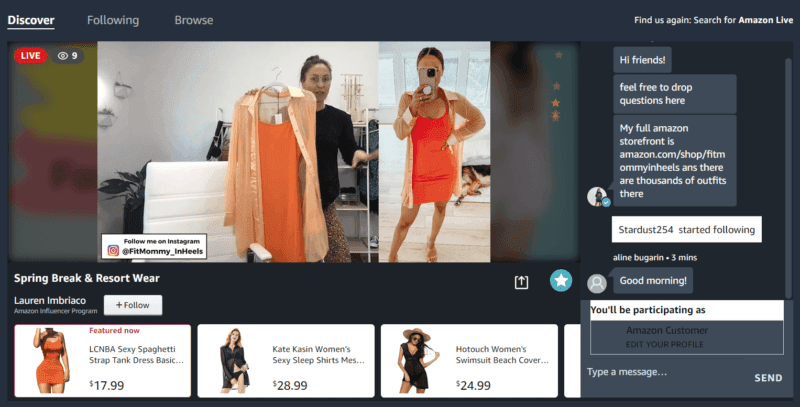 Amazon Live enables you to discuss and demo your favorite products. You can also chat with your audience in an informal live stream setting.
Your video will appear on your influencer storefront and the Amazon Live page when you go live. Your followers will receive a notification, and new viewers can easily find you on the homepage.
Keep in mind that Amazon will review the number of social media followers you have before accepting you into the Amazon Influencer program. The company will also evaluate your metrics to see if you fit the different criteria.
Conclusion
Making money from affiliate links is an excellent way to monetize your website. You'll first need to choose an affiliate program and find products that align with your content and audience. Fortunately, signing up for the Amazon Associates program is a great way to earn extra income for your brand.
The amount of money you can earn from Amazon affiliate links usually varies from $100 to $25,000. Most products pay up to 10 percent commission, with additional payouts on bonus and bounty events. Overall, we recommend creating high-quality content and leveraging SEO and social media to increase your Amazon affiliate conversions.
Do you have any questions about earning income from Amazon affiliate links? Let us know in the comments section below!
If you liked this post, be sure to follow us on Twitter, Instagram, Facebook, Pinterest, and LinkedIn! And don't forget to subscribe in the box below!