Digital marketing has a lot of advantages. A particularly useful one is the ability to share your content through links. However, not all URLs are equally effective. Complicated or unclear strings of text can keep your customers from clicking through to your website.
Fortunately, vanity URLs offer a solution. By becoming familiar with the benefits of these tools and learning the reasons to apply them, you can build trust in your brand and encourage more users to check out your content.
In this article, we'll cover the basics of vanity URLs and show you some examples. Then, we'll go over three important reasons to consider making your links more memorable. Let's get started!
An Introduction to Vanity URLs
While the wording of the term might make this tool sound frivolous, vanity URLs serve a very practical purpose. A vanity URL is an easy-to-remember, custom domain name that can easily redirect people to your website.
There are plenty of popular examples of this strategy in use. For example, the clothing retailer Uniqlo recently promoted a page using the vanity link uniqlo.us/InternationalWomensDay. Users who visit that address will find that it redirects to a YouTube video with a less memorable URL.
Vanity URLs are distinct from shortened and cloaked URLs. However, you might choose to create a marketing campaign that makes use of more than one type of strategic link to maximize your effectiveness.
Why You Might Want to Use a Vanity URL (3 Key Reasons)
Vanity URLs have a variety of creative and effective uses. We've rounded up three of the most important reasons to consider employing these short, attractive links in your marketing campaigns.
1. Maximize Your Traffic
If you're trying to drive more people to your website, you should remove any obstacles that stand in their way. A well-crafted vanity URL can do just that with clear wording. This can be especially true if you limit the end to only one or two relevant keywords.
This approach gives your audience less to remember when they consider visiting your site. Take CNN's Twitter page, for example. The network has included a vanity URL in its bio to provide a direct route to its app:
The entire link is only 12 characters long and makes it very clear what the user will find when they click. These traits make it easier for users to get connected with the CNN brand. Distinct phrases and capitalization of any individual words can also help increase the likelihood of more clicks and more traffic.
When choosing whether or not to use a vanity URL, keep in mind that it's best to reserve them for important and unchanging pages. For example, it might be better to link to your store's home page rather than a single product. This will help avoid flooding your audience with special links each time you post.
2. Optimize Your Offline Presence
While a large amount of digital marketing takes place online, you might find yourself promoting links via channels that don't enable people to click on them, such a billboards, flyers, or even in-person events. This is a prime opportunity to put a vanity URL to work.
Let's look at a recent campaign by Zenni Optical. This business took out the following ad on the back of a print magazine: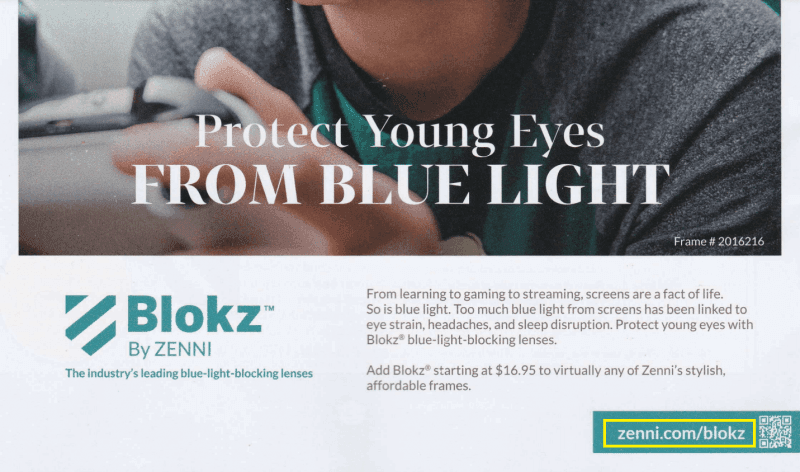 Take a look at the bottom right-hand corner, highlighted in yellow. Zenni has chosen to feature a simple and memorable vanity URL. If you're planning on a non-digital advertising effort, you might want to use the same strategy. This helps viewers remember your link so they can check it out later when they have internet access, or by typing it into their smartphones while on the go.
You should also consider prioritizing your shortest keywords for non-clickable instances. Your audience is probably more likely to type in a brief address than a long, complex one. An added benefit of using unique vanity URLs for non-digital marketing is, it helps you gauge the performance of ads that were very hard to track in the past.
However you choose to use this tool, try to have an actionable next step at the ready. Applying vanity URLs to your physical advertising can give you an idea of which concepts resonate with your audience. Being ready to capitalize on that success might pay off.
3. Promote Your Professionalism
Promoting relevant links is a crucial part of spreading the word about your content. However, long and complex links like the example at the beginning of this post can scare viewers away. People might see such a link as spam or simply dislike the lack of aesthetic appeal. By contrast, a clean and straightforward link can emphasize your established online presence.
These descriptive URLs don't have to be limited to your site, either. Many social media sites – including Facebook – offer vanity URL registrations for pages and individuals:
A recognizable link tied to your domain name can also go a long way toward building trust between your brand and your audience. It shows your viewers a clear path toward a specific destination, supported by your brand's identity as a seal of approval.
Additionally, the same professional address can also help communicate your skills to other marketers in your niche. Vanity URLs can be highly effective in prime networking locations. Consider adding them to your email signature or business cards.
Conclusion
Sending out links with lengthy text isn't too bad when all your audience has to do is click. Situations where your viewers need to remember your link, however, might pose a challenge. And online users tend to view short, branded links more favorably. Fortunately, you can easily leverage vanity URLs to complement a professional and efficient sharing strategy.
In this article, we covered three critical reasons to consider using a vanity URL:
Memorable and descriptive addresses can help encourage more clicks and maximize traffic.
Simpler URLs are more convenient for users who first encounter them in an offline environment.
Short links can make your brand look more professional and trustworthy.
How will you use a vanity URL to support your site? Let us know in the comments section below!
If you liked this post, be sure to follow us on Twitter, Instagram, Facebook, and LinkedIn! And don't forget to subscribe in the box below.