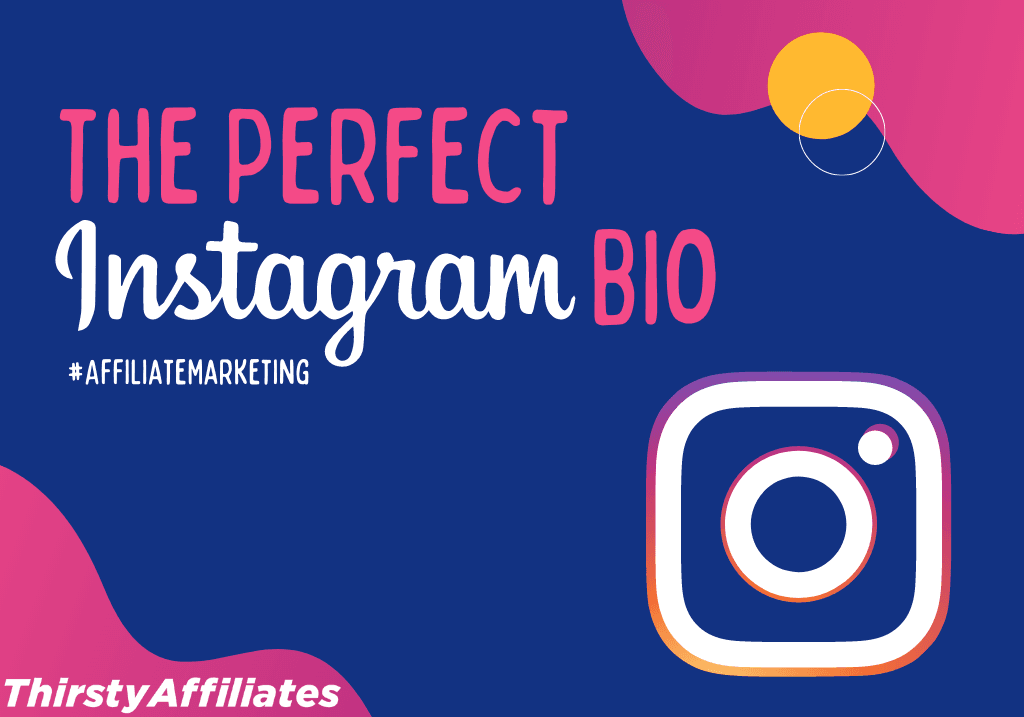 Whether you're building an ecommerce business or an affiliate marketing website, you probably know that optimized social media profiles are crucial for promoting your brand. If you choose to focus your efforts on Instagram, a lot could be riding on that one account. Therefore, you may be wondering how to craft the perfect Instagram bio to reach your audience.
Fortunately, you can make the most of these 150 characters by following a few simple tips. With a bit of care and preparation, your Instagram bio can have a long-lasting, positive impact on the success of your brand.
In this post, we'll discuss why your Instagram bio is so important to your overall brand strategy. Then, we'll offer you four simple tips on how to write the perfect Instagram bio. Let's get started!
Why Your Instagram Bio Is Important for Your Brand
Most casual Instagram users don't pay much attention to their bios. The majority of us just choose a handle, upload a personal photo, and forget about it. Therefore, you may not know the full extent of what your Instagram bio allows.
Your Instagram bio is a short description that sits underneath your name and beside your photo on your profile. It has a limit of 150 characters and can contain written words, hashtags, emojis, and external links:

This bio is so crucial for affiliate marketing because Instagram is one of the top social media platforms in the world. By the end of 2018, Instagram had hit one billion users, and that number keeps increasing. Therefore, there is a large potential audience on the platform.
Additionally, 53% of women and 49% of all consumers depend on influencers for purchasing advice. If you can appeal to audiences on Instagram, you may be able to sell your products or promote your partnerships more effectively.
How to Write the Perfect Instagram Bio for Your Brand (4 Easy Tips)
Every step of a buyer's journey is extremely important. Therefore, you'll likely want to wow people with your Instagram bio. Follow these simple steps to create a quality bio that will make a positive, lasting impression on potential customers.
1. Include Your Brand Name
If you're running any kind of ecommerce business, your brand name is extremely important. For solopreneurs and affiliate marketers, you might use your real name. In either case, it's essential to show off your title for branding purposes: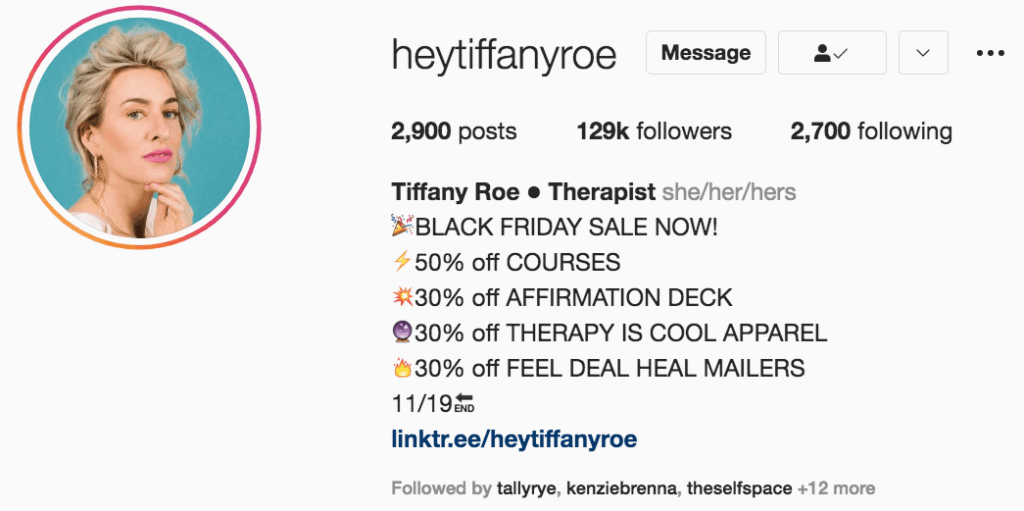 Instagram enables you to use both a Name and a Username (also called a handle). You'll be prompted to create these elements when you sign up for an Instagram account. However, you can also change them by going to Edit Profile in your Settings:

Your handle is typically the more informal title, but you should make sure it's professional too. Ideally, both your Username and Name are the same. Unfortunately, unless you have a really unique name, this probably won't be an option. If necessary, shorten or expand your handle to something that potential clients will immediately recognize and intuitively link with your brand.
Let's look at an example for someone named "Sam Smith". That's a common name, so it will likely already belong to a different Instagram user. In this case, you might make your handle "heysamsmith".
Alternatively, if you are an affiliate marketer in the graphic design niche, you may use "samsmithdesign". As a rule of thumb, try to keep the name simple and on-brand.
2. Define Your Business
If your audience is drawn in by your brand name and photo, they might be more interested in learning about you and your business. Remember, this is an excellent opportunity to showcase your brand voice.
Firstly, your bio should include any essential information about you. If you identify with a specific job title, you should put that at the top. For example, maybe you're a parent, blogger, teacher (or any combination of these).
You can even be upfront about your affiliate status by adding this as an additional title. Furthermore, you can use line breaks, emojis, or bullets to separate different descriptors:

Below any titles, make sure to summarize the type of content people can expect from your account. You can do this with a mission statement or a concise summary statement about yourself.
You may also want to switch to a business account so you can add a category. To do this, you can navigate to Settings > Account > Switch to Professional Account: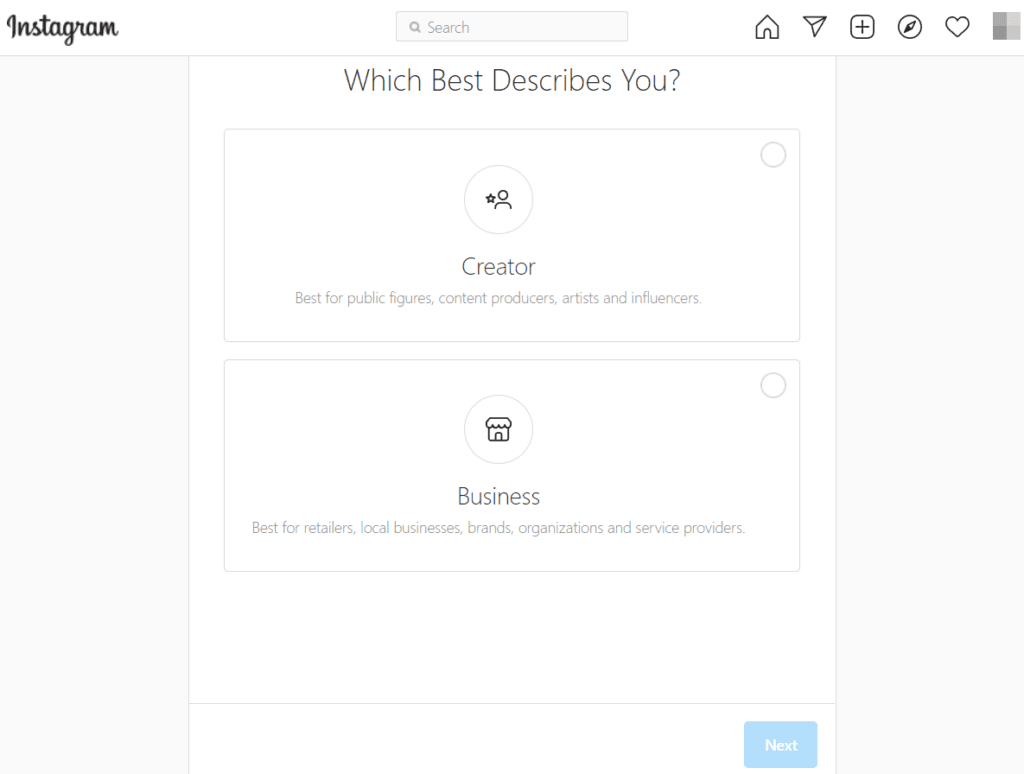 Then, you'll be able to choose between either a Creator or a Business account. Once you do this, you can add a category to your profile on the Edit Profile page.
3. Give Your Bio Personality
Brand identity is crucial if you want to monetize your ideas or be a successful affiliate marketer. Your bio is a great place to show some personality. You can also have some fun with this process:

You can make your bio more lively by adding hashtags, emojis, and even the handles of your other accounts and partners. By doing so, you can show off your social credibility.
For example, if you're a part of a team, a partner duo, or working on other projects, you can highlight them in your Instagram bio. All of these additions can give your account flair. Furthermore, using these elements is also a great way to optimize your Instagram.
4. Add a Website Link or Linktree
When filling out your profile, there is a Website space. It appears directly underneath your Instagram bio and can display a URL to an external site:

If you have a website or blog, be sure to include it here. However, you may want to link to more than one website or page. For example, you might use URLs to your online store, blog, press release, and newsletter.
Unfortunately, Instagram only provides space for one link. However, you can get around this limitation by using Linktree. When someone clicks on your Linktree, they'll see a list of URLs instead: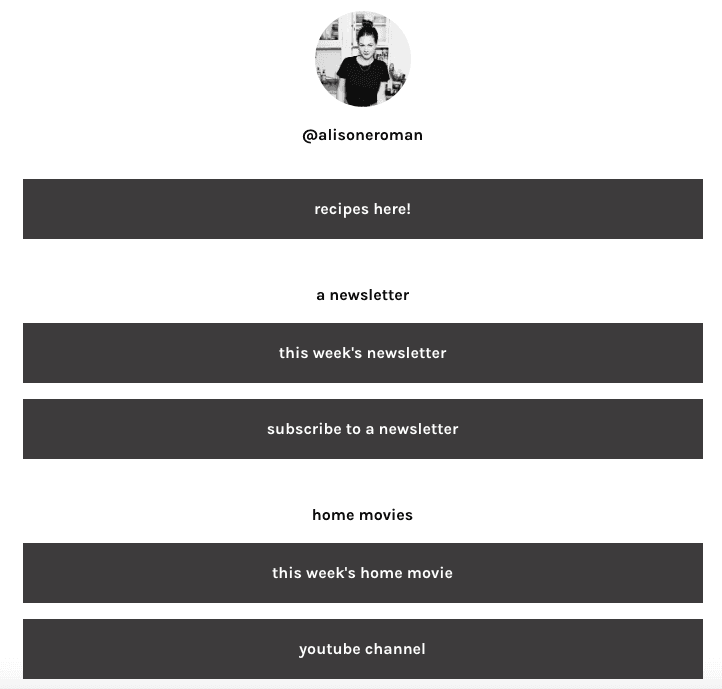 To make one for yourself, go to the Linktree website and click on Get Started For Free. Then, fill out the registration form. Choose a username, enter your email, and set a password: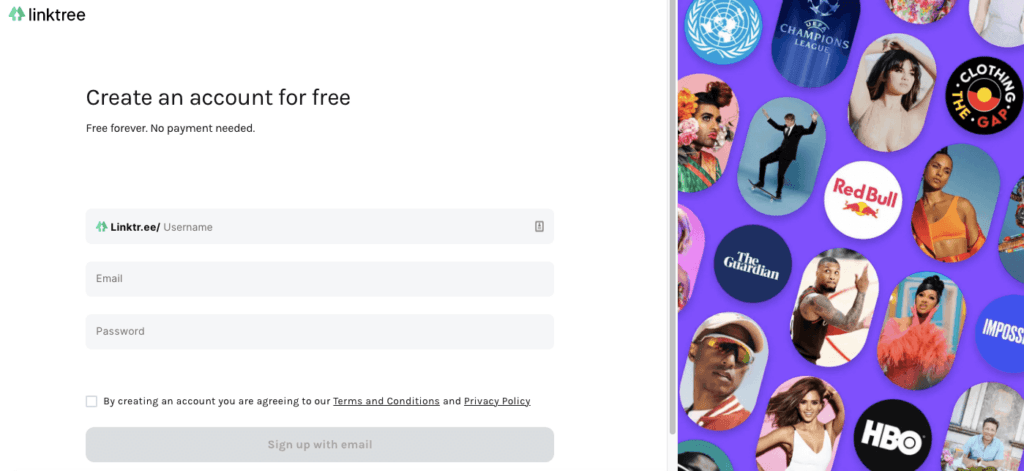 Next, you'll be prompted to answer a few questions on the Tell us about yourself page: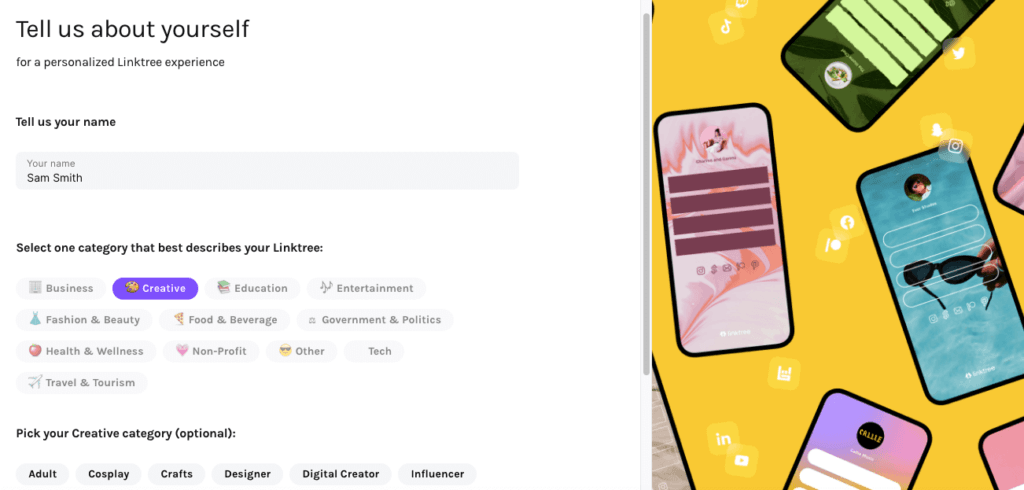 After answering a few simple questions, you'll need to choose a plan (the free one should be fine for most purposes). Verify your email address and then you can access your Linktree account. Now you can create a personalized Linktree and start adding different URLs to it: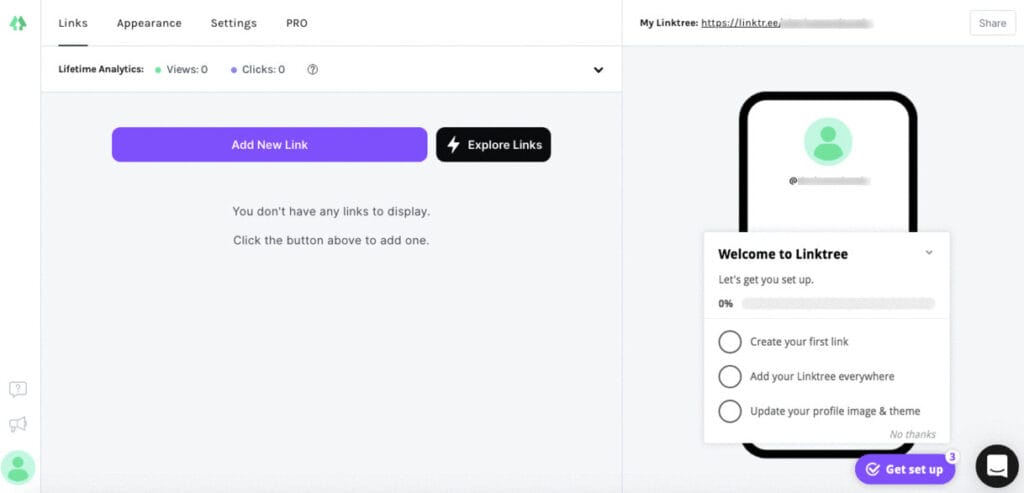 You may want to optimize your Linktree account as well. To do this, navigate to Appearance and adjust the design of your Linktree.
Of course, don't forget to add your brand new Linktree URL to the Website section of your Instagram profile. Then, you're ready to go!
Conclusion
A strong Instagram bio is crucial to your business's success because it helps reinforce your brand identity and create a positive user experience for your followers. However, writing a biography doesn't have to be stressful and intimidating. In contrast, your bio offers an exciting opportunity for your online business and you can create one easily.
Always remember the following tips for writing the perfect Instagram bio for your brand, and you should make a great impression:
Include your brand name.
Define your business.
Give your bio personality.
Add a link or Linktree.
Do you still have questions about crafting the perfect Instagram bio? Let us know in the comments section below!
If you liked this post, be sure to follow us on Twitter, Instagram, Facebook, Pinterest, and LinkedIn! And don't forget to subscribe in the box below.