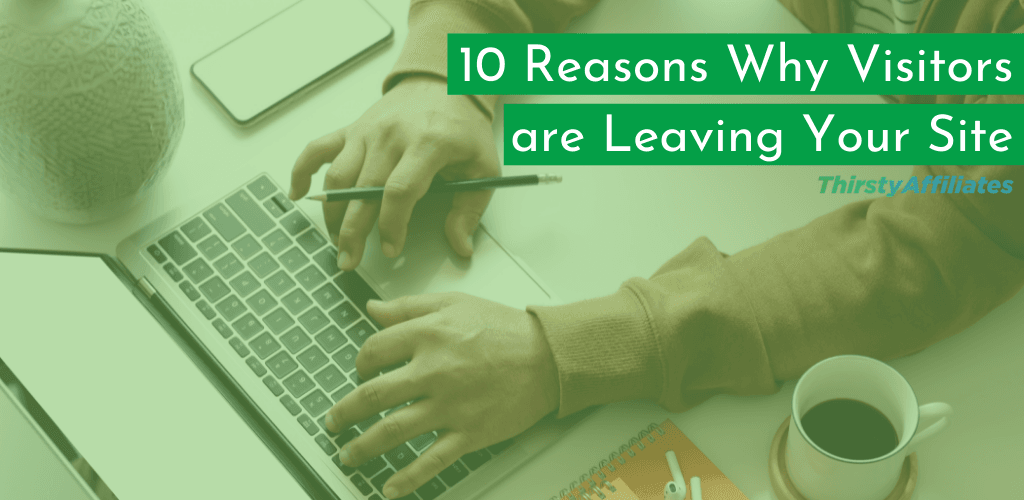 According to research, people spend less than a minute going through any website. People tend to scan through websites before settling down to go through it if something catches their eye.
You need to be able to grab and hold their attention for much longer if you want to get customers. However, you may have noticed that customers quickly leave your website anytime they land on it.
There are many reasons why this happens, and if any of these reasons applies to your website, you should work on it quickly, before your website becomes a dead zone (also, there is a free checklist of quick reasons why people leave your website available!).
10 Reasons Why People Leave Your Website
There Are Too Many Ads
This goes without saying. If your website is plastered with ads – at the top, on the sides, between every four lines of text, and at the bottom – customers will leave in a hurry. No one likes seeing clutter like that.
Poor Legibility
If your site's legibility is poor, you will lose customers in drove. Using background colours that jar the senses, and fonts that make the brain shut down on its own, won't help you in any way, no matter how nautical or unique you think it makes your website. Once people feel put off by your use of colours and fonts they are gone. For good.
Slow Loading Time
Another obvious one. If your website takes more than three seconds to load, people will leave. An up to date website needs to load in the fastest time possible, or visitors won't wait for it to open, to move to another site to find what they are looking for.
Poor Site Navigation
Site navigation is supposed to be based on what you customers would want, not what you want. Site navigation should be easy and effortless, with easy to understand language, clickable images, internal links, and drop-down sub-navigation cues. If navigating your site is akin to getting lost in a maze, there the people go, running to the competition.
Boring Content
No one wants to see a catchy headline like 'Ways You Can Spruce up Your Bedroom' and then open the page to see the first line containing words from a Biology class. No one likes to be deceived like this. Make sure your content is clever and witty and fun, be it long-form content or short-form content. Unless your content is about 'How to Bore Visitors to Death', your content shouldn't actually bore people to death, or drive them away from your site.
Outdated Web Design
Whoever told you that, once you have designed your website you don't have to do anything else to it again, lied. Web solutions and technologies evolve literally every day. People's tastes in web designs also change everyday. If you are stuck with a website designed in 2010 that hasn't seen an update since your customers will be lost to you forever. Update the colour, the font, the content, the background and the images. Tweak the structure of the website to give a more modern feel to it.
Outdated Plugins
It is very annoying when people go to a website, and then need to download Adobe Flash, or install Adobe Flash, or update Adobe Flash before they can view your content. They will be gone before you can finish saying 'Flash'. There are many plugins available that make viewing your website and navigating it easier and faster. Why do you still need Flash? Get an HTML5 video player instead.
Autoplay Videos
For most people, nothing makes them hit the 'back' button faster than a video that starts playing once they open a site. Sometimes the video starts playing before the site completely loads! People prefer to choose whether to play a video and would rather not have that decision taken away from them.
Unclear Product Benefits
This is actually an odd one. You own an affiliate site or blog, and you are promoting products and services, yet you are being as vague as you can possibly be about what exactly the product is supposed to do. This is not something you should leave to people to figure out on their own: you need to clearly state the benefits and demerits of the product for all to see and understand.
Non-Responsive Website
A responsive website is one that can adapt itself to for any screen size that it can be viewed upon, no matter how large or how small. It should also to be a website that is compatible with many different kinds of browsers, to enable everyone and anyone who wants to, to view your website. If your site can only be accessed via a laptop and Android devices using Mozilla Firefox, then you have lost millions of people who use Windows phones, iPhones, and Safari browsers. In this day and age, it doesn't make sense that you wouldn't have a responsive website.

These are 10 of the most common reasons why people leave your website. If your website is guilty of any of these crimes, you should do something about them, and fast, before your business suffers the consequences. Remember, there is a FREE Checklist attached that can help you identify these problems on your site and help you resolve them, bringing your traffic back and increasing your number of site visits.