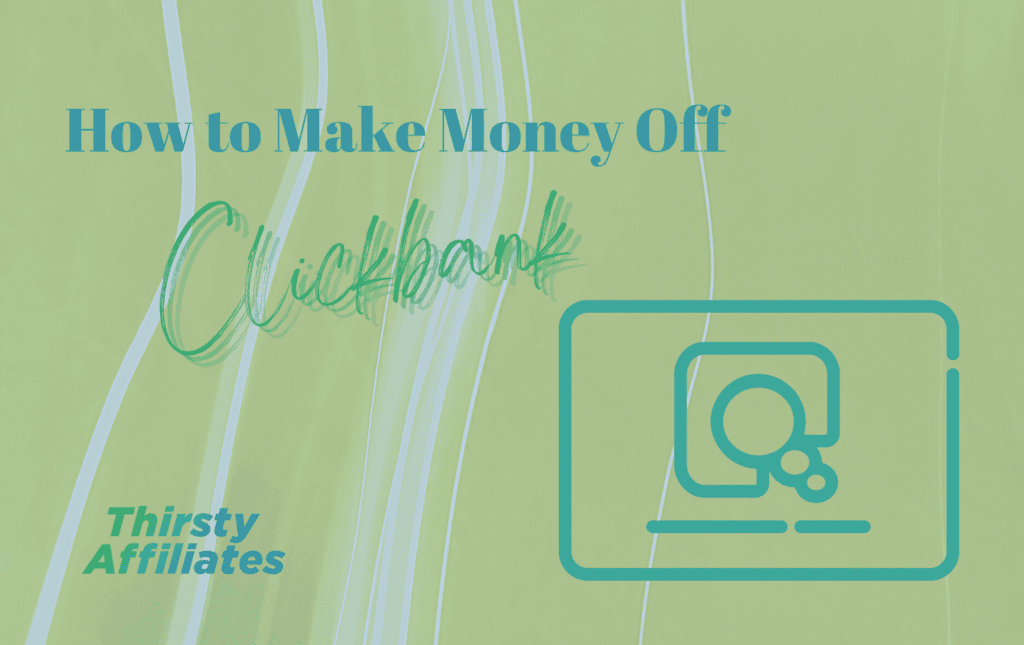 Affiliate marketing can seem like a dream opportunity. With no overheads or need for staff and storage, selling someone else's products and getting paid for it sounds fantastic. However, reality soon hits, and many people are left struggling to sell and become discouraged.
ClickBank may be the answer, whether you're new to affiliate marketing or an old hand. ClickBank is a free platform for sellers and affiliates, offering easy access to thousands of products and potentially huge commission rates. Success is more than possible if you do your research and plan your strategies carefully.
In this article, we'll discuss how to get started with ClickBank affiliate marketing. We'll show you how to find the right products to sell, market them, and see positive returns. Let's get started!
What Is ClickBank (And How Does It Work)?
ClickBank is an affiliate network. This is a platform that connects businesses that create products with affiliates who want to promote those items and earn commissions. In other words, it serves as a middleman between creators and sellers.
What it looks like to use ClickBank depends on which side of that fence you fall on. For affiliates, it's free to join with no screening process. Its simple design means there is no cap on how many businesses you can partner with, and there are thousands of products to choose from.
While commissions vary, 75% is typical, and you can sell in nearly every country worldwide. However, it's worth noting that the platform's open-door approach means there are many poor-quality products on offer, and lots of competition for the good ones. If you're thinking about getting involved in affiliate marketing, you'll want to do your research and consider all the available platforms to choose the one that's right for you.
Meanwhile, there is a $49.95 one-time activation fee for businesses, and the platform will take $1 + 7.5% of all sales. There are further costs, including $2.50 every time a business wishes to withdraw money, and another fee for processing customer refunds. A platform like this lets companies get started quickly at the cost of control and flexibility.
How to Make Money Off ClickBank (In 4 Steps)
If you decide that ClickBank is right for you, you'll be glad to know that it's simple to get started. Here are four steps you can take to start making money from this platform as an affiliate.
Step 1: Sign Up to ClickBank
The first step is to sign up. Start by clicking on the Start Here button in the top-right corner of the website. Then you'll proceed to fill in the requested information and set a secure password:
Depending on your answers, you may receive a pop-up message recommending that you join the Spark training program. You can watch the 10-minute introduction video and join Spark, or click on the link to return to ClickBank and resume your profile:
You'll now be asked to enter your essential information. Make sure you read and accept the terms and conditions. Once that's done, you've completed the first stage of the sign-up process.
Next, you'll want to download the suppression list and click on Complete My Profile: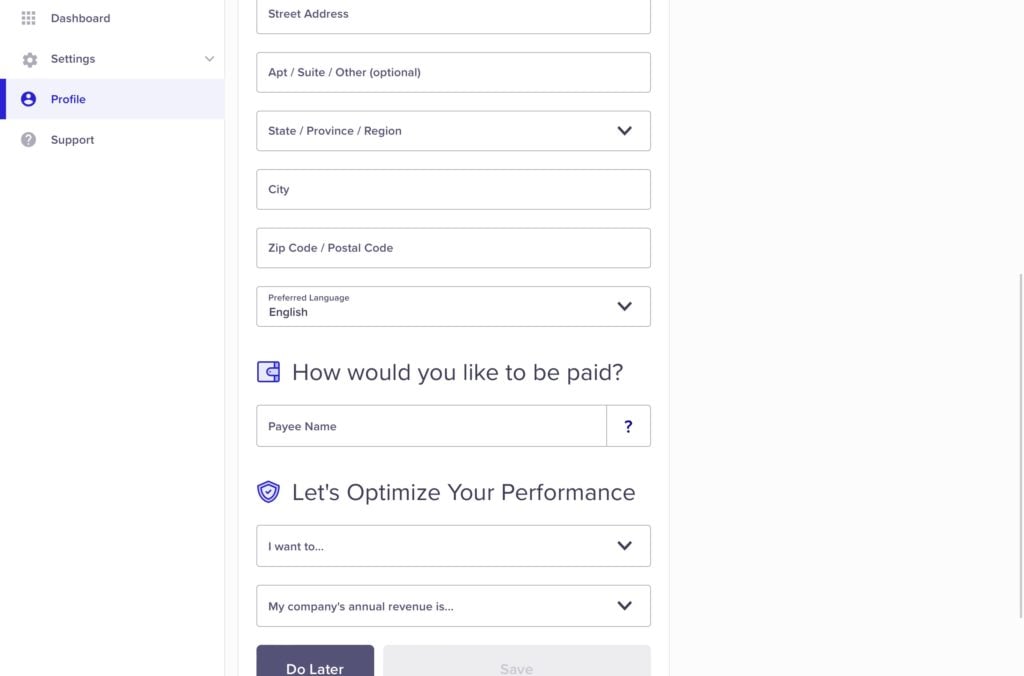 Add your address and specify how you wish to be paid. The right menu will now have some new options. In particular, don't forget to set an account nickname.
Step 2: Conduct Research into Your Target Market
Choosing what products you want to sell can be challenging. There are many low-quality and poor-selling products on ClickBank, and avoiding them is essential. Don't be tempted to promote low-quality items for high margins; this will only hurt your reputation and drive away your audience in the long run.
Instead, you'll want to promote items that are highly relevant and useful to your existing audience. To find out what kinds of products to focus on, you can use a tool like Google Keyword Planner: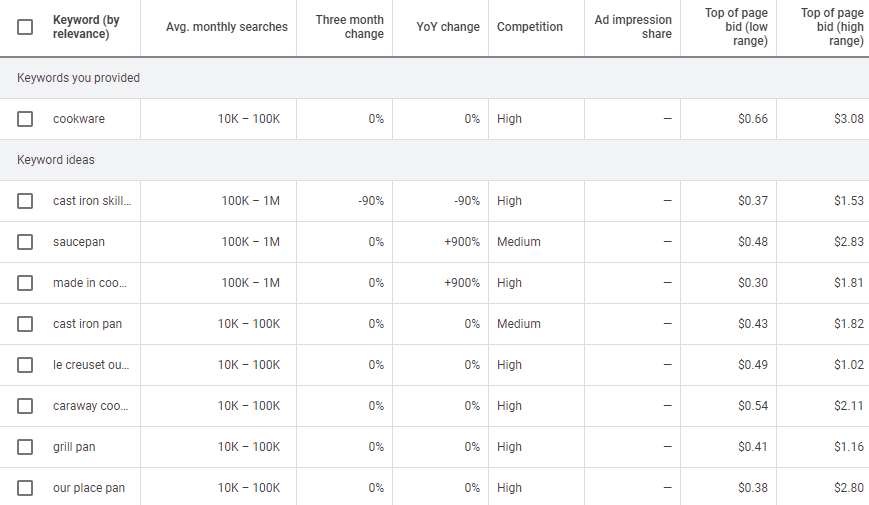 This platform enables you to enter terms that are related to your niche and audience. Then it will show you popular queries that users type into Google regularly. This can give you clear insights into what potential buyers in your field are already looking for.
If you have a website connected up to an analytics platform, such as Google Analytics, you can leverage that information as well:
This can provide you with plenty of details about your audience, including their demographics, interests, and behaviors. All of that data should help you determine what kinds of problems or pain points they're dealing with, and what types of products might provide needed solutions.
Step 3: Find the Right Products on ClickBank
Once you know what type of products you're looking for, it's time to head back to ClickBank. Your first port of call will be Affiliate Marketplace in the right-hand menu. You'll be presented with a list of categories and a search function: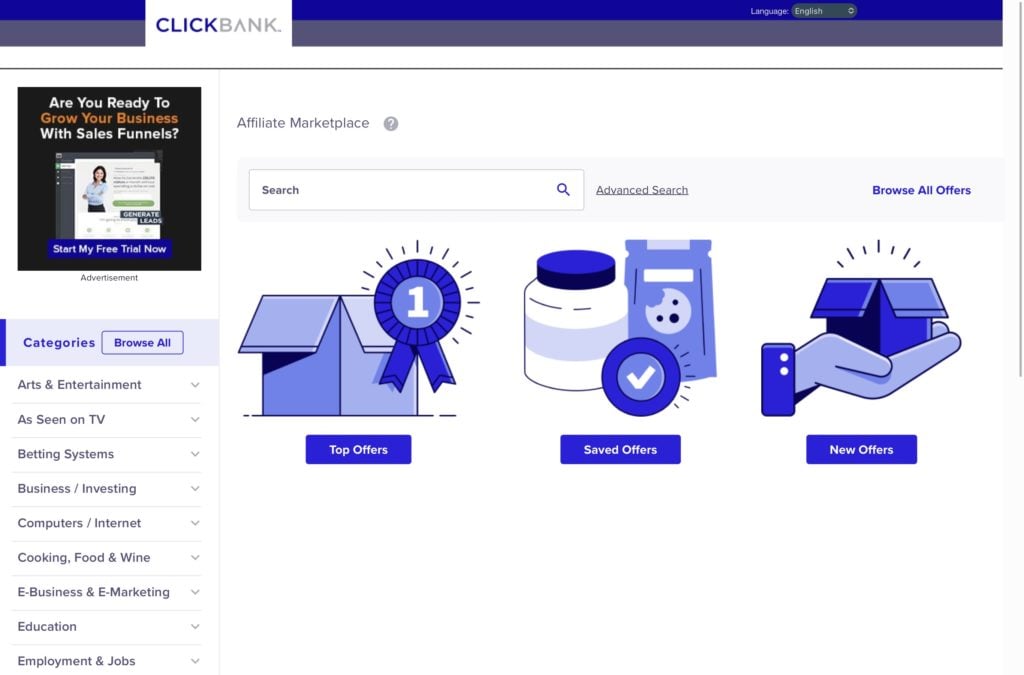 If you want to be successful, it's vital to screen each offer carefully. The key criteria that indicate a good product are:
A low-cost initial offer with up to three upsells
Videos and clear presentation on the sales page
Positive online reviews
A 'gravity score' over 20
Click on Advanced Search, and you'll be able to filter the products based on your target keywords and needs: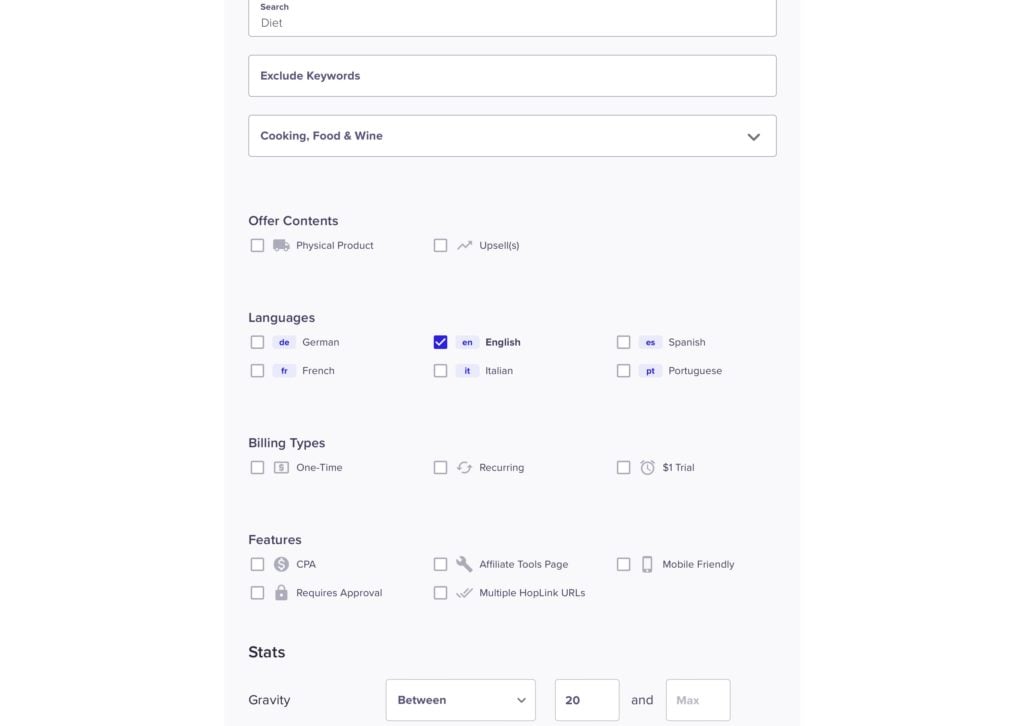 After that, you should have a shortlist of items to place under consideration. You can now check out the affiliate pages and make your final decisions.
Step 4: Market Your Products and Start Making Money
When you find a product that meets all of your criteria, you can click on the Promote link:
Filling in your nickname will create your personalized affiliate link. All sales made after users click on that link will make you money.
There are many ways to promote your ClickBank products, such as through:
Your own website. If you have a blog or website, you can incorporate your affiliate links into both new and existing content. You can also create an entire website for your affiliate marketing venture.
Paid advertising. This is quick and simple, if more expensive than other methods. Always factor in the advertising cost when calculating your margins.
Social media marketing. This is a method that's usually free, if more time-intensive. You can research pages and groups in your niche, and interact with relevant audiences. Make sure to choose your target platforms carefully. You can also use design tools such as Canva to ensure that your social media posts get noticed.
Article marketing. Articles and reviews are an excellent way of driving targeted clicks to your affiliate products. For best results, you'll want to adhere to proven Search Engine Optimization (SEO) best practices.
Email marketing. If you already have an established mailing list, you can use it to promote your items. If you don't, building one is simple.
Last but not least, you can consider using our link cloaking plugin for WordPress. This helps you make your affiliate links look more appealing, increasing clicks as a result.
Conclusion
Affiliate marketing isn't as easy as many people assume. However, as long as you have reasonable expectations and a willingness to learn, you should have no problem starting out with a beginner-friendly platform like ClickBank.
To make commissions via ClickBank, you'll want to:
Sign up and fill in your information.
Research your target market.
Find relevant products on ClickBank.
Start marketing your affiliate products.
Do you have any questions about using ClickBank? Let us know in the comments section below!
If you liked this post, be sure to follow us on Twitter, Instagram, Facebook, Pinterest, and LinkedIn! And don't forget to subscribe in the box below.