What if I told you that affiliate marketers have a robust marketing and sales tool at their disposal, and it's something you use every day?
You guessed it: social media.
Any affiliate marketer worth their salt will tell you that social media is essential. It's not just a maybe or an if you want. Social media dominates growth in most client-facing industries. We all know how important social platforms are to overall marketing efficiency.
A lot of people overlook the power of combining that marketing with a social selling strategy. Social media marketing and social selling cover all the bases for growing your business.
Social marketing will give you fantastic content distribution, reliable platforms to sell to, and unbeatable brand loyalty.
On the other side, social selling will help you turn your audience into leads, actively engage with potential customers and buyers, and eliminate cold selling tactics. 
Social media as a whole will become second nature once you've put enough work into it. Adding structured social media marketing and selling plans will increase your visibility, build life-long fans, and encourage the all-mighty free marketing tool: word of mouth.
Thankfully, you don't need to be an expert to take advantage of the many benefits of social media. This post outlines why and how you should combine social media marketing and social selling to grow your audience and gives you a few great tactics social sellers use to do it.
What are Social Selling and Social Media Marketing?
Hootsuite defines social selling as the art of using social media to find, connect with, understand, and nurture sales prospects. It's the modern way to develop meaningful relationships with potential customers so you're the first person or brand a prospect thinks of when they're ready to buy.
Social selling is not the same as social media marketing, but you'll use many of the same tactics to grow. We'll cover a little of both here.
Social selling is using social media to listen, engage, and build a rapport with leads. It turns cold sales into warm sales, and it creates a reliable sales funnel that keeps on giving.
Buffer describes social media marketing as the use of social media platforms to connect with your audience to build your brand, increase sales, and drive website traffic. This involves publishing great content on your social media profiles, listening to and engaging your followers, analyzing your results, and running social media advertisements.
Social media marketing is creating content to push out on social media. It's the videos you make for YouTube, the downloads you put out on Facebook, and more. It's the part where you talk to your audience, encourage them to stick with you, and comment, comment, comment.
As an affiliate marketer, you're probably wearing many hats, and it can quickly become overwhelming. But you don't need a marketing and sales team to grow your audience. You can combine social selling and social media marketing to become an effective affiliate marketer. 
Why Should You Grow an Audience?
The word audience means something different for social selling. In affiliate marketing, your audience is made up of leads, and growing your audience will give you more opportunities for conversions.
It's that simple. Grow your audience because audience = leads. The platforms that you bolster will drive sales. Your platforms will also build trust, increase your credibility, and can potentially establish you as a thought leader (and all of those things will boost your sales). 
The perks of social selling and marketing boil down to:
Audience growth
Audience = potential conversions
Increased word of mouth
Content is your most effective marketing tool
Social media is the easiest way to push content
That leads us to an important question: How do you grow an audience in the first place?
How Do You Grow an Audience With Social Media?
If you want to grow an audience you can sell to, you need to combine social selling and social media marketing tactics.
This requires a bit of organization. And when you're trying to gain momentum, it can help to figure out a few things first:
Where Do You Belong?
A better way to ask this question is, where are your customers?
There's a common mistake when it comes to social selling and social media marketing. Many people over-extend themselves, jumping onto as many platforms as possible to spread the net as far as they can.
While it makes sense to show up where people are, you need to think realistically about where your business belongs in the social media landscape. 
For instance, most B2B businesses will want to be on LinkedIn. If your affiliate programs are typically B2B centered, LinkedIn is the place to nurture and grow an audience of leads. If your affiliate programs include products based on location, you're going to look for something that encourages more local growth.
You can figure out where your audience is best nurtured by studying your affiliate programs, the audiences they bring in themselves, and any similar audiences.
Branding is Your Best Friend
All of us need to understand the importance of branding. We are CEOs of our own companies: Me Inc. To be in business today, our most important job is to be head marketer for the brand called You. – Tom Peters
Your social media efforts need to feel personal. Keep your name and face on as many posts as you can. Put your brand colors on any documents, guides, and videos you create.
Ensure your business name, or your own name if you use that, is seen and heard in anything you put out there. Keep the branding consistent across your content and social media posts. 
Even your tone and the way you deliver messaging is part of your branding. Your branding is your advertisement. It's the way you build comfort with your audience. It's the most critical aspect of staying top-of-mind, and you lose momentum whenever you forget to incorporate it. 
Your branding is your logo, name, colors, fonts, and everything that makes up your business's personality. Run a tight ship!
Be Credible
Here's another quote you should know:
A statement is persuasive and credible either because it is directly self-evident or because it appears to be proved from other statements that are so. 
– Aristotle
You don't need to be a philosopher to apply this to every aspect of your life. Make a rule for yourself with social selling: don't talk about what you don't know. Potential buyers won't forgive you for missteps. Follow everything you say with proof, and know your products and services inside and out.
This is such an essential aspect of your social selling that we want to leave you with one more quote:
Credibility is a leader's currency. With it, he or she is solvent; without it, he or she is bankrupt. – John C. Maxwell
Keep Track of Your Progress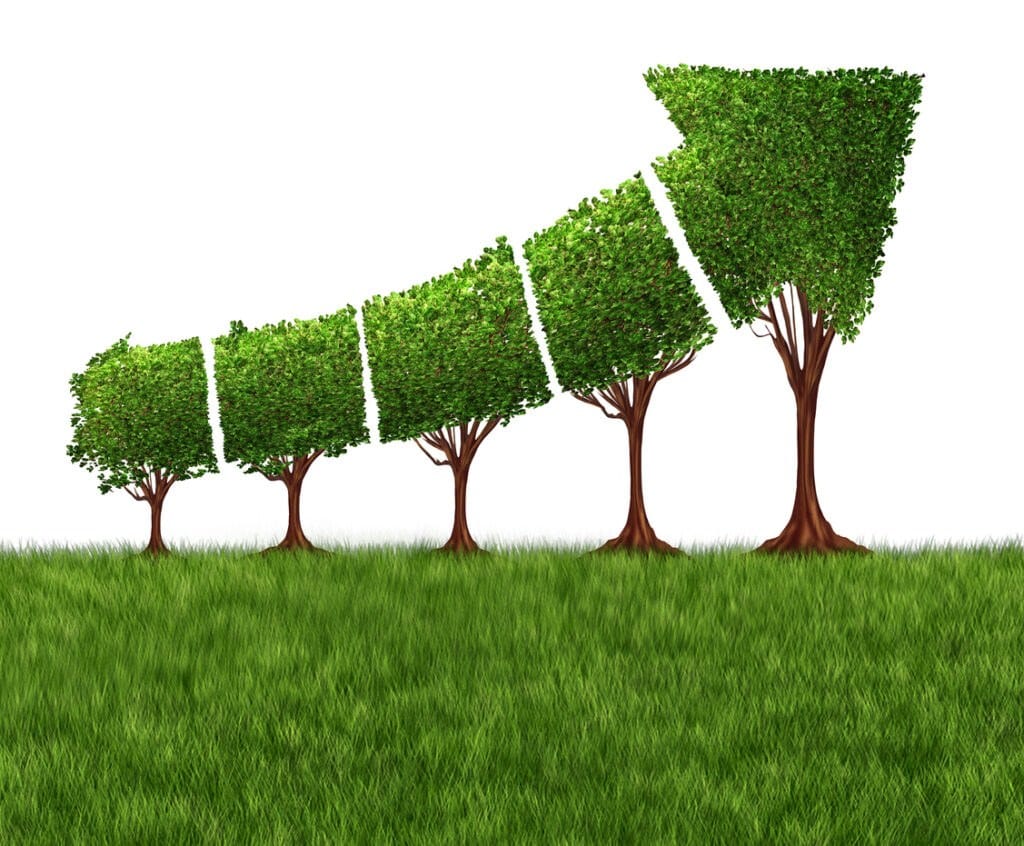 Analytics data gives you invaluable insights into what is and isn't working on social media, and you should consider it heavily as you plan your next moves.
Most social platforms offer monthly analytics data, giving you a useful reference for what is working well and what needs to be adjusted. Look at sales figures, click-through-rate, and website visits, and see whether your current social media focus is resonating with your audience. 
Tracking conversions and link clicks is essential for affiliate marketers in general. You want to show success and that you're worth working with to potential affiliate partners. Compiling this information helps bolster your social proof.
This information is useless without set goals. Stay organized and map what you want out of your social campaigns. A few goal ideas:
Follows, likes, and increased engagement
Click-throughs to landing pages or your site
Downloads
Link clicks to affiliate partners
Actual sales and conversions (the ultimate goal) 
Listen and Engage
If people like you they will listen to you, but if they trust you, they'll do business with you. – Zig Ziglar
What's the best way to build trust and deliver what the customer wants? LISTEN!
Expert social sellers use social listening tactics to figure out what customers want, like, and don't like. You can use this information in a variety of ways.
Social listening will give you an in-depth look at how your followers feel about your brand and affiliate products or services, the way you deliver value, and you as a whole. It gives you insight that can change the course of your content and offerings.
There are plenty of ways to find this information. For instance, a service like Hootsuite can find any mention of a keyword for you. It allows you to go in and help people with relevant questions. This is a great way to stand out as a leader in your industry of choice.
Hootsuite has a great guide on social listening and how to do it right.
Understand Algorithms
Social media platforms are businesses, and like most businesses, they want to solve their customer's problems. And for social platforms, that typically means using algorithms to show the content users most likely want to see on social feeds. It's a controversial way to improve feeds (many people aren't happy with the results), but it's what we have to work with as users and business owners.
Working with algorithms is probably the most tedious (but necessary) part of social selling and marketing. Algorithms run our lives as social media users, and until things change, we have to plan around them for any aspect of social selling to work effectively. 
Different algorithms will have different best practices. A few key things you'll want to familiarize yourself with:
Best times to post (for specific platforms)
Popular hashtags and tagging practices (Instagram, Facebook, Twitter)
Ideal post lengths (LinkedIn)
Consistency is ALWAYS a factor
A few things to remember for top platforms:
Twitter
Heavily dependent on retweets, favorites, and comment retweets
Consistent posting is important
Post relevant and timely information
Utilize trending hashtags ONLY if they fit your brand
Facebook
Previous engagement is important (whether a user has commented or interacted with your page)
Do not post fake or misleading information (you shouldn't do this anyway!)
Post videos that are longer
Use Facebook Groups to foster an audience 
Instagram
You can use up to 30 hashtags. Instagram is heavily hashtag-driven, and you should use as many popular and niche hashtags as possible. Try to put them at the bottom of your post instead of splicing them through the actual writing, so your content stays visually pleasing.
Instagram is a visual site! 
Utilize the Instagram option to post simultaneously to Facebook. This works in your Instagram stories and increases your overall engagement on both platforms.
LinkedIn
Try not to link directly in a post—add it in the comments. If you use a link in the actual post, always have actual writing to go with it. 
Video content is popular, but organic storytelling is big on LinkedIn. Stay authentic.
Comments are essential for the LinkedIn algorithm. Shares aren't as crucial.
Sprout Social has a great breakdown of what algorithms are and how to beat them.
With Personality, Please
The cherry on top of all of these steps? Show your readers, viewers, and audience your personality. This is especially important when it comes to social selling.
You can do this in many ways, but most people just want to know that you are human. They want to know that you care about the things you say, that you're knowledgable, and that you have values. Pay attention and always approach potential clients with knowledge and insight that they value.
In Conclusion
Remember, to become an expert at social selling, you should:
Figure out what social platforms work for you
Use consistent branding
Be credible
Listen and engage
Understand algorithms
Use your personality
Social media marketing and social selling are tactics as old as social media itself. With the right mindset and plenty of hard work, you can grow an audience of leads that value and trust your input!
Do you have any social media techniques you'd like to share? Let us know in the comments!