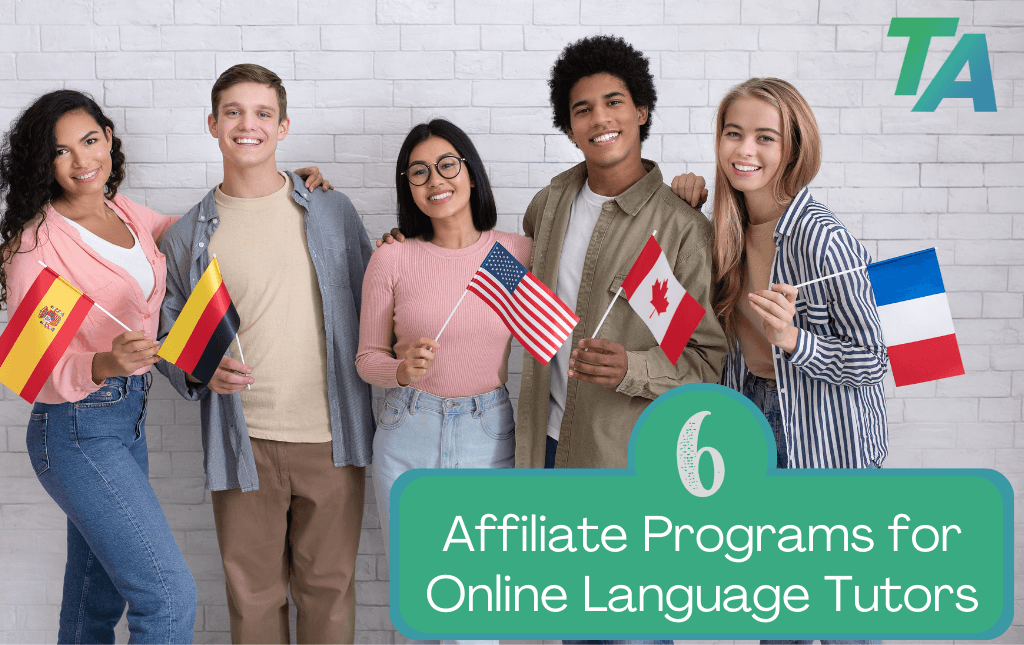 Are you looking for ways to boost your income as an online language tutor? With people still conscious of traveling in the aftermath of COVID-19, perhaps your language courses aren't as popular as they once were. Or maybe you're searching for a way to unlock more revenue using your educational blog.
Fortunately, affiliate marketing offers a flexible, passive way to boost your earnings while providing more value to your students. You can join an affiliate program and make money when visitors click on your links
In this post, we'll go over what you should look for in an affiliate program. Then, we'll discuss 6 of the best affiliate programs for online language tutors. Let's get started!
What to Look for in an Affiliate Program
If you're just getting started with affiliate marketing you may be unsure of how to choose the right brands to partner with. Here are some of the features to look for in an affiliate program:
Reputation. Go for established, reputable programs. Online reviews are an excellent way to find out what customers think.
Relevant products/services. It's important to consider brands that are relevant to your niche. For example, as an online language tutor, travel-related products could be a good fit for your audience.
Payment policies. Terms of payment can differ drastically. Some programs pay a smaller commission for leads, others only pay out when you make a sale. Meanwhile, you can be paid a fixed rate or a percentage of the sale. Plus, there's a ton of variation in payment methods, payment schedules, and cookies.
Support. Look out for easy-to-use sales tracking tools, high-resolution images and banners, and consumer research that can help you tailor your affiliate content.
As a bonus, it can be a good idea to keep an eye out for companies that offer performance-based perks. Some programs even run affiliate contests and giveaways to boost affiliate engagement.
6 Best Affiliate Programs for Online Language Tutors in 2022
Now that you know what to look for in an affiliate program, let's take a look at our top 6 picks for 2022.
1. Booking.com
With a huge variety of products including accommodations, attraction tickets, and car rentals, Booking.com is a full-service provider for travelers. As such, there's a high chance that your language students might be interested in this company.
Since it's a widely-known platform, it's also an easy brand to promote. Here are some key details about Booking.com's affiliate program:
Commission: 25-40%
Cookies: Session only
Payment: PayPal, Direct deposit ($100 minimum)
Overall, this affiliate program is user-friendly and includes a range of ways to promote products. For example, you can place a Booking.com search bar directly on your website or use customizable widgets to show your audience certain items that might appeal to them. Plus, you can access a dedicated support team and insights about your earnings.
2. Kayak
With over 6 billion annual searches, Kayak's affiliate program is highly popular. It offers a huge commission rate of 50%. Additionally, you get paid for generating leads as well as sales.
You can earn money through ad revenue, bookings, and clicks. In fact, Kayak claims to pay out over $76 million a year to its affiliate partners. Here's what you need to know about Kayak's affiliate program:
Commission: 50%
Cookies: 30 days
Payment: PayPal, WebMoney, Bank transfer ($500 minimum)
Another benefit is that you're able to promote Kayak's product in a number of ways. For example, you can use deep links, search boxes, and widgets. With so many options, you're sure to find something that suits your website.
Kayak also provides dedicated and comprehensive support, from setup to scaling. However, it does require you to earn at least $500 before a payout. So, be sure to give them the time of day.
3. Stasher
If your students are learning a new language in order to pursue travel plans, Stasher can be a great product to recommend.
Stasher is the world's largest luggage storage platform. It offers travelers convenient, secure, and affordable luggage storage in over 300 cities around the world.
As you can imagine, global travelers are a great target for language learning. So, while Stasher is less-known than others on this list, don't overlook it.
Here's the breakdown of this affiliate program for online language tutors:
Commission: 20%
Cookies: 30 days
Payment: PayPal
Finding a safe place to store luggage tends to be a common problem while traveling, especially for budget travelers visiting multiple cities. Therefore, you might be more likely to gain conversions with this service.
Plus, if you also have a brick-and-mortar business, storage space, or even an empty basement, you can partner with Stasher by becoming a host.
4. Safety Wing
Safety Wing provides travel insurance to entrepreneurs, digital nomads, and remote workers. Therefore, if you cater to an audience that does a lot of traveling, this could be a great affiliate program for you.
It requires no commitment and offers complete flexibility, enabling your students to cancel at any time. Here are some key details about this affiliate program:
Commission: 10%
Cookies: 365 days
Payment: PayPal
Safety Wing's affiliate program includes a full year's cookie length, which is unheard of in most affiliate programs. This generous window will likely boost your chances of gaining conversions. You can also take advantage of its Facebook group to access additional support.
5. Amazon Associates
Amazon sells everything from travel gear to educational supplies like textbooks and stationery. That makes Amazon Associates one of the best affiliate programs for online language tutors.
Here's what you need to know about this program:
Commission: Up to 10%
Cookies: 1 day (up to 90 days for in-cart items)
Payment: Checks, gift cards, bank transfer
You're bound to find something your students will find useful in Amazon's massive catalog. This will likely increase the chances that your affiliate links get clicked.
6. REI
REI is an excellent affiliate program if you have lots of outdoorsy students. With a huge list of products, from camping gear and backpacks to running shoes and bikes, REI offers everything they may need for their next adventure.
Plus, the REI outlet allows customers to lock in high-quality goods for absolute bargains.
Here's what you can expect from this affiliate program:
Commission: 5%
Cookies: 15 days
Payment: Checks
REI is a long-standing, reputable brand to recommend, boasting a loyal membership base of 20 million people. Also, they offer a 100% satisfaction guarantee and free shipping to local stores. Therefore, promoting its products will likely support a positive online reputation.
Conclusion
With any online tutoring business, it can be challenging to maintain a consistently high-profit margin throughout the year. However, you can boost your earnings by joining an affiliate program. This way, you'll be able to make money when students click your affiliate links.
To recap, here are six of the best affiliate programs for online language tutors:
Booking.com: A user-friendly program with tons of products.
Kayak: Get paid for leads and sales with a 50% commission.
Stasher: Become an affiliate for this highly practical luggage storage brand.
Safety Wing: Benefit from a full-year cookie duration.
Amazon: Recommend travel-related products and language-learning resources.
REI: A top pick for outdoorsy students.
Do you have any questions about affiliate programs for online language tutors? Let us know in the comments section!
If you liked this post, be sure to follow us on Twitter, Instagram, Facebook, Pinterest, and LinkedIn! And don't forget to subscribe in the box below.