You have many options when looking for a link cloaking tool. In your search, you've probably come across two of today's more popular tools: ThirstyAffiliates and Lasso. But now you want to compare the two and figure out which is best for your affiliate business.
Our ThirstyAffiliates plugin is a tried and trusted solution downloaded by over 400,000 WordPress users worldwide. Meanwhile, Lasso is a newer tool looking to make its mark in the link cloaking arena.
In today's article, we've put together this guide to compare the plugins' features, ease of use, customer support, and pricing. This should help you choose which affiliate marketing WordPress plugin is the better tool for you and your online business. Let's get to it!
Introducing ThirstyAffiliates
ThirstyAffiliates is our highly popular affiliate link cloaking plugin for WordPress websites. We offer both a free and premium tool with a range of features that hundreds of thousands of customers find helpful.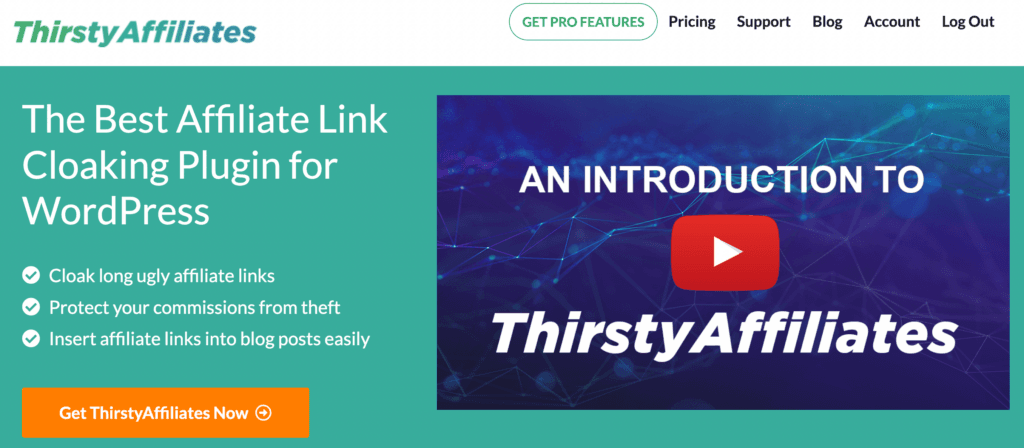 ThirstyAffiliates is easy to set up, with a range of settings that make it ideal for affiliate marketers and bloggers. Using ThirstyAffiliates, you can categorize your links, use automatic keyword linking, and access a range of helpful analytics through our integration with Google Analytics.
Introducing Lasso
Like ThirstyAffiliates, Lasso is an all-in-one affiliate system that provides link cloaking services. While the plugin is relatively new to the market, it has some helpful features for marketers and bloggers.
Some of Lasso's features include the ability to create custom product boxes, the creation and split-testing of high converting displays, and the option to turn all unmonetized links into affiliate links. The plugin comes with an easy-to-use dashboard, and adding and organizing new links is simple.
Features for ThirstyAffiliates vs Lasso
Overall, your choice between ThirstyAffiliates and Lasso will probably come down to the plugin's core features and how they can benefit your website. However, that isn't the whole story. If we had to guess, you probably want to balance features with ease of use, available support, and pricing as well.
That's exactly what we've done for you! First, let's dive into those feature comparisons.
Features: ThirstyAffiliates
Some of the many stand-out features of our ThirstyAffiliates plugin include:

Smart Uncloaking: This feature is essential for compliance with Amazon's and other affiliate programs' terms of service.
Geolocations: If you have different audiences worldwide, you can create links that redirect customers to location-specific pages.
Proactive Link Checker and Fixer: Ensure your links are up-to-date and active at all times:
CSV Import/Export: Import and export affiliate links in CSV format.
Amazon API Importing: Effortlessly search for and import affiliate links from Amazon's Product Advertising API.
This is by no means a comprehensive list of our features. You'll also get access to an automatic affiliate link disclosure, different redirect types, WooCommerce integrations, and more!
Features: Lasso
Now let's look at some of the most important features you can use with Lasso. Like before, this isn't a complete list:
Custom Affiliate Link Ads: Make professional and attractive product display ads that show off your affiliate items.
Affiliate Opportunities: Find new programs and link opportunities for your affiliate website:
Amazon Integrations: Automatically insert affiliate links without an API and display product information.
Amazon Out-of-Stock Detection: Lasso will update you when an Amazon affiliate product is out of stock.
Broken Link Checker: Find out if your links are broken.
Affiliate Link Groups: Like ThirstyAffiliates, Lasso allows you to group your links into categories.
Track Clicks with Google Analytics: See how much your links are making and how visitors interact with your content.
Nofollow/Noindex Links: Select whether you want your affiliate links to be indexed or open in a new tab. Note that ThirstyAffiliates also has a no-follow option (global or per link).
Keep in mind that, unlike ThirstyAffiliates, Lasso provides its affiliate features on its website. Therefore, you won't be able to handle everything from your WordPress dashboard.
Ease of Use for ThirstyAffiliates vs Lasso
Arguably the primary purpose of an affiliate link plugin is to streamline your workflow. If the tool isn't quick and easy to use, you're not saving much time on adding links manually. Therefore, user-friendliness is an essential consideration when weighing up ThirstyAffiliates vs Lasso.
Ease of Use: ThirstyAffiliates
As we mentioned briefly, ThirstyAffiliates integrates seamlessly with your WordPress dashboard. You can view and use our plugin while working on other parts of your website, like affiliate content: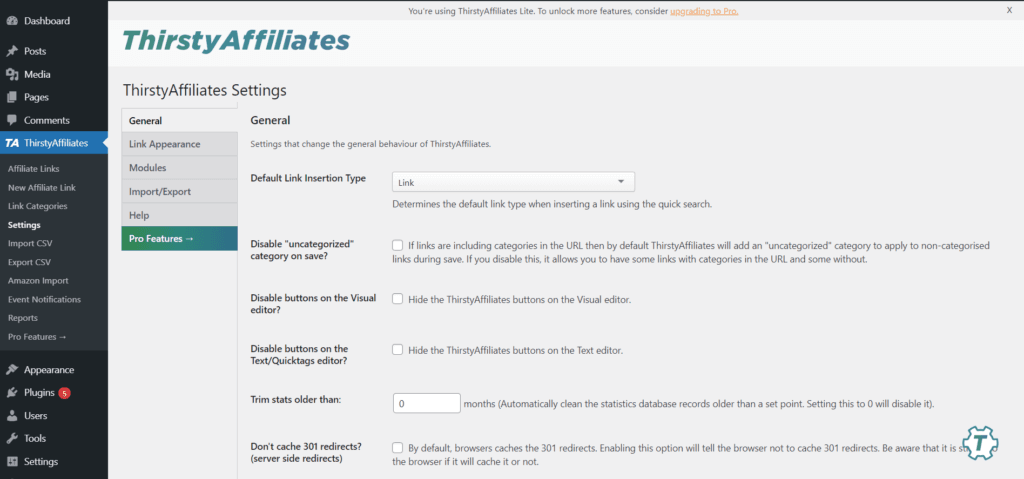 Since you're probably already familiar with WordPress, adjusting to ThirstyAffiliates should be a breeze. You can quickly find and control your link settings by jumping between clearly-marked headings.
Furthermore, this simplicity doesn't come at the expense of functionality. The ability to organize your links by categories and add automatic keywords makes things simple.
Plus, automated features such as auto-linking keywords, smart unblocking, and a proactive link fixer can help you optimize your content without using technical skills.
Ease of Use: Lasso
By contrast, Lasso has its own dashboard separate from WordPress. You'll have access to a simple and attractive user interface where you can monitor your links, look for new affiliate programs, and analyze data:
There's no doubt that Lasso is well-designed and easy to use. The interface is attractive and has clear headings. However, not using the familiar WordPress interface could be off-putting if you're a complete beginner. You'll also need to jump back and forth while working on your site, which could be annoying.
Ultimately, when you're using WordPress, the odds are you appreciate its simple UI and easy-to-use structure. When looking for an affiliate plugin, why go for something that forces you to jump platforms, rather than integrating into your WordPress dashboard?
Customer Support for ThirstyAffiliates vs Lasso
If you're new to using an affiliate link plugin, you will likely need some help or guidance along the way. That's where customer support services can make all the difference. Here's how ThirstyAffiliates and Lasso compare in all the important areas.
Customer Support: ThirstyAffiliates
At ThirstyAffiliates, we have a ticketed support request system if you need specific assistance with our plugin. A team member will help you out within 24-48 hours: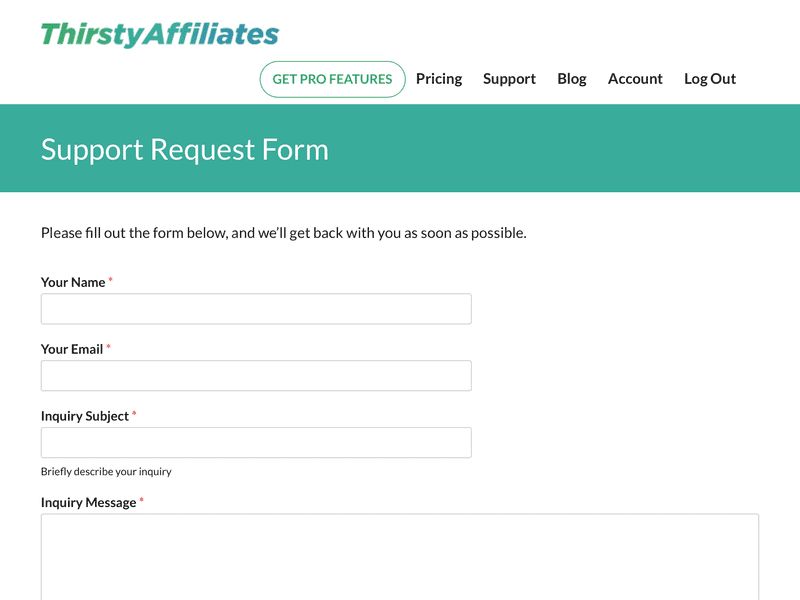 Additionally, we constantly compile customer questions, documentation, and guides for our comprehensive Knowledge Base. This means that we may already have answered the questions you'll have.
This documentation is free online and can solve most problems without talking to a customer support specialist.
Customer Support: Lasso
Lasso claims to be "responsive, receptive to feedback, and always available to help". The company features an online chat, yet that chat gave us a four-hour wait time when we attempted to use it:
The Lasso website also features a Help Center. This support hub answers many questions like FAQs and billing inquiries.
Pricing for ThirstyAffiliates vs Lasso
Finally, the all-important question: How much does each affiliate link plugin cost? Many people entering affiliate marketing, don't have much money. That's why pricing is essential and the final feature we'll analyze today.
Pricing: ThirstyAffiliates
While your affiliate business may start without much money, your audience and sales can grow rapidly. This means you might want to scale your website and even run multiple sites. ThirstyAffiliates provides options for all kinds of marketers by having three separate packages.
Our packages start at $79.50 a year for one site. If you wish to scale to five websites, that will cost $129.50 per year. Finally, a ten-site plan will cost $199.50 a year. Being able to use our plugin in a multisite setup is a huge advantage when you want to expand your affiliate business.
Furthermore, we offer a 14-day money-back guarantee for our premium plugin. You can even use our free plugin to try out the basic features and get a feel for how they work.
Pricing: Lasso
Lasso doesn't offer the range of pricing options that ThirstyAffiliates does. It has just two plans, one of which is free and has limited features.
The premium package costs $39 a month, which is considerably more expensive than even our 10-site ThirstyAffiliates plan. Lasso also offers a 30-day money-back guarantee.
Furthermore, there is no multisite functionality, meaning you'll need to buy additional plans if you wish to diversify across several websites. These costs can quickly creep up, making Lasso a potentially much more expensive choice.
Conclusion
Our ThirstyAffiliates plugin is a trusted solution with a proven record of high performance. While Lasso offers some attractive features, many of them are already included with ThirstyAffiliates.
With our extensive Knowledge Base and range of pricing packages, we believe that ThirstyAffiliates is the best choice for your all-in-one link cloaking plugin.
Overall, we offer a user-friendly solution that integrates easily with your WordPress dashboard. From here, you can cloak your affiliate links, insert them into your content, and track performance. Plus, our affiliate link plugin is highly affordable compared to Lasso.
Do you have any questions about whether ThirstyAffiliates or Lasso is better for your business? Let us know in the comments section below!
If you liked this post, be sure to follow us on Twitter, Instagram, Facebook, Pinterest, and LinkedIn! And don't forget to subscribe to our newsletter!